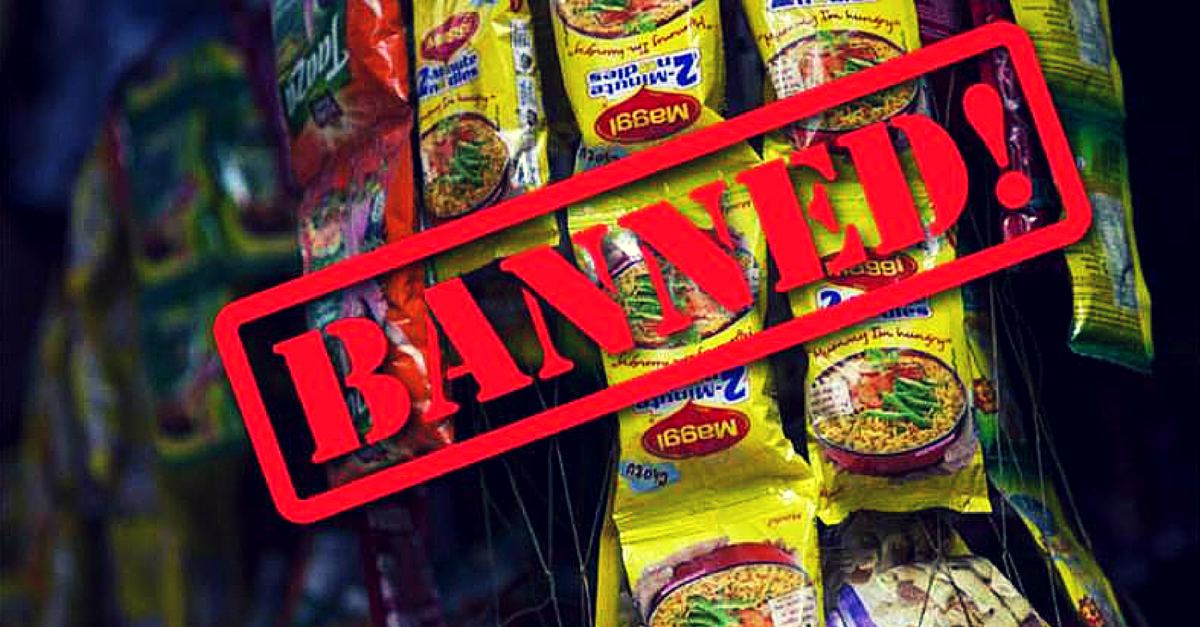 Ever since the popular Maggi noodles were banned, its consumers have been craving the quick, easy-to-make snack. But fret not. Here are 10 five-minute recipes that will make you stop mourning Maggi and move on to healthier options - within 2 minutes!
Ever since the popular Maggi noodles were banned, its consumers have been craving the quick, easy-to-make snack. But fret not. Here are 10 five-minute recipes that will make you stop mourning Maggi and move on to healthier options – within 2 minutes!
Somewhere deep in our subconscious, we've always known Maggi is junk food and not nutritious. Yet, we've allowed ourselves to get carried away by the smart advertising, ease of preparation and yes, the taste! The memorable slogan – "Taste bhi, Health bhi", the marketing campaign which led her to believe that she was eating and feeding her family something nutritious, combined with the fact that it took the famously 2 minutes of preparation time, made the life of the overworked mother so much easier!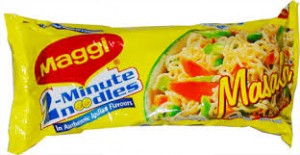 Credit : www.khurki.net
However, now, it's official! Tests conducted by the FDA in Uttar Pradesh have revealed that some packets of the noodles contained excessive amounts of lead and monosodium glutamate (MSG). A lead concentration of nearly seven times the permissible limit was found in the tested packets! Lead is a heavy metal belonging to a carbon group which,when consumed, can cause several ill effects, especially in children. It may damage the nervous system and result in brain disorders. It can also cause kidney failure and digestive issues. Even in low doses, lead can result in learning disabilities which cause decreased intelligence (the metal can reduce the IQ of the consumer) and can also cause attention deficit disorder. Additionally, it can cause behavioural issues, speech and language impairment, decreased muscle growth and decreased bone growth. This popular instant noodles has now been banned in at least six states, leaving us, the consumers, in a dilemma. What will replace that delicious, steaming hot bowl of Maggi noodles that was a perfect afternoon snack?
Here are ten quick and easy-to-make healthy (at least, relatively) Indian snacks which will satisfy your Maggi cravings, and we guarantee that they are healthier than, and as satisfying as, that bowl of Maggi.
1. Dosas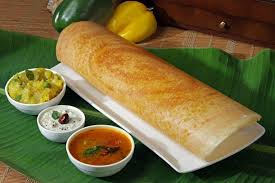 Source : www.breathbooks.com
A staple food item of South India, Dosas are a delicious option for a quick snack. Each dosa takes less than a minute to make and is an excellent source of carbohydrates and proteins. Irrespective of the type of dosa, the dish is an extraordinary source of all kinds of nutrients. Dosas can be made healthier by using Ragi, Oats or Semolina flour for their preparation. Ragi is a powerhouse of health, containing benefiting nutrients which help in reducing weight and also act as a treatment for multiple diseases like brittle bones, osteoporosis, anaemia and diabetes. It is also a natural relaxant that helps in relieving stress and anxiety.
Recipe: You can buy ready-made dosa batter in any store. Otherwise, you may grind the rice and urad dal mixture at home and ferment it overnight. For a healthy alternative, add sprouted ragi flour, semolina, or diced vegetables.
Spread the batter on a preheated oiled pan. Flip once. Your dosa is ready!
2. Bhel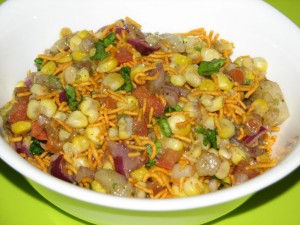 Source : www.freshwallpaperhd.com
Bhel is a quick and easy-to-make snack, with an exciting burst of flavour in each mouthful. The reason bhel is a healthy snack, is because of its nutritious ingredients. The gluten free puffed rice is an excellent source of vitamin B and the onions added to the bhel not only add crunch but also contribute to healthy skin (due to the high sulphur content) and are also great for fighting cancer and blood pressure. Add tomatoes and cucumber to the bhel, and you would have simultaneously added additional vitamins B and C and cancer fighting nutrients. The chutneys are not only delicious, they're packed with the nutrients of coriander, mint and tamarind.
Recipe: Take puffed rice, yellow sev, onions, boiled and diced potatoes, diced tomatoes, diced cucumbers (optional), tamarind chutney and green chutney. Mix well. Serve immediately.
3. Vegetarian Toasted Sandwiches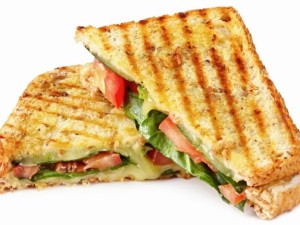 Source : www.healthmeup.com
Toasted sandwiches filled with vegetables are a delectable snack, which take no more than five minutes to make. What makes these sandwiches healthy are the nourishing vegetables packed in them. The cucumbers are a fantastic source of vitamin B and they help the body eliminate toxins. They also reduce the rate of cancer. Tomatoes are a good source of vitamin C, vitamin E, potassium and dietary fibre. They also prevent chronic diseases. You may add a couple of slices of boiled potatoes – a good source of dietary fibre, vitamin C, protein, magnesium and potassium, not to mention they taste amazing! Add moong sprouts, lettuce, chutneys, ketchup and you have yourself a delicious, healthy snack!
Recipe: Mash boiled potatoes. Add sprouts, peas, cucumbers, carrots, lettuce, bell peppers (or any other vegetables you like). Add spices and salt to taste. Mix well. Spread a small amount of butter and ketchup on the bread slices. Add the vegetable mixture between two slices of bread. Toast the sandwich in a sandwich maker or on a grill. Serve warm.
4. Poha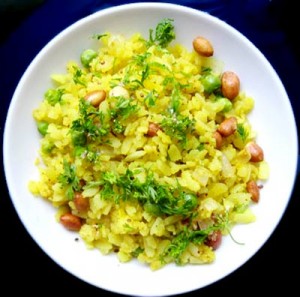 Source : www.msmediraipur.com
Poha is an easily digestible, highly energising and satisfying breakfast option. The delicious snack is rich in iron and carbohydrate. Poha is also packed with various vitamins and minerals, and has low gluten levels. Mixed vegetables can also be added to increase the vitamins, minerals and fibres. Addition of green peas, soya nuggets and peanuts would make it a well-balanced and a high-protein meal.
Watch how to make Poha here:
5. Aloo Channa Chaat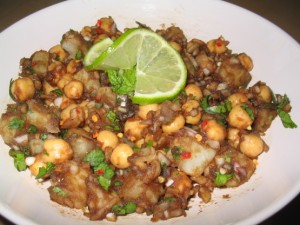 Source : www.food.com
Aloo Channa Chaat is a tasty, quick and easy to make dish, which has no cholesterol. The snack also has low saturated fat and sodium, and has very high dietary fibre, potassium, vitamin B6, vitamin C and protein. You can add a little bit of crumbled paneer to tone up the protein content even more. The satisfying dish is delicious, nutritious, quick and easy to make.
6. Vegetarian Tomato Omelet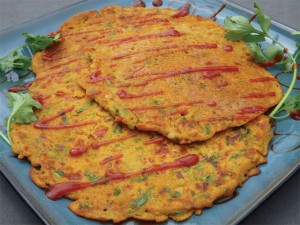 Source : www.upc-online.org
This is a crepe or an omelet, made of a gram flour batter, with grated onions, tomatoes, and spices. The gram flour makes it high on protein and the tomatoes add to the vitamin content. Other vegetables may be pureed and added to the batter raising the nutrient value, without compromising with the taste. The sprouted moong batter may also be substituted for the gram flour, raising the nutrient value considerably.
Watch how to make Tomato Omelet here:
7. Bread Uttapam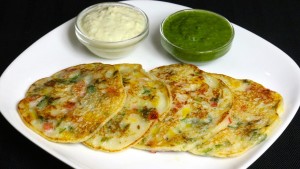 Source : www.munjulaskitchen.com
Bread Uttapam combines the carbohydrate value of bread with the vitamins and minerals of semolina (rava), tomatoes, bell peppers, green chillies, ginger, coriander and yogurt. It's instant, easy to make, uses ingredients always available in the pantry and is actually good for you!
Watch how to make Bread Uttapams here:
8. Upma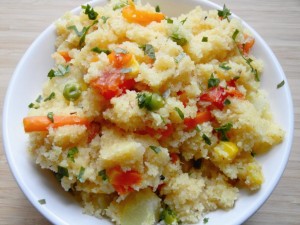 Source : www.recipesstation.com
This delicious snack from South India is a family favourite. It takes 7-10 minutes to prepare and contains health benefits of rava (sooji) or semolina, along with the vegetables you choose to add. The options are endless; you can make it with onions, peas and carrots one day, or with bell peppers and corn the next. If you're really craving that Maggi fix, replace the sooji with roasted vermicelli and make the upma. It actually tastes better than Maggi!
Watch how to make Upma here:
9. Salted crackers with beans and cheese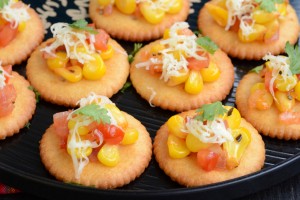 Source :www.mapsofindia.com
We generally make these as an after-school snack very regularly. Salted crackers can be topped with baked beans, black beans or sprouted moong, and garnished with grated cheese. Add spices and chutneys or tomato ketchup to taste, and you have a healthy and satisfying snack.
Recipe: Take any salted crackers and top with Baked beans, black beans, sev, grated cheese for a healthy, delicious and quick snack.
10. Biscuits with toppings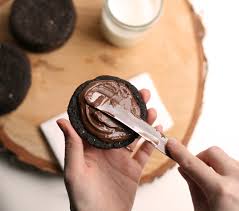 Source : www.thefauxmartha.com
Biscuits topped with peanut butter, chocolate spread or home-made salsa make a great snack too!
Hopefully these ten quick-to-make snack recipes will help you get over your longing for Maggi in the healthiest way possible.
Like this story? Or have something to share? Write to us: contact@thebetterindia.com, or connect with us on Facebook and Twitter (@thebetterindia).
About the author: Niharika Jadeja is a sixteen year old who recently graduated from Ebenezer international School. She is an avid reader and enjoys writing as well as playing the piano.