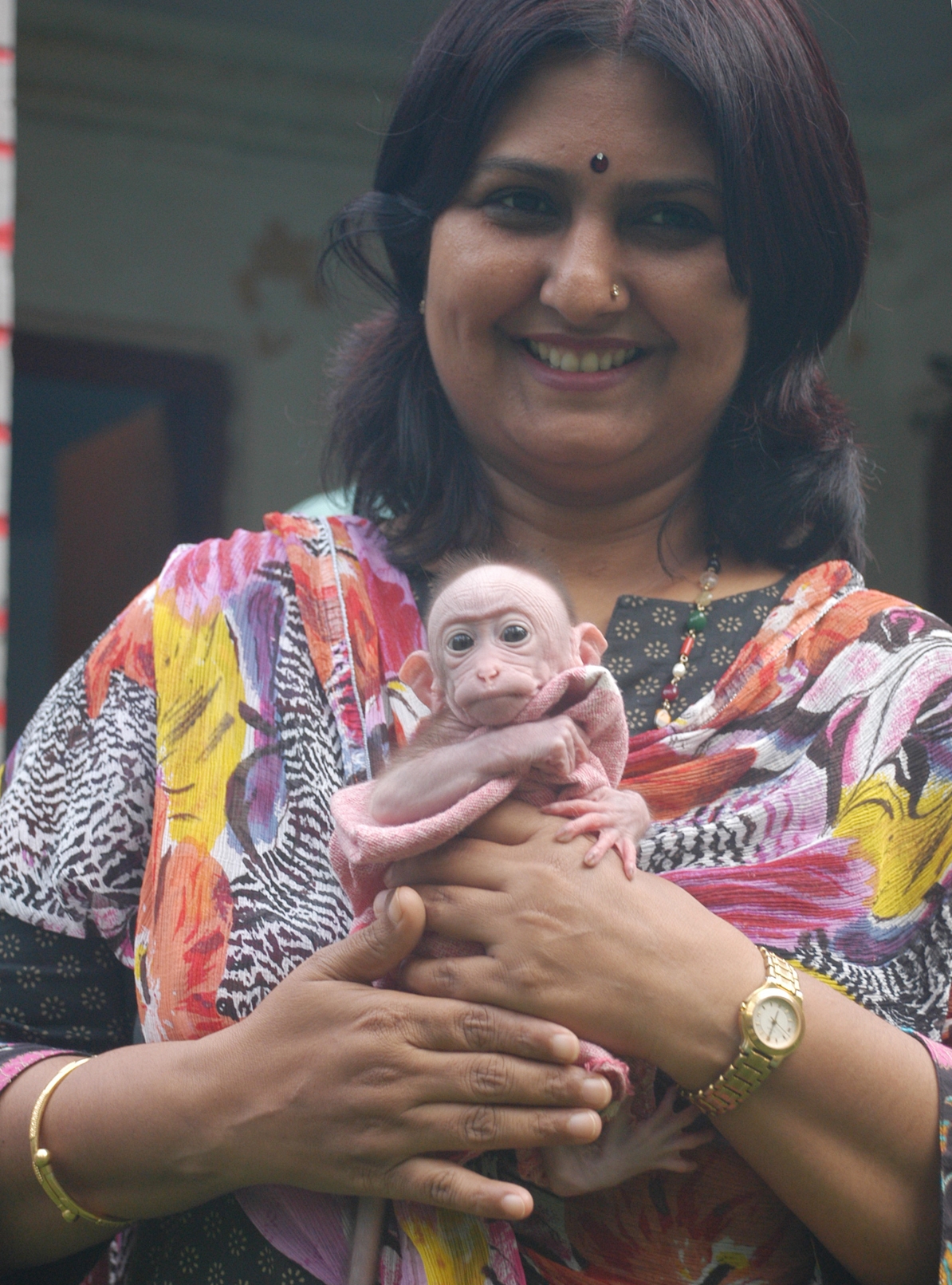 Lucknow (Women's Feature Service) Lucknow's Prince of Wales Zoological Garden has earned the unique distinction of becoming the first zoo in the country to use solar energy. Presently, all the
Lucknow (Women's Feature Service)
Lucknow's Prince of Wales Zoological Garden has earned the unique distinction of becoming the first zoo in the country to use solar energy. Presently, all the zoo offices, the streetlights and the kitchen run on solar power. Another six months and the entire establishment will switch to this eco-friendly fuel – including the water pumps, the animal hospitals, the water heating systems, the nursery, the water power ejectors that run the fountain, the vehicles that ferry visitors within the zoo, the ticket house and even the quaint lanterns that decorate the main gate! Moreover, the irrigation system at the bio-fuel plantation in the zoo nursery will also run on sunlight.
The driving force behind this path breaking change is Zoo Director Renu Singh, who has ensured that anything and everything that can use this renewable energy source is made compatible with solar-energy.

But what inspired the thirty-something Singh to turn the zoo into a green zone? It all began in 2008, when during a meeting at the Uttar Pradesh (UP) Chief Secretary's office, it was decided that a solar energy park would be constructed on dedicated land within the Lucknow zoo. The park was to be used to educate people about the benefits of solar energy. "I was not convinced that just setting up the park would motivate people to switch to solar energy. So I started to look for ways by which this idea could be made more people- and zoo-friendly," says Singh. That's when she hit upon the idea of using solar energy to power the zoo's existing infrastructure.
"It was a workable idea and what really excited me was that we could cut down on the huge electricity bills, which amounted to Rs 7,84,000 (US$1=Rs 46.9) every year. Moreover, instead of creating a solar energy park within the zoo, the entire Lucknow zoo will now set an example of how functional use of solar energy is possible in our day-to-day work. It will also educate organisations and visitors on how alternate sources of energy can be made useful for them as well," explains Singh. Her efforts have been able to bring about a sea change in the way things are run in the zoo.
The project of turning Lucknow's largest green lung into a truly eco-friendly zone was funded by New and Renewable Energy Development Agency (NEDA) of the UP government. The total cost of this transformation is estimated at Rs 94,34,000. "NEDA will put up all the solar panels and get the whole setup functional. From there on we will be responsible for its maintenance and we are more than prepared for the task," says Singh.

This green initiative will go a long way in bringing about a healthy environment for the animals. "Clean, healthy and animal-friendly surroundings will provide a congenial environment for our inmates, which will also encourage breeding. In addition, solar powered battery-run cars and three wheelers will ply within the zoo for senior citizens and children. This will not only facilitate their movement within the premises but will also help curb air and sound pollution.
It will encourage the development of a micro-climate that will help change the environment of the zoo for the better," explains Singh. However, she is quick to add, "The process will not happen right away. When a congenial atmosphere is provided, change will happen but it will be gradual one."
Singh is not the only one who is upbeat about the changes taking place at the zoo. Her staff is completely involved in the project, too. Sameer Kumar, Assistant Accountant, Lucknow Zoo, says, "The initiative by NEDA at the Zoo, which director saheb has implemented is a very positive step as it will make the zoo a no pollution zone and cut electricity costs substantially. This way, the additional funds being saved can be used for bringing in other facilities at the zoo. All the employees here welcome such moves."
Singh aims to sensitise all the people and not only the staff. "Had I gone ahead with the plans to set up just a solar energy park then only those responsible for the park would have been sensitised towards conservation efforts and eco-friendly energy sources. Now everyone will be using solar energy and will get used to the idea quite naturally," she reasons optimistically.
And does Singh, who has a nine-year-old daughter, feel that being a woman has helped her put this innovative idea into practice? She answers with a smile, "I don't know if being a woman has helped achieve all this but I can confidently say that as women we are very focused and if we believe in something we go for it with single-minded devotion."
Singh is also proud of the growing profile of the zoo. "When I joined as a director in 2007, the zoo got a fund of Rs 37,50,000. The government increased the cash flow to Rs 70,00,000 last year. So I guess something right is happening. In addition to that we have generated around Rs 30,00,000 through animal adoption schemes at the zoo in 2008-09," she says.
In fact, recently Singh added a famous name to her animal adoption list – Hindi film actress, Dia Mirza, who called Singh a "rock star" when she recently visited the Lucknow zoo at Singh's request to adopt two leopard cubs.
"There is an interesting story behind my move to invite Mirza to the zoo," elaborates Singh. "A female leopard named Dia came to our zoo from Mirzapur. I put the two names together and called her Dia Mirza. When she had her cubs I decided to inform the actress with whom she shared her name and motivated her to adopt the twin cubs. And Mirza agreed to do so and named the cubs, Ashoka and Nakshatra. She also donated Rs 1,00,000 for their upkeep."
The salwar kameez and walking shoes clad Singh is an inspiration to many, including her own husband, Amitabh Yash, the Superintendent of Police of Sitapur. He says, "I have followed a lot of work she has done for environment. It was under her influence that I took serious action against illegal tree felling and poachers here in UP. She is very thorough when she works on eco-projects and does complete research before she launches it. And even though she is dedicated to her job she is committed to our home too. That's what keeps a perfect balance in our lives. To me she is a complete woman."
Even the environment lobby is very happy with Singh. Environmentalist Prabha Chaturvedi feels, "Such initiatives are a much needed role model. The zoo being the oldest green confine in Lucknow is an apt place to start such eco projcets, as it represents the environment that we are polluting senselessly. Using solar energy has been a challenging proposition but what I hear is that the model at the zoo is a worakble one so I am looking forward to its launch."
A zealous crusader, Singh has many more plans for the zoo. She is all set to see the completion of her next big project – a fully functional a state-level hospital at the zoo. Constructed at the cost of Rs 147.94 lakh, the medical facility will have X-ray machines, ultrasound facility, 14 indoor wards, A rescue room, ambulances, incubators and two full-time doctors on duty round the clock. And, of course, the hospital too will be solar powered.
Singh's zoo story is sure to be a trendsetter for other zoos across the country and inspire those who want to make a difference to the environment.
This article has been written by Anjali Singh for Women's Feature Service (WFS) and has been published here based on an arrangement with WFS. Anjali Singh is a Lucknow based development journalist.
Article and images copyright: Women's Feature Service.
We bring stories straight from the heart of India, to inspire millions and create a wave of impact. Our positive movement is growing bigger everyday, and we would love for you to join it.
Please contribute whatever you can, every little penny helps our team in bringing you more stories that support dreams and spread hope.
Tell Us More