In the passing of a proposal on Wednesday, the Cabinet Union bans Child Labour across almost all commercial sectors of India. Better implementation of the Right to Education Act was the driving force.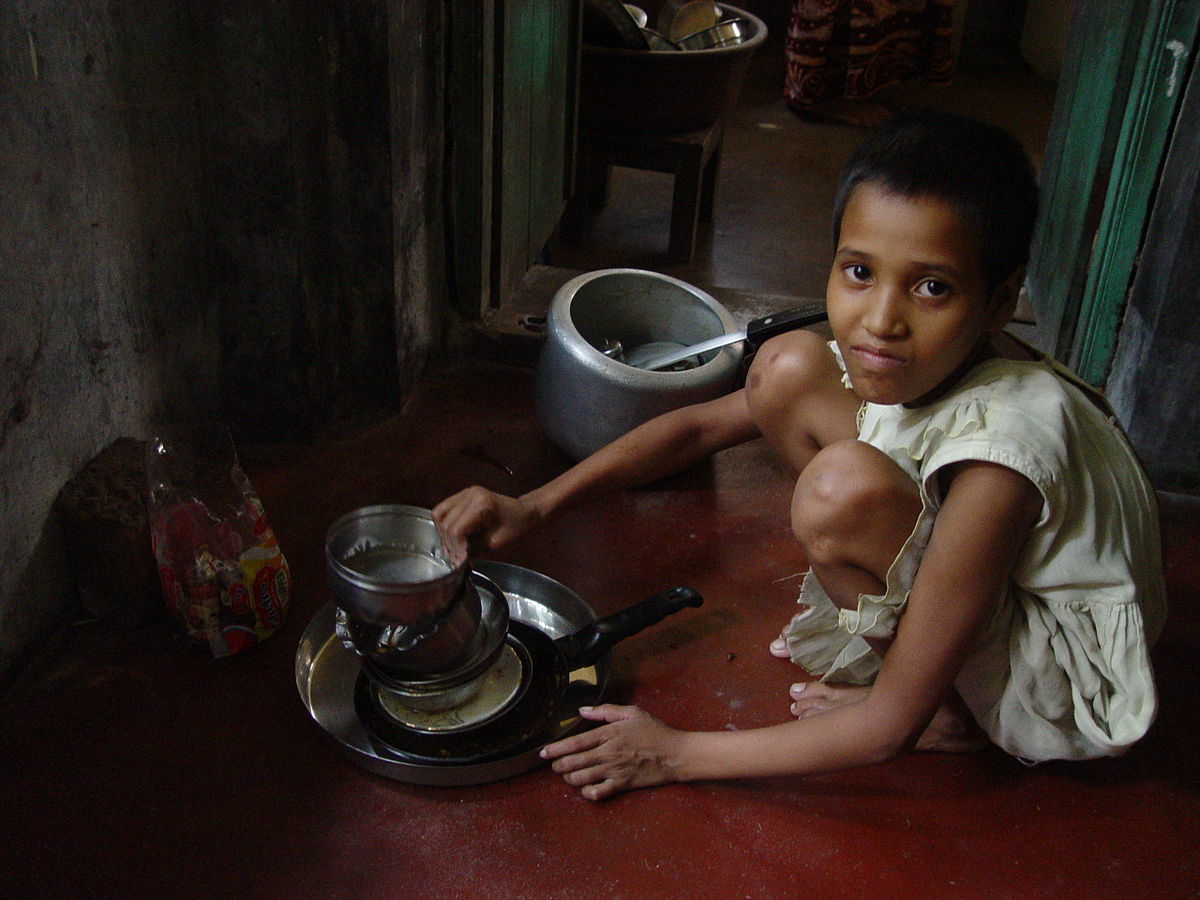 Photo source: "Child Maid Servant" by Biswarup Ganguly – Own work. Licensed under CC BY-SA 3.0 via Wikimedia Commons
On Wednesday, the Union Cabinet accepted a proposal regarding revisions of the current standing Child Labour laws. The aforementioned laws have been designed in a way such that they align themselves to the Right to Education Act and facilitate its effect, rather than hampering its capacity of influence. The Right to Education Act warrants the right to go to school for children between the ages of 6 and 14.
The remodeled Child Labour law now bans employment of children up to 14 years of age, across all sectors of commercial enterprises except for work done in family-based enterprises, as artists in entertainment industries (barring circus), for sports activities and as help on farmlands, albeit strictly after school hours or in the vacation period. For the young adolescents of ages 14-18, the government has banned their employment in any hazardous activities. The government also justified its stance from refraining from a complete ban on child labour activities altogether, by stating that while that is indeed a desirable move, the government needs to be mindful of the socio-economic conditions of India.
"In a large number of families, children help their parents in their occupations like agriculture, artisanship etc. and while helping the parents, children also learn the basics of occupations. Therefore, striking a balance between the need for education for a child and the reality of the socio-economic condition and social fabric in the country."
– post-Cabinet official press release
The penalisation of the employers is primary and the value of penalty has been raised significantly, with a fine no less than INR 20,000, capable of increasing to INR 50,000 or imprisonment no less than 6 months, capable of increasing to 2 years. However, amongst parents, repeated offenders can also be penalised with a fine no less than INR 10,000 and capable of increasing to INR 20,000 or imprisonment no less than 3 months, capable of increasing to 1 year. As strenuous and difficult for the government as it may be, if implemented thoroughly, this is a step forward which ensures a more literate and educated India.
Further information on the amendment bill can be found at: Approval to move official amendments to the Child Labour (Prohibition & Regulation) Amendment Bill, 2012.