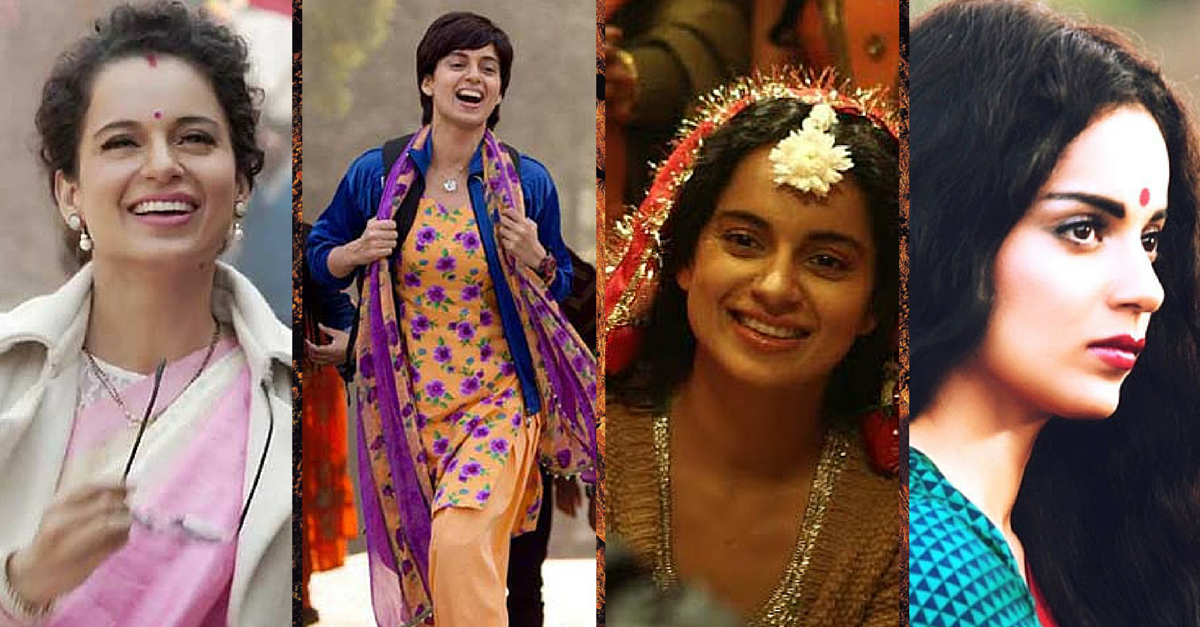 Kangana Ranaut seems to finally be receiving the credit which has long been overdue. She is not only an actor, but a revolutionist in her own terms. Here are 5 reasons why she is a true queen of Indian cinema.
Kangana Ranaut seems to finally be receiving the credit which has long been overdue. She is not only a fine actor, but a revolutionist in her own terms. Here are 5 reasons why she is a true queen of Indian cinema.
Kangana Ranaut is much more than just an actor, she is a performer. She realizes the impact she is bound to have, just by being in the field that is the Indian cinema. Instead of choosing to revel in its glamour and glory, she chooses to use it as a podium of change. She barely acts for commercial popularity, but undertakes roles which resonate with her and her beliefs. She pushes boundaries, tests waters and comes out stronger, with each succeeding film. She plays characters which break conventional norms. In other words, she plays herself. She is Kangana Ranaut, a revolutionist of the reel and the real orthodox conventions.
1. To her, being genuine matters most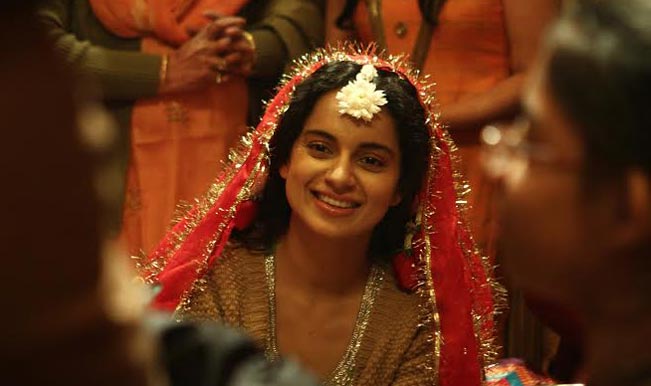 Had it been some other female actor in her place, when the National Award for Best Female Actor was being conferred upon her, she would have been dressed in all her glory and would have been shining with all the razzmatazz. Other actors would have all been proclaiming their stardom, but she being Kangana Ranaut, decided to be herself and graced the occasion in an attire bereft of any trappings of star stature. She underlined her image of being the girl next door and captivated everyone with her elfin charm once again. Kangana Ranaut has single-handedly deconstructed the conventional image of a female actor, having shorn off the mask of glitz and glamour. She has presented a side of herself which is soaked through and through with sincerity and as a result, has fans who adore her unconditionally.
2. She gave the National Award the honour that it deserved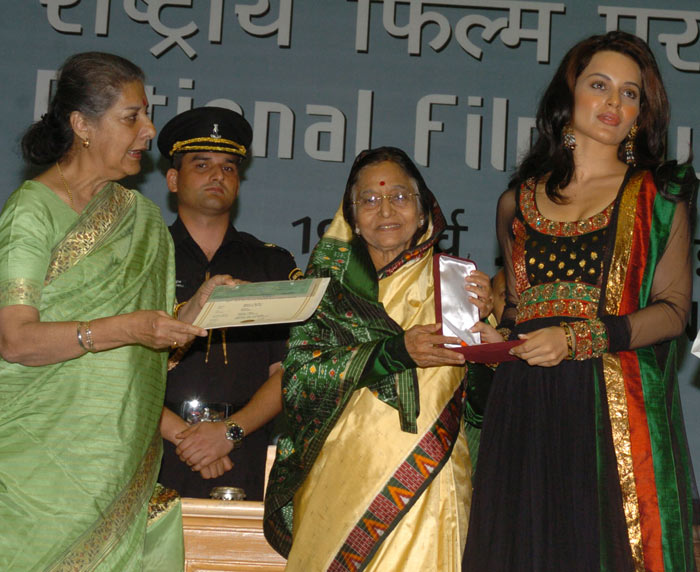 She swept all the relevant cinematic awards for the year 2014, yet never once appeared in person to claim the awards herself. However, in order to drive home the point that she truly coveted and treasured the recognition that had been accorded to her, she made it a point to receive the National Award for Best Female Actor from the hands of the President herself.
3. Her superb performances has led to a role reversal, where even leading male actors now express a desire to work with her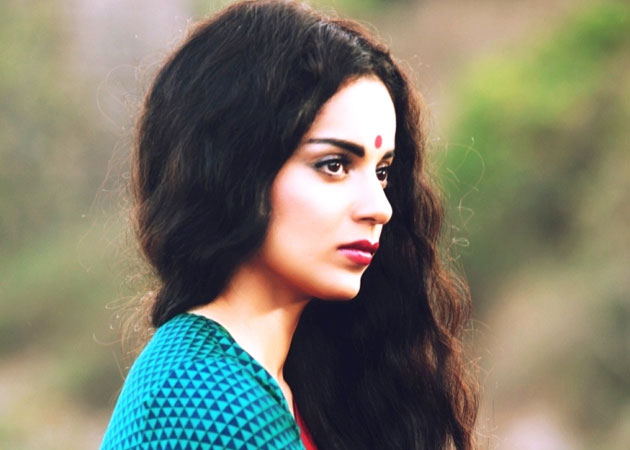 It would be a rare case for a female actor with whom a leading star like Ranbir Kapoor has expressed the desire of working. In the world of commercial Hindi cinema, or even otherwise, it is the hero who generally matters and the role of the heroine has been mostly relegated to accompanying him during song and dance sequences. It is a male-dominated world and mindset – the world of Hindi cinema. However, Kangana Ranaut is slowly, but surely, dismantling the barriers and carving out her space, which one hopes would usher in an era of change in the world of Hindi cinema. A world wherein an actress could demand a role for herself and not continue to be downgraded to only performing a song and dance item in a movie. It indeed is a coming of age for this world, as a male actor is expressing a desire to act opposite a female actor.
Even Ayushmaan Khurana tweeted saying, "Kanagana is legendary and hail!" on the eve of release of the trailer of Tanu Weds Manu Returns, while Rishi Kapoor showered encomiums on her with his tweet: "Probably the best trailer I have ever seen that it evokes immediate interest to watch the film."
4. She has not been afraid to take on the issue of patriarchy and set new benchmarks in woman empowerment through cinema, be it in 'Queen' or now 'Tanu Weds Manu Returns'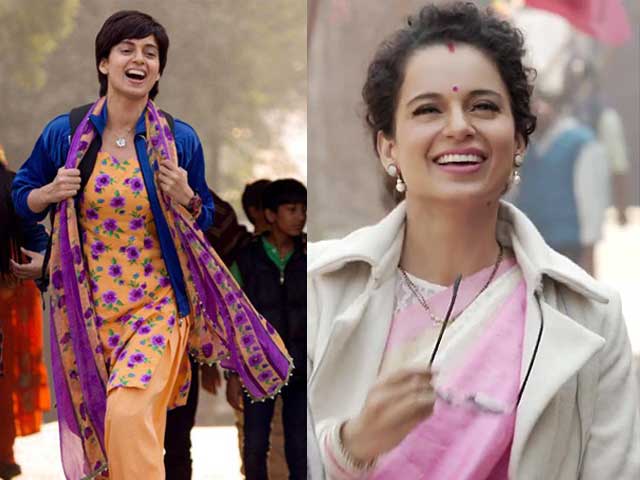 'Tanu Weds Manu' has Kangana Ranaut in a double role, and one of the characters which she plays is of a girl from Haryana, who fights against a patriarchal society to carve her place under the sun. If one were to analyze the real reason behind the phenomenal success that 'Queen' achieved, one would understand that it was the underlining theme of bravery displayed by her character. The conviction of the character to go on a honeymoon on her own is what kindled hopes and confidences of many small-town girls. Her character chose not to bow down to a patriarchal society and its norms, but instead found solace in her own independence. 'Tanu Weds Manu Returns' would be taking the issue of patriarchy to new heights altogether. Additionally, it would look into the marriage blues caused by getting married in a hurry.
5. Kangana Ranaut breaks societal norms through her movies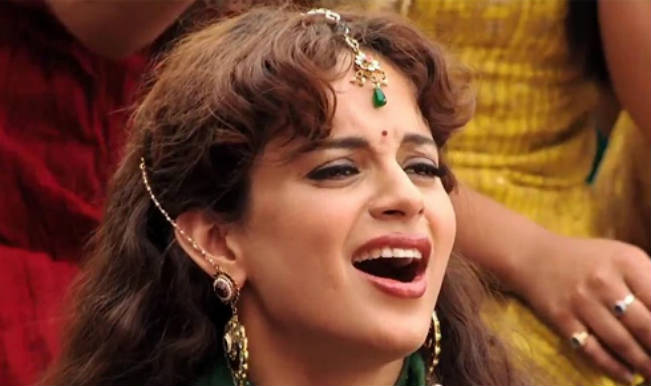 Kangana Ranaut is a real success story as she has obliterated the notion of a "behenjee", being coy, demure and not in sync with the changing times. She has played roles that clearly highlight that women are no less competent in any sphere. Her USP lies in the fact that even though she has now been a part of the Hindi film industry for nearly a decade, she has still not lost her charm of a small town girl and this is what draws her audience to her. Her success in the year 2014 showed that even the mainstream jury could not ignore her reach and panache.
In the real, not the reel world, it is indeed characters like her who dominate the different fields. And through her performances, Kangana persuades young girls to not succumb to the demands of the male dominated world. A performer like her could not be found even in Hollywood; her impact is irrefutable.
She has a face which is kind, but mischievous at the same time; and never bears an emotion of surrender on it. Rather, it is an emotion which oozes self-confidence, enough to take on the world on her own terms. Kangana Ranaut truly is the Audrey Hepburn of India, which the world of Hindi cinema had long been searching for, or the Madhubala reincarnate which it wished to have again. May she continue to dominate the world of Hindi cinema and, through her performances, provide inspiration to scores of women around the country and beyond.
Watch the 'Tanu weds Manu Returns' Official Trailer here and leave your opinion of the film in the comments below:
Like this story? Or have something to share? Write to us: contact@thebetterindia.com, or connect with us on Facebook and Twitter (@thebetterindia).