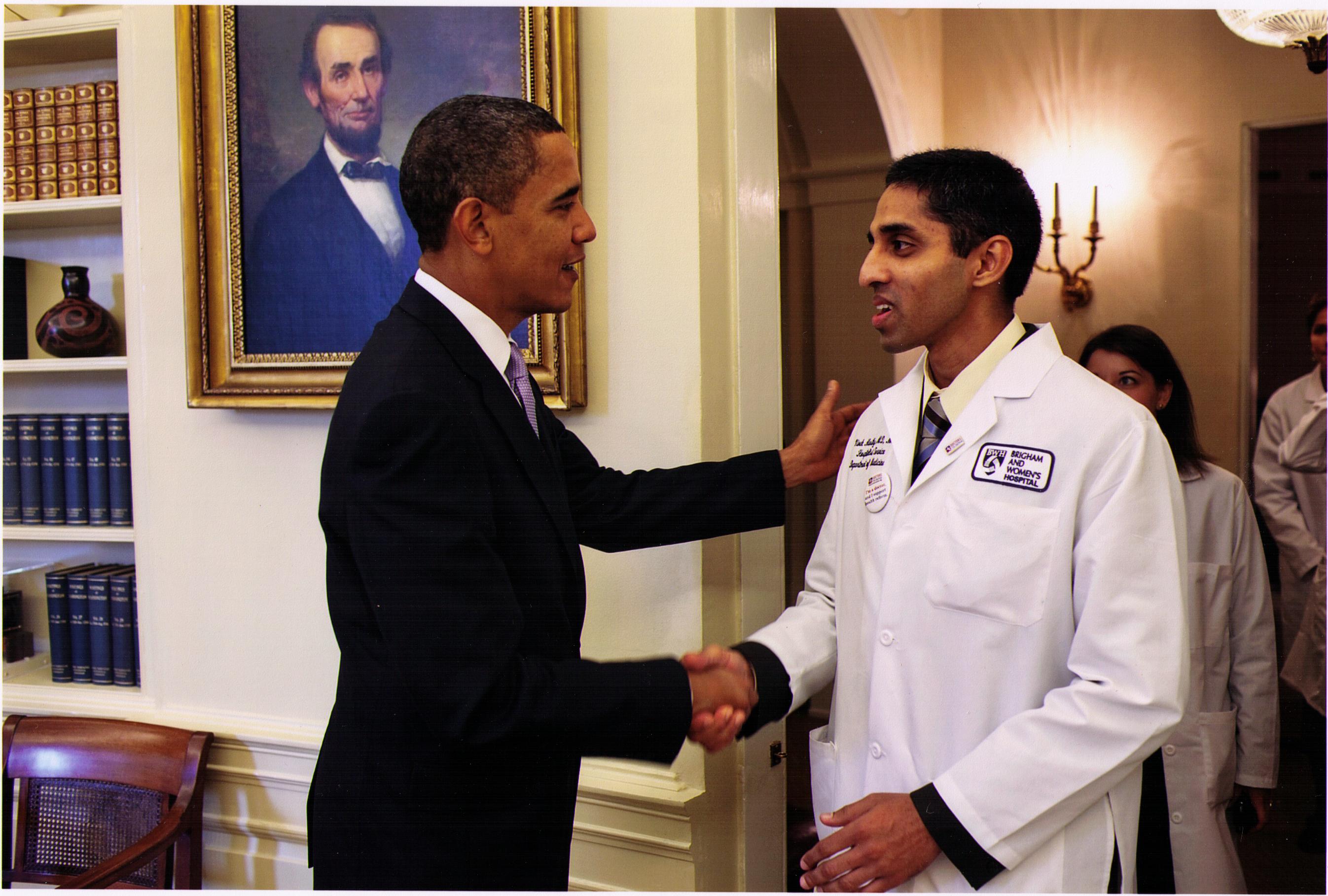 Dr. Vivek Hallegere Murthy was recently appointed as the 19th United States Surgeon General and became first Indian - American to hold this post. Here are 12 amazing facts about him and his India connection that you probably didn't know.
Dr. Vivek Hallegere Murthy, whose grandparents hail from Karnataka, was recently appointed as the 19th United States Surgeon General and became first Indian – American to hold this post. Here are 12 amazing facts about him and his India connection that you probably didn't know.
This is the formal notification from the White House: "Vivek Hallegere Murthy, of Massachusetts, to be Medical Director in the Regular Corps of the Public Health Service, subject to qualifications therefor as provided by law and regulations, and to be Surgeon General of the Public Health Service for a term of four years, vice, Regina M Benjamin, resigned," the White House communication on nomination sent to the Senate, said.
The U.S. Senate confirmed his appointment on Monday the 20th of April, 2015.
And this might be the first time that most Indians heard his name. So here's a little about the acclaimed doctor and his various initiatives in the United States as well as in India that you must know:
1. Dr. Vivek Hallegere Murthy was sworn in as the 19th United States Surgeon General and is the first Indian American to be appointed to this coveted medical post. He was sworn in on the 22nd of April, 2015 by taking an oath on the Bhagwad Gita.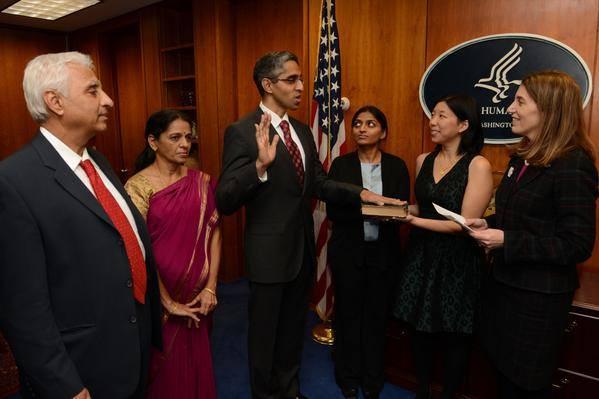 Photo source: www.pbs.twimg.com
He will henceforth be known as Vice Admiral (VADM), Vivek H Murthy, M.D., MBA, the official designation for the U S Surgeon General.
2. 37 year-old Dr. Murthy is the youngest Surgeon General in the history of America.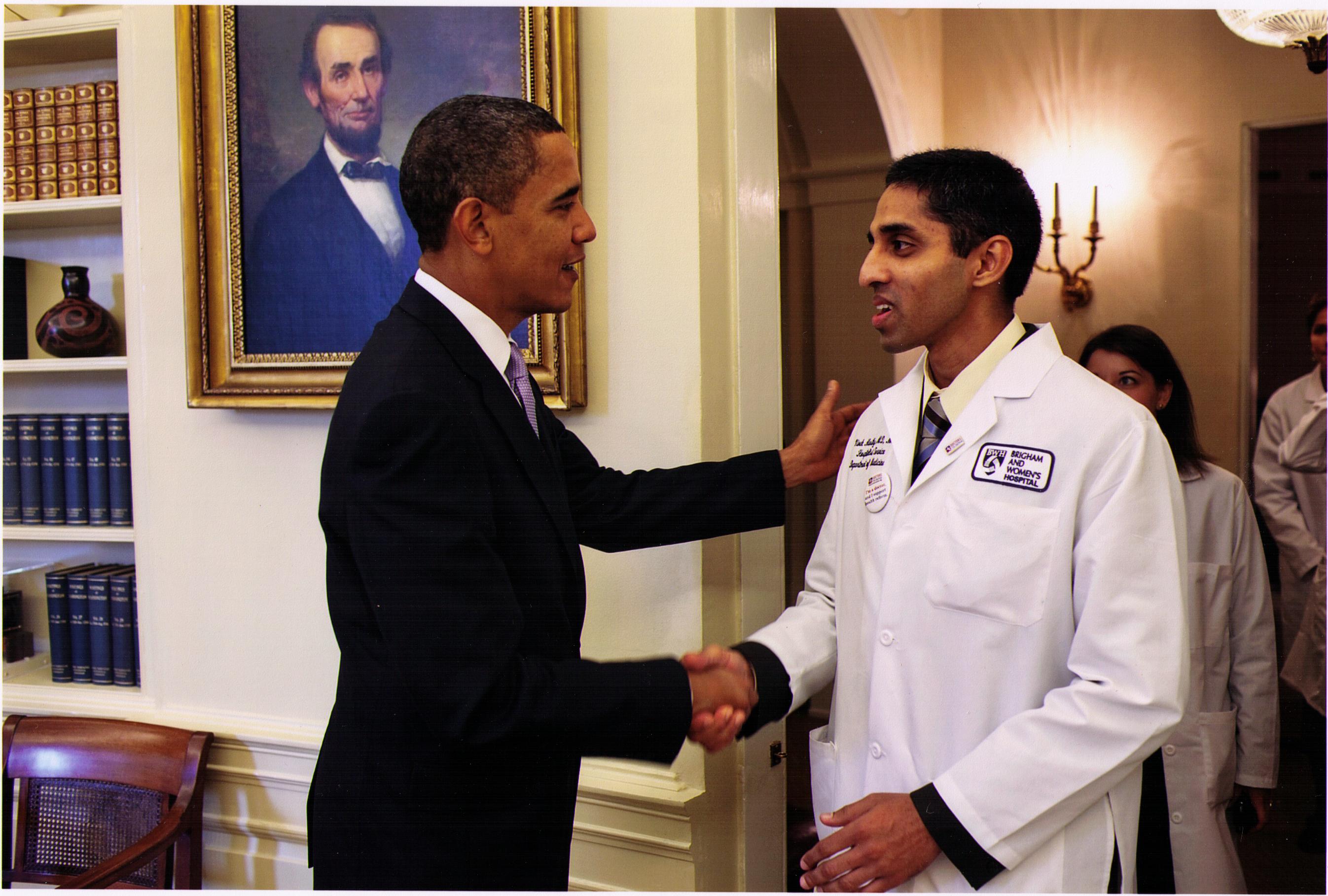 Photo Source: www.justkannada.in
3. Dr. Vivek Murthy and his parents have set up the self-funded SCOPE foundation in their village Hallegere, Mandya district, Karnataka.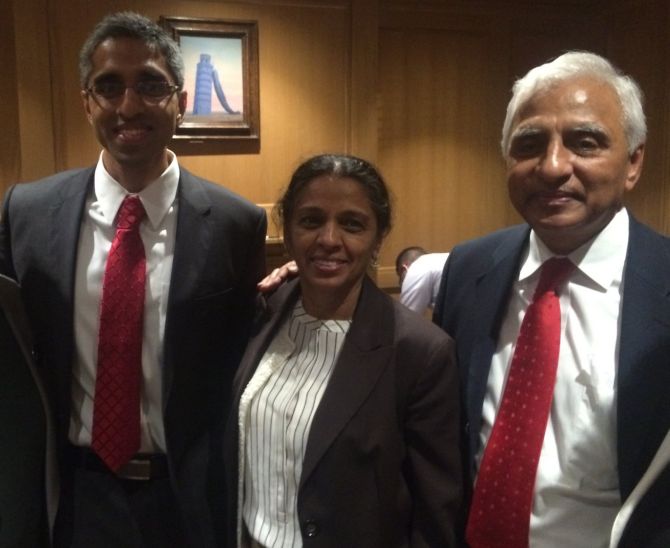 Photo source: www.rediff.com
Every year they hold several initiatives through this foundation. They have provided more than 100 computers to the local government schools in and around the village. The foundation is also planning to distribute the solar equipment to villagers and schools.
4. When he was 18, and at Harvard, Vivek Murthy co-founded VISIONS Worldwide in 1995, a non-profit organization focused on HIV/AIDS education in India and the United States.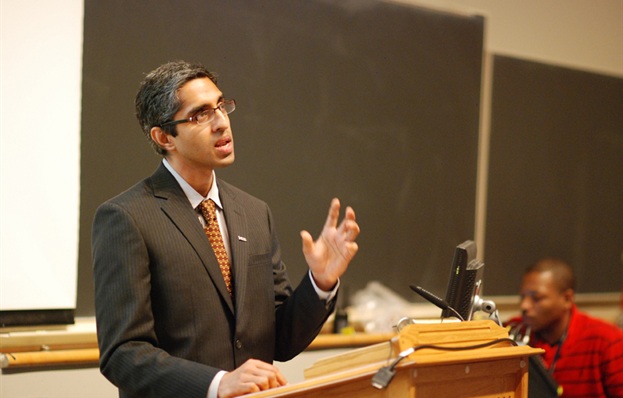 Photo source: http://static.dnaindia.com/
He led this organization for eight years, first as President from 1995 to 2000 and then as Chairman of the Board from 2000 to 2003. As its president, he established ten chapters with hundreds of volunteers in both countries and grew the organization's education programs to reach more than 45,000 youth.
5. Dr. Murthy also co-founded the Swasthya project, a community health partnership in Sringeri, Karnataka, India, to train women to be health providers and educators.
During his five-year tenure with the organization, he established seed funding and helped expand research and direct care programs that reached tens of thousands of rural residents.
6. Dr. Vivek Murthy co-founded 'Doctors for America' in 2009 and was until 2013 its founding President.
Photo source: www.momsrising.org
It has a membership of about 16,000 doctors and medical students from across America.
7. He is co-founder and chairman of TrialNetworks, a cloud-based Clinical Trial Optimization System for pharmaceutical and biotechnology trials that improves the quality and efficiency of clinical trials to bring new drugs to market faster and more safely.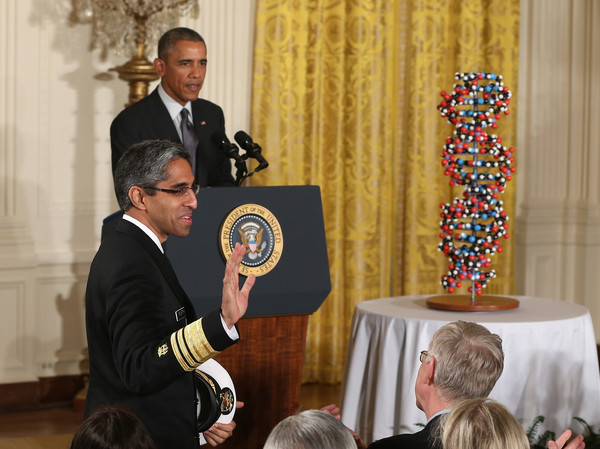 Photo Source: http://www4.pictures.zimbio.com/
8. He discovered a love for the art of healing early in his childhood while spending time in his father's medical clinic in Miami.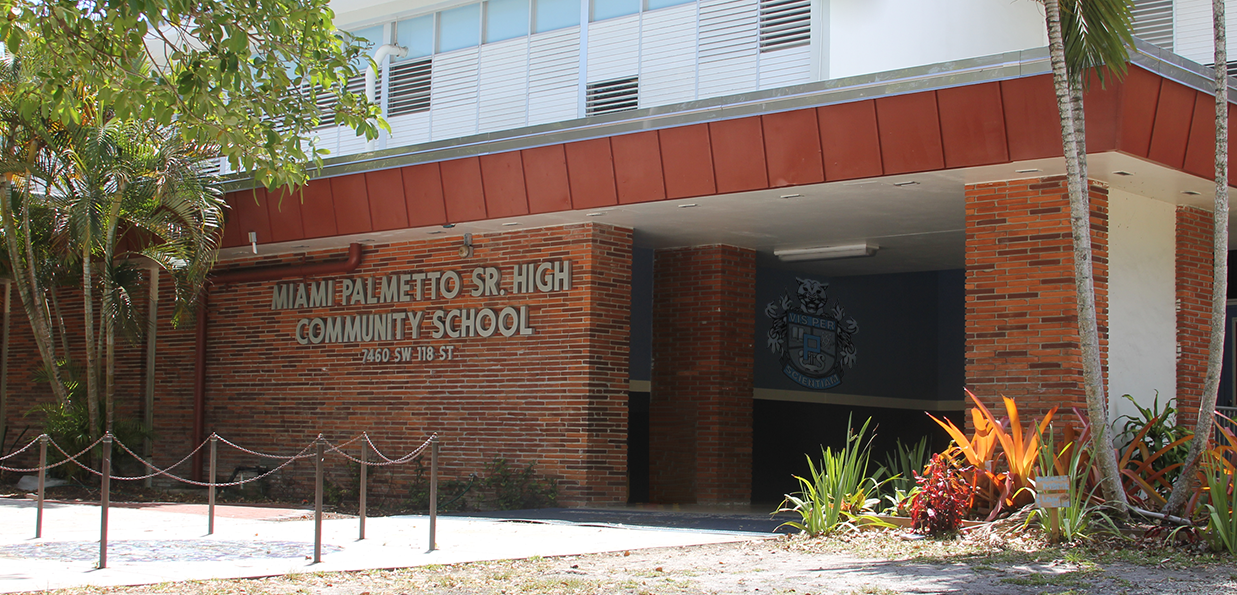 Photo source: http://mpsh.dadeschools.net
Vivek Murthy was born in Huddersfield, England, on July 10, 1977. When he was three his parents relocated to Miami, Florida, where Vivek completed his early education, graduating as valedictorian from Miami Palmetto Senior High School in 1994.
9. Dr. Murthy attended college at Harvard University, where he graduated magna cum laude in 1997 with a Bachelor's degree in Biochemical Sciences.
Photo source: www,wikimedia.com
In 2003, Vivek received an MD from Yale School of Medicine and an MBA in Health Care Management. He completed his residency in Internal Medicine in 2006 from Brigham and Women's Hospital and Harvard Medical School, where he later joined the faculty as an Internal Medicine Physician and Instructor.
10. Vivek is the grandson of H.C. Narayana Murthy, who was a former director of Mysore Sugar Company and Vikranth Tyres, in Mandya, Karnataka.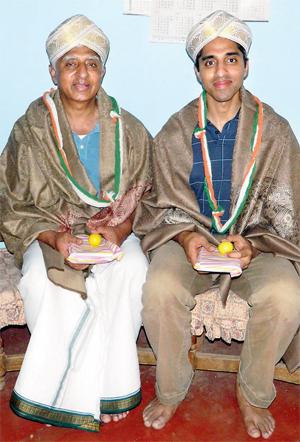 Photo source: www.bangaloremirror.com
11. When not empty, his refrigerator contains foods like unflavored almond milk, raw carrots, and high-protein grains, reflecting a healthy lifestyle that includes the daily practice of yoga.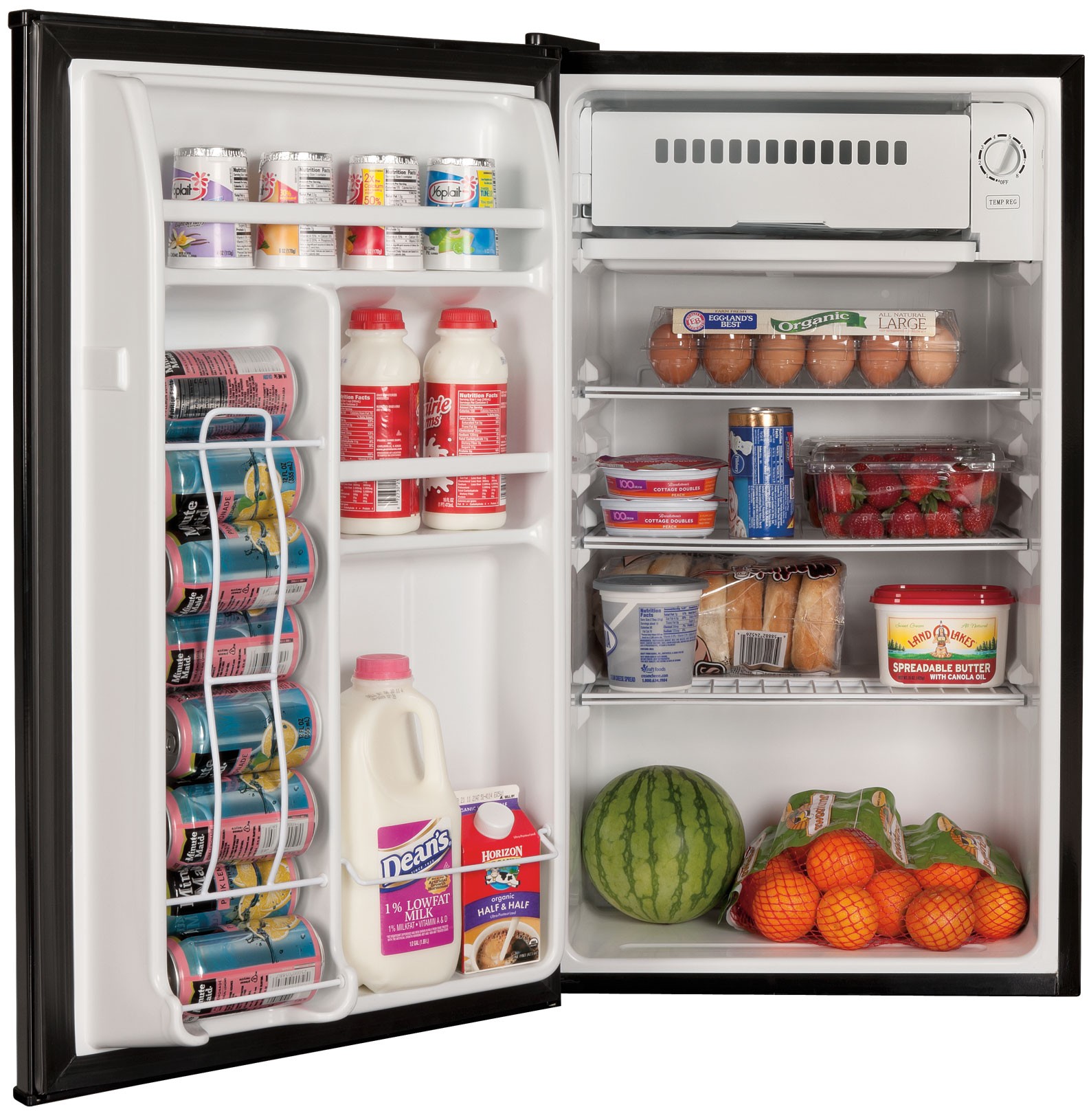 Photo for representation only. Source: www.advent-air.com/
According to the Globe, "While he is of the age where many of his friends are marrying and having children, he is the single, honorary uncle to many, sending gifts as soon as a happy occasion is announced."
12. Dr Murthy is a staunch believer in "Stand up for your values".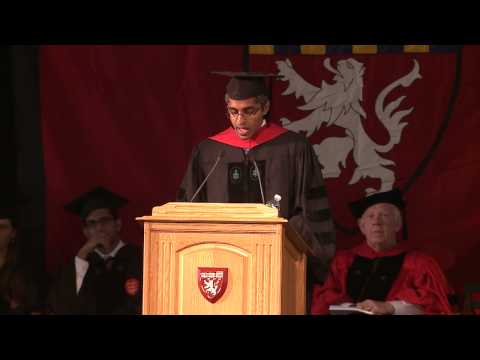 Photo source: http://i.ytimg.com/
"Stand up for your values and you can not only change your patient's life but also the health care in this nation – and the world," was the message Dr. Vivek Murthy shared with the newest graduates of the Harvard Medical School and the Harvard School of Dental Medicine, in his Keynote address during Class Day ceremonies on the 29th of May, 2014.
Quoting from his acceptance speech, on the 22nd of April, Surgeon General Dr. Vivek H Murthy had this to say:
"To have the opportunity to serve as Surgeon General is an extraordinary honor and a profound responsibility, and I want to thank President Obama for entrusting me with the stewardship of this office.

I am who I am because of my grandmother's faith, my father's strength, my mother's love, my sister's support and my fiancée's unyielding belief in me. I am blessed to have all of them here with me today. I will always be grateful to them for the sacrifices they have made.

As I look around this arena, I am struck by a simple truth: by any reasonable measure, I shouldn't be standing here.

My family was never supposed to have left our ancestral village. My father is the son of a farmer in rural India. He was supposed to have been a farmer, as was I. But for my grandfather's insistence that his son get an education – even if that meant going into debt – we might have never left that village to go out in the world and – as my grandfather also insisted – start fixing what needed fixing.

We were not supposed to have become Americans. My parents stopped in three other countries – including a brutal dictatorship – on their journey to get here. They saved up money and scrounged for information about job opportunities, always knowing that America was the destination.

They knew that here – more than any other place in the world – they would not be limited because of who they were or where they came from. And in Miami, they found a community of immigrants from all over the world who continue to hold on to that vision of America as an article of faith.

I was never supposed to be the guy giving speeches in rooms like this. I was a shy kid who had a tough time connecting with other children until I discovered a love for sports. Through sports, I came out of my shell, became part of a team and made friends. Throughout my life, I was fortunate to have had teachers and mentors who were able to see something in me before I was able to see it in myself. And that has made all the difference.

And even after being nominated for this job by a President I deeply admire, I almost didn't get to be your Surgeon General. Had it not been for so many of you in this room – and thousands of dedicated individuals that I have never even met – I would not be standing here. We got here by standing on principle.

But here's the thing about standing on principle. You have to remain standing.

After all, if my improbable journey to this podium demonstrates anything, it's that it took family and friends, teachers and coaches, employers and advocates, community leaders and elected officials to get us to this place. And that is the sort of coalition we must activate and expand in order to fulfill our mission."
For Surgeon General Dr. Vivek Hallegere Murthy, his journey has just begun.
Like this story? Or have something to share? Write to us: contact@thebetterindia.com, or connect with us on Facebook and Twitter (@thebetterindia).
About the author: Sharath Ahuja works at the Indian Institute of Science, plays badminton, billiards and snooker and is also an amateur photographer.
We bring stories straight from the heart of India, to inspire millions and create a wave of impact. Our positive movement is growing bigger everyday, and we would love for you to join it.
Please contribute whatever you can, every little penny helps our team in bringing you more stories that support dreams and spread hope.
Tell Us More