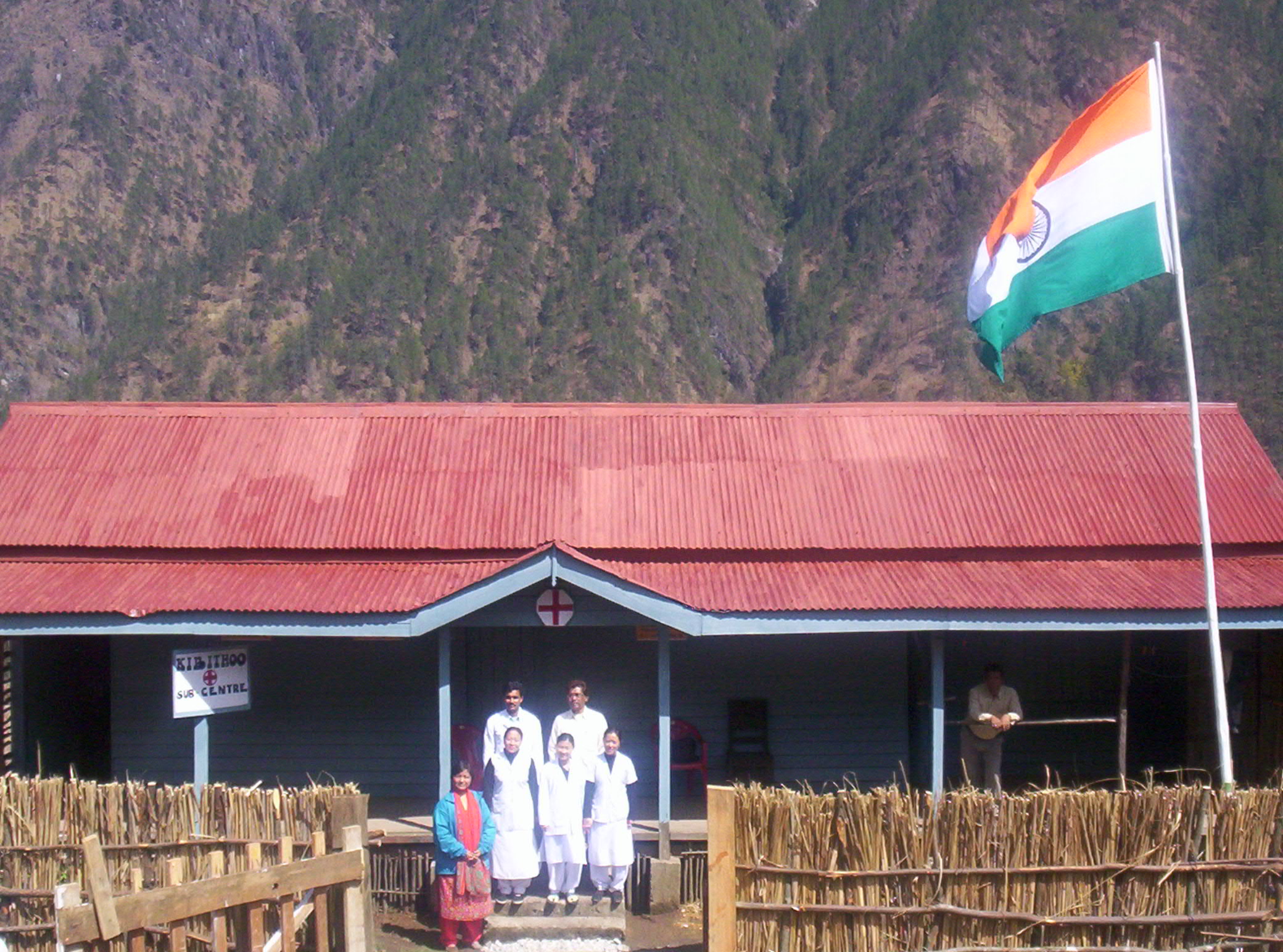 On the eastern tip of India along its border with China is Kibitho. The sun rises the earliest in India for the people here. The nearby Chinese village of Sama
On the eastern tip of India along its border with China is Kibitho. The sun rises the earliest in India for the people here. The nearby Chinese village of Sama is visible at a distance. It is a harsh terrain, and people are few. Small villages of a few hundred pepole are scattered across the high mountain ranges. Kibitho is in fact north of the town of Walong, after which the bloody battle of Walong is named. At Kibitho in 1962, several members of the Kumaon regiment lost their lives fighting the Chinese.
A monument in the memory of the soldiers who laid down their lives reads:
The sentinel hills that round us stand
bear witness that we loved our land.
Amidst shattered rocks and flaming pine
we fought and died on Namti Plain.
O Lohit gently by us glide
pale stars above us softly shine
as we sleep here in sun and rain.
Arunachal Pradesh is not an easy place to live in, if you are human. Neither is it an easy place to live in, if you are a tiger or one of those much sought after wildlife. While human life is easily lost to malaria, wildlife is hunted, often for paying for health care costs. A curious web that weaves the fate of the tiger into the fabric of public health. I happened to see this curious connection first hand in another thickly forested area of Arunachal Pradesh, the Namdapha Tiger Reserve. Kibitho, is however more promising. A sub-centre with a pharmacist and a nurse caters to the circle and nearby villages on the hill slopes. The pharmacy is well maintained by the young pharmacist, stocking all the essential medicines.
In an age where rubbishing government services is easy (and legitimate often!), seeing such examples of sincerity and motivation among young health workers in remote sub-centres is heartening.
A sub-centre is the arm of the first line health services in India. A sub-centre ususally has at least a nurse-midwife – auxiliary nurse-midwife (ANM). She is trained to conduct normal deliveries, provide very basic curative services (give paracetamol for fevers and pains and such) and is the face for the myriad national disease control programmes, that super-educated consultants in swank offices in Delhi/Bangalore/Geneva think will change the world. Much rests on her shoulders. The ANM is expected to maintain at least 18 registers, conduct routine check-ups for all pregnant women in her area, detect ones that may run the risk of a pregnancy-related complication (short stature, increased blood pressure during pregnancy and such), provide family planning services through oral contraceptives, intra-uterine device insertion etc., provide immunisation services, promote breast feeding, provide health education and in general promote healthy living among the people in her catchment area. In addition, several nationally planned and launched programmes such as the successful one for controlling Tuberculosis (the Revised National Tuberculosis Control Programme) or one of the other failing ones (such as the National Mental Health Programme) compete with each other for her time.
It is a ray of hope to see the Kibitho sub-centre. In an age where rubbishing government services is easy (and legitimate often!), seeing such examples of sincerity and motivation among young health workers in remote sub-centres is heartening. And it is not an easy choice to work in such places for most of us ambitious lot. "I heard that the nightlife in Bangalore is great!" a doctor asked me in another PHC in the plains of Arunachal at Bordumsa. "We are still waiting for light at night, forget the life…." she continued.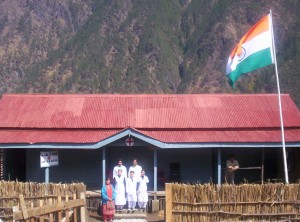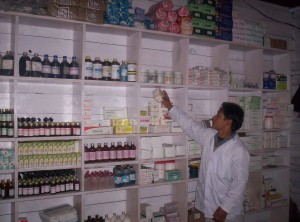 It made me wonder, as to what keeps spirits high among health workers in difficult areas. A government doctor in Karnataka, for example chooses poorer salary, uncertain career path, leaking quarters, dull nightlight and an over-populated out-patient department when he sets foot into a primary health centre as a medical officer. Some job satisfaction ahead…..
My thoughts go to a doctor I met in Gubbi, a small town in Tumkur district in Southern Karnataka. Gubbi Veeranna, one of the well-known theatre personalities from Karnataka who started the first Kannada theatre hailed from here. Historically, the town was well-known for its local markets for cotton and areca nut. As early as in 1871, Gubbi was a municipality of its own. The Imperial Gazetteer of India in 1871 talks of the monthly 'jaatres' or fairs which were well known for the sale of cotton cloth, blankets, rice and other articles from as far as Malnad (the mountainous monsoon-fed wetlands to the west) to the dry areas of Rayalaseema and the low hills of Arcot to the east and South. Today, Gubbi is a taluka headquarters in Tumkur district and is one of the ten talukas in the district.
Gubbi is about 20 km from Tumkur and is situated along the highway to Honnavar from Bangalore, that passes through Tumkur. The taluka hospital of Gubbi is along the highway passing through the town. The Administrative Medical Officer, the doctor in the hospital tasked with managing this hospital is Dr. Dani. The hospital was a Community Health Centre earlier with 30 beds being upgraded now to a 100 bedded hospital.
Dani is one of the participants of the capacity-building programme organised by IPH and its partners in Tumkur. Dani is a paediatrician by training with three decades of experience. He is today managing a 100 bedded Taluka hospital. His hospital sees over 200 patients in a day, is severely understaffed and morbidly overloaded. In these days of panchayati raj, he is answerable not only to his superiors in the hallowed chambers of the directorate in Bangalore, but also to the representatives of the people in the narrow chambers of the Gubbi Taluk Panchayat.
The hospital provides out-patient services to nearly 300 people in a day. At a time when there is a beeline towards corporate hospitals and having busy evening practices, it is heartening to see Dani and his colleagues in Gubbi hospital providing services within the constraints they face; and these are many. Dani conducted a study in his hospital to understand patient satisfaction, as it bothered him that most of the people obtaining the services at Gubbi hospital were reporting that they were not happy with the services. Was there truth to this?
Dani approached it very scientifically. He did not take this for granted. Nor did he cursorily conclude on the reasons for patient dissatisfaction. He conducted a study consisting of exit interviews of through a structured questionnaire. Patients were recruited into the study randomly. He considered the following aspects in his questionnaire:
Staff availability for patients
Basic amenities like toilets, drinking water, ambulance services and drug availability
Patient safety in hospital – infection control, physical safety of women and children
Perceptions of cost
Administrative and procedural problems
The questionnaire confirmed his hunch about dissatisfaction. Presenting the results in Tumkur, Dani also shared the possible reasons for this. On an average, each doctor in his hospital sees over 70 patients in a day. Many of these, of course are specialists who are supposed to be giving a lot more time than they can to these patients that are referred from primary health centres. However, these patients needing specialist care are clouded by many others who come here for routine health problems. There is no referral system in place.
Dani in his study prepared hospital performance indicators for all departments – in-patients, specialities, CSSD etc. He identified issues in human resources, infrastructure and a few other issues as key reasons for the patient dissatisfaction. He found that staff motivation was poor. Also, he was working in a severely understaffed hospital. Recruitment to the hospital happen in Bangalore. While it is easy to upgrade the beds from 30 to 100, finding the requisite support staff and motivated doctors to work here is another story. The district is helpless to fulfill existing vacancies. In addition, he found that supervision was poor. The doctors and other senior staff could hardly devote time to supervise and hand-hold their non-clinical team. Where is the time for management of the hospital?
In addition to doctors not being available in good numbers, the amenities provided were also poor. Residential quarters were not available for all the staff. The hospital lacked good water and sanitation facilities. A reception counter itself was not there.
This was of course a small study done in a small taluka hospital, one among over a hundred taluka hospitals in the country. However, the issue Dani identified for his study, 'patient dissatisfaction' is a universal phenomenon in public health services in the country today. In India today, irrational health practices and expensive health care is becoming a feature rather than a problem. Government-provided health services is the lifeline for millions of poor, who depend on these, and for whom health expenditure is often catastrophic. The reasons Dani identifies through his study are also quite representative of hundreds of other taluka hospitals.
Doctors in government services work with many constraints. Staff are demotivated. There is always pressure from elected representatives, sometimes justified, and other times not. Teamwork is lacking and the work environment is not always cheerful or fulfilling. Yet, there are people such as Dani in many of the small hospitals in the country, whose toils go unheard, and whose stories go unsaid. Yet, we often see the glamour and glory that many a corporate hospital catering to a much smaller proportion of people get.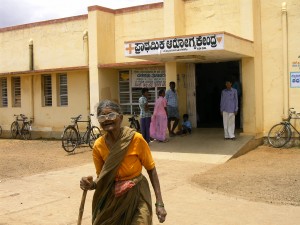 Here is a doctor who in the middle of taluka meetings, trainings, reviews and visits by superiors, also manages a busy clinic as a paediatrician and is expected to manage a 100-bedded hospital for a taluka. In the midst of this, he keeps his spirit alive and did a study to understand and document patient dissatisfaction. We hope that Gubbi finds more specialists and most importantly, committed people like Dani.
Both the team at Kibitho and the doctor in Gubbi reinforce my hope in our health services. At the recently concluded National Conference on Bringing Evidence into Public Health Policy, Amarjeet Sinha, a senior secretary in the Government of India, who has been steering the National Rural Health Mission noted in his speech the difference he saw in PHCs in Tamil Nadu and Karnataka. As he drove through the state, he was surprised to see the number of buldings in Karnataka – empty ones.
Yes, in Karnataka, with technical assistance from World Bank, several buildings – PHCs, hospitals and such were constructed. While several states in the country reel under poor infrastructure, in Karnataka, political pressure, poor planning and World Bank assistance has together created a plethora of buildings. Well painted, equipped and unused. He continued to underline the importance of job satisfaction for the employees. With clearer career pathways, better salaries and a robust cadre of public health that manages the health services, Tamil Nadu has prioritised people's health….whatever may be the cost. After all, wasn't health supposed to be a fundemental right or is it wrong to say that?
In Karnataka and in several other states, on the other hand, PHCs are poorly staffed, poorly supplied and provide very poor quality health care, if at all. It is under these very circumstances that people like Dani and the team at Kibitho function. Our health workers are our unsung heroes. I look forward to the day when states in India realise that it is not so much the lack of training or buildings that plague our health services, but merely the lack of an environment in which our health workers can deliver better.
Dr. Dani is now transferred out to another taluka hospital.
This article written by Dr. Prashanth N S. He is a medical doctor trained in public health, now doing his PhD in public health at Institute of Public Health, Bangalore. He has worked in BR Hills with the Soliga tribal people for 3 years and subsequently in Arunachal Pradesh training health workers in primary health centres. He is a compulsive wikipedian and along with a few friends is building an online community health resource on the Indian community health movement. He blogs occassionally on life, universe and everything on his website.
We bring stories straight from the heart of India, to inspire millions and create a wave of impact. Our positive movement is growing bigger everyday, and we would love for you to join it.
Please contribute whatever you can, every little penny helps our team in bringing you more stories that support dreams and spread hope.