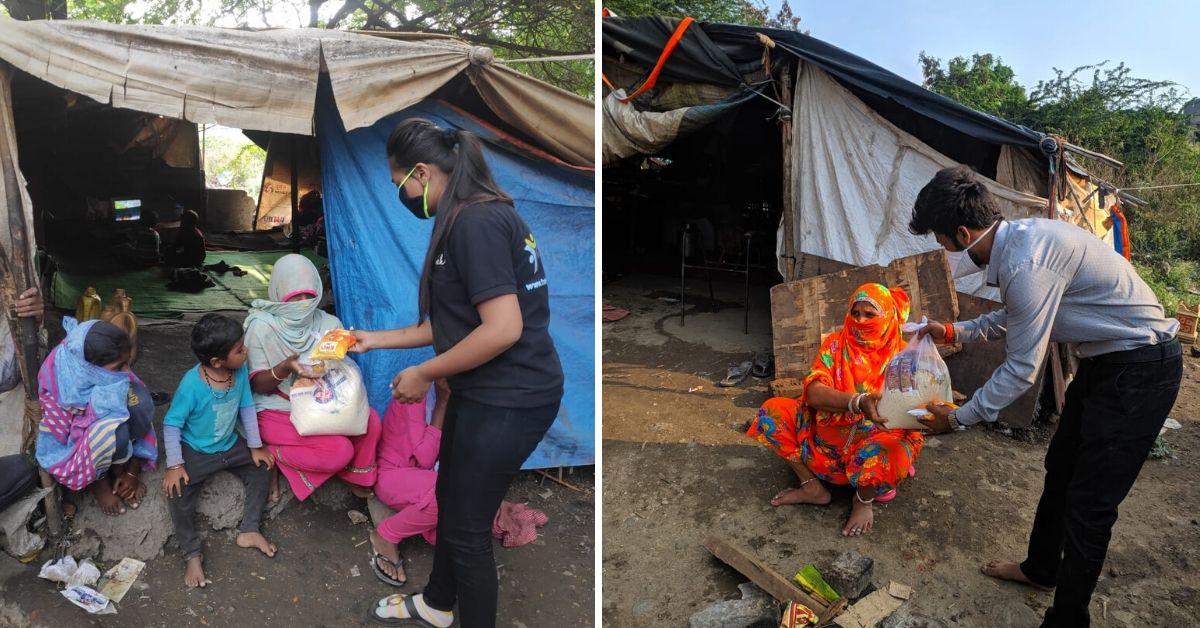 Hit by lockdown, stranded on roads - India's daily wage labourers, who live from hand to mouth, are struggling to make ends meet. Here's your chance to help them. #CoronavirusLockdown.
I cannot help but count my blessing as I sit at home and carry on with my usual work. Of course, the COVID-19 lockdown has been a setback in the usual routine. But there are thousands of migrant labourers whose lives have been completely disrupted. Many in the unorganised sector have been forced to travel back home on foot with no guarantee of adequate food, water or shelter on the way.
This is the time for us to use our privileges wisely, to ensure that our savings help someone in crisis that has hit the world hard but the poor and the marginalised, harder.
So, here is a city-wise list of initiatives that can help daily wage labourers or any underprivileged individuals. Get in touch with them and help a family survive through the COVID-19 lockdown.
Note: We will keep updating the list as we verify new helplines and initiatives. If you have any leads, please email us on editorial@thebetterindia.com with the subject line: "Helpline for Daily Wage Labourers" followed by the location where they operate.
Delhi/NCR Helplines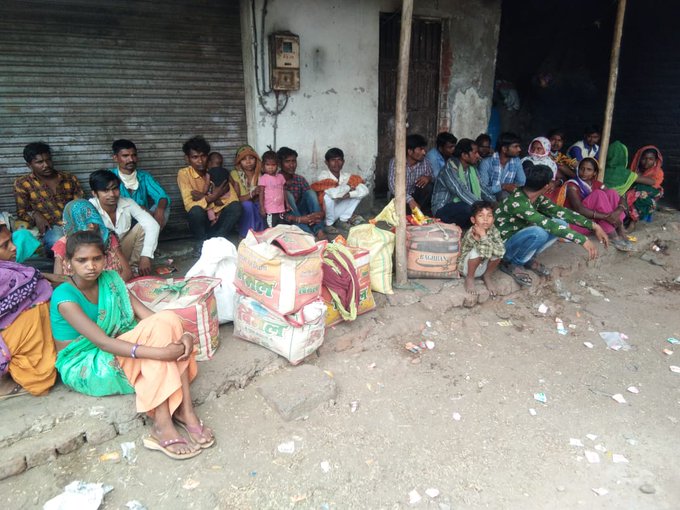 NGO Goonj has increased their efforts to supply food, grocery and other essential materials to daily wage labourers and other needy individuals. Contact: 011- 41401216, 26972351
Call Ajeevika Bureau at 9958161866 (Vishal Tejpal) or 9999728452 (Loveleen Kumar Satija) for food or other essentials in Gurugram
Contact Adhikar Foundation at +916397804723 to provide cooked food to labourers
Ring up the Workers Unity organisation at 8920794944 or 9540886678
Call Safa society on 8341655356 or email them (preferable) on covid19relief@safaindia.org
Cafeteria & Co. and Rico are distributing 1000 free meals a day to the hungry and needy in Delhi. If you know of any such family (or want to volunteer) call them on the following numbers:
Akhil Malik: 9717466333; Saurabh Wahie: 9971444004
Dehradun
Know anyone starving or needy in Dehradun? Call the Building Dreams Foundation and help them get adequate healthy food throughout the COVID-19 lockdown. Call their helpline on: +91 63994 63996
Making a Difference is a "pocket-money" funded initiative in Dehradun. They are supplying the needy with groceries, food, sanitary napkins, reusable bags etc. You can reach out to them to inform them about a needy person or to donate essentials.
Call Karan Kapoor: 7895395999; Arnav Ramola: 6398133851
Bengaluru Helplines
Diya Ghar is providing food and hygiene products such as soaps, hand wash etc to those who have lost their livelihood temporarily or permanently during this lockdown. At the moment, the fastest way to reach them is via their email: contact@diyaghar.org but once their telephonic helpline is set up, we will update here.
Contact Goonj Team at 9663798026 / 9620136320 / 080-43752143 for help in Bengaluru.
Get in touch with Safa society on 8341655356 or covid19relief@safaindia.org
Adamya Chetana is providing fresh hot healthy meals to the needy in Bengaluru. To inform them about a hungry family, call on 080 26568483
---
The Better India's "BETTER TOGETHER" initiative has brought together civil service officers from across the country as they help migrant labourers, daily wage earners, frontline workers, and all those who need our help most in these troubled times. You can join us and support them in this fight against COVID-19.
Unable to view the above button? Click here
---
Ahmedabad
Elixir Foundation is helping migrant daily wage workers with food and other necessities. Before the lockdown, they had crowdfunded resources and now, one call from you can keep a family safe. Contact: 9016558924
Jana Gana Mana Yana is an organisation working for the benefit of migrant labourers in Ahmedabad and Gandhinagar. They currently have 300 food kits of 4 kg wheat flour, 4 kg rice and 2 kg daal to give to the needy.
Call Nandubhai Menat at 9327554246
Vadodara
Elixir is also helping people living in Vadodara under dire conditions. Their helplines are operational 24×7.
Contact: 9574040335.
Chennai
Contact Goonj at 9354937428 / 044-49533991 or email them on jigisha@goonj.org / anisha@goonj.org
Contact SAFA Society on their email id covid19relief@safaindia.org or send a Whatsapp message on 8341655356
Call the following volunteers from the Chennai Food Bank for assistance:
Vinod Kothari 9380711000
Nitin Bothra 9840450075
Kamlesh Katrela 9884195000
Alok Bohra 9444025191
Navin Sethia 9444898000
Vishal Lodha 9841320073
ChintaBAR, a student collective from Chennai aims to help out 20 households every day with essentials such as rice, dal, wheat flour, spices, tea, sanitary napkins, basic medicines etc. They are looking for contributions as well as leads from you. If you know any family in need or wish to contribute to their efforts, please get in touch with them. Call them on: 9995949575
Karthikeyan Murugan is helping hundreds of needy families in Chennai with dry ration. Taking support of his Alma Mater, Loyola College and crowdsourced funds, he has already helped 540 families and can provide essentials to more. Currently he is focusing on migrant labourers in the city that have no ration cards and/or are abandoned by their contractors. Call Karthikeyan at 9840111144 for help
Mumbai Helplines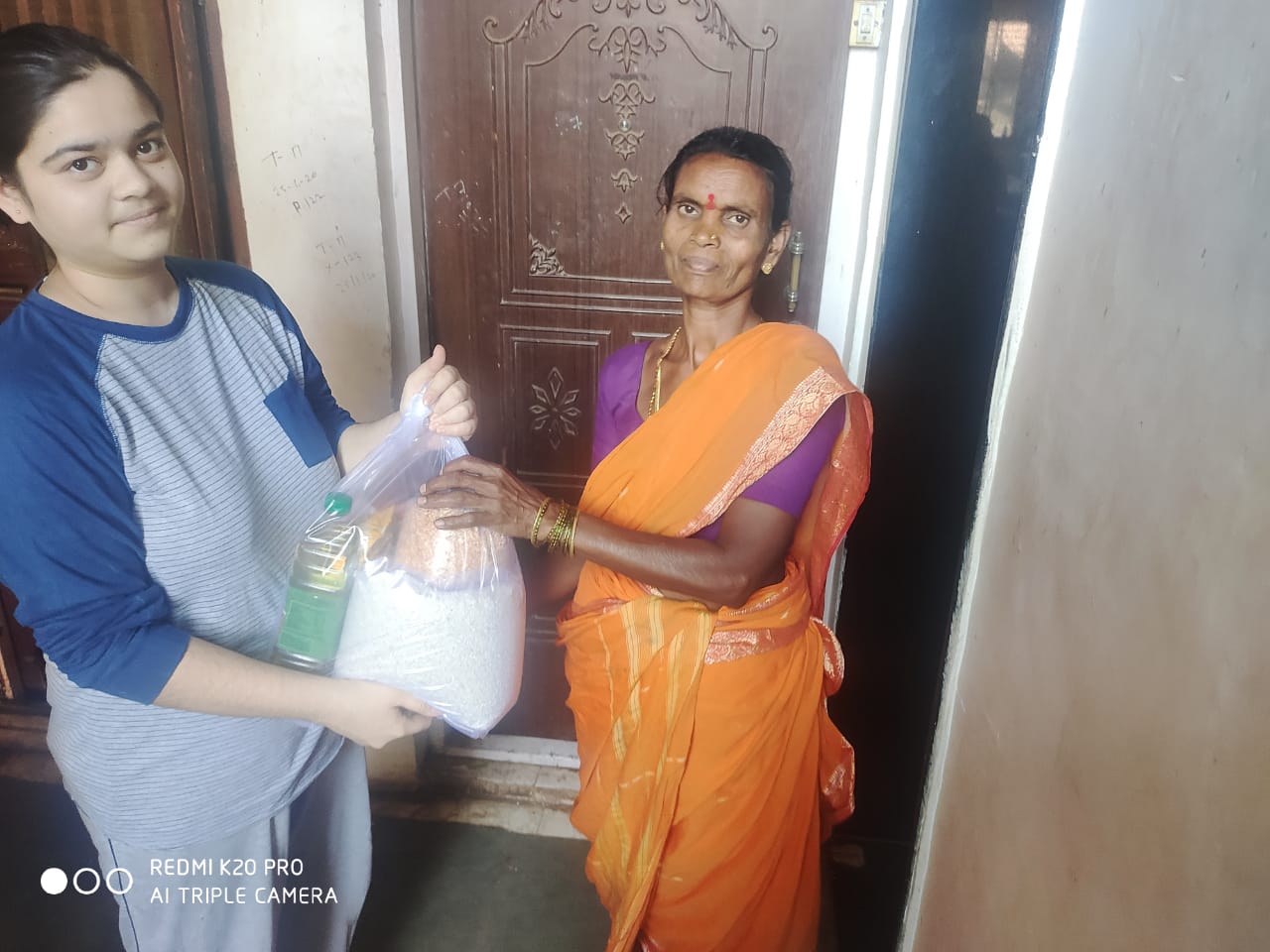 If you know anyone in need of food kits and who can collect them from Palghar, contact individual volunteer Lynette D'Souza at 9765472264
Contact Himanshu at 022- 28453034 or 7838037092 of Goonj
Call the Elixir Foundation at 8655486459
Contact YUVA at 9830795695 or 9167723237 for emergency relief to needy families,
Kolkata Helplines
Nagpur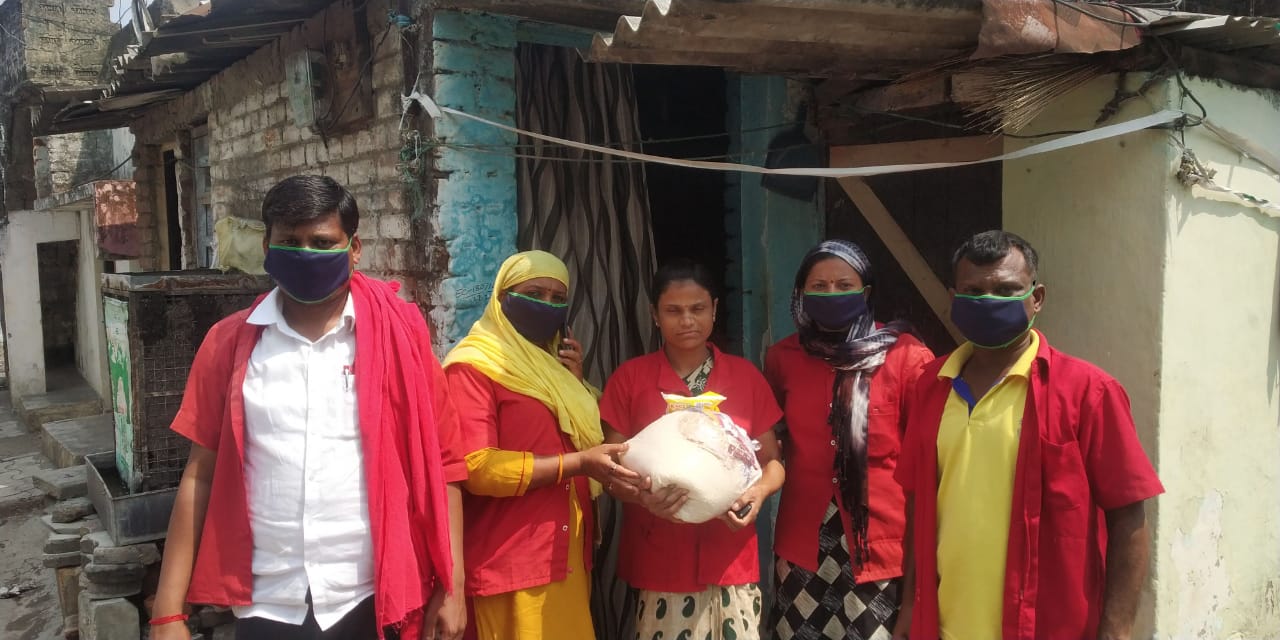 The Seva Kitchen is getting help from NGOs and individual donors to ensure construction workers, scrap collectors and other daily wage workers are well fed during the COVID-19 lockdown. You can get in touch with them if you know any family in need or if you want to help the cause with food packages or hygiene products.
Contact Khushroo Poacha at 9561011264.
Hyderabad
Contact Paritosh from Goonj at 09441553473 or 9640433473.
Send an email (preferred) to SAFA India on covid19relief@safaindia.org or drop them a WhatsApp message on 8341655356.
Rachakonda
To help the Rachakonda Police Commissionerate provide food and shelter, call their 24×7 helpline with details of location and number of daily wage labourers in need. Contact: 9490617234
Patna
Kochi
Contact Jojo from Goonj at 0484-2977602 or 9847415522
Rajasthan
Call Ajeevika Bureau on 18001800999/ 7300065959/ 9784467278 to inform them of any stranded labourers in need of food or other help
Margao/South Goa
Digvijit Chavan is helping the needy with no access to news or essential commodities with a simple cooked meal of daal and rice. Wherever necessary, he also provides masks. To get in touch with him, call on 08669767017
Coimbatore
The 'No Food Waste' initiative has served over 36,000 plates since 25 March and they promise to keep serving the needy further. You can call them to inform them about a family in need of food or to volunteer for their cause.
Helpline number: 9087790877
Varanasi
A student organisation of the Banaras Hindu University has taken upon themselves to help marginalised labourers with no ration card. Raj Abhishek tells TBI that since their contacts are spread far and wide across Varanasi, the organisation has been able to help nearly 17,000 people during the COVID-19 crisis. To help a family with essentials, give the student wing a call. Raj Abhishek: 9005504167, Dhananjay : 7376848410
How Else Can I Help?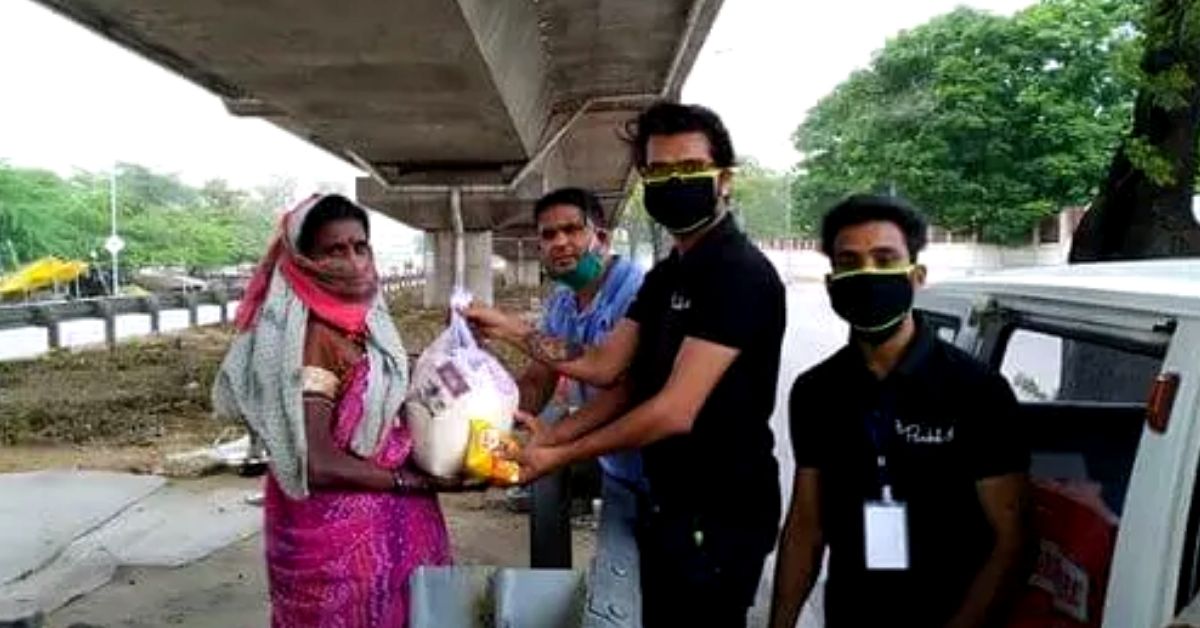 We can do our bit even if we don't know any daily wage labourers. Donate to NGOs, organisations and individual initiatives who are ensuring safety and essential goods to daily wage workers, migrated labourers and other underprivileged communities.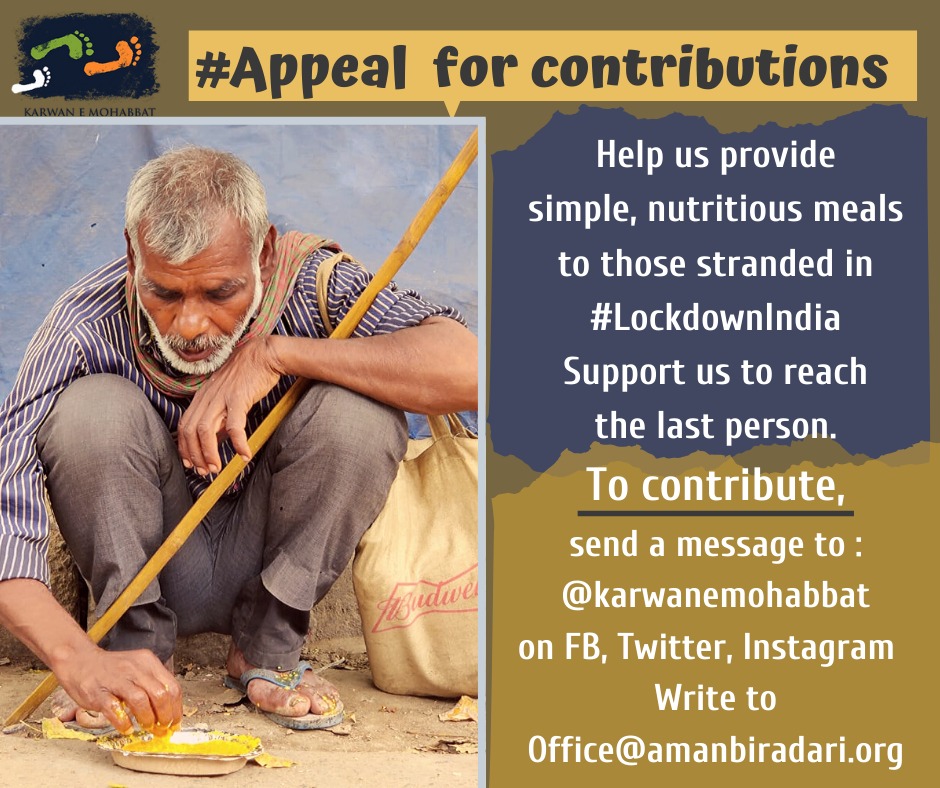 To donate to the Chennai Food Bank, click on this link
To help "Purani Dilli Walo ki Baatein" provide food kits to 11,000 daily wage workers, click here.
Help the Umang Foundation feed the hungry in Shimla amidst this lockdown. "A contribution of just Rs 1000 can help in feeding a family for about one month," they say. Check picture given below for details: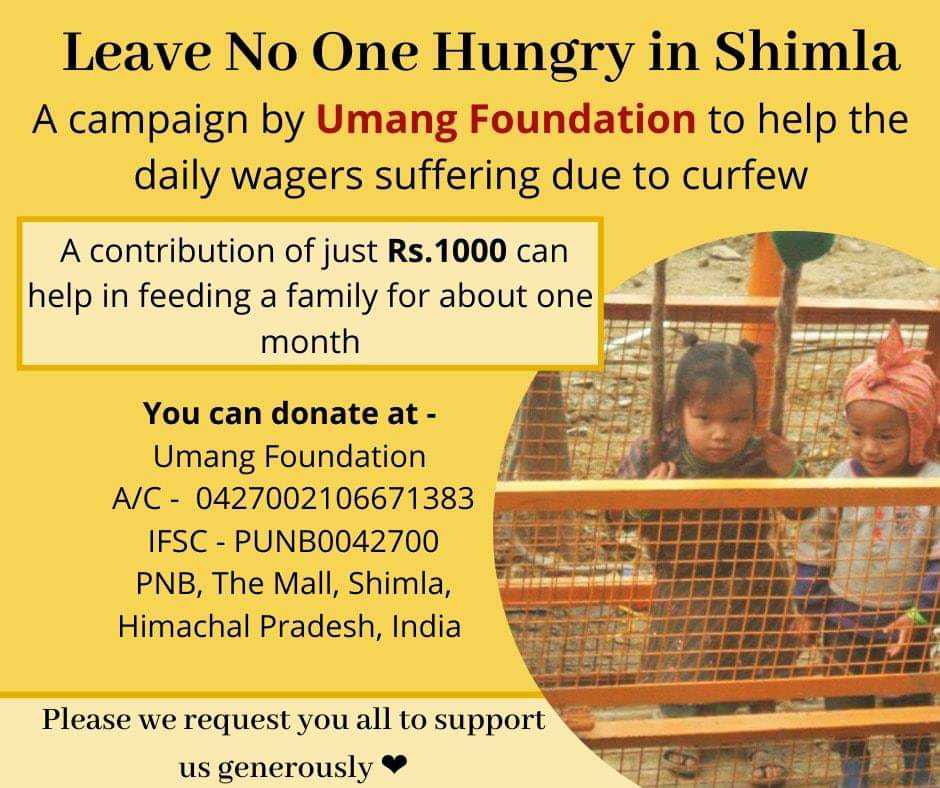 Kadam, an NGO active in Lucknow and Kanpur is helping daily wage labourers with essentials. They are in need of donations (funds transferred via PayTM or Google Pay). You can give them a call for further verification and transfer money on these numbers:
Saif (Lucknow): 818196011; Adarsh (Kanpur): 7007405278
To help feed the needy in Ranchi, you can get in touch with NGO 'Born For Vision'. Send them a message on their Facebook page or call them at 0651-2250081
Goonj is active in many cities in India including Delhi, Chennai, Kochi etc. During the lockdown period, they are doing a fantastic job of helping daily wage and migrated labourers. You can support their cause by donating funds. Click on this link to donate now.
An ignored community, sex workers too have lost their livelihood and are struggling during the COVID-19 lockdown. The Jimme Foundation and Citizens for Justice and Peace are working in Kamathipura, Mumbai to provide a month's supply of food to this marginalised community. To help the foundation, visit their website or call Harish Iyer, the founder on +91 98331 00340
Parikrma Humanity Foundation, primarily an education initiative in Bengaluru, is trying to ensure the kids under their wings don't go hungry during the lockdown period. You can donate to their cause by visiting their website here.
Pune based Kashtakari Panchayat is trying to help about 7000 waste pickers in the city amidst the COVID-19 lockdown. With their source of income gone, these daily wage labourers are struggling to earn their meals. Your contribution can help them achieve their target of raising Rs 2.5 crore for these people. Visit their website or call them on 9158007062 to pledge your amount.
The Seeds India initiative is helping marginalised communities in the states of Delhi, Karnataka, Kerala, Bihar, Maharashtra, Odisha and Uttarakhand. They provide financial and essential services to daily wage labourers, supply hygiene kits and food rations to old age homes, orphanages and to vulnerable families. You can support their cause by donating funds. Click here for more details.
Donate Meal Pune is crowdsourcing dry rations and foods to serve the police personnel who are risking their health while on duty. You can call Kirti from the team to extend your contributions. Call her at: 9850830750
Our Democracy is a crowdsourcing platform that is helping health workers, stranded labourers, unemployed workers etc get essentials during the COVID-19 lockdown. Yash Marwah, who works with Our Democracy tells TBI that since the lockdown was implemented, they have successfully raised Rs 1.34 crore! You can make a contribution to the cause by clicking on this link.
You And Society is helping 240 families in Kolkata who are without a ration card. They are providing them with essential ration such as rice, dal, vegetables etc. They need your help in raising adequate funds. You can donate to their bank account or call Priyanka, the Founder/Director on 9681747006 to verify details.
Bank Details: Account No: 309006209333
IFSC: RATN0000240
Name: You And Society
The Stree Mukti Foundation in Mumbai/Thane has 3000 waste-pickers under its wings. During the lockdown period, they are providing sugar, oil, soap and other essentials that they cannot buy with their ration card. The foundation is raising funds for the same and you can donate by clicking here. For more details, write to them on donate.smsmumbai@gmail.com
---
Also Read: COVID-19: Join Bengaluru Volunteers in Providing Essentials to 500 Needy Families
---
(Edited by Saiqua Sultan)
Like this story? Or have something to share? Write to us: contact@thebetterindia.com, or connect with us on Facebook and Twitter.
Tell Us More
We bring stories straight from the heart of India, to inspire millions and create a wave of impact. Our positive movement is growing bigger everyday, and we would love for you to join it.
Please contribute whatever you can, every little penny helps our team in bringing you more stories that support dreams and spread hope.