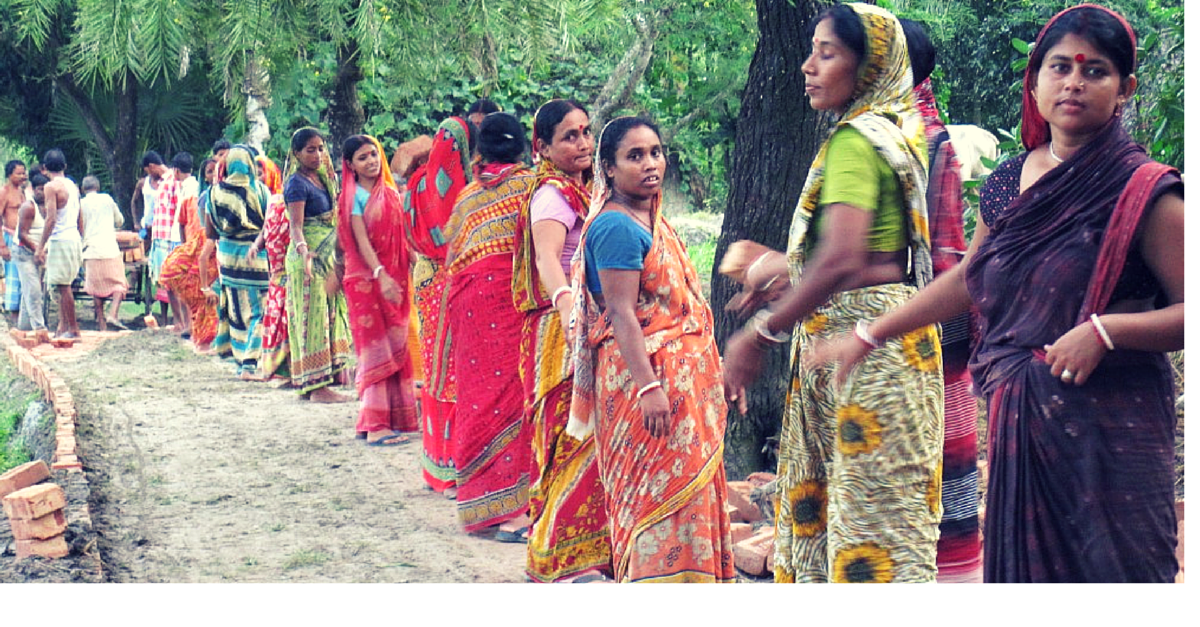 These women of rural West Bengal took matters into their own hands and constructed roads to provide accessibility and connectivity to their remote villages. Know more about these amazing ladies and their extraordinary work.
These women of rural West Bengal took matters into their own hands and constructed roads to provide accessibility and connectivity to their remote villages. Know more about these amazing ladies and their extraordinary work.
Colonypara is just another nondescript village that dots the verdant Sundarbans region of South 24 Paragana district in West Bengal. Until a few years back, this small, remote hamlet in the Nafarjung gram panchayat was completely cut off from the outside world.
Being surrounded by a network of crisscrossing estuaries and tidal rivers, it was not uncommon for the narrow, unpaved lanes here to get inundated, forcing those who dared to venture out once in a while to brace themselves for a long hike through squishy, soft muddy pathways. Getting to the main road, which led to the block headquarters at Basanti, was truly a tough call and so everyone was resigned to living a life of confinement.
Fortunately for everyone though, those dark days are well in the past now and it is the hard work, enterprise and the able leadership of local women, spread across 15 riverine villages in the area, that has made all the difference.
Over the last four years, they have joined hands to build more than 10 kilometres of brick roads, connecting several previously inaccessible villages, which have withstood the ravages of floods and disastrous cyclones that are frequent in this vast tract of forest and saltwater swamp.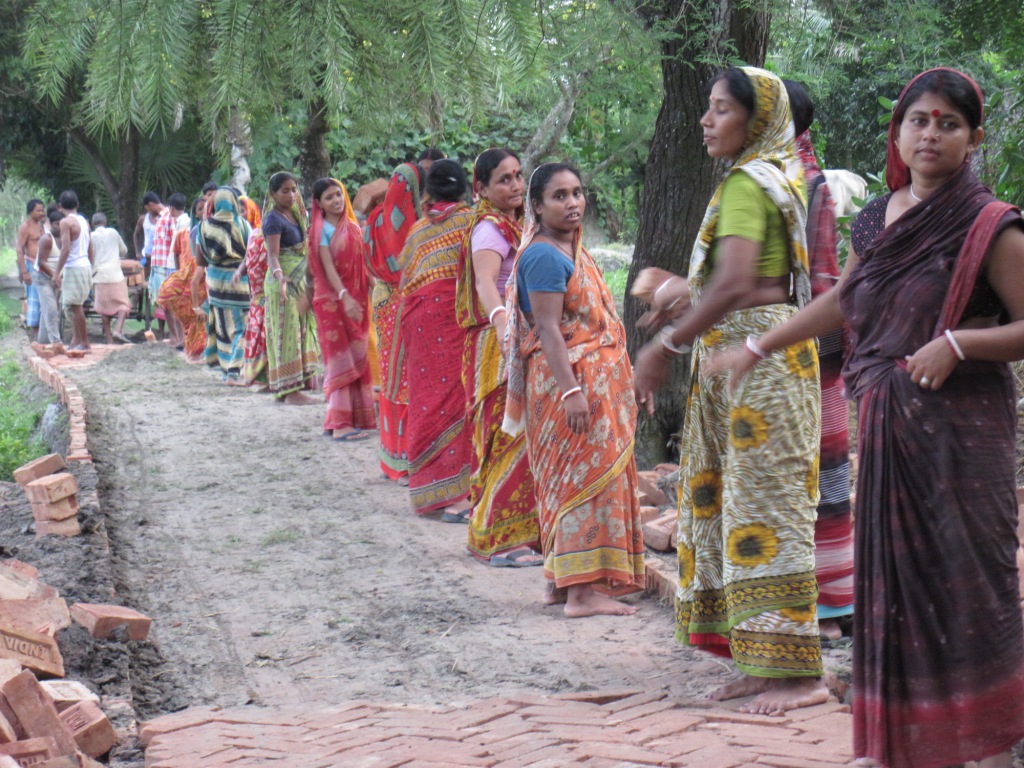 "It was as if we were existing all by ourselves in a small world of our own," remarks Lotika Sarkar, 23, whose husband has migrated to Andaman and Nicobar Islands to work as a migrant labourer. In his absence, she runs the household and single-handedly takes care of her eight-year-old daughter, Ankita, who is presently studying in Class Two.
When in 2010, World Vision, an international humanitarian organisation, had started work in the region and motivated the women in the community to helm the initiative of building roads, Sarkar had immediately come forward to offer her services. After all, she had already suffered enough due to this crucial lack of connectivity.
When she was due to have her baby, it had been virtually impossible for the young mother to travel to a health centre for an institutional delivery. So the child was born at home in the wee hours without any proper medical assistance. It had been a difficult time for Sarkar and she had very nearly lost her infant. "In fact, due to heavy rains and flooding I could not go anywhere for almost a month after she was born," recalls the frail woman.
Of course, that was not the end of the road (pun intended) for her problems. Once Ankita was ready to go to school Sarkar enrolled her at the nearby Debnagar Colony Primary School. But it was one rough walk to class for the little one. For days together, especially when the weather was inclement, she would not be able to reach on time and her mother used to live in constant dread of her name being struck off from the roster.
Not just Sarkar but other women, too, talk about how their children had not been able to avail of the much-needed health and nutrition services provided by the government under the Integrated Child Development Scheme (ICDS) or go to school due to the non-existent roads.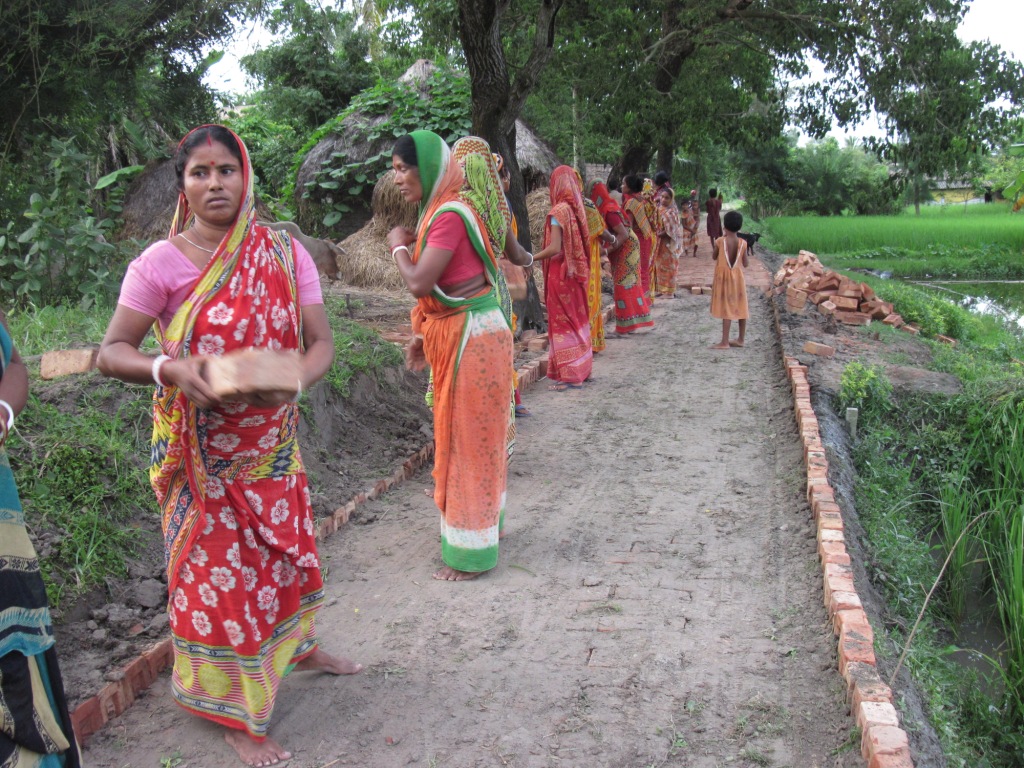 Indeed, communities in both Nafargunj and Jharkhali, the two main gram panchayats in Basanti block, have to anyway contend with their share of challenges and, previously, the poor roads used to only add to their burdens. Jharkhali, on the south west coast of River Bidyadhari, is the starting point of the Sundarban Forest Reserve Area and infamous for incidents of vicious wildlife attacks.
Besides this, the absence of proper means of livelihood has ensured that most families here are living in abject poverty. Nafarjung gram panchayat, on the other hand, is situated next to the Malta and Bidyadhari rivers and is extremely prone to devastating floods and cyclones. Fishing used to be the only source of income generation before the neat brick lanes were meticulously laid down.
"This is why when activists of World Vision came to the village and proposed a plan to make roads. I jumped at the chance to bring about a positive change," says Sarkar, who has never gone beyond Basanti even today.
The process of change began four years back. With valuable planning and financial assistance from World Vision, the community took complete charge of implementing the project, chalking out a roadmap to get things done.
Whereas the NGO organised the supply of bricks, people chipped in by donating their labour. The 15-feet-wide bylanes were made in two stages. At first, a layer of flat bricks was laid down on the muddy surface and fixed with sand made of brick particles and clay. After this dried out, a second layer of bricks was affixed on top to provide strength and smoothen the surface.
Women had come out in large numbers to serve as everyday labour during the building process. They would queue up every morning to pass on the bricks to the masons. Some even helped in laying down the bricks.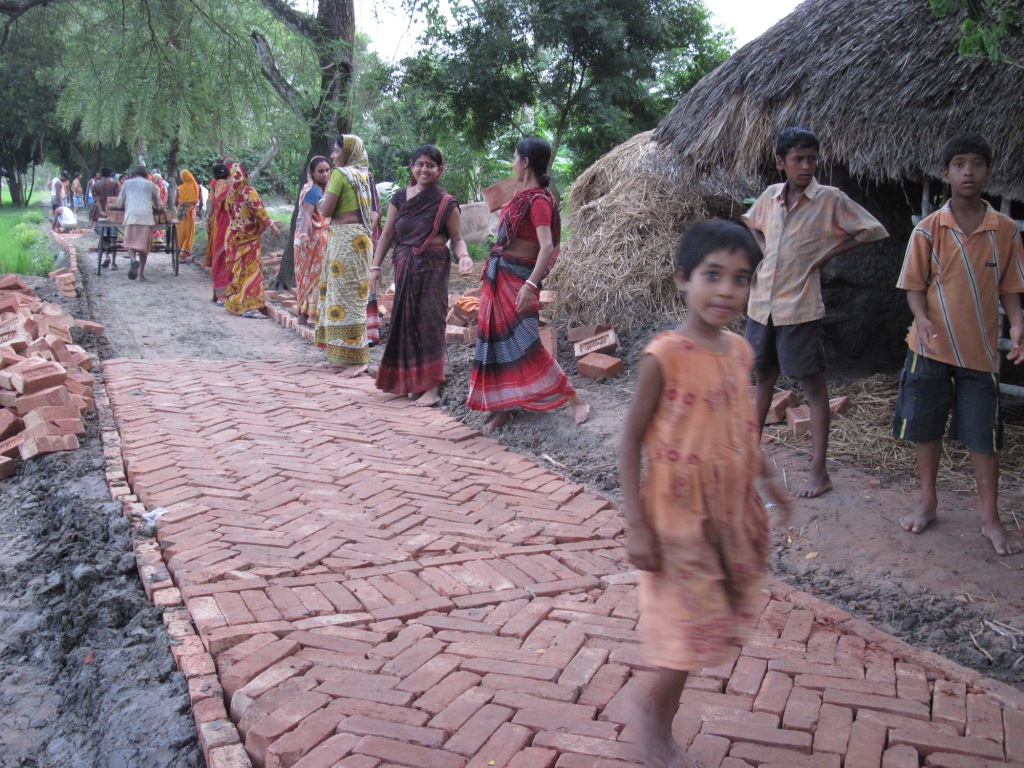 Nowadays, they are completely in-charge of the maintenance and repair work – to fix broken corners and holes they mix brick sand with mud and fill the gaps. Apart from this, they efficiently monitor that no one plies a heavy motor vehicle in these lanes.
"In this flood affected delta region, it is difficult to lay brick lanes. The earth is soft and needs regular upkeep and maintenance, a task that the womenfolk have taken up earnestly," says Apam Satshang, Project Coordinator-Basanti Development Area, World Vision. He adds, "We needed professional masons initially to build these roads and the villagers generated a small fund to pay them for the work and guidance. It has created a tremendous sense of ownership and bonding in the community."
Bhavesh Das, the community development coordinator for World Vision as well as a community leader who led the project in his gram panchayat, shares, "This is a continuous process. Till now, we have constructed more than 18 such roads in the vicinity connecting 15 villages. This has improved the quality of life of more than 4,500 families."
For Kavita Patro, 35, from Colonypara, walking on a brick road is a dream come true. "I had come to this village 15 years ago as a young bride. In all these years, though, I only visited my parent thrice. Wading through kilometres of mud and water to reach the nearest bus stop was next to impossible. It's a very different story these days. My daughter rides a bicycle everyday to her high school, which is located five kilometres from the village," she reveals, as a bright smile lights up her face.
With good roads, things have become much easier for women. "Our menfolk usually migrate for work to the nearby cities and are not around for months together. The day-to-day activities of the household and responsibility of the family falls squarely on our shoulders. The roads have finally given us access to schooling, healthcare and many other government facilities. I remember how none of us could ever opt for institutional deliveries although we have decided that from this time on, all women will go to the hospital located 16 kilometres away," says Parul Mondol, 45, a mother of three married sons. Mondal's two daughters-in-law could not be ferried to a health centre for their first deliveries but she is determined to take them to one the next time around.
As they walk briskly or ride their bicycles down these brick lanes, there is a palpable feeling of excitement and achievement around them. "These roads have given us freedom and the promise of a better life," concludes Sarkar.
(This article is part of  U.N. Women's Empowering Women — Empowering Humanity: Picture It! campaign in the lead-up to Beijing+20.)
Like this story? Or have something to share? Write to us: contact@thebetterindia.com, or connect with us on Facebook and Twitter (@thebetterindia).
Tell Us More
We bring stories straight from the heart of India, to inspire millions and create a wave of impact. Our positive movement is growing bigger everyday, and we would love for you to join it.
Please contribute whatever you can, every little penny helps our team in bringing you more stories that support dreams and spread hope.