---
In the MY STORY section, we present some of the most compelling and pertinent stories and experiences shared with us by our readers. Do you have something to share? Write to us: contact@thebetterindia.com with "MY STORY" in the subject line.
---
This man turned down a lucrative bank job to dedicate his life to preserving the ancient folk art form of Yakshagana string puppetry. TBI reader Sharath Ahuja meets Bhaskar Kamath and tells us how he is taking this art to global platforms.
Welcome to Gombe Mane or puppet House in the tiny coastal hamlet of Uppinakudru in Kundapura District of Karnataka, where a shy bespectacled legend master puppeteer, Bhaskar Kogga Kamath, resides.
I visited Puppet House and met Kamath. His house is a veritable treasure trove of Yakshagana puppets, masks, puppets-in-the-making and a trunk-full of odds and ends required for a stage show. His eyes light up when he picks up a puppet and gives me an impromptu demonstration. Dexterously manipulating the strings, he makes the puppet come alive.
Bhaskar Kamath is the sixth in the generation of master puppeteers and a young flag bearer of the traditional puppetry form of coastal Karnataka – the Uppinakudru Yakshagana Gombeyaata Folk Art form.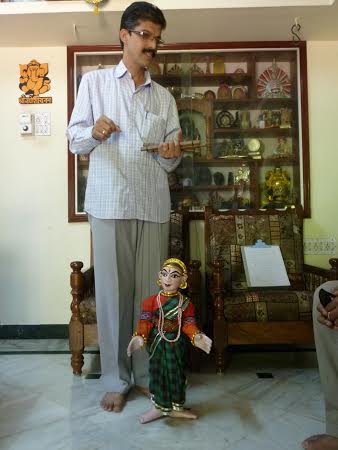 This ancient folk art form was popularized by three brothers: Laxman, Narasimha and Manjappa Kamath, three centuries ago at Uppinkakudru. This traditional form of folk art has been handed down from generation to generation in the Gurukula tradition. Bhaskar is the great grandson of Laxman Kamath.
'Yakshagana' is a popular folk theatre form of Karnataka with a long history of nearly four hundred years. It is a unique harmony of musical tradition, eye-catching costumes, and authentic styles of dance, improvised gestures and acting, with its extemporaneous dialogue holding a wide appeal.
In truth, it is a vibrant and vigorous living form of theatre art.
Puppets are one of the oldest forms of entertainment, with most of the themes based on legends and epics such as Ramayana and Mahabharata. In the early days, puppets acted as instruments of social awareness, tackling problems such as dowry system, illiteracy and poverty.
Kamath is like a magician. Weaving his fingers skillfully, he brings his puppets to life, keeping his audiences spell bound – both the young and the old. He intersperses his narration with wit and humour, keeping his audiences enthralled. His sonorous voice, accompanied by folksy music, enlivens the performance.
Kamath does not restrict his narration to stories from the epics alone. Blending with the changing times, he uses his puppets to drive home the pressing issues of deforestation, climate change, preserving our dwindling natural resources and water conservation.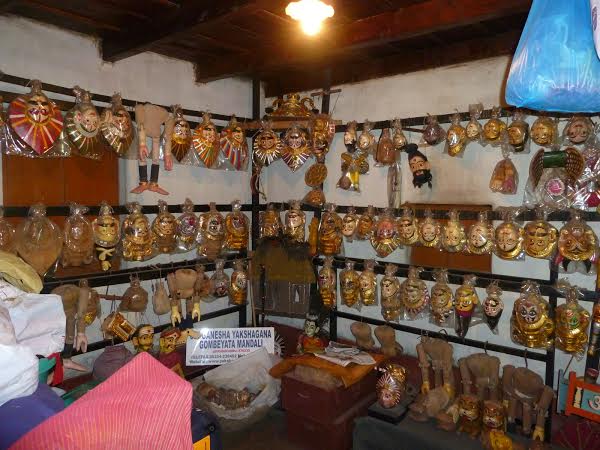 Kamath explains: "The wooden puppets we use are about 18 inches tall. Their costumes are exactly like those worn by the characters from Yakshagana Bayalata, with the same elaborate make-up, high and colourful head gear and heavy jewellery."
The masks, puppets and the stage are designed by Kamath with the help of about a dozen assistants who are part of his troupe. He adds, "The person who infuses life into the puppet and makes it come alive, by dexterous manipulation, is the Puppet Master, known as the 'Sutradhara'."
Puppet House is a veritable treasure trove with over 1,000 puppets and masks. Kamath has a tiny mechanical workshop where he works to painstakingly design and meticulously craft the various masks and puppets. He has also innovated techniques of movement and manipulation of puppets by using rods and strings.
He has introduced puppet animals and birds, new techniques in the stage-craft, new light and shade techniques, songs and narrations (interpretations) in Konkani and Hindi for the benefit of different audiences.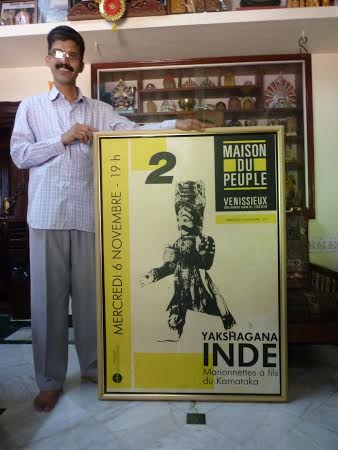 Kamath notices that the younger generation has utter disregard for the ancient folk art forms. He is more than willing to train youngsters and encourage them to keep this dying folk art alive.
Kamath and his troupe have traveled the world giving performances. His house in Uppinakudru is overflowing with certificates and awards he has received from around the world. For one so popular, he is extremely modest; he would rather allow his puppets do the talking.
The Master Puppeteer turned down a lucrative bank job and decided to dedicate himself to preserving this ancient folk art form of his forefathers. He is currently in the process of establishing a permanent Yakshagana Puppet Academy and Memorial Hall in Uppinakudru.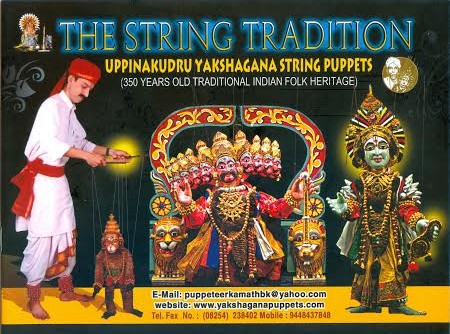 If you are paying a visit to the coastal region of Karnataka, especially to Kundapura, do make it a point to visit Gombe Mane (Puppet House) at Uppinakudru. For more details contact:
Mr. Bhaskar Kogga Kamath
Shri. Ganesha Yakshagana Gomeyata Mandali
PUPPET HOUSE
Post: Uppinakudru 576 230
Kundapura (Udipi District)
Tel: 08524 – 238402
Mobile: +91-9448437848.
Email: puppeteerkamathbk@yahoo.com
– Sharath Ahuja
Like this story? Or have something to share? Write to us: contact@thebetterindia.com, or connect with us on Facebook and Twitter (@thebetterindia).
About the author: Sharath Ahuja works at the Indian Institute of Science, plays badminton, billiards and snooker and is also an amateur photographer.