In 1955, Sukla Bhattacharjya waited for her husband Shiv to recover from an illness to marry him despite his insistence that she find other suitors. Four decades later, when she began losing her memory, he took care of her like few ever could. #CoupleGoals
Shiv Prasad Bhattacharjya, a serving Indian Army officer, first met Sukla, a history graduate from Kolkata's prestigious Presidency College, in June 1955.
Just weeks prior, Sukla had taken one look at Shiv's photograph and decided that she was going to marry him. She was taken in by the young man in an army uniform, and high praise from a family friend only added to his appeal.
However, before their wedding dates were fixed Shiv was struck by a bout of kala-azar (Visceral leishmaniasis)—for the third time. Despite Shiv's insistence that Sukla find another suitor because of his waning chances at a promotion, she firmly announced that she would wait for him to get better, and then marry him.
And that's what happened in February 1956.
Two wars, eleven cities and three children later, the couple finally settled down in Kolkata in 1975. In 1983, the family moved into their own home which Sukla called 'Sthithi' meaning 'resting place' in Bengali.
Fast forward to 1995, and their children had made their own way in the world. Two daughters had settled down with families of their own, while their son worked in Delhi. With nearly 40 years of marriage under their belt, life seemed at ease for this elderly couple.
However, that's when Shiv started to notice something peculiar about Sukla. From forgetting to make breakfast to leaving the gas burner on, her behaviour had undergone a perceptible change. He immediately took her to the doctor, and the initial diagnosis was presenile dementia.
It took a year for her to be diagnosed correctly—it was Alzheimer's. Shiv was 70 years old at the time, and Sukla was just 60.
"Daddy's journey towards empathy was a gradual revelation that took place over a period of time. In the beginning, he would get very upset. They were familiar with each other's schedule, and he wondered how she could forget to make breakfast. There was some anger, as well. But then at some point, he realized that this is a disease. He understood that to question her was even worse because she felt humiliated and afraid of not being in control," says Joy, their son and former Head of Production at ESPN Star Sports India, speaking to The Better India.
Shiv learnt not to get angry or frustrated at Sukla. However, as the Alzheimer's began to weigh heavier on her, and she began to wander away from the house every now and then, keeping an eye on her got difficult. Moreover, he had developed glaucoma. But with love, patience and perseverance, he found ways to manage his beloved wife's illness and keep her at ease.
Instead of approaching her as an elderly lady struggling with Alzheimer's, Shiv began to treat her like a child who was getting younger every day. He would use humour, music and art to keep her engaged. To do away with the sombre atmosphere, he had turned their home into a playful nursery for his wife.
A few day before what would have been my parent's 64th anniversary, was remembering some of their times together. One of the most difficult stages of my mothers battle with Alzheimer's was when she regressed to being a five year old . pic.twitter.com/9wGNmTBgQn

— Joy Bhattacharjya (@joybhattacharj) February 8, 2020
"Alzheimer's is considered a 'Last in, First Out' disease. The first things that you will forget are the last things that happened to you. You sort of go backwards like a Benjamin Button in your mind. I noticed that she stopped speaking Hindi because it was the language she learnt last. Then she lost English, following which she only remembered Bengali and memories of her childhood in Krishnanagar," recalls Joy.
Music, memory and joy
As Sukla progressively lost her memory, music played a pivotal role in holding down the last remnants of her past. Research suggests that listening to or singing songs can provide emotional and behavioural benefits for people with Alzheimer's disease.
"Musical memories are often preserved in Alzheimer's disease because key brain areas linked to musical memory are relatively undamaged by the disease," says this noted clinic.
"The music she loved remained in her memories. My mother is from a large family with 10 brothers and sisters. Every year during Bhai Phota (the Bengali version of Rakshabandhan), my father would always take Ma to meet her siblings. Initially, she was familiar with who they were, but that faded away with each passing year. But Ma's family was very musically inclined, and every year they used to sing. Even two or three years into her Alzheimer's she was able to sing the lyrics of Rabindranath Tagore dance drama 'Chitrangada' along with her sisters and nieces. Music always got through to her," recalls Joy.
Whenever her sisters and nieces visited 'Sthithi', Shiv would ask them to sing one of her favourite songs called 'Purano Sei Diner Kotha' (Days of Old/Nostalgia) by Tagore. Listening to them sing, her lips would move along with the lyrics.
"I recently bought a special music speaker system, which plays a collection of three or four genres of music that I stored on a USB. This collection only has the music she knows and loves. We put this collection on every day, and she listens to it all the time," he quips.
Centre of his universe
Probably, the most heartwarming element of this story is how Shiv always ensured that everything in the household revolved around Sukla irrespective of her condition. People who have Alzheimer's are usually shunted into the background, and everyone pretends they don't exist. Shiv rejected this behaviour.
"This was at a stage when my mother was incontinent. She sat on a special chair-cum-toilet, and there was always a possibility of her urinating anytime—even with guests around. Most people would be very embarrassed about this, but my father's attitude was very different. He would say, 'If they have come to see her and me, this is what we are. This is my family, and this is my life. You want to come here and sit in my drawing room, here is my wife. If you accept her, very good, but if you can't, please don't come.' He wasn't aggressive about this; he just made sure that it was crystal clear to everyone who visited," he recalls.
In the midst of all this Joy also learnt a very important lesson.
"I have a son with special needs. Although I never hide him, I would thank people for being nice to him. But my father taught me to stop doing that, and it was a valuable life lesson. We need to allow ourselves to be accepted for what we are and not bother with what others think," argues Joy.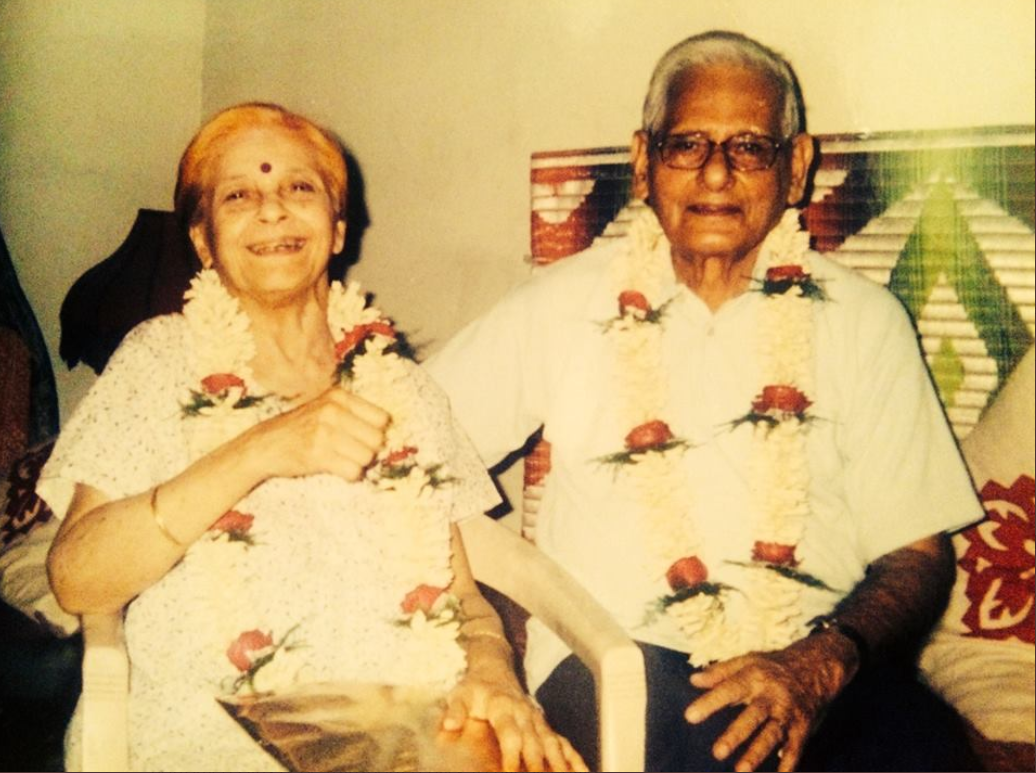 Memories of Childhood
As mentioned earlier, Sukla arrived at a point where she only spoke in Bengali. Moreover, over time she began to sleep a lot more during the day, and it was a daily struggle waking her for meals.
While Sukla took long naps in the afternoon, Shiv began visiting a daycare unit for Alzheimer's patients nearby in the Salt Lake area of Kolkata leaving behind a nurse he hired at home. At the facility, he would spend a few hours helping other patients.
During one such visit in 2014, he met Sambit Chatterjee, the elder brother of famous Bengali actor Soumitra Chatterjee, who was also had Alzheimer's.
"Interestingly, he found out that Sambit was in Krishnanagar at the same time, my mother was growing up there. Knowing that an Alzheimer's patient's memories recede backwards, he started chatting with him about the town, and how it was in the 1930s. Even though Daddy wasn't there at the time, my mother's vivid stories served as a guide, and he spoke of the Chatterjee home on the old street, the shop in front of it, the town's main road and the pretty girls in the neighbourhood. Sambit's face lit up, and for one and a half hours my father chatted with him about the old days," says Joy.
After the conversation, Sambit went home delighted. There he told his wife that something magical happened at the daycare centre. But when his wife asked Sambit about it, he couldn't remember a thing because of short term memory loss.
"All he remembered was being very happy. Naturally, his wife called up the institute and asked what had happened. They said Brigadier Sir (my father) was here, and she should speak to him. She called my father, and when he told her about the conversation she was in tears—Sambit had never discussed his younger days with her. Think about the magic of it. Here is a man with Alzheimer's being told stories by another man and the only memories he can share are because of his wife, who now also has Alzheimer's. My father was an absolutely unbelievable man," recalls Joy.
For the Caregivers
As Shiv got more time on his hands with a nurse at home and Sukla's long naps, he had time to pen his thoughts. He wanted to catalogue and tell his story for caregivers around the world.
There are a lot of books about Alzheimer's, but they are mostly from a doctor's perspective. Shiv wanted write one from a caregiver's perspective, which was finally published in 2010 titled The Line of Alzheimer's—The Mission Continues.
"It's a book I cannot read because my father did not spare himself. He has written every mistake he made while caring for Ma in detail. He wanted to write the book so that others wouldn't make the same mistakes he did. He wanted to tell other caregivers not to worry about making mistakes. That others in their position have made the same mistakes or worse, and he wanted people to know because when he wanted to learn, there was nobody to tell him," says Joy.
Shiv passed away in October 2015, but the system he put in place to take care of Sukla remains strong. She is soldiering on at the age of 85 and remains healthy as ever. All this thanks to a man who never gave up on the love of his life.
God knows, she made the right choice back in 1955 while standing by her decision to marry him.
---
Also Read: Pankaj Tripathi's One-Of-Its-Kind Love Story Will Totally Win You Over!
---
(Edited by Gayatri Mishra)
Like this story? Or have something to share? Write to us: contact@thebetterindia.com, or connect with us on Facebook and Twitter.