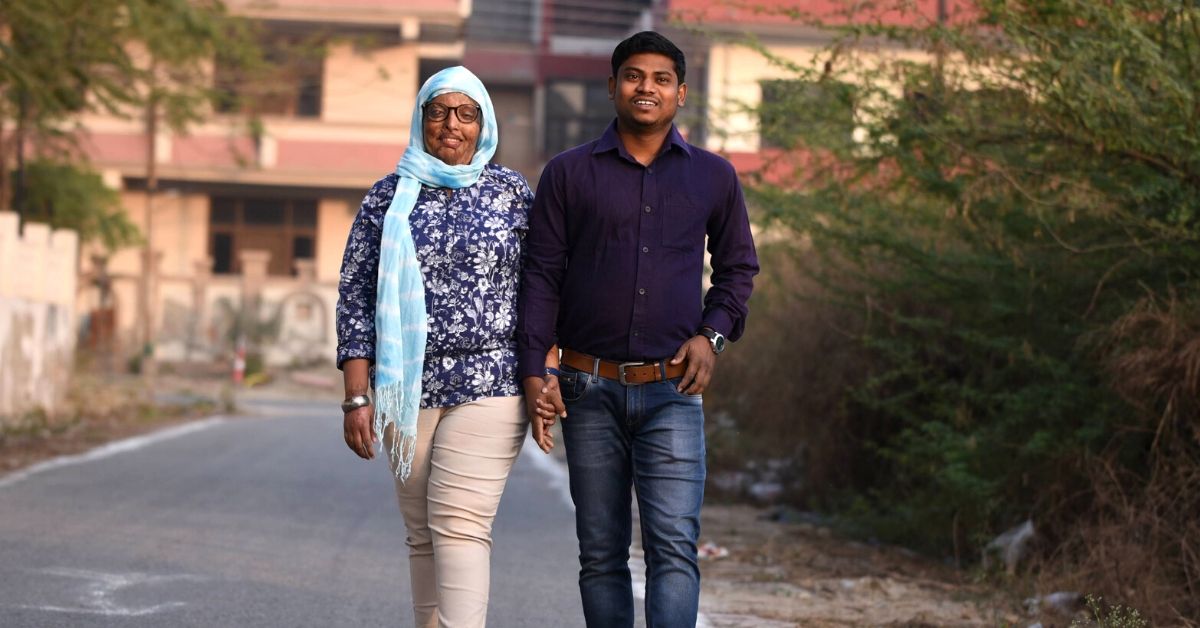 "The first person I wanted to see with my new vision was Saroj - the only person who was able to love me without knowing my old face."
The year was 2009. Pramodini Roul from Bhubaneshwar, Odisha, was a teenager of barely 15 years when a 28-year-old paramilitary soldier threw acid on her for rejecting his marriage proposal. Pramodini's life met with a dark end from where she knew no coming back. The acid attack survivor stayed in a coma for several days in the hospital ICU, followed by four years of being bedridden at home where her widowed mother struggled to take care of her single-handedly.
"I had lost my father at 4. My mother had brought me up amid a lot of hardships at my uncle's home. After my attack, when I showed thin signs of recovery, my family nearly gave up on me. I could sense them thinking a person like me was no good alive," Pramodini recalls emotionally, in a heartfelt tête-à-tête with The Better India.
First Meeting at the Hospital
Pramodini was left blinded. The attack had left severe burn scars all over her face. Around 2014, she developed an infection in her legs which claimed her ability to walk. The doctors ruled that she would not be able to walk before another six or seven years. It was at such a juncture that Saroj entered her life.
Saroj Sahoo, Pramodini's fiance' and soon-to-be husband, was a former medical representative and friend of a nurse at the hospital where Pramodini was undergoing treatment.
"I saw her first in March 2014 when I had visited the hospital with a few of my friends. At that time, I saw her only from a distance. It was not until one month later that I got to know about Rani's (Pramodini) traumatic experience from her mother," shares Saroj, about his first meeting with Pramodini, or Rani as he calls her.
Saroj was shocked and deeply moved to see her plight. He offered to lend a helping hand during Pramodini's physiotherapy sessions. Gradually, he became her main pillar of support – both emotionally and financially. He graciously sustained her treatment expenses and started spending more and more time at the hospital, talking to Pramodini and motivating her towards a brighter future.
Helping her Walk Again
"His growing companionship with me irked his friend who was my nurse. She, along with the doctors, considered my case a lost one and thought Saroj was investing his time and efforts in futility. She blatantly told Saroj that he would never be able to make me walk," shares Pramodini.
The statement not only infuriated Saroj but also prodded him to accept this as a challenge. He resolved to get his Rani back up on her feet as soon as possible.
Soon, Saroj left his job without his family's knowledge and started spending his days and nights on Pramodini's recovery. "He made me walk on his feet. He carried me around on his own shoulders. What has he not done to make me walk at that time!" Pramodini gushes while sharing.
Invalidating the doctors' prediction, Saroj helped Pramodini walk in just four months. Even then, he continued encouraging her towards a complete recovery. This included daily walking on the road for hours after midnight when the roads would be emptier and convenient for her to practice walking. With Saroj's relentless motivation, Pramodini walked back to normalcy in another one year.
"Distance Made us Realise Each other's Need"
Meanwhile, with a close friendship brewing up between the duo, they soon realised they have fallen for each other. But they failed to realise how much until they experienced each other's absence.
"I was so conscious of my appearance, that I thought he didn't deserve me. At the same time, I learnt that Saroj's family did not approve of me. So I wanted to leave Odisha and focus on my own career for the time being," recounts Pramodini.
She soon decided to set out for Delhi to join the Stop Acid Attack Campaign in 2016. Saroj got to know about it just two days before she was set to leave.
For so long, Saroj had been Pramodini's unwavering support system. Not a day had gone by since March 2014 when he had not helped her wade through the day. The news broke his heart.
At the station, Saroj cried inconsolably trying to not let her go. But when Pramodini's cousin told him, "Rani ko pehli baar aapne se kuch karne do (Let Rani do something on her own for the first time)," Saroj obeyed without a second word.
Pramodini soon started working at Sheroes Cafe in Agra with other acid attack survivors. "I felt a fresh surge of confidence in myself after listening to their stories. It was almost a new life for me. But amidst all of it, I yearned for Saroj more than ever."
Back in Odisha, Saroj felt distraught with Rani missing from his daily life. His days were bland, his nights sleepless. Finally, he decided to propose Pramodini over a phone call.
"Lekin baat aagey nahi badh payi (But things did not take off instantly)," Pramodini chimes in. "Distance was our main obstacle. My focus then was on my career as a campaigner against acid attacks. He was also determined to convince his family about me."
"I always wanted to return to Odisha and work with acid attack survivors here. After a while, I sought this opportunity to come back home and reunite with Saroj," she narrates.
Seeing Saroj with her New Eyesight
Upon her return, Pramodini underwent a major eye surgery which promised to restore partial vision in one of her eyes.
"The first person I wanted to see with my new vision was Saroj – the only person who was able to love me without knowing my old face."
The surgery was deemed to be successful. But, even two months later, her eyesight was yet to return.
"It was on board a flight that the miracle happened. We were mid-air, on our way to a convention in Mumbai when I suddenly realised I was able to see very faintly. And the first thing I ever saw was Saroj, sitting next to me," Pramodini shares emotionally.
"At first I thought Pramodini was dreaming or sleep talking when she said she was able to see me," Saroj shares with a shy laugh, "But after a few minutes I realised it was true. She could see again!"
"But even now Saroj manages most of the things, be it our campaign work or household chores. My vision is still not very prominent," Pramodini informs.
All Set for their April Wedding
Talking to The Better India, Saroj cannot stop blushing about his long-time partner and bride-to-be. "I had prayed so much for Rani to regain her vision. I have kept so many Vrat (ceremonial fasts) for her recovery," Saroj wells up sharing.
"From the very first time I met her, I felt she was so brave. I couldn't gather up the courage to tell that to her face, but I always felt stirred by her incredible confidence and courage. I realised she had no support system to lean on, and I wanted to be that. Her absence made me understand how much I needed her. And now, here we are," he smiles.
And thus, here they are. After 5 years of togetherness, the beautiful couple finally got engaged last year on Valentine's Day at Sheroes Cafe in Lucknow. At present, they live together at their Bhubaneshwar home and manage the Odisha section of Stop Acid Attacks campaign.
They have rehabilitated and supported several acid attack survivors in the state and earned accolades for their commendable endeavours. "Previously, it would take ages for an acid attack survivor to get justice. But, Rani and I strove together to ensure her attacker get behind bars. Today, our campaign has ensured that acid attack survivors get justice within three months," Saroj informs.
Pramodini and Saroj are all set to get married this April!
As they gear up for their big, fat wedding, complete with bridal photoshoots and the finest wedding attires, the inspiring couple stays firm in their resolution of creating a society free of the heinous curse of acid attacks.
---
Also Read: Attacked With Acid At 23, This Braveheart Helped Change The Lives of 250 Survivors
---
(Edited by Saiqua Sultan) 
Featured Image Credits: Danish Qazi
Like this story? Or have something to share?
Write to us: contact@thebetterindia.com
Connect with us on Facebook and Twitter.
Tell Us More
We bring stories straight from the heart of India, to inspire millions and create a wave of impact. Our positive movement is growing bigger everyday, and we would love for you to join it.
Please contribute whatever you can, every little penny helps our team in bringing you more stories that support dreams and spread hope.