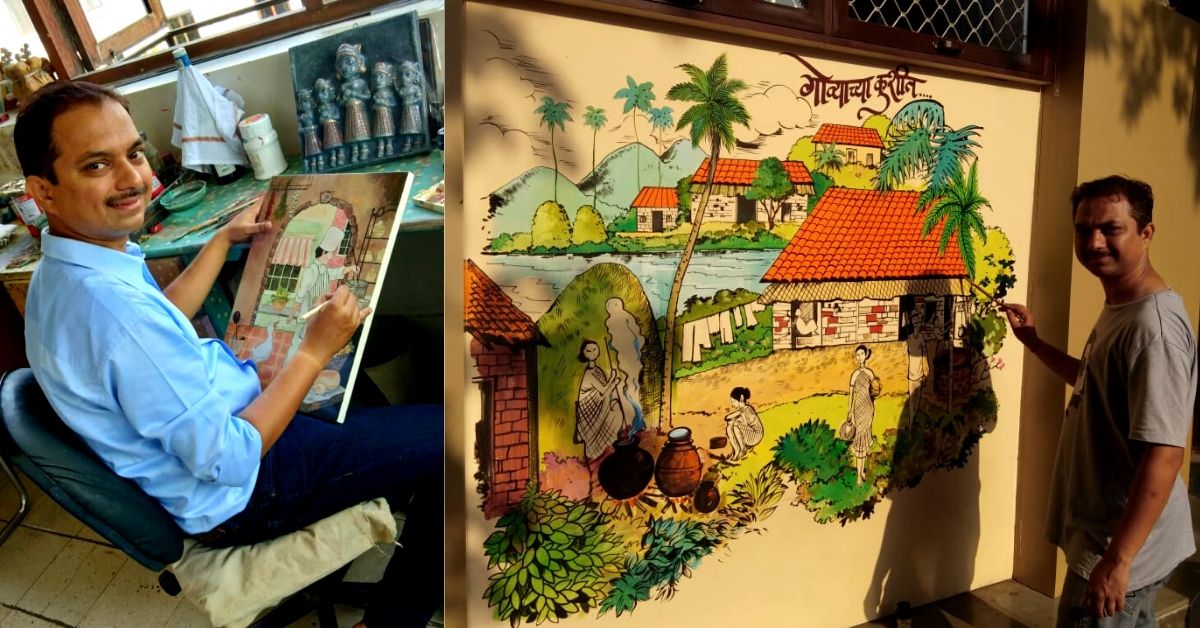 "Insanely talented people, most facing indifference, put in hard hours in mundane jobs at the cost of doing what they love the most," wrote a netizen inspired by Vishal.
Vishal Samjiskar dips a paintbrush into a palette and makes smooth strokes on a blank canvas with ease; almost as if he could do this blindfolded. Which is why it comes as a surprise that the 39-year-old, who has been painting for almost three decades and asserts that he is first and foremost an artist, isn't pursuing it full time.
"I work as an artist at an advertising firm by day and a delivery executive with Swiggy at night. I took up the latter job about two years ago, as I would barely earn Rs 10,000 from the art orders I was receiving. It isn't easy to sustain a family of five with that amount, so I had no other option but to juggle multiple jobs," says the Mumbai resident.
An artist is born
Vishal still remembers the day he fell in love with painting. "I was in Class 5, and had participated in a drawing competition. The theme of the story was a dream sequence, so I visualised a fairy and drew something. I was surprised that I won first place, and this is what perhaps pushed me to pursue this career," recalls Vishal nostalgically.
Luckily for him, his parents recognised his talent and did not stop him from pursuing it. His talent was undeniable, and he was only in Class 12 when he started taking orders, and eventually went on to acquire a Diploma in commercial art.
"I would get orders to paint portraits, landscapes and even wallpapers. However, making a living just from art is a massive challenge. When I had just started taking orders, I would charge anywhere between Rs 500 to 1000, and the rates have increased only slightly. So, you can say that I became a delivery executive by compulsion," says Vishal.
The Turning Point
While going about delivering food, Vishal would occasionally strike up conversations. This art of small talk is what worked in his favour when he met two customers—Chaarvi Golechha and Nikhil George—who would go on to change his life.
"Vishal was delivering my meal when he saw a painting in my hall and asked me if I was fond of art. The question led to a conversation, and eventually, he pulled out his phone and showed me pictures of his paintings. I was stunned, and right at that moment, felt like doing something for him," recalls Chaarvi, a 21-year-old.
She went on to open an Instagram account for Vishal in June 2019 and ever since, has been handling all his posts and orders on the platform.
The meeting with Nikhil was more recent. On January 6 2020, the banker posted a tweet to spread the word about Vishal and his talent, and to his utter surprise, it went viral.
This is Vishal. He delivered my Swiggy order today. He's an artist and he is looking for work. Do let me know if you would like to get a painting/wall art commissioned. I can put you in touch with him. Do spread the word and help him out! pic.twitter.com/3HCMaYSuRx

— nikhiilist (@nikhiilist) January 6, 2020
Speaking to a publication, Nikhil said, "The first night, there wasn't much of a response—maybe 10 or 15 likes. But the next day, my phone blew up. By the third day, he'd been retweeted almost 6,000 times, with 12,000 likes!"
People haven't stopped praising the artist for his incredible work, and what's more, there has been a renewed interest in his Instagram account. Vishal claims that several people have contacted him and commissioned new artwork.
Social media catapults to popularity
Vishal is especially thrilled with the fact that apart from receiving orders from individuals, he has begun to receive institutional support, too.
According to reports, an IAS officer from West Bengal has invited him to paint an anganwadi and help him get work from the Maharashtra government.
If he is willing to come to Malda, which we will pay for, we are looking for an artist to paint an Aaganwadi Centre here. Might not get paid as much but would be great exposure for his work.

— Naveen Kumar Chandra, IAS (@n_k_chandra) January 7, 2020
Additionally, a Lucknow-based art exhibition has offered to showcase his work, several corporate bigwigs are open to purchasing his artwork, and even actor-director Pooja Bhatt is looking to get in touch with him.
While Vishal is thrilled with the responses and looking forward to fulfilling them, his plans for the future are modest, and revolve around creating more art as that is his one true passion.
"While it would be nice to paint something challenging and I am hoping I get the opportunity to do that, I hope to focus more on my art, as that is what gives me true joy," he says, signing off.
If you are interested in owning a piece or commissioning artwork, contact Vishal at vishart.world@gmail.com or message him on Instagram by following on this link to his account.
---
Also Read: Born with No Forearms, 17-YO Artist Sings & Motivates Terminally-Ill Patients!
---
(Edited by Gayatri Mishra)
Like this story? Or have something to share?
Write to us: contact@thebetterindia.com
Connect with us on Facebook and Twitter.