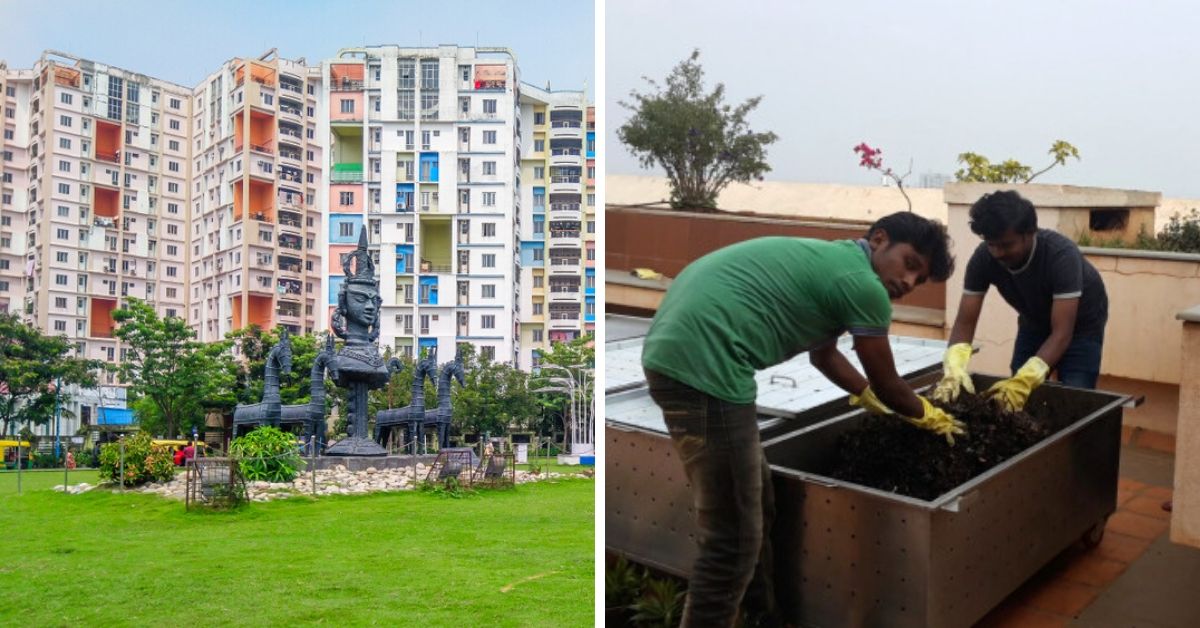 From rainbow drive method to cement tank systems, here's how you can compost as a society. #ExpertsAnswer
---
We often receive emails from our readers, asking doubts about their experiments with sustainable living. So, here's a section dedicated to you – TBI's 'agony aunt' for all things green.
---
In this week's Agony Aunt Series, we address the issue that Jagdish Changia, a resident of Club Town Welfare Society in Siliguri, West Bengal, is grappling with. His society has around 100 families, and he wanted to know how they can convert the society's waste in vermicompost.
For expert advice, we spoke to Savita Hiremath, a core member of the Solid Waste Management Round Table, Bengaluru, and a journalist, to find out how to tackle the problem at hand.
Not wanting to sound discouraging, Hiremath says vermicomposting isn't exactly the best solution for a society. "That's because segregating the kitchen waste into cooked and uncooked at such a large-scale can be a bit difficult. If residents are willing, then that's a different matter. But even then, it calls for two methods: one for cooked waste and another for uncooked. You would rather have one system set up for both to save your time, space, labour and budget," says Hiremath.
Waste segregation is important as, among other things, worms need just the perfect pile of uncooked wet waste to be able to thrive properly and convert it into organic manure. She thinks while it's feasible for individual families to get into vermicomposting. Hiremath thinks, as a society, you need better, simpler methods.
Here she suggests some composting methods that would suit best for the case at hand:
Rainbow Drive Method
"This one is a simple DIY method that the society can build without the help of vendors or machines. It's low on cost and high on delivery," quips Hiremath. The infrastructure is as simple as it gets, really.
And it can be constructed in three simple steps:
Install a few cement slabs in a clearing in your society.
Put a steel mesh plate on it.
Then, place a steel mesh ring which is 3 ft in diameter and 2.5 ft height wrapped with a gunny sack cloth on top of it.
That's it; first fill it with dry leaves till about 8 inches, put in the food waste, and cover it with dry leaves again.
The method is foolproof, there won't be any leachate, fruit flies, odour or even rodent issues.
"You'll have the semi-compost ready by the fifth week, post which you can leave it out on the ground for a couple weeks more for it to mature," Hiremath concludes.
Cement Tank System
This is another low-cost method where permanent cement tanks are built inside the society where there's scope for ample aeration. "However, this method is space-intensive. The tanks are permanent structures and once built, there is no point of return," warns Hiremath. She says that these cement tanks can handle large quantities (think 250kgs) of food waste and can work well for societies.
How this works:
Layer the tanks with food waste and shredded dry leaves.
Turn the pile every 2-3 days to prevent bad odour.
And voila – you get compost in 30 days.
Stainless Steel Bins
In this method, you need two sets of stainless steel bins. For a society of 100 families, 7 bins in each set would do.
How this works:
Once the kitchen waste is segregated, it has to be shredded using a shredder.
After that, add in sawdust or wood slivers to the waste to tackle extra moisture.
Put this mixture into one set of bins for a week.
Transfer this semi-compost into the other set of bins for curing for another week.
Hiremath further explains: "On the 15th day, take out the compost and let it dry in the shade for a while to eliminate extra moisture. After sieving, the finer compost can be used for the lawns whereas the larger chunks can go to the trees and shrubs in the complex."
So, there you go, take your pick, and start composting as a community the right way!
---
Also Read: Experts Answer: How to Compost and Utilise Dry Leaves in a Small Space
---
Picture Credit: Savita Hiremath's blog – Endlessly Green
(Edited by Saiqua Sultan)
Like this story? Or have something to share? Write to us: contact@thebetterindia.com, or connect with us on Facebook and Twitter.