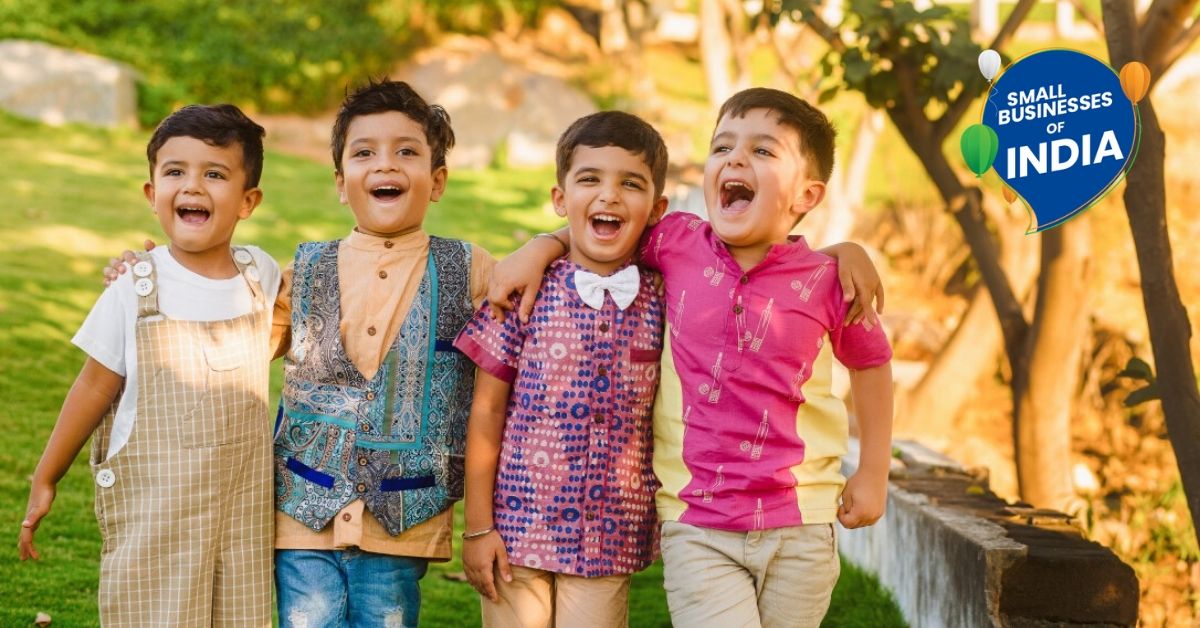 "Hardly anyone was using traditional Indian fabrics to make clothes for children aged five years and under. The available options were either overpriced or imported," says co-founder Shilpi Sharma Bedi.
When Shilpi Sharma Bedi became a mum in 2015, things, naturally, changed for her. Managing her work and life at home, responsibilities increased manifold for the first-time mom. But Shilpi persisted and tried to fit into the new role.
This was, of course, before she went on to start a company and take on another set of completely new responsibilities. Shilpi is the co-founder of Indie Project Store (IPS), a platform that sells outfits made of traditionally woven natural fabrics for children between the ages of zero to five, while empowering hundreds of artisans in the process.
And it all started after that one fine day when she went clothes shopping for her toddler.
When the Need Arises, a Mother Always Steps Up
As an informed parent, Shilpi's immediate choice was to opt for natural fabrics that would not be harsh on her baby's skin. Also, as someone who had grown up loving and wearing traditional woven fabrics, she started looking for brands offering such a clothing line.
"However, I couldn't really find any designs or fabrics that suited my taste when I was choosing clothes for my son. Hardly anyone was using traditional Indian fabrics to make clothes for children aged five years and under. The available options were either overpriced or imported," recalls the 38-year-old.
Seeing this apparent gap in what the market had to offer in the children's clothing space, Shilpi had a lightbulb moment. She called her best friend and partner-in-crime, Satya Nagarajan and shared her observation which had the potential for a successful business. "After we bounced off some ideas regarding how to go about it, we decided to take the plunge," she recalls Shilpi.
Therefore, the Indie Project Store came into existence in the summer of 2016.
To check out Indie Project Store's collection of children's clothes made from traditonal natural fabrics, click here!
And it came with a twist:
While they wanted to start a successful business like any other first-time entrepreneur, Shilpi and Satya did not want to compromise on their values. Having worked in the social development sector, they knew the kind of struggles that a traditional handloom artisan faces in this day and age of mechanisation.
"So, instead of setting up manufacturing units of our own, we wanted to improve the livelihoods of artisans who were struggling to keep these traditional crafts alive. Hence, all our fabric suppliers, manufacturers, artisans come from small shop communities of India," says Shilpi.
Since then, IPS has made a difference in the lives of over 100+ artisans in Hyderabad, where the business is based out of. They have released over 170 new designs and have fulfilled over 3000+ orders!
Weaving a success story
Before the mums started out with their small business, they were working with the Aditya Birla group for almost over eight years between 2004 to 2013. Here, they were working in the operations team as Training Managers where they were responsible for training fresh hires and helping them assimilate in the company.
The duo later worked in the Wadhwani Foundation which works towards providing skill training to the youth.
Satya worked with Wadhwani Foundation until 2016, while Shilpi took a break from her freelance work with the birth of her son in 2015.
When the duo decided to begin their own venture with IPS, they started out with a minimum investment of just Rs. 25,000, where most of it was allocated for buying fabrics and paying their tailors.
Shilpi and Satya both design and develop the patterns and styles. Once these have been decided upon, they communicate their requirements to local NGOs and social enterprises for manufacturing. These smaller NGOs and social enterprises work with artisans and weavers who manufacture the fabric and once that is complete, the fabric is sent to the IPS workshop.
Under their label, the duo put contemporary twists to traditional fabrics like Ikat, Kalamkari, Mangalgiri, Dabu and Ajrak prints which are widely loved. They make overalls, dungarees, high waist skirts, spaghetti tops, layered dresses and peplum tops for kids.
When it came to tailoring these beautiful fabrics into cute and fashionable outfits, Shilpi and Satya again made a very conscious decision. "We identified a few women who were running home based tailoring units. We realised that these women too have entrepreneurial aspirations and hence, we decided to work with them," says Shilpi. Currently, they work with close to 20 such women who tailor IPS's designs.
In addition to working with two NGO partners in Hyderabad, there are others from whom IPS sources fabric. IPS also works with a small business owner in Jaipur for custom hand block printed fabric. While in Delhi, they work with home based artisans who make crochet laces, buttons, appliqué and embroidery work.
Winning over Indie parents in style
Starting out a socially-conscious business and also reaching your niche audience is not an easy task. So, how did the duo manage that?
When IPS was first set up, Shilpi and Satya did not have any platform or channels to sell their products. It was only through social media platforms like Facebook and WhatsApp that the mums used to help their business grow and thrive.
"We gained massive popularity through social media channels, these platforms enabled us to have access to multiple parenting communities online. We are immensely popular with new-age parents who appreciate locally-made, handcrafted, sustainable product choices for their little ones," says Shilpi.
Even before they launched their website formally, they had already sold over 500 units of clothing to parents who discovered them through social media. They finally set up their website in September 2017 and started selling their products to manage their bulk orders more efficiently.
Shilpi says that most of her old clients now ask her to make clothes in bigger sizes for their children who are quickly growing up and she's been trying to accommodate their requests. Additionally, the enterprising mums also found a solution for this particular demand.
"Our sizing and patterns have been developed to ensure longevity of use and durability. 'Two years and still it fits' is feedback we often receive from our customers," states Shilpi with pride.
Overcoming rough patches and marching forward
Being a hands-on mom and running a business enterprise doesn't sound easy and it isn't. "I'm a work-from-home mum, so it's a day full of adventures, juggling personal and professional commitments simultaneously," says Shilpi.
When the mums are not busy perfecting work-life balance, they are busy dealing with challenges that come with running a business.
Since the duo works with small units and NGOs, it often becomes difficult for them to manufacture the clothes in bulk in spite of the high demand.
"Setting up our own manufacturing unit will enable us to churn out more numbers at reduced cost, but we consciously continue to seek more reliable and trustworthy manufacturing partners to ensure we stick to our aim of supporting other small businesses," reasons Shilpi.
Words of Wisdom:
Having learnt from their own set of challenges, Shilpi also has a few pointers for aspiring businesses.
"Be a pioneer in whatever you do, even if it's an age old concept, idea or business type. Give it your own twist and be one of a kind," stresses Shilpi.
So, what does the duo look forward to in the near future?
Shilpi says that after having received so much love from their customers online, they now want to take IPS to every household in India.
---
You May Also Read: This Woman is Empowering 300+ Farmers While Making All-Natural Skin Care Products
---
"Every Indian child deserves to experience the comfort of locally produced and developed Indian textile at an affordable price range. It's about time we offer the goodness of 'Made in India' products to Indian consumers and not just put them up for export or high end buyers," says Shilpi signing off.
Rapid fire:
*An entrepreneur you admire.
Ans: Ratan Naval Tata
*New tech that can transform the future of small businesses
Ans: Social Media
*One value that can help small businesses thrive
Ans: Innovation
*Any app/software that helps you manage your work
Ans: Zoho
*Your favourite book
Ans: Catch 22
*In my free time I ____…
Ans: Volunteer for a worldwide education program
* Before this interview I was ____…
Ans: Putting my kids to bed
*A message for your past self about small businesses
Ans: Plan to execute
*Something they don't teach in college but is important to run a business is
Ans: Social Skills. Networking is the key to success.
*One question I always ask people while hiring is ____…
Ans: Their professional aspirations
*Best advice you ever got is to ____…
Ans: One must wear People & Business hats (in balance) at all times
(Edited by Saiqua Sultan)
Like this story? Or have something to share?
Write to us: contact@thebetterindia.com
Connect with us on Facebook and Twitter.