"Rejected for my disability repeatedly, I decided to start something on my own. Aur kisi ki gulaami nahi karni thi (I did not want to serve anyone anymore)," says the girl who supports her family of seven.
For 35-year-old Ankita Shah, life has been a roller-coaster ride strewn with hurdles at every juncture. The Economics graduate from Ahmedabad strove hard to find acceptance and a decent career, only to be turned down again and again by a discriminatory society.
In some jobs, she was paid half of what her counterparts were paid, while at others, she was rejected at the interview stage.
Why? Because she was differently-abled.
"Polio claimed my right leg in childhood, and I had to get it amputated. Today, I walk with a prosthetic limb," begins Ankita.
She is the eldest child in a family of seven, which hails from Palitana in Gujarat, but migrated to Ahmedabad, 10 years ago, in search of a livelihood. Shortly after, health issues forced her father to quit working, and Ankita was fresh out of college when she had to take up the onus of supporting her large family.
"Back in Palitana, I was offered a job as a clerk at a local girl's high school. They promised me a steady salary after three months of working. I worked there for ten long months but did not receive a rupee," she shares.
Persevering through struggles
After relocating to Ahmedabad, Ankita tried to sustain her family through a series of jobs in various sectors.
"I have worked in call centres, real estate, share market and even in hotels as a housekeeper. One call centre asked me to leave because of my poor spoken English skills, while at the real estate firm, I learnt I was getting poorly paid due to my disability. I have appeared for several interviews where they rejected me on face simply because of my physical limitations," she mentions.
After nearly a decade of battling professional ostracisation, Ankita's patience wore thin. But fate had more struggles in store for her.
In June 2019, her father was diagnosed with intestinal cancer, and her world came crumbling down.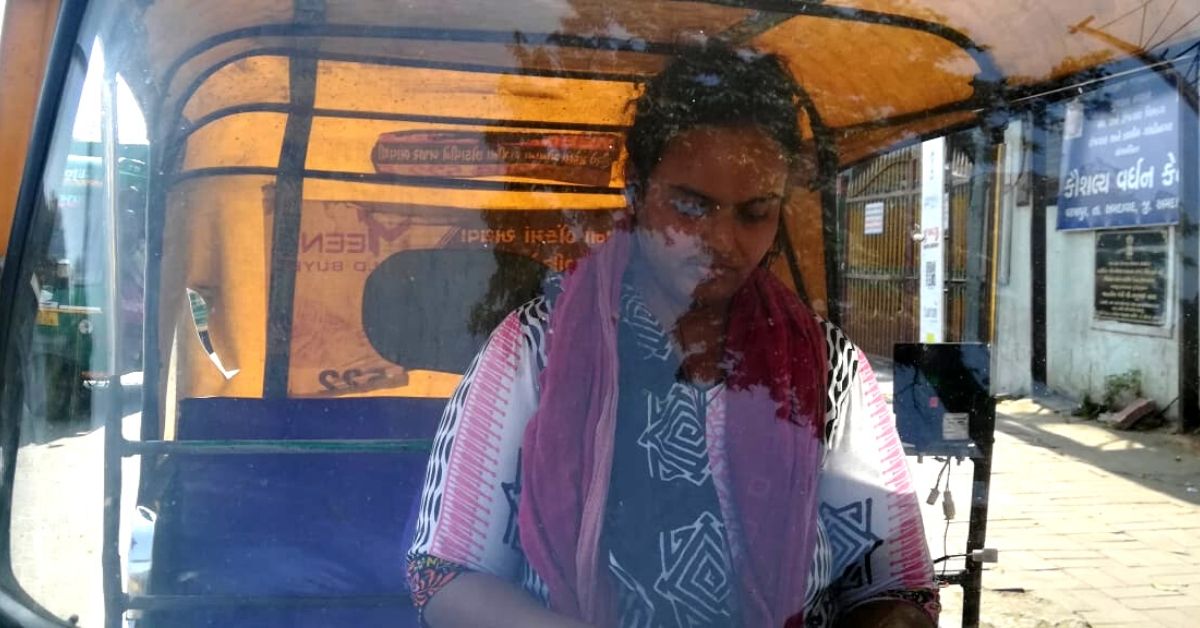 Her 12-hour desk job at the call centre could not support her father's treatment. Moreover, securing leaves was a huge hassle, even when she had to accompany her father to the hospital regularly.
She quit her job at the call centre the following month and interviewed for the post of a back office executive. "Again, I was rejected for my disability. I decided to take a firm stand now and start something on my own. Abhi aur kisi ki gulaami nahi karni thi (I did not want to serve anyone anymore)."
Ahmedabad's first specially-abled woman auto driver
As Ankita kept scrambling for options in the next few months, her family's savings slowly ran out. She was on a leash and had to find a source of income at the earliest.
That's when the idea of driving an auto-rickshaw struck her.
Ignoring her family's disapproval, Ankita learned how to drive an auto. She was taught by Lalji Barot, a friend and fellow auto driver who is also physically challenged. He also helped her find a customised autorickshaw with hand-operated brakes.
"I have been driving this auto for more than six months now. I start at around 11:30 AM and ferry passengers till 8 PM. I mostly ply between Chandkheda and Kalipur Railway Station. The work fetches me nearly 25,000 rupees at the end of the month, almost double of what I was earning through desk jobs."
Ankita still faces a lot of unsolicited stares, jeers and question every day. Bikers often stop on their way to mock her. Other male drivers do not spare her from hurtful and sexist comments. But, she has learnt to wade through the sea of negativity and stay optimistic.
"I don't let anyone get to my skin and just focus on my work," asserts the confident woman.
At present, Ankita's younger brothers have also started working and contribute some amount for their father's treatment.
Yet, it is difficult for the Shah family to sustain the expensive treatment, and Ankita still hopes she had more well-wishers to support her financially.
If you are willing to help out, please see the following details:
Account number: 002401574160
Account holder's name: SHAH ANKITABEN
IFSC Code: ICIC0000024
MMID: 9229869
---
Also Read: Battling Cancer, Auto Driver's Daughter Served 1 Lakh+ Free Meals to Kids in Slums!
---
(Edited by Gayatri Mishra)
Like this story? Or have something to share?
Write to us: contact@thebetterindia.com
Connect with us on Facebook and Twitter.