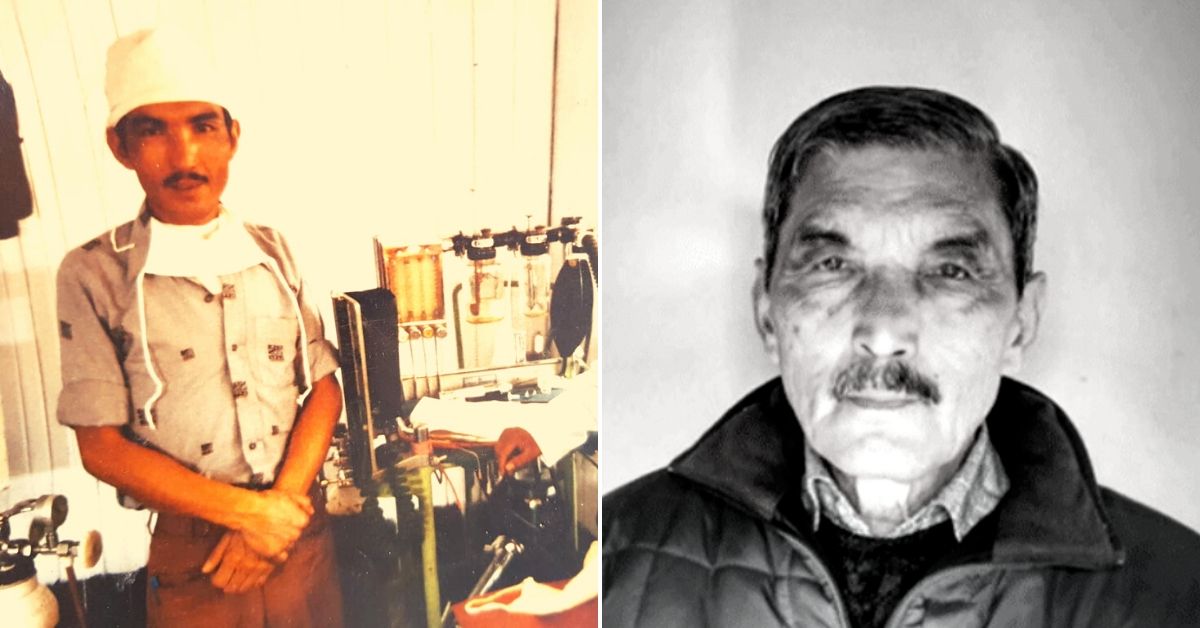 "Locals often say that Dr Norbu has treated someone from every household in Leh and the villages surrounding it. This is the relationship he shares with the people."
Ask anyone in Leh about Dr Tsering Norbu, the first practicing surgeon of Ladakh, and they will tell you about how he dedicated his life to tirelessly serve the people. For nearly three decades, this general surgeon conducted more than 10,000 surgeries for a populace that barely had access to the wonders of modern medicine. Suffice it to say that his life embodies the spirit of service.
Born in 1941 in the quaint village of Nimmo, which is 35 km from Leh, Dr Norbu grew up in an agricultural household like most families in the region. Completing his education till Class 12 from government schools in Leh, he left for Srinagar to first pursue his BSc before clearing an exam to pursue an MBBS degree at the city's Government Medical College in 1959.
"My parents were farmers who weren't very well off. Back in my school days, I would double up as a house help. Growing up in school, I never really had any ambitions of becoming a doctor. At the time, if you did have access to formal education, either you grew up to become a doctor, engineer or a government servant if you were lucky. When I was in school, I had to stay with my relatives in Leh because there were no transport facilities at the time between Leh and Nimmo. Thanks to chance and lots of hard work, I got admission into the Government Medical College in Srinagar to pursue my MBBS," says Dr Norbu rather nonchalantly, in a conversation with The Better India.
After finishing his MBBS, Dr Norbu had no other desire but to serve the people back home. In 1965, he was appointed as a medical officer at the government's Health Unit in Nubra Valley. Back then, there wasn't a motorable road through Khardungla pass, and one had to trek three entire days to make their way from Leh to Nubra. Following his stint in Nubra, which ended in 1970, he served as a Medical Officer at the District Hospital in Leh until 1975.
Beginning his Career as A Surgeon
Completing his Masters in general surgery in 1978, he joined the Sonam Norboo Memorial Hospital in Leh as a surgeon. When he began his career as a surgeon, the hospital was designated as District hospital which housed only 20 beds.
"There was a glaring shortage of human resources, particularly supporting staff and a non-existent infrastructure. A surgeon, for example, needs an anaesthetist to assist him during procedures. I didn't even have an anaesthetist for years. In fact, for multiple procedures I had to double up as one and perform surgeries as well. For these procedures, I only had an assistant and a nursing orderly assisting me," he recalls.
The biggest problem, however, was the lack of any viable central heating system, which made procedures very difficult, particularly during the freezing winters.
"Before performing a procedure, we would heat up the operation theatre upto an optimal temperature and then get rid of the bukhari (wood or charcoal burning stove used as a heating apparatus) from the room because of hygiene concerns and the fact that the anaesthesia was very inflammable. We used ether as an anesthetic because of its low cost and high therapeutic index, but its explosive flammability was always a serious concern. I would administer the anaesthesia and conduct the surgery," he recalls.
Despite regular electricity outages, no power back up or functional laboratories and lack of proper sanitation facilities, Dr Norbu had no choice but to manage with the resources at his disposal. There have been occasions when he had to conduct complicated surgeries using just torchlight. Consulting with doctors outside Ladakh was out of the question because back then there weren't any proper telephone lines.
As the only practicing surgeon in the entire erstwhile Ladakh district, which comprised of Leh and Kargil, he had to rely on his immense knowledge and skillset. If someone had to undergo emergency surgery, there was no way of transporting them to Delhi or Chandigarh. So, he had no choice but to operate on them.
Despite these challenges, Dr Norbu can recall only one unsuccessful procedure during his entire career. Doctors today would be amazed at the complicated surgeries he would perform and post-operative care he delivered under such circumstances. He has performed all sorts of surgeries–abdominal, orthopaedic, gynaecological and obstetrics, etc.
An Experienced Hand
"Dr Norbu is such an experienced hand. There are so many incredible stories of how he conducted an operation under impossible circumstances. A truly dedicated doctor, he was always ready to work under any situation, and carried himself in a very down to earth and humble manner. As a surgeon, he single-handedly transformed the medical system in Ladakh. The region hasn't quite seen a doctor like him before or since," recalls Sonam Wangchuk, a former Indian diplomat, businessman and friend.
However, as surgeons, there are a couple of common illnesses that they had to address in a place like Ladakh like gastric ulcer, gallbladder stones, abdominal tuberculosis and liver-related complications, says Dr Norbu. Although these are common problems all over the world, in Ladakh these illnesses arise due to the diet.
The most number of surgeries Dr Norbu performed have revolved around the removal of gallbladder stone. In a week, he would end up doing two-three surgeries for this particular ailment.
"As a surgeon I was allotted two operating days in a week and each day I would operate three major cases and a couple of minor cases. It comes to around 40-45 surgeries a month and nearly 500 cases in a year. This does not include many emergency surgeries we had to carry out in case of accidents, other trauma and general surgical emergencies," he tells Reach Ladakh, a Leh-based publication, back in 2016.
"These days, though, there are a lot of cases of stomach cancer, diabetes, high sugar, hypertension and coronary heart diseases that are all lifestyle related," he tells The Better India.
Fortunately, from the middle of the 1980s onwards things began to improve significantly with the expansion of the district hospital, construction of a modern operation theatre, better equipment, central heating, regular electricity, and the necessary support staff as well. For Dr Norbu, he finally had a professional anaesthetist accompanying him during procedures.
Through his time serving at SNM Hospital, he mentored many doctors and inspired generations who are serving till this day.
"Growing up, I wanted to be like my father. As a very well known surgeon of high repute, he was my inspiration to study medicine. Although I couldn't crack the MBBS exam, and eventually studied to become a vet, I know many doctors of my generation who were inspired by his years of service," says Dr Stanzin Rabgais, a vet and Dr Norbu's son.
One doctor he helped and mentored through his time was Dr Tsering Landol, the region's first gynaecologist.
"Dr Tsering Norbu was a senior doctor who was always with me offering assistance at critical junctures. Any operation I would conduct, he would help me induce anaesthesia. For very complicated procedures, I would often take his help. During one operation sometime in the late 1980s, the patient started bleeding uncontrollably resulting in a critical emergency. From a passive observer who had helped induce anaesthesia, Dr Norbu literally walked me through the procedure with incredible calmness to stop the bleeding and ensure the successful completion of the operation. The patient suffered no complication, and we even got some people to donate their blood to the patient," recalls Dr Tsering Landol, a gynaecologist and recipient of the Padma Bhushan this year.
"At a time when there were no qualified surgeons in our hospital, he would supervise emergency cases I had to undertake. A very dedicated, conscientious and extremely skilled surgeon, Dr Norbu is among the best this region has ever produced," she adds.
"At a time when there were minimal facilities, he performed so many life-saving surgeries. In fact, when I was Class VIII, I had the opportunity to witness him in action inside the Operation Theatre. It's a very rare thing to witness my father treating someone suffering from a burst appendicitis which could otherwise prove to be fatal. My father managed to save his life. For me, it was a very strange yet exhilarating experience," recalls Dr Rabgais.
But such was his dedication to service that he never took a day off in his nearly three decades as a surgeon. He was always available to his patients so much that there were a few years when he didn't come home to celebrate Losar (Ladakhi New Year).
"Locals often say that Dr Norbu has treated someone from every household in Leh and the villages surrounding it. This is the relationship he shares with the people," says Wangchuk.
Dr Landol remembers one particular incident from the early 1980s, where Dr Norbu's intervention saved an infant's life.
She remembers receiving a patient from Kargil in the early 1980s, who had undergone seven days of labour. Dr Landol was supposed to go to Kargil for the operation, but halfway there she found out that the patient was on her way to Leh. The patient was in incredible pain and couldn't wait any longer. They finally reached the hospital in Leh at around 3 am in the middle of January with temperatures dipping to -10 degrees Celsius. Assisting her in this procedure was Dr Dolma, who was the CMO at the time, and Dr Norbu.
First, they had to heat the room with a Bukhari and that too incompletely because the anaesthesia was inflammable. To keep the patient warm, they attached bottles of hot water onto her shoulders and feet. The mother was in terrible shape.
"We somehow delivered the child with great difficulty, but the child had no heartbeat. However, we wrapped the baby up in warm clothing. Our objective now was to save the mother so we began working towards stopping the bleeding. Meanwhile, Dr Norbu, who had helped us with the anaesthesia, worked towards resuscitating the infant. Miraculously, the child started breathing despite being born under such terrible condition. He helped resuscitate the child without a baby laryngoscope set or any other critical instruments," she recalls. 
A Life of Service
He served at the SNM Hospital until 1999 before retiring from government service. Despite retirement, he continued to see patients and perform surgeries. In fact, between 2001 and 2006, he served as surgeon at Mahabodhi Karuna Charitable Hospital, which offers free treatment to poor patients from neighbouring and remote villages in the district.
Today, Dr Norbu is nearly 80 years old, but despite his age he continues to see patients in the morning for one and a half hours at least six days a week. There are patients, particularly among the elderly, who trust only his advice. He conducts their health check-ups, caters to their needs and issues referrals if they are carrying any serious ailments.
It is often said that a surgeon must have a pair of steady hands, eyes of a hawk and the heart of a lion. While Dr Norbu had all those qualities in abundance as a surgeon, what he also possessed was an incredible spirit of service.
As the only practising surgeon in the region when starting out, he understood what it took to serve the people of this remote cold desert. The time has come to celebrate his contributions to Ladakh.
---
Also Read: How Ladakh's 1st Gynaecologist Changed The Face of Women's Health in India's Cold Desert
---
(Edited by Saiqua Sultan)
Like this story? Or have something to share? Write to us: contact@thebetterindia.com, or connect with us on Facebook and Twitter.
We bring stories straight from the heart of India, to inspire millions and create a wave of impact. Our positive movement is growing bigger everyday, and we would love for you to join it.
Please contribute whatever you can, every little penny helps our team in bringing you more stories that support dreams and spread hope.