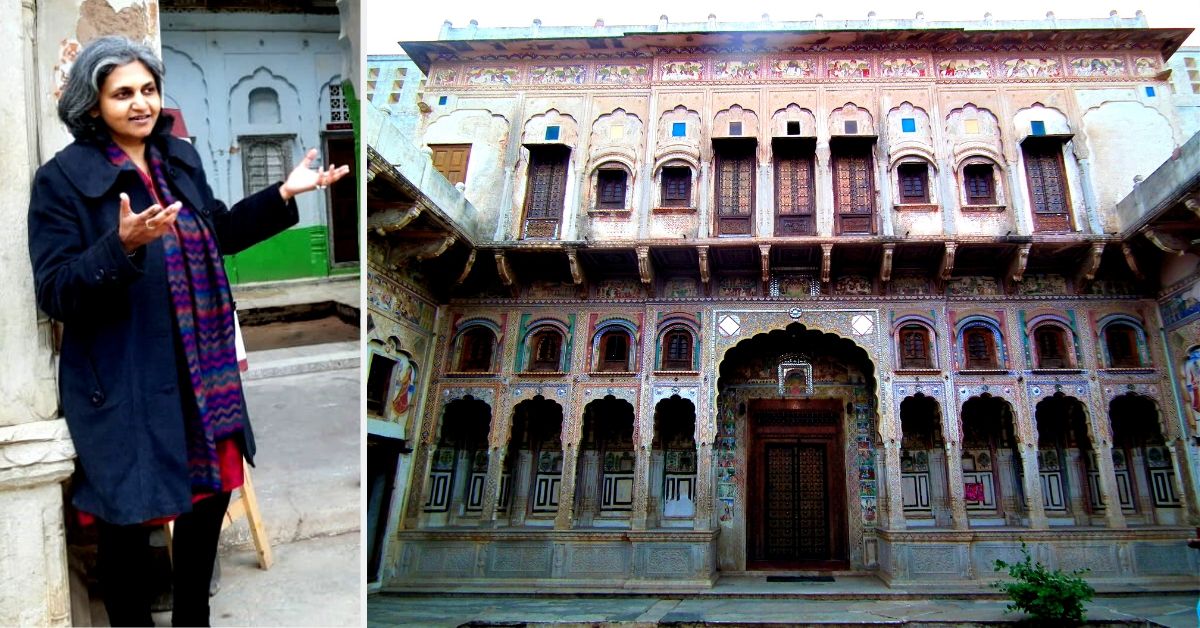 "With each passing day, painted Havelis in Shekhawati are falling apart and beautiful frescoes are crumbling to dust, erasing some very significant history of a rich cultural region in Rajasthan."
Spread across Jhunjhunu, Sikar and Churu districts in northern Rajasthan, the mesmerising Shekhawati settlement survives amidst negligence and urban encroachment. Famous for marvellous frescoes painted on palaces, Havelis, shops and houses – the Shekhawati style of architecture remains an unsung heritage of India.
For the past twenty years, veteran conservation architect Urvashi Srivastava has been fighting a sole crusade to protect the abandoned houses of Shekhawati merchants whose successors have now settled elsewhere in India. In conservation with The Better India, she traces the history of the Shekhawati region and explains why their magnificent architecture needs to be preserved and cherished. 
"With each passing day, painted Havelis in Shekhawati are falling apart and beautiful frescoes are crumbling to dust, erasing some very significant history of a rich cultural region in Rajasthan. I have undertaken intensive field research in the region and have worked at the grassroots with traditional building craftsmen. Under the banner of 'Shekhawati Virasat Abhiyan', my NGO, Centre for Advancement of Traditional Building Technique & Skills (CATTS) has been synergising efforts from all stakeholders for this conservation," she informs. 
She provides a deep insight into the Shekhawati history – a region spanning across 30,000 sq. km of rugged desert lands, home to nearly 4,000 havelis and mansions and over 15 royal palaces portraying the characteristic artistic style. 
Medieval trade routes from Delhi – the socio-politico-economic heart centre of India – passed through this erstwhile nondescript region of Rajasthan. Tired merchants would often choose to spend the night here after an exhausting day's journey. Gradually, the region started flourishing as many of the small-time merchants set up camps and started trading with their counterparts passing by. 
How Shekhawati architecture flourished
The name of the region is rumoured to have originated from Rao Shekha, once a Jagirdar of Sikar district. The communities here proclaimed themselves as the Shekhawati Thakurs. 
Trade thrived, so did the economic condition of the early settlers. They developed alternate trade routes with the Shekhawati region at its centre. Villages upgraded to picturesque townships. A network of forts & palaces were constructed by the affluent families to ensure the safety of merchants passing by with their caravans. 
However, the most outstanding heritage of the Shekhawati region turned out to be its exquisite architecture – complete with frescoes etched on the lime-plastered walls. 
The credits for the same have to be attributed to the traditional craftsmen, who fostered an architectural style quite different from the rest of Rajasthan. From mythology to historical landmarks, everything under the sun is featured in these curious murals. As a matter of fact, Shekhawati's peak prosperity is quite young and can be traced back to just a few centuries ago, when Europeans had just started making inroads elsewhere in the country. 
This was the time when rich merchants would commission a fresh set of frescoes every time there was a wedding or other festivities in the household. The 19th century and the early years of the 20th century saw a fresh artistic trend in Shekhawati, as artisans started depicting the latest scientific innovations on their murals. 
"One can find the earliest train engines or Wright Brothers with their first aeroplane models and other interesting inventions coming alive in frescoes of this time," reveals Srivastava. 
The decline came sooner than expected. The Shekhawati business moguls, who were the main patrons of the region's culture and architecture, migrated to fast-growing cities like Kolkata, Delhi or Mumbai. Eventually, their successors kept the Shekhawati Havelis unattended and abandoned like a haunting memory of the past. These city-bred generations valued little about their rich ancestral architecture. 
"Initially, vegetable colours and mineral pigments were used for painting. Later, with the advent of chemical enamels from abroad, colours like maroon, green, indigo and turquoise became predominant in Shekhawati murals. The topics of the paintings also evolved over time in line with the existing trends."
Srivastava adds, "The base material in Shekhawati construction was lime. The frescoes were painted on wet plaster, following the Italian Buon fresco style where the murals were varnished later and dried. The technique was adopted to increase the longevity & durability of the frescoes. On the other hand, Secco fresco style (painting on dry plaster) was adopted for interior decorations, which were less prone to damage. However, decades of negligence have led to the crumbling of these murals. Some micro-level restoration has been done using cement and modern art techniques, but these are barely at par with the original brilliance." 
She regrets that lack of historical knowledge among the present inhabitants has led the architecture to ruins, occasionally revived by half-hearted and improper efforts of conservation. In addition, there is a prominent land mafia demolishing these structures to raise skyscrapers and shopping malls in its place. 
The passage of time has wrought changes in the local economy too. A predominantly trade economy has changed into an agrarian one with water and power supply making inroads into these parched townships. The present generations in artisanal families are full-time farmers and know little about art. 
Shekhawati region does not attract tourist footfall like Jaipur or Udaipur. Only the towns of Nawalgarh and Mandawa act as overnight stops for a handful of travellers on their way to Bikaner or Jaipur.
Since tourism is still underdeveloped, the Archaeological Department is reluctant to invest in Shekhawati restoration. Another reason for governmental apathy is that many of the Havelis are still privately owned by families settled in other cities, who pay little attention.
What Srivastava's NGO is aiming to achieve is to raise awareness among the locals, the tourists, the Haveli owners as well as the government about the architectural significance of Shekhawati. "We have already managed to educate a section of the masses about proper conservational aspects and have successfully restored parts and parcels of certain structures. But still, the majority of the structures lie in shambles. We want to take conservation to the masses while incorporating support from all sectors," asserts Srivastava.

"We show tourists the lacuna of conservational efforts here and why the status is so critical and fragile. Due to that, a lot of heritage enthusiasts among tourists have contributed graciously to our efforts. We wish to inculcate the same awareness among the local masses as well. We never want to be elitist in our conservational approach, nor do we wish to pass off shoddy renovations as conservation."
Even after two decades of hard work, Srivastava feels she has an arduous road ahead. "We look forward to joining hands with Granters, Donors, Philanthropists and Corporate Foundations to support our heritage conservation initiatives thereby helping us achieve our long-cherished vision to highlight local heritage assets, empower local communities and promote sustainability through heritage conservation." If you are willing to contribute to Srivastava's novel endeavour in any possible way, you can connect with her at info@cattsindia.org. Know more about the initiative at http://www.cattsindia.org/.
---
Also Read: Remembering Satish Dhawan: Unseen Pictures & Untold Stories About the Legend
---
All photo credits: Urvashi Srivastava
(Edited by Saiqua Sultan)
Like this story? Or have something to share?
Write to us: contact@thebetterindia.com
Connect with us on Facebook and Twitter.
We bring stories straight from the heart of India, to inspire millions and create a wave of impact. Our positive movement is growing bigger everyday, and we would love for you to join it.
Please contribute whatever you can, every little penny helps our team in bringing you more stories that support dreams and spread hope.