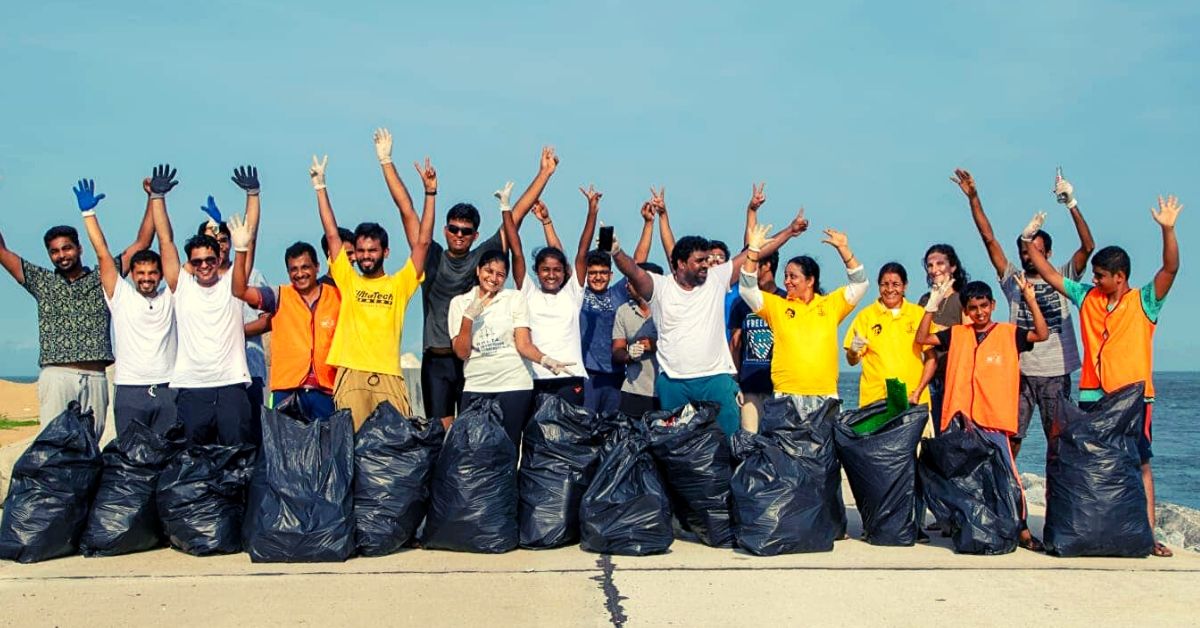 Tonnes of garbage is spewed every day on Kodi beach in Kundapura town by a river. Read how resilient individuals are not giving up on their mission to restore their pristine beach
Scenario 1: You are walking barefoot on a pristine beach while staring at the faraway setting sun. You stand with your feet in the water and heave a sigh of relief as you feel the stress of the week washing away with the waves.
Scenario 2: At the end of an exhausting week, you decide to walk on the beach. You are welcomed by plastic bags, broken glass bottles and crushed PET bottles, thus eliminating the option of walking barefoot. Meanwhile, the unbearable stench coming from spoils your mood further.
No guesses here as to which scenario you would opt for given a choice.
It's a bleak reality that the condition of most beaches in our country is deplorable.
And realising this truth, a group of friends from Karnataka's Kundapura coastal town near Mangaluru decided to brew a mass cleanliness movement to mop up the mess that was the Kodi Beach in their hometown.
Bharat Bangera got together with his friends, and headed to the beach on a Sunday evening and started what would become a massive citizen-led drive.
It all began in February last year.
Named after the city, the "Clean Kundapura Project' witnesses volunteers assemble near a particular stretch of the beach every Sunday and spend two hours picking up all kinds of dry trash like plastic bottles, wrappers, bags, footwear and cutlery.
On average, the group comprising of students, professionals, and senior citizens collect up to 500 kilos of waste in every self-funded cleanup.
They segregate the waste further into plastic, paper, glass and pack them in bags. The collected waste is lifted by the municipal corporation and is transported to a local dry waste collection centre.
80 per cent of the waste comes from a river that passes the beach in its course and the rest is from tourists and locals.
This makes it more difficult for the 8-kilometre long beach to be completely waste-free as Panchganga river keeps on spewing garbage.
Not ones to be discouraged by it, the locals have managed to remove close to 25,000 kilos of waste from the beach in the last 12 months.
Though the group of around 60 members credits the likes of Afroz Shah, Anand Malligavad and Malhar Kalambe for inspiring them to begin the movement, there were underlying personal reasons for the locals to embark on the missioo
Taking Personal Offence
Bharat stays in close proximity to the beach and grew up playing there. Over the years, he saw how littering translated into a piles of garbage.
"Garbage dumped by the tourists, locals and a river connected with the beach was like an attack on my pleasant memories of playing on a clean beach," Bharat tells The Better India.
The 30-year-old entrepreneur took personal offence which subsequently drove him to mobilise his friends and start the 'Clean Kundapura Project'
For Dr Rashmi, another volunteer, it was an attack on her health.
For the professor at KS Hegde Medical College, unattended waste is a hub of disease, "Unhygienic places are breeding grounds for flies and mosquitoes. One day I saw a group of boys picking up trash when I was passing by the area. I was a part of their drive next week," she says.
Being a teacher, Dr Rashmi went beyond preaching and roped in her young son and college students for the project.
Meanwhile, for Shraddha Bhat, her family principles did the work. She grew up loving and respecting nature and this project became a way to express her gratitude towards the environment. "It was a practical and emotional opportunity for me," says the college student.
Sustaining the Movement Amidst Challenges
Most of the cleanup groups across India usually educate the people living around the place to not discard their waste in the open or water bodies. They try to make provisions for the safe disposal of waste.
Locals in Kundapura also adopted a similar approach that resulted in a drop in the littering menace.
The real challenge for this group is to stop waste that comes from other districts or towns via the river.
"There is only one option," Bharat says, "Keep cleaning the stretch. We cannot let the waste pollute the beach and marine life. Every time the pile accumulates, we end up cleaning the same spot again."
Insufficient number of bins is another problem the group is trying to resolve, "It is natural for people to throw the waste on roads if they don't find a bin. The littering problem can be completely eliminated just by keeping bins everywhere. We are in talks with the government to put more bins," says Shraddha.
One of their worries is also how the waste is handled once it leaves the beach. There is no proper way to verify if all the trash is recycled or is simply dumped in landfills, in which case it defeats the entire purpose.
As per Bharat, the group has not taken a single off in the last 51 weeks, "All the 60 members might not turn up for every cleanup but a minimum of 30 locals participate. Since it's a popular tourist spot, many domestic and international tourists have joined us on multiple occasions. Such enthusiasm from people is very encouraging."
"I was recently at Kundapura and came across a young and enthusiastic bunch of volunteers. I was intrigued to see them dedicate some time on a holiday. It was very inspiring to learn about their on-going efforts," Gopalkumar Nityata, who visited the place in December last year tells TBI.
Many NGOs and non-profit organisations like FSL India and Reefwatch Marine Conservation have extended their support and can be seen helping the citizens in clearing the trash.
For instance, the ReefWatch is helping the group assess the waste dumping patterns so that it can eliminate the plastic problem.
Speaking to TBI, Dr Shantanu Kalambi, Project Manager and Veterinarian at ReefWatch Marine Conservation says:
"ReefWatch is collaborating with the Clean Kundapura Project to conduct waste audits and brand assessments to establish patterns of waste being washed into the sea. We are looking at ways to mitigate plastic pollution while also focusing on livelihood development for locals through recycling of ocean plastics and other waste. Our biggest issue currently in regards to ocean waste is with footwear being washed onshore as it is very difficult to recycle."
Remarkable Achievement
The group has been instrumental in reducing the use of single-use plastics during social gatherings, fairs and festivals in the town.
In December last year, the group collaborated with the local temple authorities to celebrate a local festival called 'kodi habba'.
"Close to 3 lakh people attended the festival and temple authorities did not allow people to enter temple premises if they possessed disposable plastic items. That was a huge boost for our initiative," says Dr Rashmi.
They also set up an informative stall displaying the ill-effects of plastic on the environment and marine life. It grabbed a lot of eyeballs and people patiently listened to what the volunteers had to say.
All it needs is a strong will to drive change
One way to preserve the beauty of a beach or any place is to end the littering problem, station bins everywhere and change people's consumption and discarding habits.
For groups across India who have managed to accomplish this, it is no less than a miracle.
Of course, the garbage did not disappear overnight and it must have taken months or even years of consistent efforts.
For locals in Kundapura, this journey started on an emotional note with noble intentions, "It is a long haul for us, but we are determined to make our beach pristine again," signs off Bharat.
Get in touch with volunteers of Kundapura Cleanup Project here.
---
Also Read: 57-YO Retd Professor Takes On Sand Mafia, Leads Movement To Revive Krishna River
---
Edited by Saiqua Sultan
Like this story? Or have something to share?
Write to us: contact@thebetterindia.com
Connect with us on Facebook and Twitter.
We bring stories straight from the heart of India, to inspire millions and create a wave of impact. Our positive movement is growing bigger everyday, and we would love for you to join it.
Please contribute whatever you can, every little penny helps our team in bringing you more stories that support dreams and spread hope.