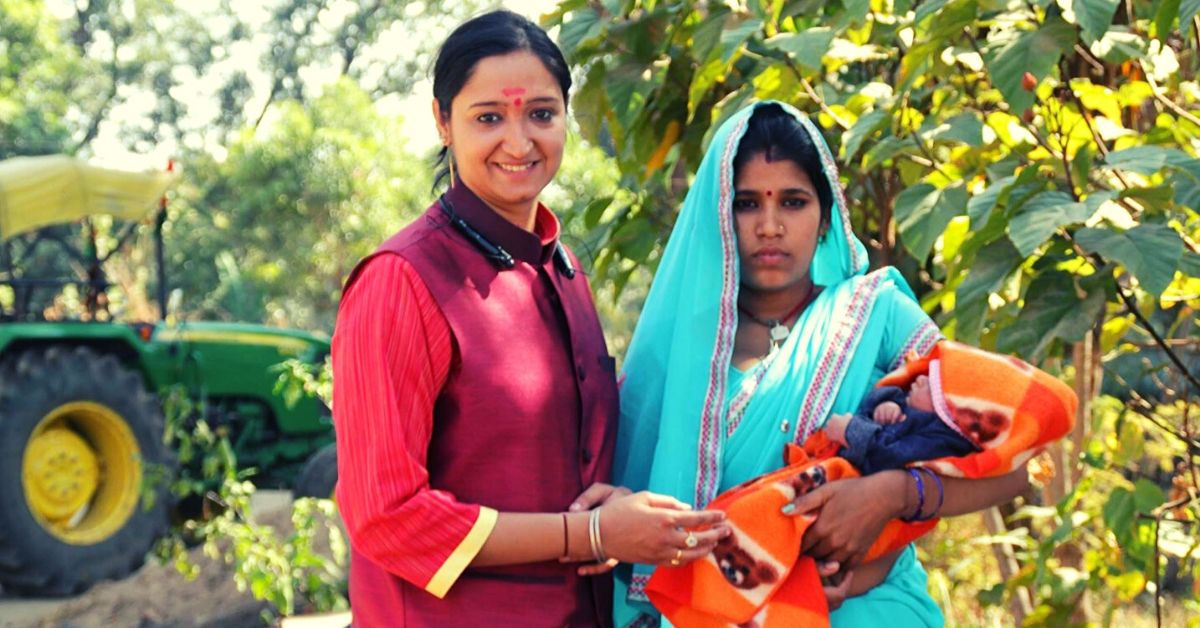 Apart from being felicitated by the Prime Minister in 2018 and former President Pranab Mukherjee, Sharma has been bestowed several state and national-level awards. She has also featured in the list of 100 impactful and influential women and represented India at the Saint Petersburg International Economic Forum-SPIEF 2019 in Russia.
Five years ago, Bhakti Sharma faced a dilemma. On one hand was the chance to accept a hefty package, choose a life of comfort and settle in the United States. And on the other was to return to her hometown of Bhopal, Madhya Pradesh and make a difference.
Bhakti chose the latter. And as she says, it was the best decision of her life.
Meet this dynamic sarpanch dressed in her bandhgala jacket, kurta and pyjama, and you'd be amazed at how she transformed a below poverty line panchayat into a model panchayat.
The village of Barkhedi Abdullah, despite being a 25-minute drive away from the capital city of Bhopal, was cut off from basic facilities in many ways.
Despite gram panchayat funds flowing in, the villages dealt with terrible road connectivity. More than 80 per cent of homes were kaccha make-shift cottages. Heavy monsoons flooded the road to the school making it inaccessible to students for months. Most homes lacked basic access to electricity and water. The cases of malnutrition and school dropouts too were at an all-time high.
Five years later, this panchayat has carved its own place on the map as an Adarsh Gram.
What is noteworthy is that none of this transformation has required this gritty Sarpanch to go the extra mile or think of out-of-the-box ideas. Her tenure is proof that no additional resources or efforts are required to make a model village. The funds and schemes made available by the government are enough to bring a transformation if they are used in the right manner.
Apart from being felicitated by the Prime Minister in 2018 and former President Pranab Mukherjee, Sharma has been bestowed several state and national-level awards. She has also featured in the list of 100 impactful and influential women and represented India at the Saint Petersburg International Economic Forum-SPIEF 2019 in Russia. She has gone on to speak on other global platforms such as TED, the 74th UN General Assembly, the Indo-Ireland Youth Summit and the India-Australia Youth Dialogue.
So Who is Bhakti Sharma?
Holding a Master's Degree in Political Science, Bhakti completed her law degree while juggling her responsibilities as the Sarpanch. When asked about her journey into the inroads of politics, Sharma says,
"My grandfather moved to Bhopal from Lahore during the partition. Back in the day, when forestlands were privatised, he was known as the king of Madhya Pradesh jungles because he bought large acres of forest land. But once these forestlands were nationalised in 1971, he decided to move to a farm and become a social worker. He bought a huge chunk of land. The same land on which today stands the Barkhedi Abdullah village. Back in the day, it was a no man's land. My grandfather was a person of high self-esteem. With hard work, he breathed life into this barren land and converted it into a haven for many migrant families to settle and call it their own."
Affinity Towards Village Life
She recollects fond memories from her childhood when she visited the village every week with her father and grandfather—swinging from makeshift hammocks on tamarind trees, devouring daal baati churma, and participating in the mango-eating competitions in her uncle's orchard.
After completing her education, Bhakti's original plan was to prepare for civil services. But, after several failed attempts, there was a brief period when she contemplated ending her life. But the support of her family, especially her mother helped her cope with the depressing thoughts.
It was at the time, she moved to the US to live with a relative for a couple of months. And while it was a good break away for a brief time, the sense of responsibility toward her hometown and family's legacy outweighed the desire to live a cushy life abroad.
The Election
Once she returned from the US, Bhakti's visits to the village became more frequent. As an adult who sat for many gram sabhas, she began mulling about several developmental aspects of the village.
"My interactions with the villagers were eye-opening. It was clear, the funds for developmental projects were being sanctioned to the Gram Panchayat. But no one could lay a finger and find where this money was disappearing. And why weren't any of the projects being executed?" she asks.
Her questions, and interactions with the villagers helped them realise the gaps in the administration. And as the villagers started becoming more and more aware, their demand for an educated sarpanch became a necessity.
In September 2014, Bhakti told her father that she wanted to contest the Panchayat Election.
But even before her family could nominate her name, several elders from the village who had turned up to her family's doorstep said, "Several women are contesting. But we need an educated sarpanch. Why don't we let Bhakti bai contest?"
Several aspects within the village required attention. And Bhakti was diving straight in.
"I am a feminist and I think a lot of it comes from the support and encouragement of the men in my family too. My brother was my backbone and devoted all of his energies to planning my election campaign. I was contesting for the post of a head, to lead four such villages. My focus was very clear. Advanced projects were a second step. My primary aim was to ensure that no family in the village was bereft of basic facilities, like sanitation, road infrastructure, water supply, and education."
During the campaign, her opponents tried to malign her by asking, "Bhakti bai ki shaadi ho gayi toh kya karenge? (Why will you once Bhakti Bai gets married?) They used to think that I would only be a face, and the male members of my household would exercise control. But when the elections happened, people knew the other contenders by their husband's name, Mukesh's wife, Yadavji's wife etc. But they knew my name because I won their confidence by putting their needs first."
Bhakti went door to door, spoke to the villagers about their problems, made them aware of how developmental projects could be undertaken under available government schemes.
The villagers not only heard her. But also did not let her down.
On 22 February 2015, Bhakti registered a resounding victory, where she had twice the number of votes of all the other contenders combined. She thus became the sarpanch of Barkhedi Abdullah Panchayat.
Work and Projects Undertaken
Bhakti leads the Barkhedi Abdullah Panchayat, that has four villages under it, namely — Barkhedi Abdullah, Dob, Kirat Nagar and Rusalli Chunanagar with a population of 2,700, of which 1009 are voters.
The first project she prioritised was the Rs 3.92 crore road construction project where over 15 roads were constructed to improve connectivity across the village. Most importantly, the road leading from the village to the school was fixed.
When she first came into power, only 10 families had pucca homes. Now, more than 80 per cent homes in the panchayat have been converted to pucca houses under the housing scheme. Each household has an electricity connection and a running tap. The villages are also well-lit with solar power streetlights.
A well-planned drainage and sewerage line was laid through the village for organised wastewater management. To harvest the power of the rain, the sarpanch also had soak pits built in every household, alongside hand pumps. This facilitated the percolation of excess water into the ground and raised the groundwater level.
Before Bhakti got elected, the panchayat had merely nine toilets. Today, this panchayat has been declared open defecation free (ODF) where every household has a toilet.
"Initially our people were hesitant to use washrooms. It took us time to speak to them and convince them to give toilet construction a chance. I visited the homes with my team and told them, 'If the government already has a scheme in place to facilitate this construction, why not take advantage of it. Today, every household has a toilet and our villagers are patrons of sanitation themselves."
All families in the panchayat are ration cardholders. Families that were once considered below poverty line under the public distribution system have now given up their BPL ration cards to become white ration cardholders. (White ration cards are issued to families who have an annual income of Rs 1 lakh and above.) Apart from this, the villagers, who are largely farmers, have bank accounts and own a soil health card. Pensioners eligible under government schemes are finally availing its benefits.
One of her main focus areas was involving women in the gram sabhas. But due to several sociological factors, women found it difficult to attend gram sabhas or make their voices heard.
"We told the women, if you can't come to the gram sabhas, we will bring the gram sabhas to your homes. We took up several issues like education, menstrual hygiene, women's health etc. on priority. Apart from juggling their responsibilities at home, they are also earning additional income, by undertaking small-time jobs."
This Adarsh gram also boasts of an Adarsh Anganwadi run by the self-help women groups in the village. The efforts of these women to take over the mid-day meal programme has reduced the malnutrition cases to zero in the panchayat.
Since the village is located in hilly terrain, access to water for farming purposes was limited. Farmers would line up for kilometers in search of safe water for irrigation. The sarpanch's efforts in collaboration with other panchayats have led to a big lift irrigation project being sanctioned worth Rs 10 crores. The soon to start project will benefit three other panchayats and help convert 2500 acres of land from non-irrigational to irrigational land, thereby boosting agriculture.
To improve livelihood opportunities, the panchayat has also built skill development centres, where tailoring, dairy farming, etc are taught. This has led to a rise in sanction of loans for entrepreneurship opportunities too among the villagers.
Youth in the panchayat who have moved into careers in fashion designing, photography, etc.
"Development in smaller areas results in bigger changes. Today, our women are empowered and becoming the face of change. They are moving forward and rubbing shoulders with men in the panchayat and becoming decision-makers, not just takers. We have a corruption-free and crime-free panchayat," she beams.
Empowering Women
The sarpanch celebrates the birth of a girl child in the panchayat by gifting two months of her Sarpanch honorarium to the mother and plants 10 trees in the girl child's honour.
Till date, the sarpanch and her team have planted more than 6,000 trees, of which 80 per cent have survived.
"We hold free health camps every Thursday in association with the Prerana Seva trust where a mobile ambulance with a doctor, nurse and ward boy who conduct regular checkups and in case of any bigger health concerns refer the patients to a higher health centre."
The panchayat also holds rural-urban interactions throughout the year where students from city-based schools and colleges come to experience rural life. They showcase the many projects they have worked on, conduct surveys and learn practically about how gram sabhas take place, how an open forum to address grievances is created.
This also helps an exchange of ideas and so the kids in the village feel a sense of inclusion. They know they aren't very different from their friends in the city. Similarly, it also helps the city-based kids and youth stay grounded, to know that at some point, their forefathers moved from the village into the cities too.
Emphasising the change that the sarpanch has brought to the village, Lakhan Lal, a farmer and the President of the village school committee says, "Before Bhakti bai became the sarpanch, our village was far from the picture of development. From basic facilities like a robust pucca home, water supply to an equipped village school, she has brought about several changes. Earlier, at the school, we faced several issues like shortage of teaching staff, dropout rates were high, kids in higher classes couldn't read or write. Thanks to her efforts, development doesn't feel so farfetched anymore. And we are on our way to achieving it."
Bala Prasad, farmer, 62, says, "A few years ago, it broke my heart to see the women in our village leaving at wee hours of the morning to find a safe place to defecate. But today they have access to toilets. Young girls like my granddaughter are going to school and colleges. My daughters-in-law are getting educated. While one is in Class 10, the other one is a BCom graduate. I truly believe, education can go a long way in creating a difference and thereby transform people around them. Bhakti bai is an example of that. We are proud of her."
Bhakti highlights the challenges that women in power face, "Naari ek shakti hai. Aur jahan shakti hai wahan virodh toh hoga. We cannot deny the fact that we live in a patriarchal world. And as women, we always have to go the extra mile to prove ourselves. We need to fight and be confident that what we are doing is right. If people like us, young women and youth don't come into politics, how will we turn archaic systems around?"
If this story inspired you, get in touch with Bhakti Sharma on her Facebook page here. 
(Edited by Saiqua Sultan)
Like this story? Or have something to share?
Write to us: contact@thebetterindia.com
Connect with us on Facebook and Twitter.
We bring stories straight from the heart of India, to inspire millions and create a wave of impact. Our positive movement is growing bigger everyday, and we would love for you to join it.
Please contribute whatever you can, every little penny helps our team in bringing you more stories that support dreams and spread hope.