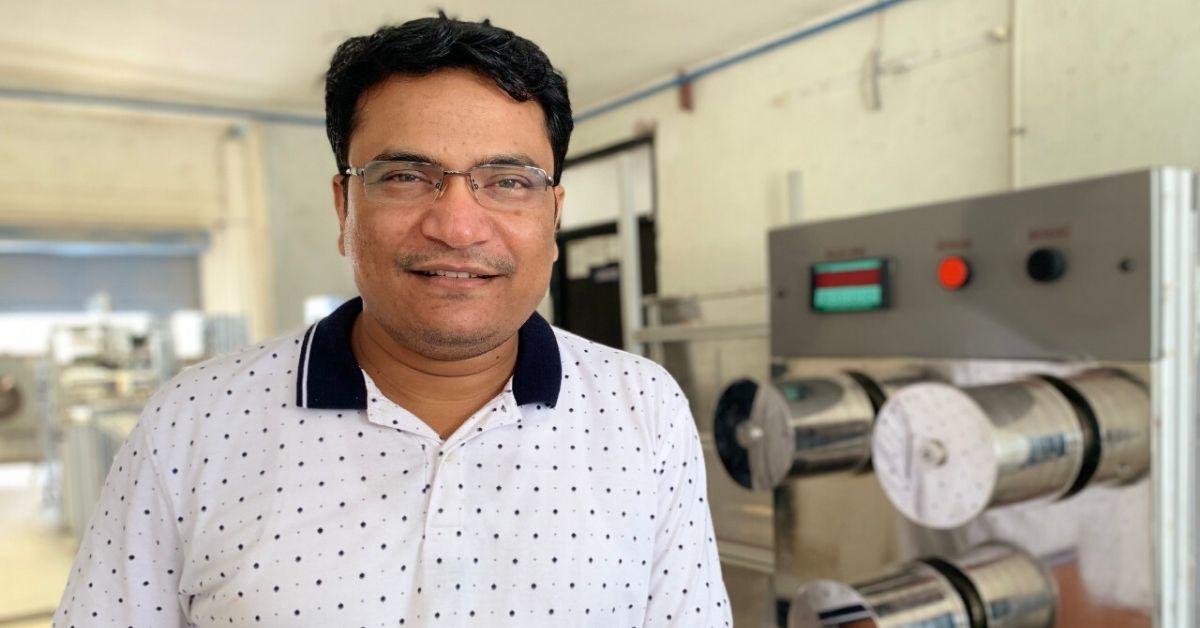 Earning an annual turnover of Rs 4 Crore, Sandip sells his Made-In-India invention in Europe, USA as well as several top research labs in India. #IIT #Innovation
Sandip Patil was perhaps the first engineering graduate from Pimpri, a nondescript village in Dhule, Maharashtra which he calls home. With a population of not more than 600 people, most of whom tribals, the village had little access to basic facilities like education or healthcare. Sandip hailed from a family of farmers who had little land to themselves. His parents earned their bread by working as agricultural labourers in other people's lands. The family of six, with him as the eldest child, struggled day in and day out to make ends meet.
Despite extreme financial constraints, Sandip's parents always wanted to provide him with a decent education. "But the only village school was in shambles. So my parents decided to send me to my mama's (uncle's) home at Shahada Tehsil, where the educational facilities were slightly better," informs Sandip.
Sandip now is a successful entrepreneur who is heading one of India's top nanotech firms – E-Spin Nanotech. His firm specialises in commercial manufacturing of his cutting-edge nanotech innovations and earns an annual turnover of Rs 4 crores.
Learning Amid Pangs of Struggle
Sandip completed his primary schooling in Shahada and returned home to enrol in 5th standard at a school in the adjacent village. He had to walk miles daily to reach there. By that time, the economic situation of his family had improved a bit, but the struggles were still painfully real.
Alongside the seasonal farming, his parents managed to set up a small stationery shop, mainly to fund his education. Sandip often assisted his mother at the shop and for household chores.
He would spend his mornings in school, evenings at the shops and stay up nights with his books. Machines and technology always fascinated him the most, though he didn't come across much of it in the village.
He studied there till 10th standard and joined a higher education institute around 18 kilometres away – a distance he traversed daily through break-journey.
Sandip pursued a B.Tech degree in Chemical Engineering from a college in Jalgaon and completed his Masters from Vadodara. Despite his struggles, Sandip continued to ace his classes and earn commendable grades.
Joining IIT-Kanpur as a PhD Researcher
"My background somehow limited my exposure and knowhow about the best educational institutions, so I could not utilise my potential to the fullest. However, during my M.Tech I learnt about doing a PhD in IIT and decided to give it a go." Following his professor's recommendation, coupled with his good score, Sandip Patil started his doctoral research in nanotechnology at the prestigious IIT-Kanpur.
Ever since his engineering days, Sandip dreamt of becoming a technological entrepreneur. "I strove hard to achieve my mission and earned the gracious support of teachers and friends along the course. Finally, I was working with nanofibre technology in state-of-the-art labs of IIT-Kanpur," shares Sandip.
To aid his research, Sandip needed a Super Electrospinning (Super ES) machine for nanofibre spinning. However, he landed in a fix when the only foreign suppliers of the machine quoted tremendously high rates. Desperate yet determined, Sandip took a risky decision – to design the machine himself.
With some funding from the institution, Sandip succeeded in designing the perfect model of Super ES machine within a year. His machine soon generated flawless results – the high accuracy and efficiency of the same became the talk of the town. It was utilised by various IIT departments for chemical and biotechnological research purposes.
Running a Startup while Pursuing PhD
Sandip probed more into the extensive uses of his machine and realised its immense potential in clinical and industrial research sectors. That's when the idea of commercialising the machine crossed his mind. If successful, he would become the first indigenous manufacturer of the same.
He discussed his idea with his PhD mentor Dr Ashutosh Sharma who was quite impressed by his entrepreneurial spirit. "He told me how most of his mentees tend to go abroad for further research or join corporate firms. I was one of the very few willing to stay in the country and contribute to her scientific advancement," Sandip recalls.
---
Save the planet while showering, thanks to this advanced water-saving shower filter with Nano silver carbon
---
Thus, in 2010, Sandip launched his entrepreneurial venture E-Spin Nanotech while pursuing his PhD. His startup became the first Indian supplier of electrospinning machine, making it much easier and faster for Indian research labs to access the same.
Within a short time, Sandip received his first order for Super ES from IIT Kanpur itself. There was no going back ever since. As of now, he has supplied his innovation to Europe, USA, UK etc, aside from several medical labs and nanotech research facilities in India.
"Managing a business while continuing with my PhD was intensely hectic. Still, I persevered through hard work and propelled my business to the next level. Alongside, I completed my PhD in 2013," he shares. Presently, his company is based out of Kanpur and he has his own manufacturing unit in the city itself.
Super ES Machine – a trailblazer in nanotechnology
Sandip's machine is a true trailblazer in nanotech research in India. With a global boom in regenerative medicine, artificial organ generation, biodegradable bandages etc, there is a thriving demand for extracellular matrix from nanofibres. The Super ES machine generates bulk nanofibre in a short time from a set of polymers.
Based on their structural and functional complexity, the machines are priced between Rs 4 lakhs to Rs 35 lakhs. One of the most advanced models which help in large quantity manufacturing is priced at Rs 5 crore.
All his machines sold till date are reportedly performing perfectly well, without any reports of malfunction or glitch. Over 300 papers have been published across India based on research accomplished through his machine. And on the revenue side, Sandip's annual turnover has now reached the Rs 4 crore mark!
Sandip Patil now aspires to explore the large-scale community market in nanotech, by introducing nanotech-based room air filters, automobile filters and smart nano fabrics in clothing. E-Spin Nanotech is all set for the commercial launch of these products soon. Recently, his nanofibre masks named SWASA has found a bulk demand in Coronavirus-affected China.
"Made in India, with Global Appeal"
"Sandip is a self-made person. He comes from a humble background, but his enthusiasm and creativity has brought him so far. He was pursuing his PhD in nanotechnology and always seemed keen to take his research forward to aid the scientific community," reveals Dr Ashutosh Sharma, Sandip's PhD Mentor and the present Chair Professor at the Department of chemical engineering, IIT Kanpur.
While speaking about his former student, he shares, "He put in a lot of hard work to transform his startup to a successful business. Today, many people are coming up with innovations in software, but to develop such a cutting-edge innovation in hardcore hardware technology like Sandip, is indeed exemplary. Nanotech is the future now. Through his invention, Sandip is creating new jobs, new opportunities and opening up more research prospects. And the best part about his machine is that it is completely made in India with global appeal."
A celebrity in his village
Despite his commendable success, Sandip admits some entrepreneurial challenges as a businessman in India. "When people order the machine from abroad, they are mandated to make the payment in advance. However, in case of indigenous innovations, the Indian customers often delay the payment by months, even after successful installation and trial run of the machine. This attitude should change immediately, for more Indian researchers to succeed commercially."
Notwithstanding the drawbacks, Sandip continues to be the go-to person for any nanotechnology-related doubts & queries from his customers. He personally helped many of them in their research, even after their business transaction is done and dusted.
Back in Pimpri, Sandip's family is now leading a better life. His brother has started his own construction business while supporting his parents & sister in the ancestral vocation of farming, which they still continue with pride.
Sandip Patil is now treated as a celebrity in his village, where he is honoured as a chief guest to functions and festivities. He serves as a true role model for the youngsters of Pimpri, many of whom now aspire to become scientists like him.
---
Also Read: Manual Scavenger at 7, Padma Shri Awardee at 42: Usha Chaumar Is a Beacon of Hope
---
(Edited by Saiqua Sultan)
Like this story? Or have something to share?
Write to us: contact@thebetterindia.com
Connect with us on Facebook and Twitter.
We bring stories straight from the heart of India, to inspire millions and create a wave of impact. Our positive movement is growing bigger everyday, and we would love for you to join it.
Please contribute whatever you can, every little penny helps our team in bringing you more stories that support dreams and spread hope.