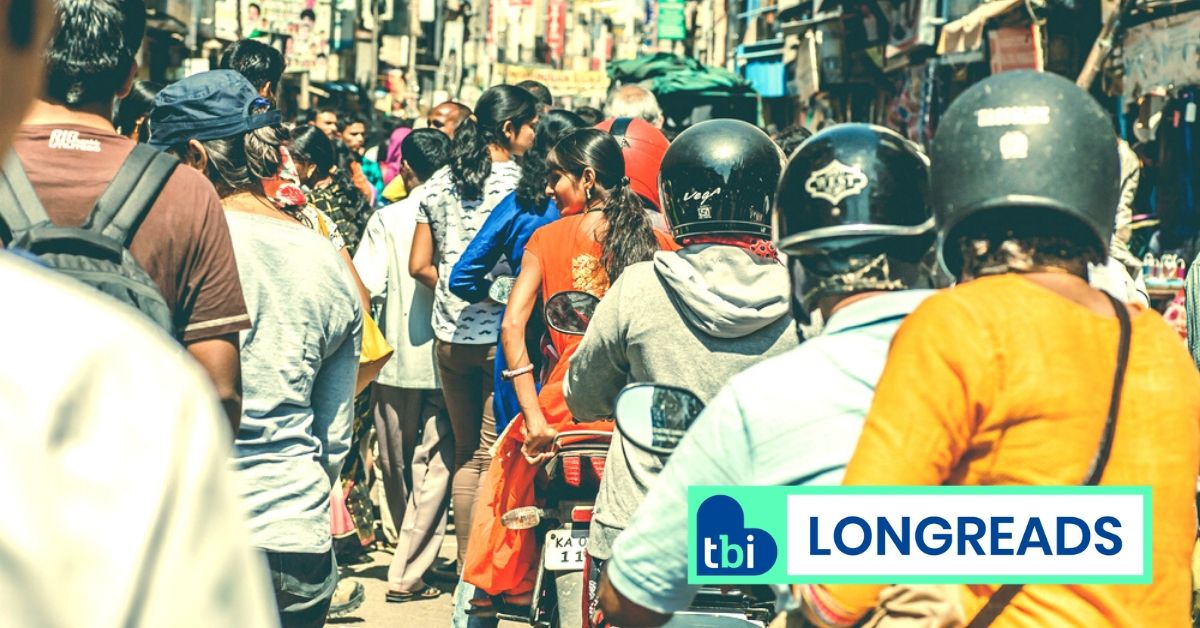 https://d3l4am9dimtbet.cloudfront.net/wp-content/uploads/2020/02/traffic_Trim.mp4 "Will Bengaluru's Traffic Wreck My Career?" by Sayantani Nath "Where do you live? Are you okay with our current office location?" – Standard question in job interview (Bengaluru, 2020)
"Will Bengaluru's Traffic Wreck My Career?"
by Sayantani Nath
"Where do you live? Are you okay with our current office location?" – Standard question in job interview (Bengaluru, 2020)
It has been over a year since I moved to Bengaluru. And here's what I learnt very quickly: From small talk with strangers on the Metro to my near daily struggle of explaining why I am late to my boss — traffic is the omnipresent thread connecting every Bengaluru resident, including me.
Traffic jams here are real and terrible, but the city seems to have learnt to live with it–like a persistent ketchup splotch on your favourite shirt. Even if you find yourself in the middle of a three kilometre-long chock-a-block, surrounded by blaring horns or foul-mouthed drivers, you will find ways to keep yourself occupied. The drivers try finding various ways of inching forward, the auto wallahs choose to trail away into a daydream, and the confused passenger settles into a new web series with a sigh.
I had never REALLY thought about it. But as I roamed the city speaking to HR heads and startup founders for this story — the image of this extremely familiar subject sketched itself rather differently in my mind, monstrous and harrowing.
This was because I was asking a question I had never asked before –
"Will Bengaluru's traffic wreck my career?". The answer, more complicated than obvious, took the form of "depends".
The job-threatening underbelly of Bengaluru traffic
"Silk Board."
"Sony World Signal."
"Mekhri Circle."
"Silk Board, hands down."
Notifications from the Facebook post I made when I began this story kept my phone humming regularly. The question was simple enough –  which is the worst junction in Bengaluru, traffic-wise?
Silk Board emerged as the clear winner on the impromptu online poll. Almost all of us dreaded crossing it at any time of the day. including me.
Tamalika, a research analyst, shared her daily trysts with the infamous Silk Board en route her university. "I remember finishing half the season of a web series while stuck at Silk Board," she posted with a smiley.
Not everyone has pleasant memories, though.
Bhagath, a talent manager, lost his job due to the exhausting daily commute. Waking up at 4 a.m. every day, he would set out from his home in Yelahanka towards his Koramangala office at 6 a.m. The distance amounted to nearly 40 km, worsened by the traffic bottlenecks. The tiring commute, the sleep deprivation, and the regular exposure to smoke and pollution for more than five hours took a toll on his health and professional life.
The workload at the startup was unforgiving, and soon Bhagath found himself without a job. Thankfully, he is back to being happily employed. Needless to say, the proximity to his home is a gift!
"This is how", talent consultant Saria Iqbal, admits, "Bengaluru traffic is limiting the job-seeking radius for the youth. I interact with candidates daily on various opportunities. Because of the traffic situation, it has come to a point where skillsets or passion aside, I have no choice but to ask if they'd be okay with the office location. This happens in the first two minutes of my introduction call. There are a lot of professionals who are great for the role but have turned down the job because they dread the commute."
Conversations with others like her revealed that many young professionals are choosing to move out of their family homes to stay closer to the office; while others are changing homes nomadically (or paying exorbitant rents in commercial locations) to evade traffic. Coupled with the unresolved issue of sky-high rental deposits, freshers end up broke every month, no matter what.
The number of people has increased, so has the number of cars. But the road capacity is still the same. Jams are inevitable. The city has expanded radically. Almost every other commuter has to ply to the centre of the city, say, Hudson Circle, for reaching their destination–causing frequent blockades at these junctions."
"Here's a band aid, for that amputation!"
There is perhaps a direct correlation between traffic violation and traffic jams, at least in the case of Bengaluru. "Frustrated drivers violate traffic rules, causing more inconvenience for others behind, often leading to major jams," says Dr Saleem.
So are there any answers?
First, let us look at the 'traditional' methods – focused on improving the situation on the roads. Several leading firms with their offices on the Outer Ring Road have come forward to constitute the Outer Ring Road Companies Association (ORRCA). The forum often collaborates with the city's municipal corporation, the BBMP, to design solutions for traffic issues.
I think this should be something like:
For instance, traffic wardens have been appointed along the Outer Ring Road, from 7 a.m. to 10 p.m. from Mondays to Saturdays, to maintain a smooth flow of traffic.

In 2011, ORRCA collaborated with transport authorities from the BMTC to initiate the Common Bus Routing System (CBRS) to provide a convenient commute to all company employees. From ORRCA 101 to ORRCA 117, several buses now ply along the Outer Ring Road for these employees.
A skywalk has also recently been commissioned by ORRCA near Ecospace, Bellandur – another location notorious for evening traffic jams.
Many startup firms quite often help their employees, formally or informally, to find places to stay near the office. Corporations also often pair up with house-hunting startups to ensure that the employee does not need to wade through a sea of traffic every day to reach the office.
Aside from the Traffic department, several citizens' groups and volunteers are managing traffic on an individual capacity–a voluntary service.
In fact, the three-decade-old Traffic Warden Organisation has over 700 traffic wardens selected from among conscious citizens. It is perhaps a one-of-its-kind organisation in the country.
One can argue that the very fact that a city needs its citizens to step up and do voluntary traffic duty exposes the inefficacy of its traffic police. Dr Saleem, however, believes that traffic police personnel cannot magically prevent a jam where roads, transport and other factors are not in compliance.
"The problem is real and cannot be solved without active intervention from all quarters," he says.
But these are just simple bandages on a hemorrhaging wound. You can do all you can, but no force can can ever make inching along on packed roads a pleasant experience. Some KRAs are just beyond us all.
Which is why we come to the 'new' solution, which many hail as the best one.
"Doing more from right here"

Two months into the city and Gowri (name changed) discovered Google Maps was the most used app on her phone, as heading out of the home without checking the blaring red lines on the map was stupidity. Soon, she realised the sanest thing to do was to find an apartment within walking distance from her office, as the company was not so progressive when it came to the option of working from home.
And thus, overnight, she crammed herself into a two-bedroom flat with a stranger in an interior locality. She had to soon move out though, owing to the landlord's whimsical harassment. A common enough tale. So what was Gowri's solution? A new job, this time with a company that offered work-from-home, at least for a few days a month.
This change, by tens of thousands of 'Gowris' across the city, has not gone unnoticed by the thousands of startups also mushrooming around the place. Many firms are reconsidering employee policies, accepting that traffic in Bengaluru makes punctuality a vague professional parameter. Many established corporations have spruced up their pick-up-and-drop services and eased their erstwhile rigid stances on working remotely.
An online survey on a popular Bengaluru-based civic forum revealed that nearly 95 per cent of employees feel that recruiters in Bengaluru should be flexible and accommodating with their employees, considering the traffic issues in the city.
"I'd rather productively complete my day's work in four hours at home rather than travelling a couple of hours either way and spend 6-8 hours in the office (or more) being sub-optimally productive," says Supriya, a professional services manager.
She elaborates, "We are the generation of work-life integration, gig economy and self-improvement. With technology taking over, we "work" beyond the usual 9 to 5. So companies should be flexible and allow us to work from home when needed, find ways to productively collaborate on web/video/phone conferences and other collaboration tools, and essentially allow their employees enough freedom to at least try to have a life along with work."
Flexi-hours or flexible working hours are the immediate solution companies are offering off late. The attendance monitoring slots on the HR portals remain untouched by most firms. No employee I spoke to had so far been formally hauled up for a delay caused by traffic. The primary focus seems to have shifted from spending a particular number of hours at office to completing the allotted assignments by the end of the day.
And it's no longer just the small, 'hep' ones. The Bengaluru offices of professional network giant LinkedIn have changed their daily timings to 8 a.m-6 p.m, helping employees avoid peak hour traffic.
"I have been late to meetings on account of traffic and my colleagues or clients understand. However, if someone makes a habit of being late "because of traffic", that is not acceptable. I am perfectly alright with letting companies and managers decide the context for themselves," believes senior consultant Sriram Thiagarajan, who is currently self-employed.
"Live closer," is his word of advice.

The tales of the roads
While the Silk Board remains a terror, the commute to Bengaluru airport, located nearly 50 km away from the main city, is another nightmare. For a 9 p.m. flight, one needs to leave home by 3 p.m. latest. Beyond Hebbal, the journey does smoothen out into empty roadways, but before that, one needs to overcome a series of bottleneck junctions, no matter which side of the city they are coming from.
The Metro connectivity in the city, which plies out in the Green and Purple lines, does little to manage the traffic overload. The Phase-2 of the metro project, connecting Whitefield to the main city through the Yellow Line, is way past its original deadline. Despite jam-packed compartments in the office hours, Namma Metro does not quite cater to much of the 'software people'–who mostly commute to the off-route tech parks by private cars or cabs.
Jayadeva Flyover, which arguably provided a breath of fresh air to commuters on Bannerghatta Road, was turned into rubble overnight. The elevated rail-road corridor proposed in its stead is slated to come up by the end of 2020. Till then, the exasperated driver has to take a longer detour which will cost them a few precious hours of family time.
Money, money everywhere. Not a moment to waste.
Interestingly, for some people, the jams on the roads are certainly buttering their breads. And, if you are willing to look at things a little sideways, and perhaps squint, you can see how the jam is good (ish).
The traffic situation in Bengaluru is being harnessed by several startups. From rental e-bikes like Yulu to carpooling facilities like Quick Ride–some startups aim to mine our desperate desire to reduce traffic pressure on the city's streets. And then there are the ones who simply take the burden on themselves, for a price.
The present economy, sweetened with borrowed trends from the West, thrives on doorstep customer services for every thing under the sun. From pizza to groceries to a bottle of soda — delivery executives will bring you everything with just a click. And this has led to a boom in low-paying jobs that require few qualifications, except for the ability to drive/ride through the city's traffic.
Is it any surprise that services like Dunzo were invented amidst these choked roads? The traffic may be throttling the careers of some, but has led to some good times for many others.
As is the case with almost everything, there is a dark side. To satisfy customers who refuse to step out, delivery apps promise unrealistic delivery times. The delivery boys, most of whom are young men from lesser privileged backgrounds, are obligated to risk their lives – rain or sun. A risk, we the paying customers in Bengaluru, seem more than happy for them to take, knowing that a bad review from us can cost them a job.
It is a 'motorcycle-eat-motorcycle' world out there.
It's not all bad, you know. But one can never tell.
Emails answered on the road
50%
Conference Call
100%
Bengaluru's traffic problems are undeniably real and no feasible solution is apparent in the near future. The best I could figure out after days of loafing about in the city is – we are doing everything we can to avoid the roads, and that's how we live and earn. But outside, there is a whole other world eager for us to stay at home, so that they can live and earn.
The winning side of that balancing act might be the final answer to what kind of career you will have in this city. For now, let us all just wait for that silver-lining ever present around here, a cool breeze. Change may just be in the air.
Illustrations by: Vikas Gupta/Paseena Tales
Share on facebook
Facebook
Share on twitter
Twitter
Share on linkedin
LinkedIn
We bring stories straight from the heart of India, to inspire millions and create a wave of impact. Our positive movement is growing bigger everyday, and we would love for you to join it.
Please contribute whatever you can, every little penny helps our team in bringing you more stories that support dreams and spread hope.