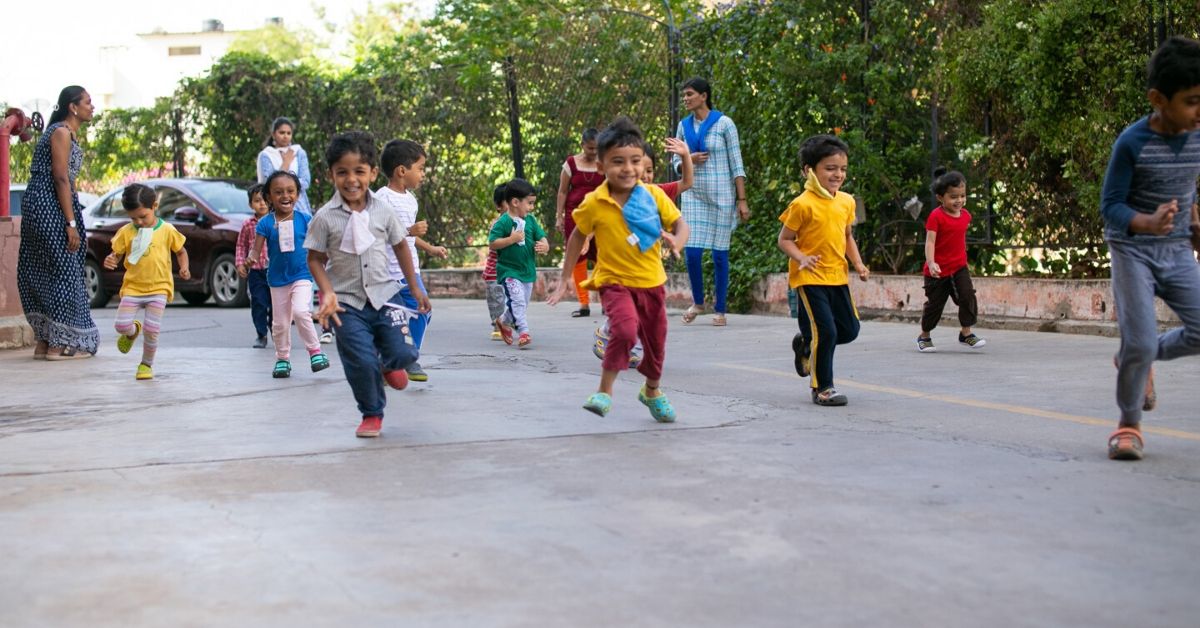 Give your child time in the warmth of the sun every day. Let them play in nature and experience grass, sand, and trees. Playing outdoors will develop their strength, coordination, and physical body.
Do we know what our children really need in their early years? Somewhere between getting their nutrition right, sleeping patterns in place, activities, and school admissions, do we pay close attention to the time they spend 'playing'? Does 'playing' equal a child with a gadget in their hand?
With rapidly developing technology, parents today face an added challenge to child rearing. While you may not be able to completely protect your child from a screen, limiting time spent and interacting with them while they use the screen can go a long way.
A study done on 2,441 mothers and children by the 'All Our Families Study' in Canada, showed that children aged 2-5 when exposed to excessive screen time did poorly on developmental screening tests. Passively watching a screen limits a child's opportunities for the development of social and motor skills.
Therefore, playtime should not be mistaken with screen time, because playing in the 'real' world means that children experiment, imitate, and in turn, learn about themselves and the world around them.
Play is the 'work' of a child.
In the early years, children need to discover who they are, understand their needs and learn about how they wish to interact with the world. This grand discovery begins with the simple activity of 'play'. Be it indoors or outdoors, amidst nature or with open-ended toys, with other children or by themselves, play helps children's physical, social, cognitive and emotional development.
How can you encourage play every day?
Guided work is the involvement of your child in the "real work" that you enjoy doing around the house. Helping you cook, clean, or even garden can encourage a journey from discovery to creativity in your child. It is these early experiences with a caregiver that also helps children understand how the world around them functions. These experiences also offer numerous and great ideas for their free play.
Free Play is an unstructured time where your child can use everyday materials. Encouraging them to think outside the box and creating their interpretation of toys, spaces and situations can help spark creativity, develop social skills and learn empathy.
Often, you will notice that children use this time for free play or role-playing. When we were children, we imitated our parents, our teachers, our older siblings and even the vegetable man. By nature's design, children primarily learn through the imitation of real-life experiences for the first seven years of life.
Pretend play has significant advantages, such as:
Creating a channel for children to learn how to engage with the world
Learning real-life skills, like cleaning up or getting dressed by themselves
Creating imaginary worlds that help them explore their creativity
Helping them interact with children and adults alike
Enabling them to express issues that they might not be able to communicate verbally
Inspiring them to seek creative solutions for problems
Pretend play is the cornerstone of the development of self, and we must let children direct their play, with freedom, within a safe boundary.
Nidhi Gupta, mother of 4.5-year-old Nandita, shares, "Unstructured play has enabled Nandita to keep herself engaged even when there are no toys around. She can make toys out of anything. Her creativity and carefree abandon is a source of constant joy for us."
Keep it Simple. Power down the gadgets, reduce the clutter of bright, noisy and complicated toys, and gadgets like TV, tablets, and mobiles hinder a child's growth and often tell them what to think. This passive activity stunts physical growth and restricts imagination.
What can you do instead?
Give your child open-ended toys like yarn, blocks, cloth, and figurines with minimalistic details and colours. These toys fire up their imagination and enhance their sensory learning. Lengths of knitted yarn turn into belts, train tracks, pathways, skipping ropes and so much more. What adults don't often see, children imagine and re-imagine to incorporate into their play.
Playing Outdoors
Give your child time in the warmth of the sun every day. Let them play in nature and experience grass, sand, and trees. Playing outdoors will develop their strength, coordination, and physical body.
When office hours and other obligations take up your time, consider a short walk to a store nearby or a quick evening stroll in the park with your child.
Plan weekends with some activity outdoors; visit local parks or go to the beach if you live by the coast. Encouraging your child to play in the portico or on the terrace under supervision is also a great way to get them to be outdoors. Simple games like hopping, jumping, tag, blowing bubbles, searching for bugs, or using chalk to draw on the floor could keep things interesting.
Play together and stay together
Perhaps one of the best ways to easily bond with your children is to play with them. Get down on your knees and play with their building blocks, or a few rounds of hide-and-seek, even little games played in waiting rooms help create a special bond, creating an opportunity for you to understand and know your child.
Most of all, it gives the child the security that you are always approachable as a parent.
"Samanvay loves to play, and seems quite unhappy that his waking day only has about 13 waking hours for it, and some precious minutes have to go in consuming nutrition, clearing waste and listening to others. But he makes the best of the remaining 12+ hours!" shares Tejsweeta, a parent.
She continues, "Free play has helped him develop skills like creativity (how to use a toy in three ways it has never been used before!), negotiation (how to convince his playmates that changing rules mid-way is an acceptable and helpful strategy), self-expression (delight at a newly dug hole, and grief and frustration at playmates on filling it up), which are all a part of life."
---
Also Read: Parenting in the Digital Age: 4 Ways to Keep Your Kids Safe When Online
---
Another parent, Sangita, shares, "Play has been an integral part of our childhood, and wishing the same for my son Veer was the most natural part of parenting. I've noticed that free play has made Veer more adaptable so that he doesn't need to be entertained by any specific toys anywhere. So much so that he can sit without any need for stimulation at critical times of our social lives. The rhythm has rendered his determination to use his strength to do things around the school or home shows his will to progress in the same area."
Know more about InBloom
Pooja Marshall is the founder of InBloom. As a Waldorf kindergarten and daycare, InBloom offers plenty of time for guided work and free play, both indoors and outdoors in the large 2-acre garden under the attentive supervision of our teachers.
We offer plenty of natural and handmade play materials that are designed to stir the imagination. Guided work requires the children to cut their own fruits and vegetables, and helps the teachers make nutritious food that we all enjoy eating together.
When outdoors, our teachers set safe boundaries and encourage children to climb, run, dig and play in the sand. During free play, our teachers observe the children but do not interfere with their play, allowing them to learn and discover on their own.
To know about our happy little set-up or the Waldorf philosophy, visit www.inbloom.in
(Edited by Shruti Singhal)
Like this story? Or have something to share?
Write to us: contact@thebetterindia.com
Connect with us on Facebook and Twitter.