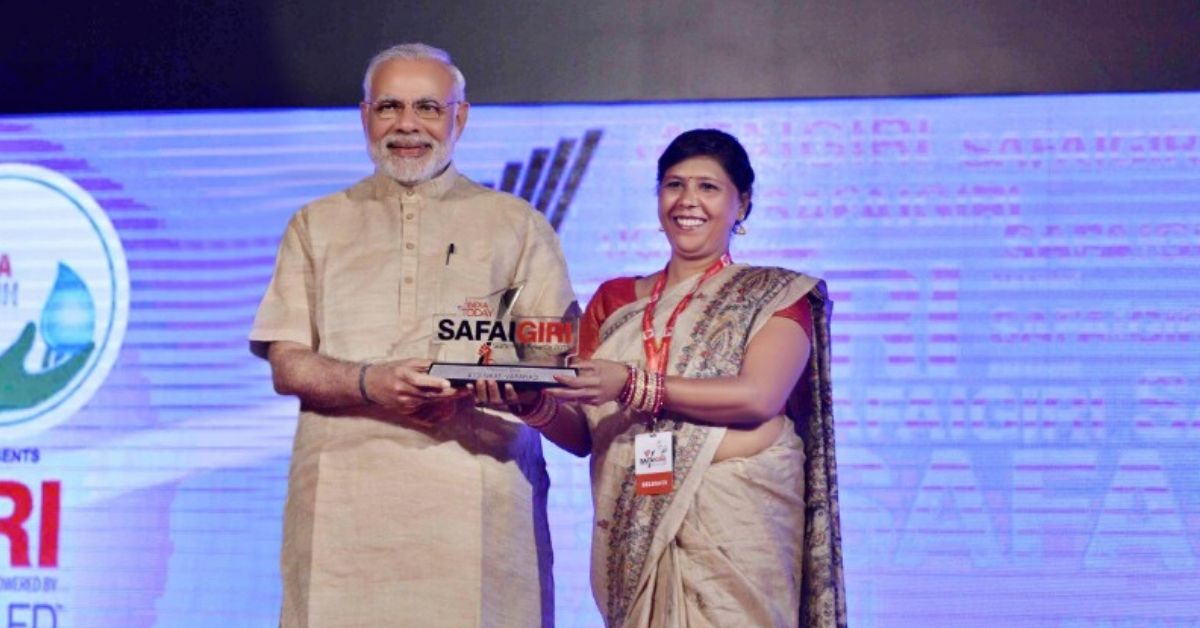 "I want every woman to be independent through dignified jobs. That is how we will build a better society, free of untouchability."
"In one birth, I have led two lives," 42-year-old Usha Chaumar says with a sense of wistful happiness in her voice. Having made it to the elite list of Padma Shri awardees of 2020, the mother of three exudes a determination to change the society.
"I want to cleanse the society of the concept of untouchability," she says with grit. The former manual scavenger and beacon of inspiration for thousands of women in India, Usha Chaumar is a true superhero in every sense of the term.
In a heartfelt conversation with The Better India, Usha shares her inspiring journey – a story of indomitable spirit and persistence in an unforgiving society.
A manual scavenger at 7, a child bride at 10
"I started the work quite early, at around 7 years of age," Usha recounts her childhood days when she was introduced into manual scavenging by her mother. Born in Deegh village of Bharatpur, Rajasthan, Usha and her clan were the noted Dalit 'untouchables'.
The women in her family had ancestrally engaged in the inhuman profession and did not know their way out of it. Even if they had aspired to break free of the curse at some fleeting moment, the rural Indian society made sure to remind them of their 'position' in the social hierarchy.
Usha's earliest memory of her mother was watching her wake up at the wee hours of dawn, grab her basket, bucket and brooms, and set out for the village toilets. An indelible cloak of shame shrouded her as she stealthily walked through the village lanes. As Usha grew older, she was advised to accompany her mother, so that she can be inducted in the profession as early as possible.
"There was no other option for us. Our kind was literally meant to spend life rotting in a hellhole,"
Shares Usha. By 7, when other children of the village headed for school, Usha was venturing out with her mother as a manual scavenger. She was married off by 10.
"I was a child bride. I was sent to my in-law's house at the age of 14."
Her husband was a cleaner with the local municipality in Alwar while her mother-in-law was also a manual scavenger. Inevitably, Usha had to continue the same work.
"Humara sirf ghar badalta tha, kaam nahi (Only our homes changed, not the work)."
The work was abhorrent, to say the least. As Usha, her mother or her mother-in-law spent their days wading through other people's filth, they did not even have the assurance of the next meal. A mere daily wage of 10 to 20 rupees was reluctantly handed over to them once they had completed the job. Their monthly earnings never went beyond a paltry 200 to 300 rupees.
"The families sometimes used to give away their leftover food to us. We did not have money to buy clothes. We wore their hand-me-downs and discarded apparel," shares Usha.
The turning point
For Usha, life at that point was a bleak lane. There was no escape from the abyss of 'shame' her birth had pushed her into. In 2003, she was already a mother sustaining her family as a manual scavenger. Little did she know her life was about to take a drastic turn.
"Dr Bindeshwar Pathak from Sulabh International came to our village and insisted on meeting with us, the manual scavengers. Before then, I had never dared to talk to a man other than my husband. But when he asked us why we are still doing this work, I had to answer."
Usha bravely told Dr Pathak, the founder of Sulabh International, that women like her were not allowed to do any other work. She still recalls the surprise and shock on his face when she revealed her monthly earnings.
When Dr Pathak proposed the idea of an alternative lifestyle for Usha and her counterparts, they chuckled in disbelief. For the women seasoned for ages by the society's blatant ostracisation, it was an absurd idea to be employed in other professions.
Usha accompanied the social workers to her slum in the neglected outskirts of Alwar. Teaming together, the women tried to explain how improbable the idea of other professions was for them.
"Who will buy our clothes if we do tailoring? If we sell vegetables, who will eat them?" Usha raised the starkly relevant questions. Dr Pathak assured that they will find buyers on behalf of Sulabh and promised them a standard payout of Rs 1500 a month.
Overcoming the fear and insecurity in her heart, Usha decided to step into the proposed programme, as other women followed suit. Soon, Sulabh set up the local NGO Nai Disha for the erstwhile manual scavengers, where they were provided various skill development training.
Breaking free of the vicious cycle
A different life was thus afoot for Usha. She no longer had clean other people's filth every morning. Her day now started with a fresh bath and clean clothes, before heading to the centre. Amid laughter and conviviality, the women learnt the craft of stitching bags, making lamps or preparing jams, achaar (pickle) and papad. They were also treated to tea and snacks every day.
"I felt so clean and confident, like a different person altogether. We would all stay so happy the whole day," she recalls. She felt blessed to be permitted inside the village temple, like any other person.
"I remember the time they (NGO team) took us to Delhi. It was the first time I had stepped out of my village. All of us were ecstatic to travel like any other citizen, stay in hotels and eat fancy food. We tried newer recipes every day. And when the schoolgirls greeted us with chadar (shawl) and mala (garland), I got goosebumps. I had never received such honour and respect from anyone before," Usha's voice quivers a little as her eyes well up.
Upon her return from Delhi, Usha started convincing other women to forsake manual scavenging, including her mother-in-law. But, if one woman came forward to quit, somewhere else another would be coerced into the heinous practice. It seemed like a vicious cycle that knew no end.
The root cause of the problem was the lack of proper sanitation in the village. The primitive toilets needed cleaning and no privileged person was willing to do that by themselves. In addition, the centuries-old custom of marginalising the Dalits added on to their plight and despair.
That's when Sulabh advocated the building of toilets in all homes of the village. The need for manual scavenging itself was thus eliminated altogether.
Flying on wings of newfound freedom
Usha broke off from the practice in 2003 and her sincerity & hard work at the NGO soon propelled her to a leadership position. She was soon appointed the president of the centre, taking hundreds of women under her guidance.
"We recognised an immense potential inside Usha. We taught her to read and write. She has a keen intellect and promptly grasped the tricks of the trade. She grew adept in marketing and business and showed excellent prospects as a mainstream leader," says Dr Suman Chahar, the Coordinator of Manual Scavenger Rehabilitation program in Alwar.
With support from Sulabh, Usha has visited the USA, Europe and Africa and addressed the crowd there, sharing her remarkable life story. She has also been awarded by the Prime Minister of India and has met him several times.
The prestigious Padma Shri is the latest and perhaps the greatest honour in her crown, till date.
Even now, Usha seethes at the sight of a woman being forced to engage in manual scavenging. She explains to them how quitting the work will transform the trajectories of their lives entirely. Today, Usha's inspiring journey has prompted hundreds of women to give up manual scavenging.
"Nobody wants to do this work on their own will. We make sure we don't let anyone continue the practice. Why should we clean your filth? You should clean it yourself," Usha states with a sanguine confidence.
Aside from being an award-winning activist, Usha is also a proud mother. Her two sons, both of whom are married, now run their own successful business ventures. Her daughter is a final year BA student. She wants her daughter to complete higher education and build a mainstream career for herself. The resolute mother has no plans to think about her marriage anytime before that!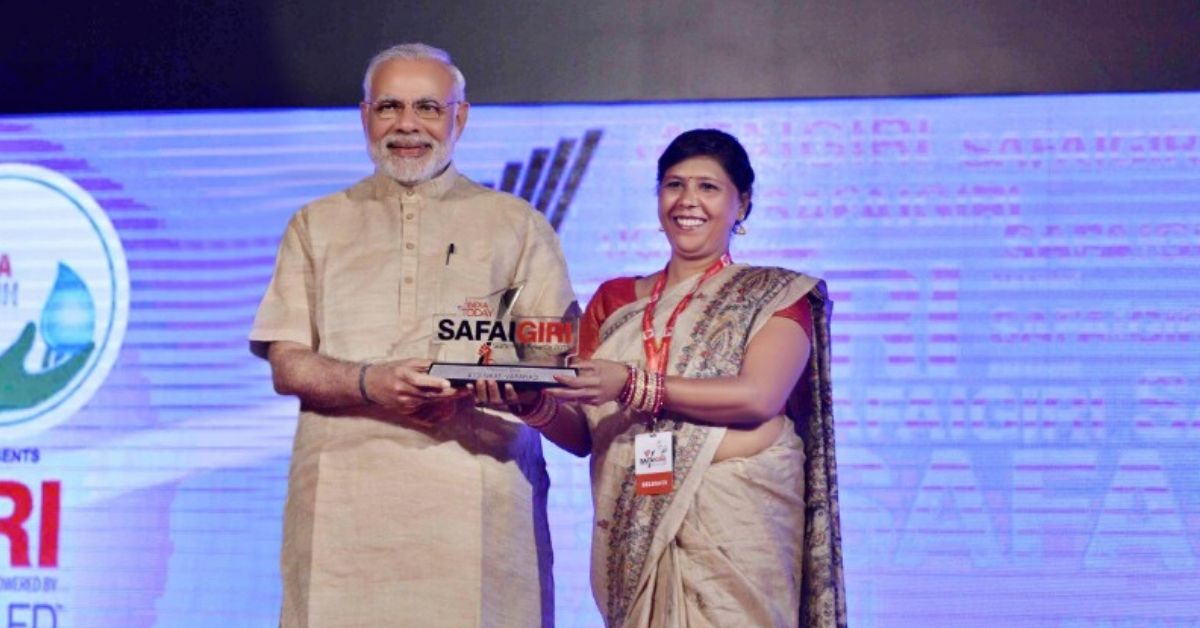 "I want to build a society free of untouchability"
Receiving the Padma Shri was beyond Usha's wildest dreams. She was also not completely aware of the stature of the award before she herself earned the honour on 25 January 2020.
She jovially recalls the eventful day. "I got a call from someone in Delhi who was reconfirming my name and house address. I did not pay much attention to the call until I received a follow-up call in the evening the same day. They said 'Madam, Congratulations! Aapko Padma Shri Milega (You will be receiving the Padma Shri).' I was at a loss of words."
Usha called up Dr Pathak immediately afterwards, whom she considers as a messiah in her life. She admits to being on cloud nine ever since, flooded by calls and congratulatory messages from everyone. People in the streets now look up to her with tremendous respect and awe.
Usha had had the long-time dream of opening a high school for girls in her village, most of whom are compelled to drop out in adolescence. She hopes to turn her dream into a reality soon.
"I want to eradicate manual scavenging entirely from our social fabric. Women are not meant for staying at home, cleaning dirt and taking care of children. I want every woman to be independent through dignified jobs. That is how we will build a better society, free of untouchability," Usha asserts aloud with grit.
---
Also Read: Acid Attacks to Manual Scavenging: Meet 10 Incredible Heroes Fighting the Good Fight
---
(Edited by Saiqua Sultan)
Like this story? Or have something to share?
Write to us: contact@thebetterindia.com
Connect with us on Facebook and Twitter.
We bring stories straight from the heart of India, to inspire millions and create a wave of impact. Our positive movement is growing bigger everyday, and we would love for you to join it.
Please contribute whatever you can, every little penny helps our team in bringing you more stories that support dreams and spread hope.
Tell Us More