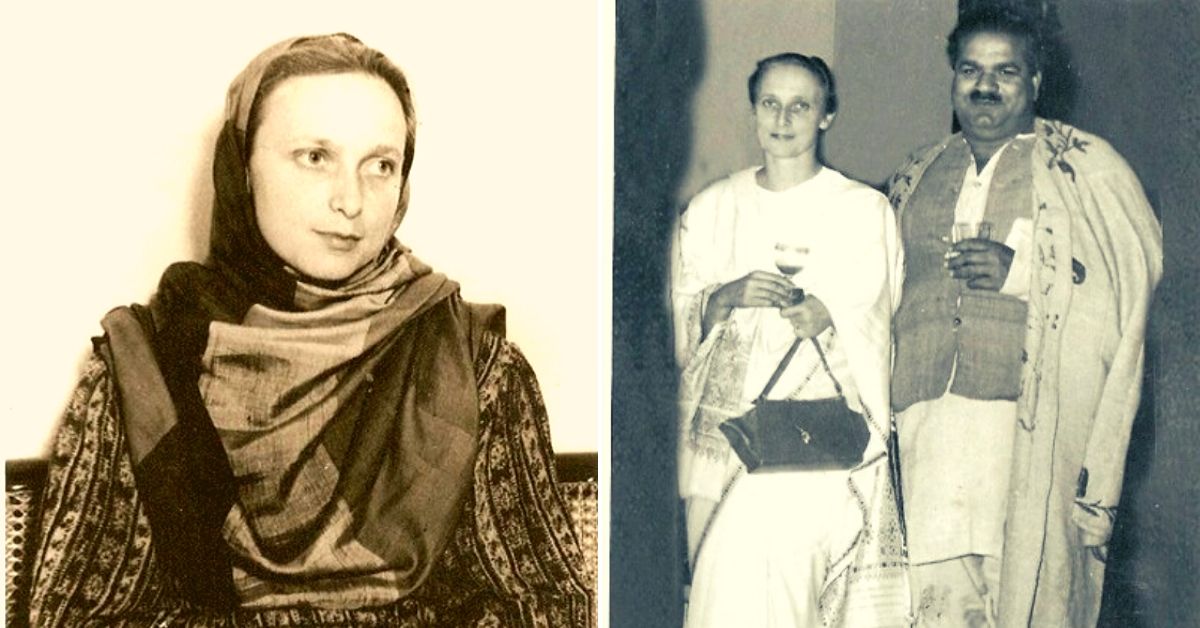 "Treat me as an Indian woman and I shall be quite content," said the first European woman to be jailed as a Satyagrahi. #WomenInHistory
"There are things deeper than labels and colour and prejudice, and love is one of them," said Freda Bedi (nee Houlston), an Oxford-educated English woman who married an Indian Sikh, adopted India as her home country, actively participated in her freedom struggle, converted to Buddhism and eventually became a fully-ordained Buddhist nun.
Challenging labels of nationality, race and notions of how women presented themselves in society, Freda lived a life that very few of us can even fathom. A humanist in the truest sense, her life is an exploration into what it meant to fully embrace freedom and empathy.
Early Years and the Spirit of Rebellion
Born into a rather modest middle class household in Derby, England, Freda lost her father in 1918 during World War I, an event which had a significant bearing on her political leanings. Attending Oxford University for her Master's Degree in the 1930s opened Freda's eyes to the world around her.
As part of a generation who grew up through the Great Depression years, which saw mass unemployment, social discontentment and the rise of fascism, Freda embraced the spirit of rebellion against the establishment alongside her other women friends. Attending meetings of the Labour Club and the communist October Club, she had heard about the horrors of the British Empire in India and was deeply curious to learn more.
This curiosity drove her to attend the weekly meetings of the Oxford Majlis, a debating society founded in 1896 at the University by Indian students. At these meetings, the Indian students gathered there would advocate for India's freedom from the Empire. There she met fellow student Baba Pyare Lal Bedi, an Indian Sikh fondly known as 'BPL'. Looking well beyond the colour of his skin, she found a kindred spirit in BPL and the two fell in love.
This budding romance, in the words of Freda, had caused a "minor sensation", which was an understatement. In one instance, she was disciplined by the University for visiting BPL without a chaperone as was the norm then for students who wanted to interact with a person of the other gender in private—an act she considered racist.
A few weeks before her final exams, she married BPL at the Oxford registry office, a decision which shocked some within the University establishment and her mother, although the latter soon came around. Her marriage was just the first among a long list of occasions on which she refused to be held back by notions of religion, race and nation.
Finding her Indian Spirit
"From the moment she married, Freda regarded herself as Indian and often wore Indian-style clothes. A year later, husband and wife and their four-month old baby, Ranga, set off by boat from Trieste, Italy, on the two-week journey to the western Indian city of Bombay (now Mumbai)….The couple had already been marked out by the British authorities as revolutionaries and potential trouble makers because of their student activism. When they disembarked in Bombay, their bags and cases were inspected for seven hours to check for left-wing propaganda," writes Andrew Whitehead, a BBC correspondent and author of 'The Lives of Freda: The Political, Spiritual and Personal Journeys of Freda Bedi'.
While Freda faced scorn by many back in the UK for the decision to marry an Indian Sikh, her mother-in-law accepted her with open arms. Eventually, Freda and her family decided to settle down in Lahore.
As celebrated nationalists and figures of the Left, both Freda and BPL published a quarterly review called Contemporary India, while she also ran a regular column in The Tribune called 'From a Woman's Window'. However, their lives radically changed with the advent of World War II with BPL courting arrest for his role in preventing the recruitment of Indian soldiers for the British war effort.
Unwilling to sit on the sidelines, she took Mahatma Gandhi's blessings and became a fellow Satyagrahi. Daring to openly defy the colonial government's emergency wartime powers, she travelled to her husband's ancestral village of Dera Baba Nanak and announced her decision to "break the law by asking the people not to support the military effort until India became democratic", reports Andrew Whitehead.
Local authorities were perplexed at the sight of a Caucasian English woman staging protests against the British Empire. Unsure of what to do, the authorities called upon a English police inspector to arrest her.
At her trial, the judge asked her whether she wanted the same privilege granted to an Englishwoman. Her response left everyone in the courtroom stunned. "Treat me as an Indian woman and I shall be quite content," she told the magistrate. Freda was sentenced to six months in prison at Lahore Women's Jail and hard labour. There she spun the Chakra, organised fellow women prisoners and sang songs of freedom.
Discovering Buddhism
Following Partition, the Bedis had moved to Kashmir with their second child Kabir, who would later go onto become an acclaimed actor.
There she worked alongside firebrand Kashmiri mass leader Sheikh Abdullah, taught English at a newly established women's college in Srinagar and even enrolled in a women's militia. However, her life took a rather fascinating turn in the early 1950s during a visit to Myanmar as part of the United Nations Social Services Planning Commission to Burma.
In Myanmar, she was introduced to Buddhism and learnt meditation with Burmese masters. By 1959, however, when the Dalai Lama and scores of Tibetan refugees fled China to escape persecution, she requested the then Prime Minister, Jawahralal Nehru, to send her to Assam, where she could aid in relief efforts.
"In 1961, Freda established the Young Lamas' Home School in Delhi and it was as she helped the Tibetans adapt to exile that she realised that she had found her spiritual home in Buddhism," says this report in The Telegraph.
By 1966, she gave up a conventional life and became a Buddhist nun. Ordained by the 16th Karmapa Lama at Rumtek Monastery in Sikkim and given the name Gelongma Karma Kechog Palmo, she became "possibly the first woman ever to receive this higher level of initiation in the Tibetan tradition."
Persuading the Karmapa to establish links with new devotees, she travelled with him in 1974 for his first trip to the West, which many argue sowed the seeds of Tibetan Buddhism there.
She eventually passed away in New Delhi in 1977 after living a life that quite frankly escapes any definition. Spending more than two-thirds of her life in India, Freda had such a profound impact on so many lives. Her life is a lesson in not just appreciating different cultures and traditions, but also embracing their best ideals.
(If you want to read about Freda Bedi's fascinating life in greater detail, please read Andrew Whitehead's book 'The Lives of Freda: The Political, Spiritual and Personal Journeys of Freda Bedi'.)
(Edited by Saiqua Sultan)
Like this story? Or have something to share? Write to us: contact@thebetterindia.com, or connect with us on Facebook and Twitter.
We bring stories straight from the heart of India, to inspire millions and create a wave of impact. Our positive movement is growing bigger everyday, and we would love for you to join it.
Please contribute whatever you can, every little penny helps our team in bringing you more stories that support dreams and spread hope.