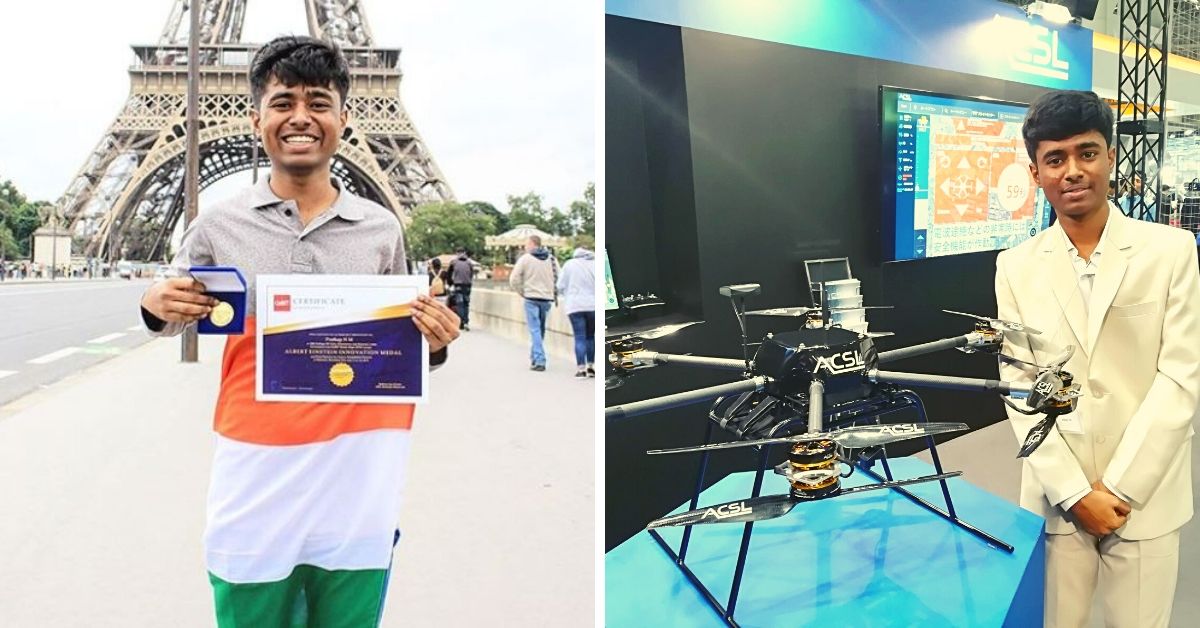 Please note. This story has been updated.
Editor's Note: As a standard editorial practice, for any story, we speak to the protagonist, any beneficiaries, associates, authorities who may be involved or aware of the events, and experts. We also collect documents to support the claims. If other reputable sources have covered the protagonist, we cross-check our interview with theirs to compare details.
Similarly, in this case, we spoke to:
1) Prathap NM, the protagonist
2) Navyashree B, HOD and Assistant Professor, JSS College
3) M. Mahadevappa, Principal, JSS College
4) Devesh Hegde, Founder, Fly Camp
For documentation, we looked at:
1) Visa Details – Schengen (Germany) and Japan
2) Invitations to Events (Email, PDF)
4) Pictures from the events
5) Certificates, Medals received at the event
He also had lengthy sit-down interviews with several Karnataka news channels, including DD Chandana, the state broadcaster.
Despite this fact-checking, as our readers have pointed out, we may have been misled in some details. These include:
1) If the drones shown to us were manufactured by Prathap and a team or purchased/leased from a vendor.
2) If his skillset and manufacturing process can make a drone that performs to the specifications he claims.
3) If all the awards received by Prathap can be verified by a source, beyond the certificates, he has.
4) After the publication of the article, the organisers of the events in Germany responded to our second round of queries stating they did not host any such awards.
In the spirit of fairness, we have sent across an extensive questionnaire with the doubts to Prathap on 11 July 2020 and requested he openly prove false any charges against him. He has not responded satisfactorily to our queries and has been unable to prove his claims beyond all doubt.
As that is the case, we acknowledge that our story can no longer be considered entirely accurate or that all claims in it are true.
It is our constant mission to bring out accurate and inspirational stories to our readers. I deeply apologise to our readers for the errors in the story and assure them that we are taking all steps to ensure such errors do not happen again.
– Vinayak Hegde
---
Life took a 360-degree turn for Prathap NM, a native of Karnataka's Mandya district in December 2017 after his big win at the International Robotic Exhibition held in Japan. Then 18-years-old, the young boy had made a low-cost drone from electronic waste with an aim to provide relief in disaster-affected areas by capturing images and transporting relief materials.
Prathap was no more the village boy who slept at bus stands, walked miles to give tuitions and skipped meals to fund his project.
He came to be fondly known as India's Drone Scientist. So far he has built around 600 drones that have been used for multiple purposes.
What followed next were more accolades, recognitions, invitations from international universities and lucrative employment opportunities.
Prathap hails from a very humble background. The 22-year-old had to defy his destiny, go against his family and relatives to realise his dream.
Here's his inspiring story:
How Drones Became A Path to Freedom
Prathap grew up in an agrarian family amidst recurring financial crisis. To fulfil his father's wish of making farming his profession, he started working in the fields from a very early age. The harsh sunlight, and physical exertions took a toll on the young boy. But seeing the eagles fly unrestricted in the vast sky was what motivated the boy to work.
Things went on normally until one day he saw a drone for the first time on TV.
"That drone reminded me of eagles. I wanted to make one for myself. Back then I was in class ten and did not have access to a smartphone or internet. So, without my parent's knowledge, I started working in a cyber cafe as a sweeper and in return, the owner would allow me to browse the internet for about 45 minutes. That was the starting point of my freedom," shares Prathap.
He discovered the basics of making a drone but arranging its parts was another challenge that awaited him.
"I did not have that kind of money to purchase parts like wires, motor and motherboard. So, I turned towards electronic waste. I would visit the electronic appliances store and buy the waste parts at dearth cheap," Prathap says.
By the time he gathered all the expertise and materials, he shifted to Mysuru to do his BSc from JSS College of Arts, Science and Commerce.
Prathap's father handed him Rs 8,000 when he moved, which he used to pay his college fees. For the next few months, he gave coaching classes to pay for his accommodation and food while working on developing the drone.
Prathap exhausted all his salary to purchase parts for drones and at one point he was even thrown out of his rented house for not paying bills,
"I preferred sleeping on the bus stand than compromising on my dream."
Prathap was 16 when he was ready with the drone but it took nearly 50 trial and error experiments for his masterpiece to fly. When it did, it flew 1000 metres above the ground!
"I did not understand aerodynamics or engineering. No one was even there to guide me. Once I exhausted all my options, I used common sense. I made a couple of basic changes like putting the flight controller in front, maintaining the centre of gravity and striking a balance between all the drone parts," he explains.
With the guidance of college professors, Prathap started participating in innovation competitions across India which eventually paved way for his selection at the Japan exhibition.
"As a student, Prathap was brilliant and attentive. He would always invest his spare time in research work and as his teacher, I guided him. He would always be open for suggestions and improvisations. The zeal to learn new things helped him reach such great heights," says Navyashree B,  HOD and Assistant Professor at JSS College.
When he finally got his chance to go to Japan, another bottleneck arose. Who would fund his air fare?
It was at this juncture that Prathap's mother offered to sell her jewellery to buy him the tickets to his dream.
Help also came from Prathap's college.
Talking to TBI, Principal of JSS college, M. Mahadevappa says, "Our college faculty got together and contributed money for flight tickets and project to be showcased at the International Robot Exhibition in Tokyo. in 2017."
With the blessings and support of his well-wishers, the young innovator flew to the Land of the Rising Sun.
An Insight Into How Japan Turned His Destiny
With drones weighing 300 kilos and two pairs of clothing, Prathap landed at the Tokyo International Airport in December 2017. His only mission was to reach the Tokyo Big Sight Inc to attend the International Robotic Exhibition which was at a distance of 25 minutes.
It was Prathap's first international trip, "I am not sure if it was the freezing temperatures or massive airport but I froze for a few minutes."
As soon as reality struck, he walked towards the exit and tried to communicate in pidgin English with airport staff.
"I want to go to the Robot competition. How?" he asked. Knowing that he barely had Rs 1500 in his pocket, he took the staff's suggestion and decided to take the train. It took the young boy four trips to the exhibition venue to cart all the parts of the drones.
Upon reaching, he saw students from 120 countries who were accompanied by their professors. He saw how confident and prepared they seemed. Most importantly they spoke fluent English.
Amidst all this, he neither forgot his mission nor did he let his confidence shatter. Instead, he remembered his mother's hopeful eyes and the sacrifice she made. The next day, he went through around seven rounds of presentations where he presented the drone model entirely made out of electronic waste. He had the knowledge and confidence, what he lacked was the communication skills or so he thought.
Only 20 teams were selected and just when Prathap thought he had lost all hope, an announcement was made in his name.
"All I heard were two words, my name and gold medal. Life came to standstill and I went blank. I still cannot remember the walk till the stage," he recalls.
Friends, relatives and parents who once mocked his ambition of becoming an eminent scientist, now welcome him with praises and applause. "When I decided to go against the tide, I kept a small picture of former President APJ Abdul Kalam in my wallet. Every time my empty wallet would discourage me, I would find motivation and strength from the aerospace scientist's photo," says Prathap.
His next international award was at the Albert Einstein Innovation Gold Medal International Drone Expo 2018 held in Hanover in Germany. He has also visited 87 countries within a span of two years for internships and given lectures on the application of drone technology in a time-sensitive scenario.
Last year in August, his drones helped thousands of people stranded due to the floods in the southern part of Karnataka. The drones reached several devastated areas and captured the real-time situation that helped police personnel to send food and other relief materials.
He may have gained all the fame and respect and travelled the world over meeting experts but the humble boy's dream is still the same which is to work in the interest of the nation.
Prathap has channelled all the prize money he has received so far to develop an aerospace lab in Bengaluru, where he is currently doing his research on modifying the drones.
Ending the conversation by sharing his secret to success, Prathap says, "The only thing that kept me going was me. I believed in myself and not for once doubted my dreams. Do not let others dissuade you. If you have a dream chase it and do not stop till you get it."
If you want to get in touch with the young inventor, you can mail him at: prathapnm@gmail.com
---
Also Read: This 15-Year-Old Whiz Kid Is Building Drones to Detect and Defuse Land Mines!
---
(Edited Saiqua Sultan)
Like this story? Or have something to share?
Write to us: contact@thebetterindia.com
Connect with us on Facebook and Twitter.
We bring stories straight from the heart of India, to inspire millions and create a wave of impact. Our positive movement is growing bigger everyday, and we would love for you to join it.
Please contribute whatever you can, every little penny helps our team in bringing you more stories that support dreams and spread hope.