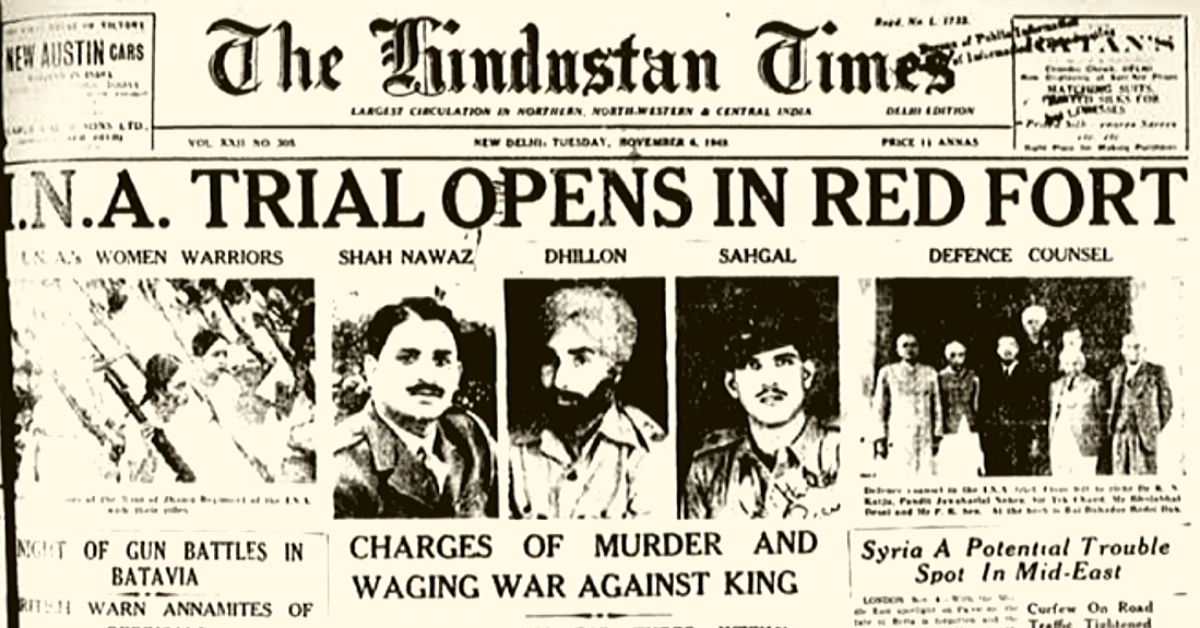 Delivered for 10 hours non-stop, Bhulabhai Desai's stirring defense of three #INA soldiers under trial had a profound impact on India's struggle for independence. #ForgottenHeroes
Following the end of World War II, the British government convened a series of trials against former officers of the Indian National Army (INA), who had fought alongside the Japanese forces in the pursuit of national liberation. The first and most significant of these began on 5 November 1945 inside Delhi's Red Fort.
On the stand in this highly publicised military trial were three defendants — Shahnawaz Khan, Prem Sahgal and Gurbaksh Dhillon. They were second-tier commanders of the INA, who had given up their allegiance to the British Indian Army. All three were charged with treason as set out in Section 121 of the Indian Penal Code.
Also, Dhillon was charged with murder under Section 302 of the IPC, while Khan and Sahgal were charged with abetment to murder. Arguing on behalf of the defendants were veteran Congressman Bhulabhai Desai, who was Chief Defence Counsel (CDC), Tej Bahadur Sapru, Jawaharlal Nehru, and Dr KN Katju. They had to present their case in front of a military tribunal comprising of senior British army officers.
The essence of the prosecution's arguments can be summed up by what Advocate General Sir Naushirwan Engineer said in court:
The prosecution will submit that any plea that they [the accused] were bound or justified by law in doing what they did cannot avail them. Joining with rebels in an act of rebellion or with enemies in acts of hostility makes a man a traitor. An act of treason cannot give any sort of rights nor can it exempt a person from criminal responsibility for the subsequent acts. Even if an act is done under a command where the command is traitorous, obedience to that command is also traitorous.
Once the prosecution was done making its case, CDC Desai took the floor. Over the course of 10 hours spread across two days, Desai presented a stirring defence without any interruption or notes, which among other aspects included "probably the first legal argument before any court in the world which sought to establish the legal right of an enslaved nation to wage a war of national liberation against its foreign ruler."
"His argument was that the issues at hand were matters for public international law, not British Indian municipal law. He argued, first, that the Indian National Army was a properly constituted and self-governing army, run by Indian officers, with its own disciplinary code, ranks, uniforms and regalia, just like the British-run Indian Army on which it was closely modelled. It had two aims: the liberation of India from British rule, and the protection of Indian populations in Burma and Malaya, especially during the war. So contrary to the prosecution's claims, it was not just a Japanese-run fifth column," writes Kirsten Sellers, a scholar on public international law, in this fascinating paper.
Going further, Desai went onto argue that the INA fought on behalf of the Provisional Government of Free India, which complied with all the requirements of a proper state—control over resources, territories including the Andaman and Nicobar Islands albeit for 18 months, finances and the fact that they even enacted their own laws.
Moreover, the Free India government was recognised as a sovereign government by Japan and a number of her allies, following which it had declared war on Britain and this meant it could assume the rights of a belligerent state. What Desai essentially did was turn the treason argument on its head on the point that under international law an enslaved nation has a right to engage in battle for the overthrow of a foreign ruler.
"Shri Desai submitted that it was a settled position in International Law that when two governments are at war with each other, the combatants acquire the status of belligerents, and the soldiers cannot be punished for murder, and other offences under the municipal laws. The matter passes from the domain of municipal law to that of international law. Amidst the clash of arms, the ordinary criminal law becomes silent. Consequently, he submitted, the charged I.N.A. officers were entitled to be treated as POWs," writes Justice (Retd) Markandey Katju, in a social media post outlining this case.
As Desai argued in court:
The position now is that international law has reached this stage that if liberty and democracy are to have any meaning all over the world, and not merely just for a part of it, and this is not politics, it is law — any war made for the purpose of liberating oneself from foreign yoke is completely justified by modern international law. And it will be a travesty of justice if we were to be told as a result of any decision arrived at here or otherwise, that the Indian may go as a soldier and fight for the freedom of England against Germany, for England against Italy, for England against Japan, and yet a stage may not be reached when a free Indian State may not wish to free itself from any country, including England itself.
In other words, the erstwhile notion that only an independent sovereign state can validly declare war is outdated and allows for the furtherance of a vicious circle that people under subjugation would remain a subject race in perpetuity. Therefore, modern international law does recognise the right of the subjected to organise themselves and fight for freedom.
Through the course of his arguments, Desai also kept returning to the question of allegiance of erstwhile soldiers of the British Indian Army joining the rebel Indian National Army.
Were the three soldiers really required to maintain their allegiance to a government that had deserted them? On 16 February 1942, the British had surrendered Singapore to Japanese forces. British and Australian prisoners were sent to prisons and internment camps, but the 40,000 Indians surrendered troops from the British Indian Army were given a choice–either become POWs or switch allegiance to the Indian National Army.
Half the surrendered force chose to switch their allegiance and join the INA, which was first under the command of Mohan Singh, and subsequently Subhash Chandra Bose, who assumed leadership of the army in July 1943 and proclaimed Ārzī Hukūmat-e-Āzād Hind (the Provisional Government of Free India), besides declaring war on the Allied Forces.
"Both the accused and witnesses had stated that the fall of Singapore had convinced them that Britain was incapable of protecting Indian interests and had therefore forfeited its claim to their allegiance . . . Shah Nawaz Khan testified that when forced to choose between King and Country, 'I decided to be loyal to my country'. The value of the loyalty so peremptorily commanded by the Raj, and so summarily punished if abandoned, was first questioned, and then denied," writes Sellers in her paper.
Despite the stirring defence put forward by Desai and his team, the court found all three men guilty of treason and one guilty of abetment to murder on 31 December 1945. The sentence delivered on 3 January 1946, did not mandate execution of the three officers, but they were summarily dismissed from service, ordered to forfeit all their pay and allowances, and sentenced to transportation (relocation of convicted criminals to a distant place).
But what Desai offered was a remarkable defence with forensic precision, which had a profound impact on the sentence and more importantly, the freedom struggle. This trial and the subsequent public outrage was the proverbial straw that broke the camel's back of colonial rule in India. And standing at the forefront was Bhulabhai Desai.
"The basis of the British empire — the unquestioning loyalty of the Indian armed forces — had been thoroughly undermined by the INA trials," writes Prasenjit K Basu in his book, Asia Reborn, which fascinatingly details the events surrounding these trials.
---
Also Read: An Ode to Frontier Gandhi, The Man of Peace Who Fought For a United India
---
(Edited by Saiqua Sultan)
Like this story? Or have something to share? Write to us: contact@thebetterindia.com, or connect with us on Facebook and Twitter.
Tell Us More
We bring stories straight from the heart of India, to inspire millions and create a wave of impact. Our positive movement is growing bigger everyday, and we would love for you to join it.
Please contribute whatever you can, every little penny helps our team in bringing you more stories that support dreams and spread hope.