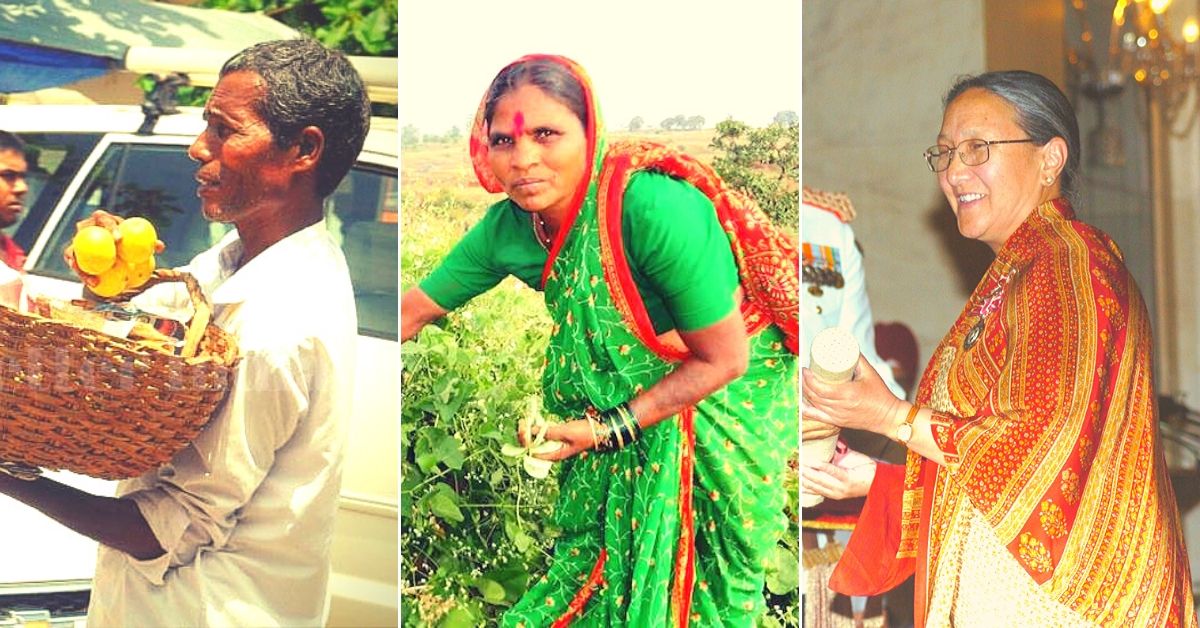 From 'Seed Mother' to 'Akshara Santa,' we at The Better India feel privileged to have covered the stories of these distinguished Indians. #PadmaAwards2020 #RealLifeHeroes
Every year, on the eve of Republic Day, the Central government announces India's highest civilian honours, recognising the outstanding achievements of distinguished persons "where an element of public service is involved."
The awards are Padma Vibhushan (for exceptional and distinguished service), Padma Bhushan (distinguished service of the highest order) and Padma Shri (distinguished service).
Over the years, The Better India has shed light on the work of these distinguished individuals before they received their respective awards.
Today, we recognise 11 such distinguished recipients.
1) Harekala Hajabba, Padma Shri:
Unable to afford an education because of poverty, Hajabba took to selling oranges in the dusty village of New Papdu in Harekala, which is around 25 km from Mangaluru.
One fine day, when some tourists asked about the price of his oranges in English, he couldn't understand a word. The duo left, and Hajabba was left humiliated. Not wanting anyone else to undergo the same sort of embarrassment that he went through, Hajabba worked towards setting up a school so that the poor children in his village had access to education.
He started with only 28 students in a school attached to a madrasa in 1999, and saved every rupee he earned towards building a proper school.
Today his dream has come true—there stands a school on 1.5 acres of land in the village with more than 150 students from low-income families across all religious and caste backgrounds.
Hajabba, who is fondly known as 'Akshara Santa' or 'Saint of Letters,' can undoubtedly look back at his incredible work with pride.
2) Sundaram Verma, Padma Shri:
Sundaram Verma developed the Dryland Agroforestry method that uses one litre of water to grow trees.
In the arid lands of Rajasthan's Danta tehsil, farmer Sundaram Verma has successfully grown 50,000 trees with a technique that requires only one litre of water per tree.
Developed over 10 years of rigorous trial and error, Verma's six-step Dryland Agroforestry technique is a testament to his persistence, curiosity and innovation. Beyond planting these trees, Verma is even developing a water-saving technique.
"If I, a farmer in Rajasthan, can save 7 lakh litres of rainwater in just a few days with a simple method, then farmers in states like Maharashtra and South India can definitely benefit significantly," he told The Better India.
3) Dr Yogi Aeron, Padma Shri:
In the corner of Malsi, Dehradun, Yogi Aeron, an octogenarian and practising plastic surgeon, treats close to 500 burn victims and those mauled by wild animals, for free.
To help him in this mission, he has an assistant who has worked with him for over 25 years while one of his sons come and help out whenever they can find the time. Such is their popularity, that there are reportedly 10,000 patients on the waiting list from remote villages in the Himalayas, awaiting treatment.
Besides working in his clinic, he also operates two-week camps across remote villages twice a year with around 15 doctors from the United States.
4) Dr Tsering Landol, Padma Bhushan:
Very few have done more for women's health in the cold desert of Ladakh than Dr Tsering Landol. Even in her mid-seventies, the retired gynaecologist conducts a clinic once every week, where she screens, counsels and guides women patients, particularly those who are pregnant.
After joining the Sonam Norboo Memorial Hospital, Leh, in 1979 as the region's first practising gynaecologist, Dr Landol worked under incredibly difficult conditions with bare minimum facilities delivering children and performing surgeries, particularly during the freezing winters. Nonetheless, she persisted, innovated and continued to save lives.
More than treating patients, it was her contribution towards shedding the social stigma associated with women talking about their health problems that changed the course of women's health in the region. She was also a pioneer in broaching the subject of adolescent healthcare education in schools across Leh, family planning and institutional deliveries.
5) Trinity Saioo, Padma Shri:
Nearly 17 years ago, in the picturesque West Jaintia Hills of Meghalaya, Trinity Saioo, a school teacher, realised that the Lachein variety of turmeric that most farmers grew in the region was low on yield and curcumin, the active ingredient in turmeric, which has potent biological properties.
Harking back to the knowledge she had gathered from her ancestors, she found that Lakadong, a variety produced extensively back in the day, is superior to Lachein and has 7 per cent curcumin which is 2 per cent higher than Lachein. So, she began growing Lakadong variety, as a result of which her family began earning three times more than the other farmers in the area.
As the word got around, the heads of nearby villages invited her to train farmers in turmeric cultivation.
Today, 900 farmers in Meghalaya are growing Lakadong turmeric, and earning well enough to lead a decent life. On her part, Trinity has assisted in the revival of the Life Spice Federation of Self-Help Groups and hired women from 98 Self Help Groups (SHGs). Under  her leadership, the federation now exports Lakadong Turmeric to southern States like Kerala, Karnataka and the other North Eastern States.
6) Kushal Konwar Sarma, Padma Shri: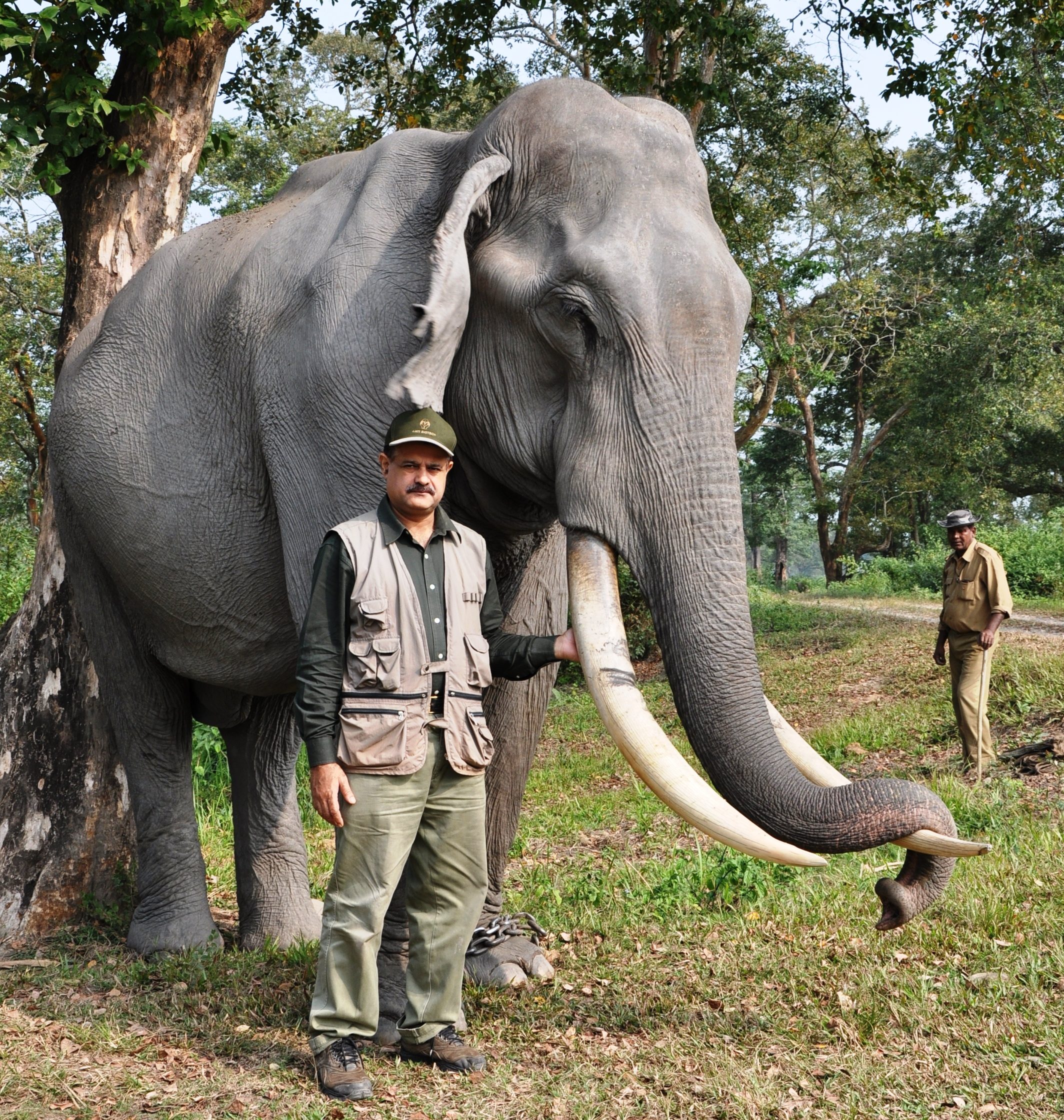 For 32 years, Dr Kushal Konwar Sarma hasn't taken a day off from his veterinary duties, and treated 700 elephants and bulls every year.
It is the memory of losing Lakshmi, the elderly elephant Sarma fell in love with as a child in his ancestral village of Barama village of Assam's Kamrup district, that inspired him to become a vet.
"From tranquilising and capturing 139 rogue jumbos to rescuing and treating hundreds of captive and injured elephants over the years, Dr Sarma has contributed to the conservation of the Asian Elephants in India. Notably, he holds a world record for this feat," reports The Better India. To prevent human-elephant conflict, he persuades people to adopt bio-fencing rather than setting up protection traps.
Bio-fencing means growing fruit-bearing trees, which ensure that the jumbo is well-fed and wouldn't need to rampage the property, and thorny varieties, which keep them at bay.
Despite coming face to face with death multiple times, he continues to work with elephants from close quarters.
7) Chewang Motup Goba, Padma Shri:
A native of the Kyagar village in Nubra Valley, Motup is a passionate mountaineer and entrepreneur who conducts the 72 km Khardung La Challenge, the highest ultra marathon in the world, along the same path. This race has become a benchmark for elite athletes from all around the globe. Started in 2012, alongside the Ladakh Marathon, the Khardung La Challenge is the ultimate test of human endurance.
Besides, he conducts the marathon, half-marathon and the 7 km Run for Fun, which was created to scout young Ladakhi school children with talent and encourage them to run, alongside other tourists who want to participate.
All these events from start to finish are organised by Rimo Expeditions, an eco-friendly mountaineering company which Motup started alongside his wife, Yangdu Gombu.
The main objectives behind these events, was to create a real platform for the boys and girls of Ladakh to show their potential in long-distance running, and nourish the local economy, as they bring in an influx of tourists in the lean month of September. Additionally,  any event that the company conducts—be it an expedition or a marathon—is environment-friendly, and the use of single-use plastics is banned.
8) Dr Ravi Kannan, Padma Shri:
In 2007, Dr Ravi Kannan, a renowned oncologist moved from Chennai to Silchar, to work at the Cachar Cancer Hospital Society, located in the remote Barak Valley of Assam. The hospital, which was set up in 1996, was reeling with several problems, including the lack of infrastructure and trained staff.
Today, thanks to Dr Kannan's vision and stupendous work, this small cancer centre is a world-class cancer hospital, that provides a full range of oncology services to over 2000 patients annually.
Additionally, since most of the patients belong to the lower economic strata and are financially challenged, the hospital treats them at extremely low costs or for free.
"It is his selfless service and vision that have transformed this unknown cancer hospital into a comprehensive cancer centre that is providing free and heavily subsidised treatment to thousands of poor patients every year," says Rajeev Kumar, a colleague, to The Better India.
9) Javed Ahmad Tak, Padma Shri:
Javed Ahmad Tak was shot during a militant attack in South Kashmir's Bijbehara town, which is around 45 Km from Srinagar, during a time when militancy in Kashmir, was at an all-time high.
Only 21 years old at the time, the attack damaged his spine, kidney, pancreas and intestines. Hospitalised for nearly two years, his mental health was shattered.
To calm his mind, he began teaching children from economically poor backgrounds living in his neighbourhood on his wheelchair. Completing his Master's in Social Work from Kashmir University, he also began fighting for the rights of the disability community and other marginalised sections like those suffering from leprosy.
After filing a series of successful PILs advocating for better working conditions and opportunities for the disability community, he even opened the Valley's first mixed disability school. To those ignored by the education system, Tak has brought a ray of hope.
10) Rahibai Soma Popere aka 'Seed Mother', Padma Shri:
For Rahibai Soma Popere of Kombhalne village in Maharashtra, conserving hundreds of native seed varieties is her way of protecting farmers living in drought-affected Ahmednagar district.
Not only are these varieties drought and disease resistant, but do a better job of retaining soil fertility. More importantly, food crops grown from these native varieties offer more nutrition as compared to hybrid crops.
In early mid-50s, Rahibai began her fight to conserve these local varieties of seeds with assistance from fellow women farmers in Akole taluka, and eventually established an SHG called Kalsubai Parisar Biyanee Samvardhan Samiti to further her endeavours.
"After successfully implementing all that she learnt, Rahibai now trains farmers and students on seed selection, techniques to improve soil fertility and pest management among others. She supplies farmers with seedlings of native crops, encouraging them to switch to native varieties," says the report published in The Better India.
Thanks to her cultivation practices, her own crop yields have increased by 30%. To further her goal, she established a seed bank where farmers are given seeds on the condition that they return twice the quantity of seeds they borrowed in the first place. The seed bank distributes 122 varieties of 32 crops, offering a better alternative to expensive hybrid seeds.
11) Sathyanarayan Mundayoor aka 'Uncle Moosa', Padma Shri:
Back in 1979, Sathyanarayan Mundayoor, who is fondly known in the hills of Arunachal Pradesh as 'Uncle Moosa,' quit his comfortable job in the income tax department in search of a life with more meaning.
Chancing upon an advertisement for a position at the Vivekananda Kendra Vidyalaya (VKV) in the Northeastern state, he worked as an education officer there until 1996. Once again, however, he was disillusioned, and this time it was against the lack of imagination in the formal education system.
What he wanted was to stimulate the reading habits of children and allow them to discover the power of imagination.
"In 2007, in collaboration with the Association of Writers and Illustrators for Children (AWIC) and the Vivekananda Trust (of which he is a member), the gift of children's' books and magazines became the first library as part of the Lohit Youth Library Movement in the government town of Tezu. The library was named the Bamboosa Library after the bamboo plant. Today, 13 such libraries can be found in off-the-beaten-path places like Wakro, Chongkham, Anjaw, and Lathao," says this TBI report.
(Edited by Gayatri Mishra)
Like this story? Or have something to share? Write to us: contact@thebetterindia.com, or connect with us on Facebook and Twitter.
We bring stories straight from the heart of India, to inspire millions and create a wave of impact. Our positive movement is growing bigger everyday, and we would love for you to join it.
Please contribute whatever you can, every little penny helps our team in bringing you more stories that support dreams and spread hope.