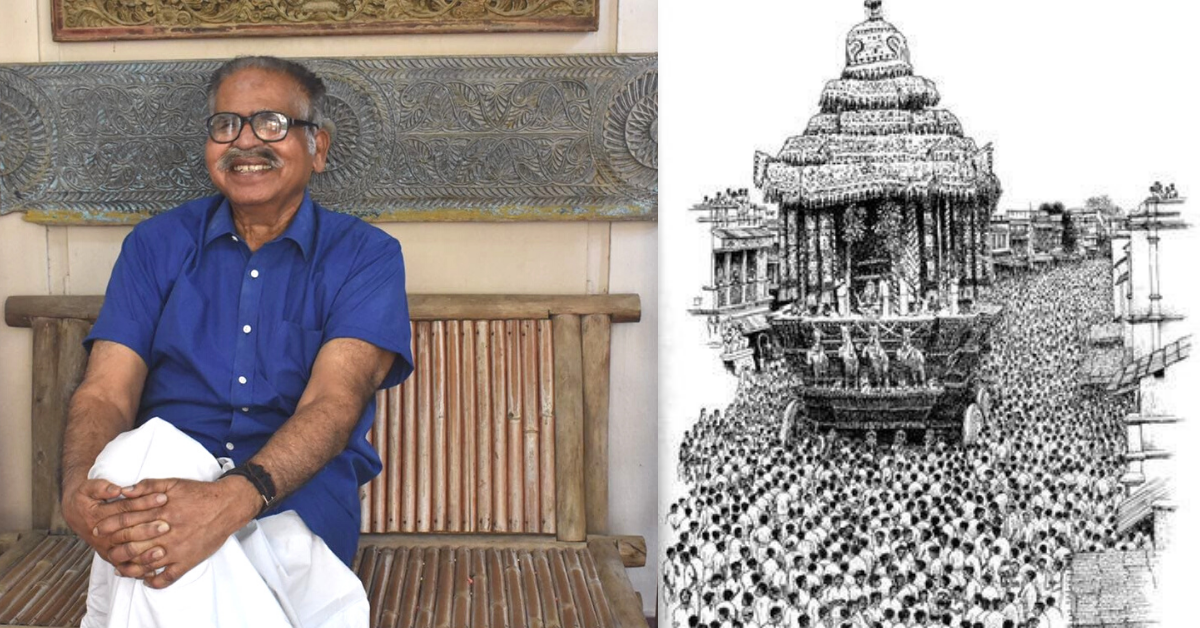 "Even before I learnt to write the alphabet, I was drawing and sketching. I don't even remember how old I was when I started."
It was Thirupurasundari, an architect based in Chennai, who said 'artisans before art' to me in a recent interview. She emphasised the need to acknowledge artisans who work hard to produce their masterpieces. And therefore, I was not surprised at her excitement when artist Manohar Devadoss was honoured with the Padma Shri this Republic Day.
Padma Shri Manohar Devadoss is not only an artist par excellence but is also a writer and innovator. His most significant works were to capture the historic, social, and cultural heritage of Madurai and Chennai in his sketches, which in many ways, remain the only documentary evidence of the times gone by. Having lost his eyesight five years ago, Manohar feels honoured that he is still remembered and his work remains relevant.
Early influences
He begins, "Even before I learnt to write the alphabet, I was drawing and sketching. I don't even remember how old I was when I started."
He remembers visiting the local zoo when he was about three. After the visit, he took his brother's pencil and went on to sketch the giraffe in great detail. That was perhaps the beginning of his interest in art.
As he grew up, Manohar shares that he never faced any challenges while pursuing drawing.
"In fact," he says, "even if I were drawing and sketching before my examinations, my mother would urge me to study and tell me that I could return to my art once I finished studying."
The fact that his parents let him do what he wanted played a vital role in shaping his future. Manohar also attributes his interest in the arts to his parents, who were both excellent with their handiwork–whether it was his mother's embroidery or his father's sketches.
He adds, chuckling, "In my entire family, all cousins included, I was perhaps the best artist."
In 1957, he completed his graduation in Chemistry from American College in Madurai. It was on his father's insistence that he took a year off and pursued arts, piano, and mathematics. In 1958, he moved to Madras and took up a job at Oldham Company as a chemist.
His first real work of art was a Christmas greeting card for his boss. He had sketched fisher folk and catamarans on it. In 1962, he visited London for three months as part of his job and was exposed to various kinds of art at museums and theatres there.
Blindness no bar
"There came a time when I was going blind, and my vision was getting poorer by the day, so I asked Dr Badri of Shankar Netralaya to make me a powerful pair of glasses, somewhere between +26 to +28 so that I could continue sketching," he says.
He is often asked how he continues his work despite his physical question, and he has no answer. "It just comes to me," he says.
Until his vision was perfect, Manohar would do sketches on the spot without any trouble, but when it started deteriorating, it was a challenge for him.
"Professionally, I am a scientist, and that rational thinking ability is what I used when I sketched. I undertook each drawing like a project and completed it," he tells me.
One of the first things he did after getting his high powered glasses, was to create a portrait of his wife–the one he calls his "most cherished" piece of work. "With these special glasses, I could immediately see better. The first thing I did was to make a portrait of my wife–Mahema."
I can feel the love and the bond that he shared with his wife. I ask him if he'd be willing to speak more about her and the relationship they shared, and he obliged.
A teddy-bear and a doll
With almost child-like enthusiasm, he narrates, "Before Mahema and I were married, she had gone to watch a movie–To Kill A Mockingbird. In one of the scenes, a young boy takes a teddy bear to bed with him when he sleeps. I remember asking Mahema coyly if she took a teddy-bear to bed when she was younger."
He tells me that he was always amazed at her quick-wit. Her reply was, "I did take one to bed when I was younger Mano, but I will be taking one to bed in two months from now." (They were to be married in two months from then.)
Taking inspiration from her words, Manohar sketched a teddy-bear and a doll seated on a bed–the doll's head resting on the teddy-bear's arm. He tells me that he had presented this sketch to Mahema.
Manohar and Mahema–a great team
The couple was also a great team, publishing some powerhouse books that combined his artwork and her writing skills.
Their first book titled The Green Well Years came out in 1997. He says, "It was an autobiographical novel and my way of paying tribute to Madurai, the city that nurtured me. The stories in the book were all inspired by my childhood friends and the life we led there. I would draw, and Mahema would write."
Although Mahema passed away almost a decade ago, she continues to be Manohar's muse. His second book Dreams, Seasons & Promises was a book of poems in which he poignantly writes about his wife and her life.
In 2002, he published another biographical novel on Mahema titled A Poem to Courage. The city of Madurai and his wife, Mahema, continued to be his muses as he published his fourth book Multiple Facets of My Madurai in 2007.
---
Also Read: Sachin Backs India's Blind Cricketers, Asks BCCI to Support Association
---
While most know Manohar as an artist par excellence, he allowed me a glimpse into the beautiful bond he shared with his wife. As we end our conversation, he says, "I wish she [Mahema] were with me today. She would have been so proud and happy at this honour I received."
(Edited by Shruti Singhal)
Images Courtesy: Nividitha Louis & Naveen
Like this story? Or have something to share?
Write to us: contact@thebetterindia.com
Connect with us on Facebook and Twitter.
Tell Us More
We bring stories straight from the heart of India, to inspire millions and create a wave of impact. Our positive movement is growing bigger everyday, and we would love for you to join it.
Please contribute whatever you can, every little penny helps our team in bringing you more stories that support dreams and spread hope.