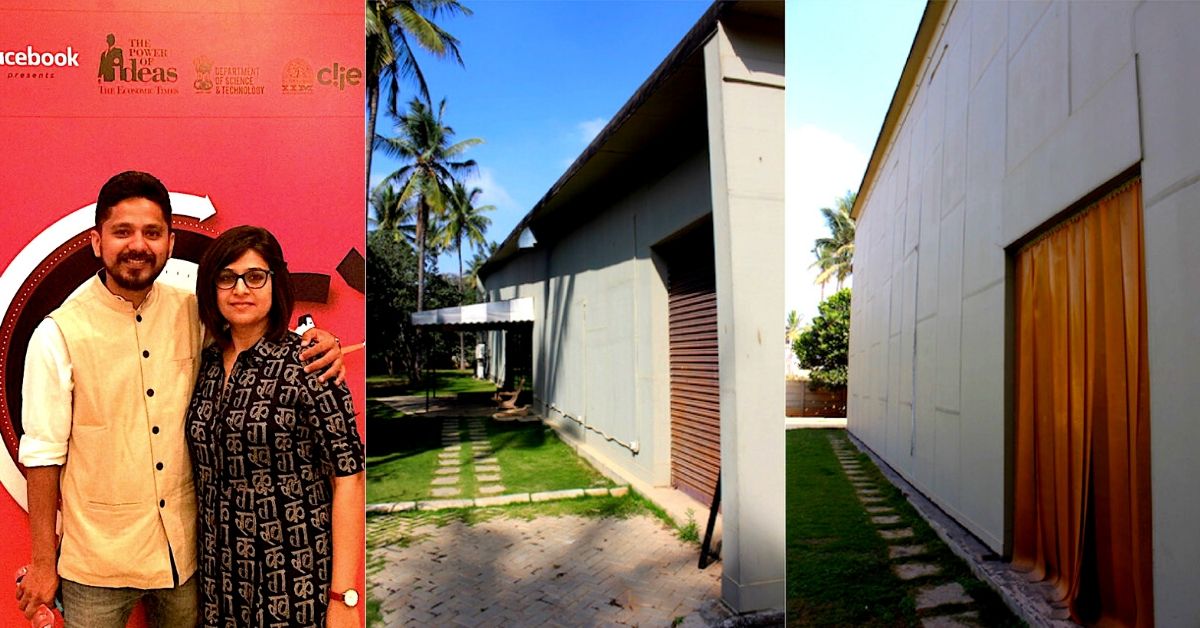 "If I had opted for conventional structure, it would've taken a lot of time and also more money. I haven't faced any kind of difficulty in terms of maintenance," says Singh, a happy customer.
Building a home entails all sorts of investments—money, time, labour and patience. We all want that 'forever home' we have always dreamed of and hence, we strive for perfection. But, in all this, we tend to forget that the gestation period puts a drain on not only your resources but also pollutes the environment with the kind of building materials we use.
How wonderful would it be to be able to reduce the construction time and at the same time, have a house that is friendlier to the environment?
Well, Hexpressions, a startup based out of Jaipur, has a solution to these problems. The start-up's ready to assemble green homes take about two weeks to install and what's even better is that the walls of these houses are made from recycled paper, making your house a sustainable structure. And fret not! These houses are fireproof and waterproof!
Founded in March 2018 by architect husband-wife duo Abhimanyu Singh and Shilpi Dua, Hexpressions has built six homes in total in Bengaluru and Jaipur using their sustainable technology.
"Since we use recycled paper, the carbon footprint of our structures is 80 per cent less than that of conventional ones," informs Shilpi, in conversation with The Better India (TBI).
Hexpressions and Their Special Building Techniques
The most interesting aspect about the houses of Hexpressions is that they are built using composite honeycomb sandwich panels and one sq. ft of these panels can withstand upto 100 kgs of load! That is how strong they are. Each of these panels are constructed using strips of sturdy recycled paper which are folded in a hexagonal shape and arranged like cells.
These hexagonal-shaped cells are sandwiched between two panels made from plywood or cement fiber boards. They use galvanised iron channels on the four edges of the panels to maintain shape and structure. Iron hollow pipes in rectangular and square shapes are also used in the installation. These pipes provide structure to the homes and the panels are slid onto.
"The triangle is the strongest shape if you look at it in construction terms as it holds its form. Now, a hexagon is actually made up of six triangles making it very sturdy. This technique has also been used in the case of commercial aircrafts using aluminium sheets as it makes the structure light but durable. It does the same for structures we build using this technology," explains Shilpi.
The firm gets these panels made locally. These structures are sound proof, shock absorbent and since these panels are very light, they can be assembled quickly.
Hexpressions' structures can be between 190 sq. ft to 400 sq. ft. at the cost of about Rs. 6 lakhs to Rs 10 lakhs and can go up depending on the size of the structure.
Customers and Queries
Sixty Six-year-old Kultar Singh is a retired SBI banker based in Jaipur who had bought a 2700 sq. ft plot with the idea to construct some small shops and rent them out.
"I already have six shops in the plot and there was enough space to construct one more. However, since this plot of land was near the main road, the construction process had to be quick as it would have blocked a section of the road otherwise. Which is why I started researching companies that would quickly construct the shop," explains Singh.
This is when Singh came across Hexpressions. Upon consultation, they informed him that they could install the 9 ft by 13 ft shop within three or four days.
It has been over one and a half years now that the shop was constructed. Singh spent somewhere between Rs. 80,000 to 90,000 in getting the shop built and gets a rent of Rs. 12,000 from that shop every month.
"If I had opted for conventional structure, it would've taken a lot of time and also more money in terms of labour and materials. I am very pleased with the shop as until now, I haven't faced any kind of difficulty in terms of maintenance," says Singh.
When clients approach the firm, they come with a lot of queries.
House made of paper? Economic Viability? Durability? Are some of the queries that Shilpi comes across often.
"People expect these homes to be economical and feel less convinced of the construction techniques. But, what we try to explain to them is that if you look at the time taken and the cost that one would save on labour and other construction materials, it is comparatively cheaper," says Shilpi.
Another concern that people raise is regarding the durability of the homes since it is made of paper. "But again, they don't understand that there is no oxygen between the cells which prevents it from catching fire. However, we waterproof the panels by dipping it in plant based water resistant resin. And, to fireproof it, we fill up these hexagonal cells with residues like fly ash," states Shilpi.
"Another good thing about these materials is that due to their lightweight, they can be easily transported across states and we send in our trained professionals who install these homes or shops," explains Shilpi.
Founders and How they Stumbled upon this Idea
Shilpi and Abhimanyu received their architecture degrees from the Aayojan School of Architecture in Jaipur in 2008 and have known each other since 2003.
Shilpi then went on to pursue her Master's from the School of Planning and Architecture in Delhi. While, Abhimanyu finished his Master's from the National Institute of Design (NID), Bengaluru. During this time, they developed a deep interest in using waste and recyclable materials in their line of work.
This was also the time they first learnt about composite honeycomb panels. "There was a man who had come to the NID campus and discussed its merits vis-à-vis conventional construction materials. He even urged us to visit his factory where these panels were being manufactured," recalls Shilpi.
After working in several firms, the couple started their own firm, 'Shilpkaar Designs' in September 2011 which works toward developing prototypes of different design products while experimenting with and researching on novel materials. During this time, they also came up with 'Studio Unzip'—a sort of guiding school where aspiring architects would learn ways to crack  entrances exams for B.Arch.
"In 2015, we realised that implementing our design and architecture among people living in Jaipur was a little difficult. We wanted to learn new designs that would appeal to the masses and also learn how to easily scale them," explains Shilpi.
"Studying in Milan really opened our eyes to design as the city itself has that environment. We wanted to stay in Milan for a while and see, live and breathe design which we ultimately did through the course and outside," reminisces Shilpi.
While in Milan, Shilpi noticed refugee communities and saw where they lived. Her PhD topic revolved around this subject and she started exploring different ways in which they could provide affordable and efficient housing for these communities.
This was the starting point of Hexpressions and their experience and knowledge about composite honeycomb panels led to the founding of the startup when they returned to India.
Recognition and Awards
They started out their venture by winning a grant after they applied to the Green Summer School's business incubator programme in Germany in 2017. Later, the startup also received support and guidance under IIM-Bangalore's incubator programme where about 100 women were selected and Shilpi was one of them.
Later, Abhimanyu Singh won the "Entrepreneur of the Year Award" at the Tie global summit held at New Delhi on Nov. 2018. Recently, they were selected for "Leaders in Innovation Fellowship" #LIF by Royal Academy of Engineers, London and represented India in the cohort in January this year.
So, what do the duo hope to achieve in the future?
Now, Shilpi is very excited about the furniture line that the duo launched a few months back. And, they want to use other green materials in their construction process.
"In the next five years, we want to build 500 houses across the country. We want our future generation to live in greener homes and reduce our carbon footprint," she says signing off.
(Edited by Saiqua Sultan)
Like this story? Or have something to share?
Write to us: contact@thebetterindia.com
Connect with us on Facebook and Twitter.
We bring stories straight from the heart of India, to inspire millions and create a wave of impact. Our positive movement is growing bigger everyday, and we would love for you to join it.
Please contribute whatever you can, every little penny helps our team in bringing you more stories that support dreams and spread hope.