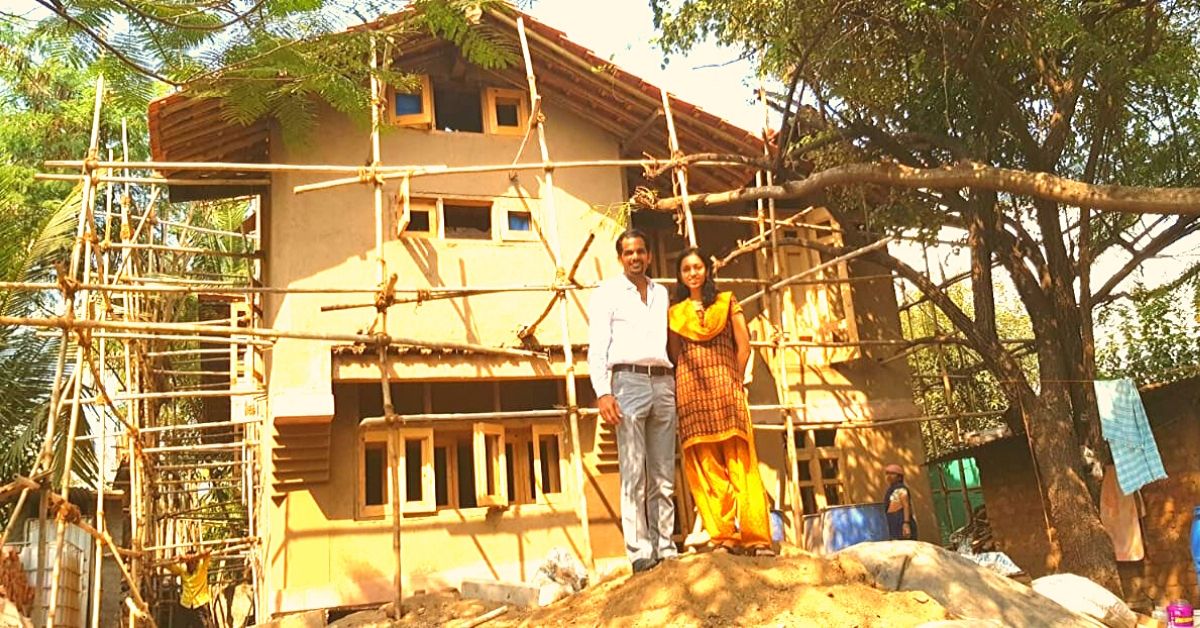 What we love? The fact that mud houses stay 13-14 degrees Celcius cooler than the weather outside, even in the peak of summer! #SustainableHomes #LiveGreen
In the Kothrud area of Pune city, Anvit Phatak and his wife Neha are just four months away from moving into their new two-storey mud house.
"We had a plot and were planning to build a house. That's when we learnt about mud houses, that promised sensational things like breathable walls, low maintenance requirements and use of natural materials. When I heard a modern architect speak about it in detail, my confidence grew," says Anvit, the Principal of a private school in Pune, to The Better India.
While some families build mud houses in places away from the city for their weekend getaway, this was not the case for the Phataks.
"We had to build our first home in the middle of Pune. There were funny reactions from people when they first heard about this idea. But we were serious about this endeavour, did some research and eventually discovered that this was doable," recalls Anvit.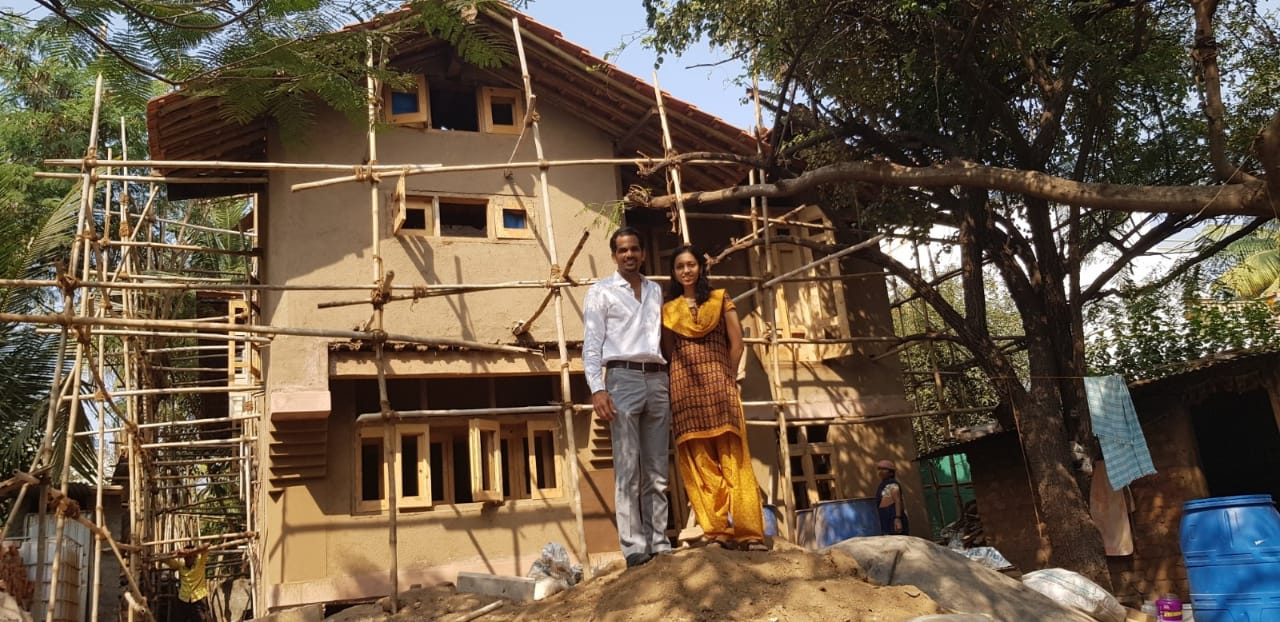 Natural materials, minimal cement Anujna Nutan Dnyaneshwar, the architect behind the mud house, has previously built three similar homes in Maharashtra and is full of praise for her clients who did their homework before approaching her.
"My clients were looking for people trained in making them and heard of my work. But they also spoke to other natural builders and architects to understand all the facets of earthen buildings, its pros and cons and what lifestyle changes they had to make while living in such homes," she mentions.
"All the living spaces are built with sun-dried adobe bricks that also make up the home's load-bearing structure. We have used reinforced concrete (RCC) beams to transfer the load of the structure on the walls, but not used any RCC or any other additives in the walls itself. The walls are just made of mud and rice husk. Delving further, the foundation is done with stone and mud, while the roofing is done with timber and bamboo with Mangalore tiles," she adds.
The only part that required cement was the area above the ground and below the adobe walls. It contains a two feet-stone wall put together with cement. At the top of the door and windows, there is one RCC band which uniformly transfers the load to all the mud walls.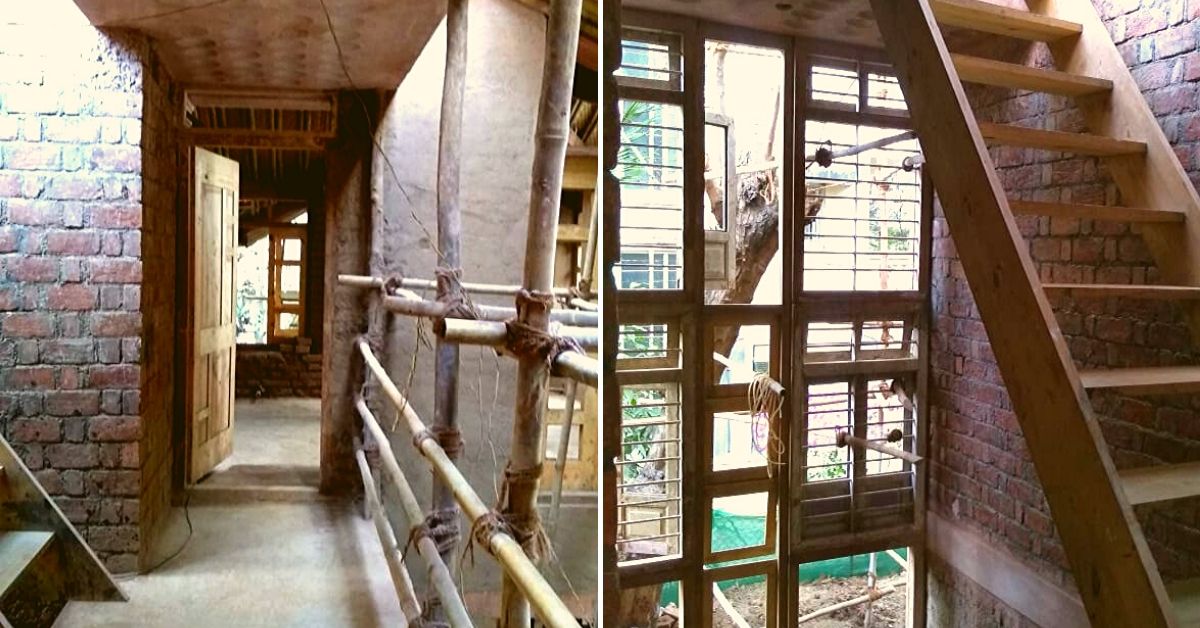 "This also allows us to make bigger openings for windows and doors, as opposed to the traditional load-bearing structure. We have just added a little RCC element to change this facet. It's not a zero cement construction, but saves up on a lot of cement or industrial material which is replaced by eco-friendly materials," she states.
Backed by a modern design, the mud house can accommodate most urban facilities like a microwave, fridge, and washing machine that one would require to stay in the city.
Toilets are built with baked bricks in cement mortar. But the brickwork is done using a 'Rat Trap Bond' method.
"The Rat trap bond method is a brick masonry method of wall construction, in which bricks are placed in a vertical position instead of conventional horizontal position and thus creating a cavity (hollow space) within the wall. Architect Laurie Baker introduced it in Kerala in the 1970s and used it extensively for its lower construction cost, reduced material requirement and better thermal efficiency than conventional masonry wall," says Earthbound Architecture, a Maharashtra-based practice.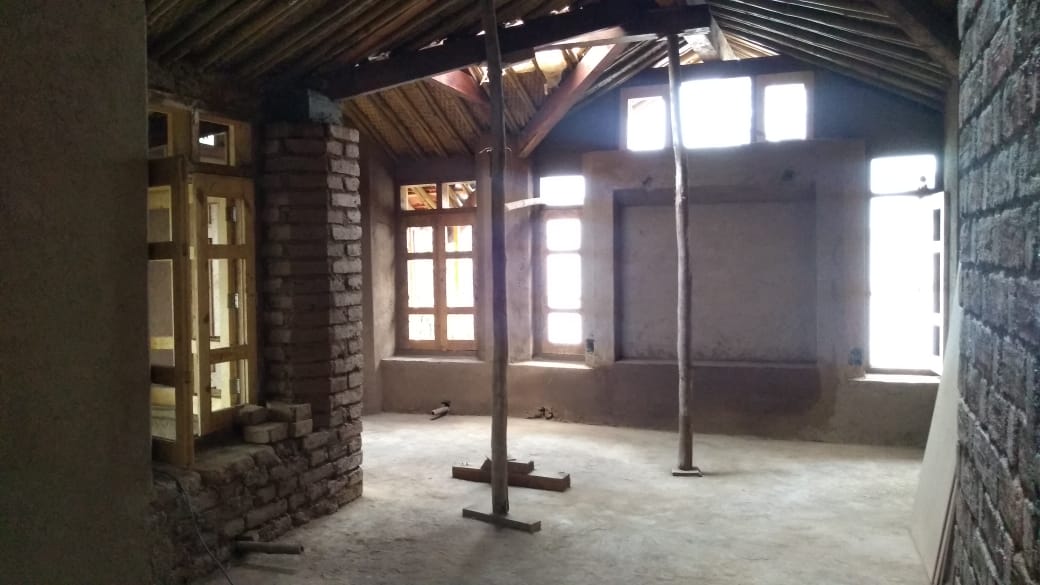 Quality & Adjustments
The Phatak's home is a three-bedroom structure across two storeys instead of three taking into consideration the load-bearing capacity of the material used. Altering or expanding the house isn't a serious possibility, and the owners have accepted this fact, claims Anujna.
Mud walls have been built to replace the massive amount of bricks and cement that usually goes into the masonry.
"The mud we use is highly insulating in terms of thermal comfort. Spaces inside stay much warmer in winter and much cooler in summers as compared to any other thinner walls. My clients were aware that the walls here are going to be thicker (1.5 feet thick walls) than normal urban construction," says Anujna
She also adds that they were willing to compromise on the amount of carpet area they would get from the house and instead chose a structure that would be naturally comfortable without air-conditioners or fans.
Anujna is very clear that you don't need fans living in these mud houses during summers. It does take a little mental adjustment because many of us have lived with fans and ACs all our lives. But once you get comfortable at that temperature, you don't need mechanical ventilation.
Explaining the reasoning, she says,
"During summers in Pune, having a ceiling fan makes little sense because the air is always warmer in the ceiling area. Pushing that air down on someone sitting in the middle of the room is counterproductive. Maybe for the one month of peak summer, you can have a standing, movable or table fans close to the window to enhance the breeze and further cross-ventilation. That would be enough," she claims.
Going for natural construction material over conventional cement structures also meant lower costs on construction material while greater pay for workers.
"Suppose you spend Rs 100 each on a conventional building and natural building. In a conventional building, 80% of your cost goes in materials. In other words, Rs 80 is going to the steel and cement companies, while only Rs 20 is going to the labourers. With natural buildings, this equation is reversed. Since the material you need is harvested naturally, you don't need to pay a significant price for it. In contrast, the cost of utilising that material and making a house of it rises significantly. Essentially, you are spending Rs 80 on masons, labourers and carpenters, and Rs 20 on the material you're buying," says Anujna.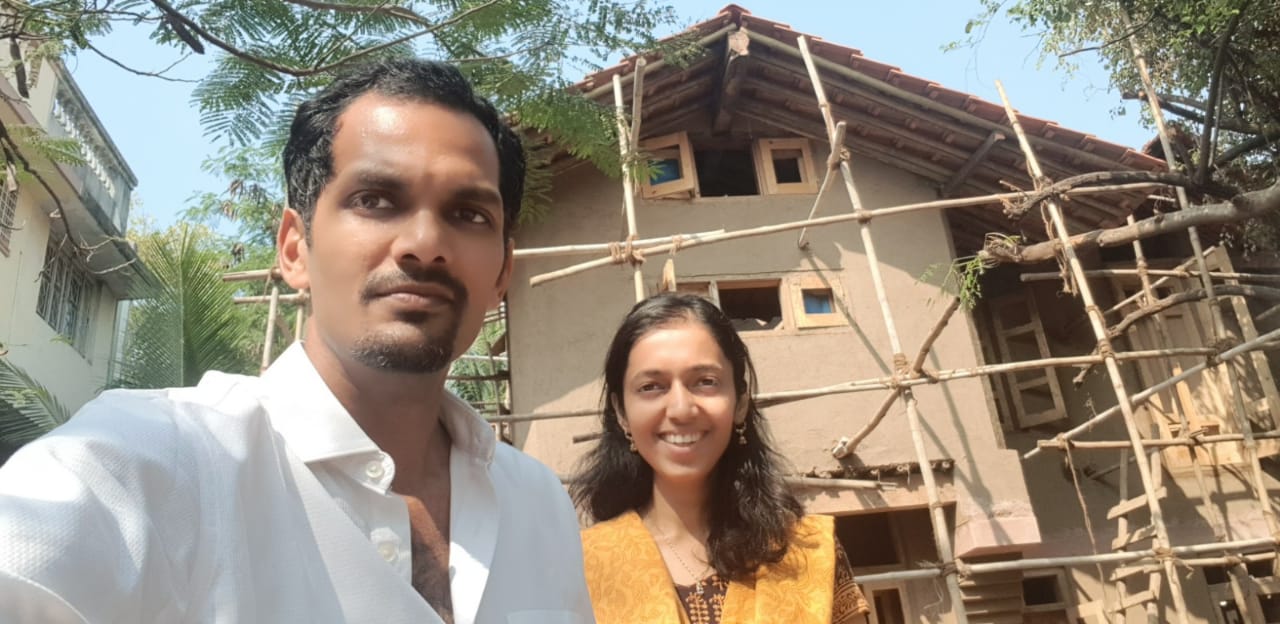 For the Environment & Yourself
Through our recent articles on green architecture in The Better India, we have gone onto address the deleterious impact architects and the concrete structures they build have on the climate and nature. As citizens and clients, we needed to take responsibility for the carbon footprint we leave behind in building homes and other structures.
It's down to each family or household building new homes to make decisions that are conscious of the environment we live in and people that are not as privileged. It's our job to make every lifestyle-related decision with as much awareness and understanding of the gravity of the situation, and that includes what sort of houses and workspaces we live in.
The more we expose ourselves to natural materials, the better it is for us and the planet.
"However, I also realised that natural buildings have their own unique aesthetics that cannot be obtained using industrial material. Natural materials have their own look, feel and smell. The feeling you have been living in that space is not replaceable. While working on mud houses, I fell in love with the aesthetics of natural material," says Anujna.
Anvit, meanwhile, is looking forward to the everyday changes that will come with living in his new home.
"Living in a home with breathable walls is going to be different. It seems like we won't have to sweep the mud floor, and there will be different routines for cleaning. We aren't going to have fans hanging from roofs. Our kids will be sharing their room since we don't have the option to expand the house further. We won't be hanging stuff on the halls, while the house will carry a mud look while our ceiling will have a fascinating skylight," he says.
He adds that the family is aware of the lifestyle and perspective changes that they will undergo, but don't see them as compromises, but opportunities to open themselves up to new possibilities.
If you're willing to incorporate these changes to your daily routine, why not build a mud house as your next home? The choice is always there.
---
Also Read: Without Steel Or Cement, This Architect's Recyclable Homes Will Last A Century!
---
(Edited by Gayatri Mishra)
Like this story? Or have something to share? Write to us: contact@thebetterindia.com, or connect with us on Facebook and Twitter.
We bring stories straight from the heart of India, to inspire millions and create a wave of impact. Our positive movement is growing bigger everyday, and we would love for you to join it.
Please contribute whatever you can, every little penny helps our team in bringing you more stories that support dreams and spread hope.