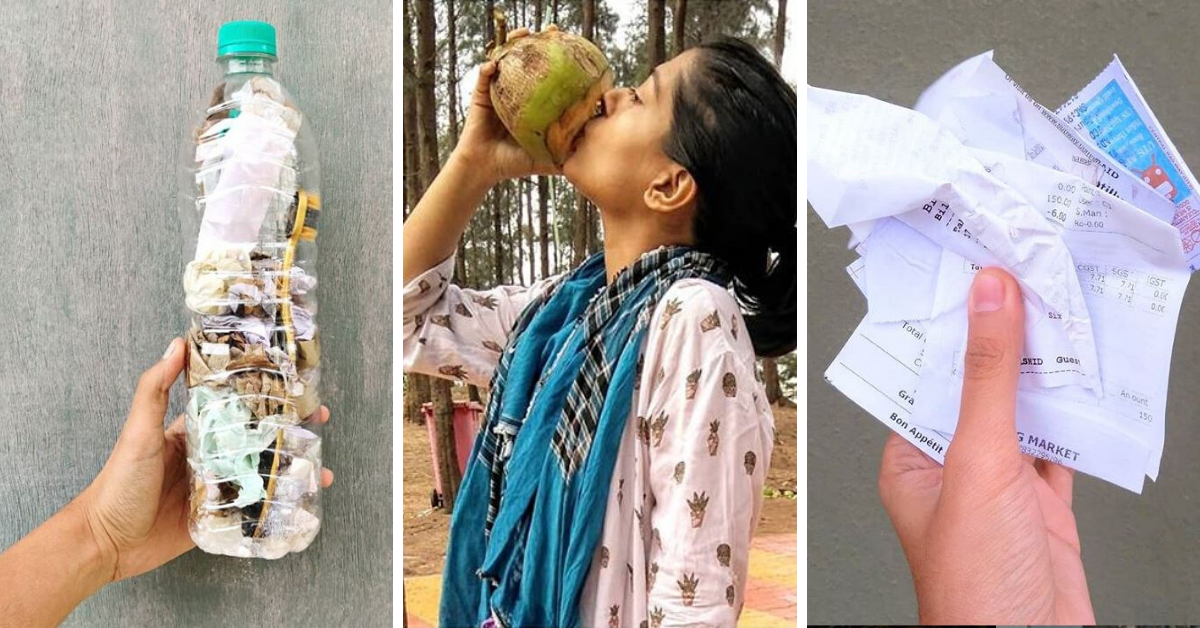 23-year-old green influencer Mrudula Joshi shares how to be green without losing all your friends!
We often receive emails from our readers, asking doubts about their experiments with sustainable living. So, here's a section dedicated to you – TBI's 'Green Influencers' where we reach out to influencers and ask them about their sustainable journey and the mistakes they've made.
---
This week we reached out to Mrudula Joshi @ullisubymrudula, a 23-year-old lifestyle consultant, who started her Instagram page as a journal to keep track of her sustainable journey.
In two years, Mrudula has taken on many eco-conscious challenges like #PlasticFreeJuly, #Veganuary and #NoStitchSeptember and has sparked interest in many of her followers to follow the same.
"When I put up posts and stories about my lifestyle, I become more accountable to my followers. I get to encourage them to adopt sustainable methods, and their acknowledgement keeps me going!" says Mrudula. 
Like many of us, Mrudula has struggled the most in social situations when she was offered gifts and clothes from her loved ones.
"When someone's offering you a gift, you can't refuse it. So in situations like these, I'm quite helpless. Although, since all my eco-conscious efforts are on social media, a lot more people know about it and my friends and family have become more careful about the things they get me," says Mrudula.
She adds how taking the effort to convey her intentions to her friends also helps them better understand her.
She adds, "Once, I went to my friend's house for a sleepover, and she forced me to wear a Korean face mask. I tried telling her about my eco-conscious efforts, but after a point, I gave up. Later on, I took the time to explain to her what I was trying to do and she understood."
As part of her professor's research, she had taken up the #NoStitchSeptember Challenge where she opted for drapes instead of stitched clothes to reduce carbon footprints.
"It was quite a nerve-wracking challenge. I encountered a lot of stares and questions. But a lot of people appreciated the effort that I was putting into creating a no-stitch wardrobe. The whole idea was to see if we could avoid fabric waste, and I think I did a pretty good job," Mrudula laughs. 
So how did she do this?
She made dresses, tops, skirts and sarees from drapes. The pursuit brought out her creative side and the best part was that these styles were apt for all body shapes and sizes.
"It's really important for me to take up these challenges so that I become more aware of my actions. And through this process, I make sure I document my mistakes as well," she shares. 
Mrudula has also posted a series of story highlights tagged as 'Shit Happens' on her profile, where she shares all the times she diverted from her sustainable lifestyle. This keeps her real and her efforts, relatable.
Mrudula constantly shares tips and tricks for green living on her page, so if you're looking for ways to start your sustainable journey, remember to check out her profile on Instagram. Do keep in mind that it's okay to make mistakes as long as you keep going. 
---
Also Read: Green Vs Fraud: How Eco-Friendly Is Vegan Leather?
---
If you have questions about living a sustainable lifestyle or know someone leading one, do reach out to us at contact@thebetterindia.com.
(Edited by Shruti Singhal)
Like this story? Or have something to share? Write to us: contact@thebetterindia.com, or connect with us on Facebook and Twitter.