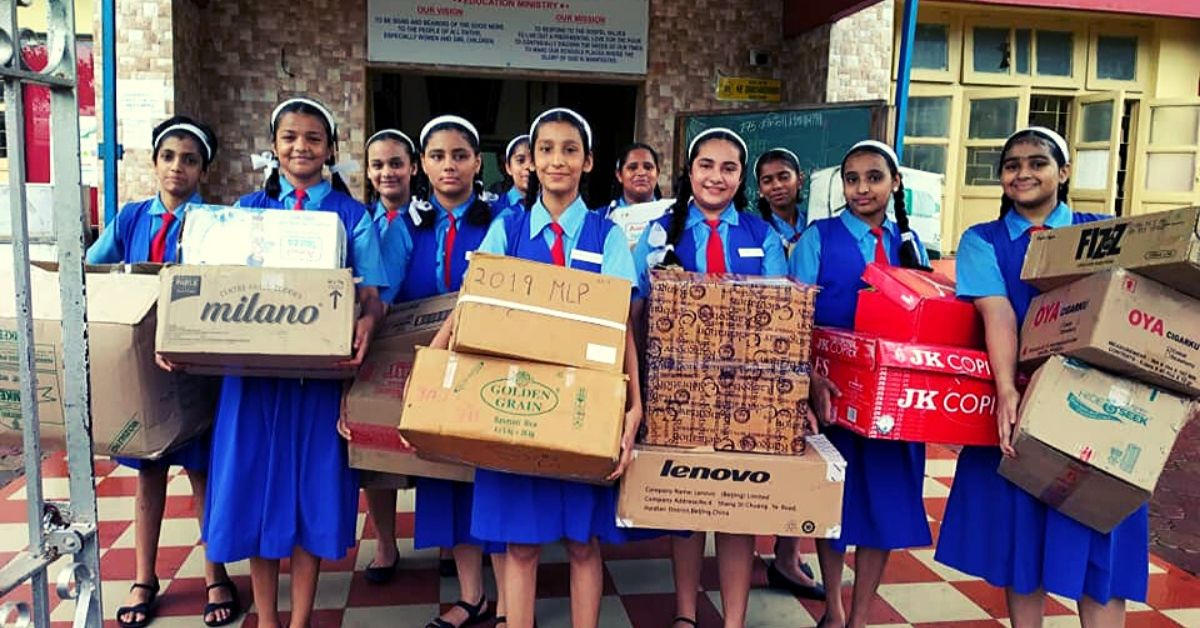 Running in more than 180 schools for the last year, it has collected and prevented more than 22 lakh multi-layered plastic packets/sachets from exhausting landfills!
Glenn is only nine-years-old. But if you speak to his father Godwin, he will tell you how much of a stickler for cleanliness this little man is.
Each time Glenn hears the rustle of a packet of crisps, wafers, or any snack, his ears perk up. He runs to the source of the sound and waits. Not to polish its ingredients off, but to collect the empty packet/wrapper.
A ritual follows.
He cleans the empty multi-layer packing (MLP) material with a wet and dry cloth. He then neatly folds it and puts it in a bigger bag, which is full of similar packets that he collects for a week to take to school each Friday.
Strange?
Glenn isn't the only school-going MLP waste soldier. There are 50,000 students like him across Mumbai, Delhi/NCR, Gurugram, Almora, and Dimapur, who diligently follow this practice every week.
And they are all account holders in a unique bank which collects hazardous non-recyclable MLP waste—the Safai Bank of India.
Running in more than 180 schools for the last year, it has collected and prevented more than 22 lakh multi-layered plastic packets/sachets from exhausting landfills!
What are MLPs and why are they hazardous?
MLPs or multi-layer packing materials are made up of one or more layers of plastics which enclose a thin layer of aluminium. Commonly used in the packaging of chips, biscuits, toffee wrappers, etc, these are non-recyclable.
To tackle this, Safai Bank sends it to the cement industry where it is burnt in kilns for co-processing and used in construction.
The MLP which has a high calorific value acts as a substitute for coal during co-processing in a small way. When MLPs are burnt above 1,000 degrees in cement kilns, harmful emissions like dioxins are not released.
At a dumping ground, on the other hand, when MLP waste mixed with other types of waste is burnt, the temperature is much lower and produces dioxins. Dioxins, apart from polluting the environment, are known to cause adverse health effects, including hormonal imbalance, infertility, and cancer.
So how did the idea of the Safai Bank of India come about?
The brainchild behind the initiative run by NGO Mumbai Sustainability Centre is city-based environmentalist and waste management expert, Rishi Aggarwal.
Working closely in the cross-section of environment, government and public policy, Rishi started his activism journey in 1995. He contributed towards the drafting of the Solid Waste Management Rules 2016 and has been advocating extended producer responsibility (EPR) for more than a decade.
Speaking to The Better India, Rishi recounts how Safai bank came about.
"I was working on an eco-restoration project in Uttarakhand. For many of us in the waste management sector—it is a pilgrimage to go to the dumping ground of any city we visit. The immediate sight there is the enormous pile of MLP waste. While rag pickers pick up other kinds of plastics that have a market price, MLP continues to mount. If there is a fire, it will go up in smoke and release dioxins. In cities like Mumbai, being lightweight, it flies into the sea. It is consumed by marine life or washed ashore by the sea during the monsoons. Once it has made headlines, it goes back to the dumping ground, and the never-ending cycle continues. It doesn't decompose. It just stays there."
When he visited the beautiful villages in Uttarakhand, he noticed MLP waste littered on the roads. So he started collecting it and bringing it back to his hotel room at the base camp. After one particularly tiring field day, an idea struck him as he carried the bag of MLP waste.
"I had a brainwave that night. A 'Eureka' moment when I saw the State Bank of India board and the bag full of MLP waste in my hand. What if I created a bank that collected this waste? I returned and shared the idea with my team to wholehearted support."
And so, the Safai Bank of India initiative opened on 5 April 2018.
Friends and colleagues like Ashish Mehta, Namita Mohandas, Chaitanya Dhareshwar (who set up the website and IT system) assisted him pro bono. Manoj Motiani helped with the logo, posters and communication.
"We began targetting school and college-going students who were the most likely consumers of the snacks packaged in MLPs."
How does it work?
If you visit their website, it works as an internet banking portal where you can register as a branch/city coordinator or an account holder.
In this case, an account holder refers to students/schools/colleges, who can log in and enter the number of wrappers they have collected. The system allows them to keep a real-time check on the MLP collected and the impact created.
Schools can sign up all their classes for participation. Each division/section is assigned a monitor who is responsible for the MLP collection of that class. Following a standard operating procedure, students are taught to wrap up MLP in less than 15 minutes, which they collect during the week.
Every Friday, students bring their waste collection and give it to the class monitor to keep in the larger carton, who maintains the account of each student's collection.
The branch coordinator and manager add the waste collected from all the sections and classes of the school. When this number reaches 10,000, the Safai Bank of India sends a vehicle for collection and co-processing.
Why don't they collect other kinds of plastic?
"The other kinds of plastic in the market has a monetary value. We do not want to compete with the rag pickers or snatch their source of livelihood. So we focus on MLPs."
Having interacted with FMCG industries, Rishi says there is no other cost-effective alternative which comes close to the pricing and weight to strength ratio of MLPs.
Why co-processing and not recycling?
"Why not?" asks Ravi, adding, "Even when you recycle it into products like bags, purses or tiles, what happens when the product reaches its end of life? It goes back to the dumping ground, right? Isn't destruction a better option then?"
How is the initiative funded?
While the initiative continues to make heads turn with its collection of 22 lakh MLPs, Rishi adds how this is only a small number. He feels that this amount can be collected in a week if the initiative is supported by the government or players in the FMCG industry.
Ahmedabad-based Nepra Foundation played an instrumental role in all transportation and disposal costs; it is also paying the salary of the current project manager who handles 100 schools.
Mumbai's JSW Foundation has also been supporting the initiative in all its schools and bearing the salaries for three community officers who overlook 70 schools. It also enables other integrated-waste management projects for villages.
Together, both foundations have contributed Rs 10 lakh.
"500 packets of MLP make one kg, with each kilo being priced at Rs 8-10. If you do that math, 4,400 kg of waste that we collect will earn a market price of Rs 35,200, whereas the money spent in the entire collection and disposal is over Rs 3 lakh per year. The dedicated students and schools keep us motivated to move forward, but sustenance is difficult. So our focus is on funding and scaling the initiative."
While the FMCG industry and the government are yet to support this cause, a phenomenal response came from students.
"In schools, several parents walk up to teachers asking, 'What is this initiative you are running? Every time I open a packet at home, my child is not interested in the biscuit, but the wrapper. They grab it, put it into a bag and collect it. It left us energised'."
Rishi adds, "These children know how much waste they are collecting annually. Our next step is to tell them to cut down the consumption of these junk MLP packaged foods. We might be called a bank, but we don't mind bankruptcy because that would mean that children are eating healthy and generating less MLP waste."
24-year-old Priyanka Pakhare, who holds a masters degree in Environmental Sciences, started working with the Safai Bank of India in November 2018. She handles collection and activities with 100 schools.
"When I first started, our collection was low. But after collaborating with NGOs such as GreenLine, WWF, RUR GreenLife, and R Nisarg, we reached more students. We set benchmarks for collections and started felicitating students/schools with certificates. Today, these children are changemakers, making their parents and communities aware of the harmful effects of MLPs and reducing their consumption."
Kusum Madhushukla, the branch coordinator for Surajba School in Jogeshwari, Mumbai, says, "Greenlife introduced our students to the collection of MLPs and connected us with the Safai Bank of India. Today, residents in the locality also dump their MLP waste in a bin at the school gate. We also have dustbins on all floors now. The enthusiasm of the students is unmatched, and it is teaching them to take full responsibility for the waste they generate."
Priya Naik, from Children's Academy, Ashok Nagar, Kandivali East, says, "We started the initiative in our school the last academic year after I came across it on Facebook. Our school is already involved in segregation and vermicomposting. The response from students from classes 4-8 was amazing. Even when we went on a picnic, the children collected the MLPs littered by other visitors and none of them threw a single wrapper on the ground. This year, we have kids from younger classes becoming active foot soldiers. It is amusing how they tell their parents not to throw the MLP waste away, but to collect it because their teacher said so."
"The Zoology department at St. Xavier's College and Jhunjhunwala College Ghatkopar are beyond compare," says Rishi.
---
Also Read: Meet the 68-YO Mumbai Woman Behind 20 Zero-Waste Societies
---
As he concludes our discussion, Rishi highlights a pain point. "In a city where the corporation gives thousands of crores of rupees to contractors to dump waste and create a problem, it is heartbreaking when it does not extend support to an initiative that could save our landfills from non-recyclable waste. We have active inquiries from several cities but do not have the financial backing or bandwidth to support them. If someone could come forward to support the salaries of the green workers and pay for transportation, this idea could be replicated across the country. Imagine the magnitude of change if we had 1,000 Priyankas for 10,000 schools and reached 50 lakh students from the current 50,000!"
If this story inspired you, write to the Safai Bank of India at info@safaibank.org or visit their website.
(Edited by Shruti Singhal)
Like this story? Or have something to share?
Write to us: contact@thebetterindia.com
Connect with us on Facebook and Twitter.
Tell Us More
We bring stories straight from the heart of India, to inspire millions and create a wave of impact. Our positive movement is growing bigger everyday, and we would love for you to join it.
Please contribute whatever you can, every little penny helps our team in bringing you more stories that support dreams and spread hope.