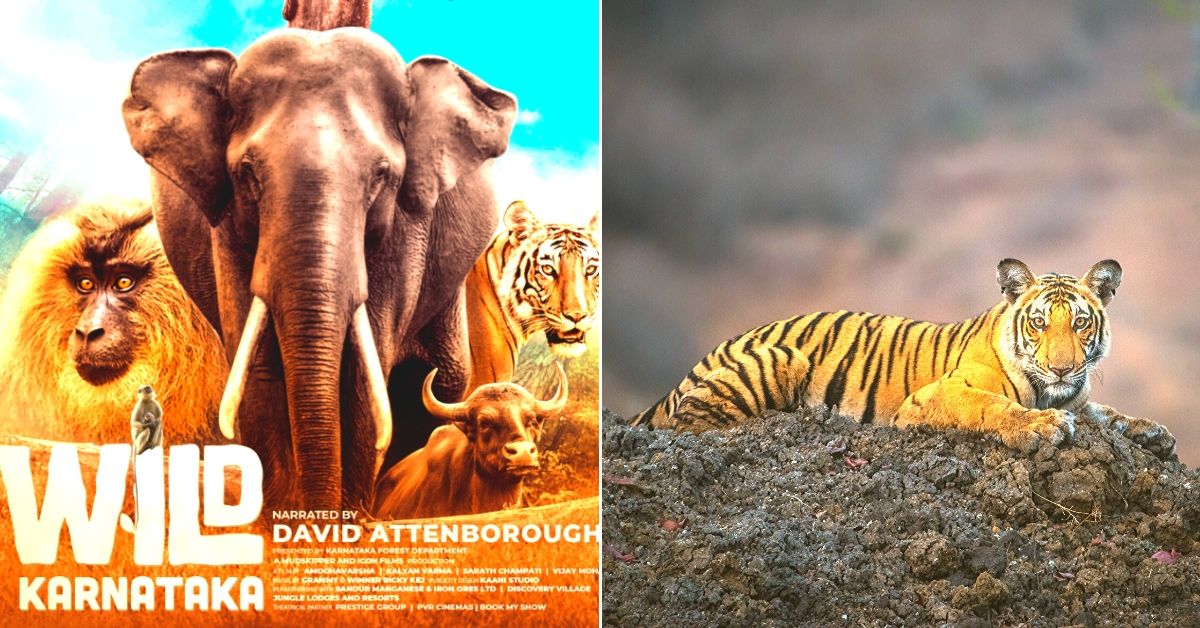 With narration from the iconic Sir David Attenborough, music by the Grammy Award-winning Ricky Kej, and cinematography by world class wildlife filmmakers from India, 'Wild Karnataka' will take your breath away.
Baba Dioum, the famous Senegalese forest engineer and conservationist, once said, "In the end, we will conserve only what we love, we will love only what we understand, and we will understand only what we are taught."
This is an approach that drives many wildlife conservationists.
But how do you get ordinary citizens who aren't invested in wildlife conservation to care about other sentient beings inhabiting our incredible planet?
This is precisely the question that the Karnataka Forest Department is looking to answer through India's first blue-chip natural history film called Wild Karnataka, scheduled for a full-fledged theatrical release on 17 January 2020.
Backed by stunning visuals showcasing the breathtaking natural wildlife of Karnataka, this 52-minute film hopes to evoke feelings of awe, love and eventually, understanding about natural wonders among everyday people, wonders that exist in their own backyard.
With narration from the iconic Sir David Attenborough, music from Grammy Award-winning composer Rickey Kej and cinematography by a world-class team of Indian filmmakers like Kalyan Varma and Amoghvarsha JS at the helm, Wild Karnataka hopes to get more ordinary Indians invested in wildlife conservation.
"There is a general consensus in the wildlife conservation community that awareness holds the key. If I have to tell you about needing insurance for your house, you need to know why. You need to know what you are insuring, what you are getting insurance for, and what is the value of the house, etc. In the context of wildlife conservation, a small section of the population understands the answers to these questions. But there is a large percentage of this country which is not even aware of what biodiversity lives in our backyards," says Amoghvarsha JS, in a conversation with The Better India.
Mainstreaming wildlife films/documentaries
Wildlife documentaries have mostly been shown in confined spaces like schools, colleges or seminars. If you open a blue-chip documentary like Wild Karnataka to an audience not invested in wildlife conservation through multiplex screenings, you have a shot at making them care about these things.
For example, I've only seen a tiger in the wild once during a school excursion to Nagarhole National Park. That image of a tiger in full flight has never left me. It's the image that got me invested in stories or initiatives related to tiger conservation.
"See, you can't expect people to save the tiger unless they care about it. The first step is to help people fall in love with nature. Once you do that, they will automatically care for it. People from Karnataka should take pride in their wildlife. We all know wildlife is under threat in India. This film will help people get in line with conservation. When the time comes, they will step up to save a particular species of animal or a patch of forest," said Kalyan Varma, in an earlier conversation with The Better India.
Any landmark moment in human history, whether it's the abolition of apartheid or slavery, or the dawn of the feminist movement, began with a change in consciousness. Take the plastic ban, for example. Why did people decide to participate in it even though it's hugely convenient and has a massive economic lobby behind it?
It was awareness about plastic's debilitating effects on the environment and the consciousness that it's our responsibility to address the problem urgently.
"Our animals don't come out in protest when their habitats are under danger. Who can be their voice? Us. We have to take the message of wildlife conservation to the masses because they don't have access to quality documentaries, talks, podcasts, or reading material. Pursuing wildlife filmmaking, visiting national parks and going on safaris is expensive and time consuming. What is the quickest and cheapest way we can bring this experience and build a sense of wonder and awe, particularly in children?" asks Amoghvarsha.
In the age of digital media, where content is constantly consumed, the makers have a very special opportunity to tell this story.
The first step towards mainstreaming wildlife conservation is a change in consciousness. Amoghvarsha is a product of David Attenborough's films, and he is making films today. There are researchers, conservationists and lawyers battling against illegal encroachments or poaching, and they are all the products of the media they have consumed.
If even a fraction of those who watch this film are inspired to work towards wildlife conservation, the makers have done their job and proved why it is so important for quality wildlife documentaries to go mainstream.
Further democratising the process
Working as ace wildlife photographers and filmmakers, Amoghvarsha and Kalyan Varma have travelled the world working for a whole host of notable international publications and production platforms, including National Geographic. But although their work did get broadcast internationally, it wasn't readily available in India.
"It was a shame that we hadn't made a documentary about our own state or backyard. There were questions surrounding funding, acquiring permissions to shoot, and logistics, among other things. There was no precedent for the work we were doing for Wild Karnataka. This is the first Indian wildlife documentary to go on the screen as a full-fledged release like a Bollywood film," says Amoghvarsha.
Fortunately, the filmmakers had the backing of the State Forest Department, particularly with logistical assistance and sponsors who bought into their vision.
"We have also made a Kannada version of this film, and the plan is to showcase it in rural areas. Our objective is to reach about 50,000 schools. So, while the world can see our work on various platforms, even children studying in villages can watch and relish it. At the same time, we want regular people to go to theatres and watch it with their children and families. This is a classic family entertainer," says Amoghvarsha.
Most wildlife documentaries are in English. Children studying in local government schools across small towns and rural areas can't access these documentaries and find them hard to understand. For the Kannada version, therefore, the team has roped in famous Kannada actor-director Rishabh Shetty. They have started running pilots in these schools, and the first cycle of their outreach will include 5,000 schools. For audiences outside cities like Bengaluru, it's critical to present these films in the vernacular.
Memorable moments built on a unique narrative
There are extraordinary moments in this film, including the sight of otters chasing away a tiger at the Kabini Wildlife Sanctuary. Many of us understand wildlife in the context of predator and prey, but the animal kingdom is a lot more complex.
In the film, there is a remarkable sequence where a sambar deer fends off a pack of wild dogs to protect her young ones. The sight of an underdog taking on a pack of predators and a mother protecting her young ones presents core human experiences as well.
"We have adopted a very different narrative style in this documentary. Rather than talking about it as a wildlife documentary, we want it to be seen as a family entertainer. Instead of a time pass Bollywood flick, take your parents or kids for this incredible visual experience and come back with some knowledge. If people loved Jungle Book, they will love this visual experience even more because the animals are real," says Amoghvarsha.
The makers don't want this to become merely a niche film for wildlife lovers. There are around 20 sequences in the film, whereas a typical wildlife documentary will not have more than 12-13 detailed ones that address animal behaviour. In Wild Karnataka, you'll see a new animal every two minutes and something is happening all the time to keep you engaged.
These 52 minutes should just fly by. In fact, Amoghvarsha tells us that he had to keep reminding their post-production partners that this film is for people who haven't really seen wildlife before.
At the end of the day, however, it's about telling a good story.
In funnelling over hours of footage measuring 60 TB of data into just 52 minutes, the makers of this unique film hope to tell a story that will not only influence future wildlife conservationists but also usher in a generation of filmmakers and photographers who will document the earth's natural beauty for decades to come. With their work, more people in the future will care and the wonderful cycle of wildlife conservation will continue.
"My mantra for youngsters wanting to get into wildlife filmmaking is simple. Start with what you have. There are fantastic mobile phones with which you can shoot a full film. People have this impression that wildlife media is an expensive affair. It's not if you're willing to put in the time. Bengaluru, for example, has many parks with plenty of flora and fauna. Pick a story and a subject that is easily accessible because it's not about the equipment, but how you tell a story. If you're good, others will notice you. If Wild Karnataka succeeds in capturing the attention of mainstream audiences, then one day, you could also be that person awaiting the grand release of your film at multiplexes across India," he says.
(Edited by Shruti Singhal)
Like this story? Or have something to share? Write to us: contact@thebetterindia.com, or connect with us on Facebook and Twitter.
We bring stories straight from the heart of India, to inspire millions and create a wave of impact. Our positive movement is growing bigger everyday, and we would love for you to join it.
Please contribute whatever you can, every little penny helps our team in bringing you more stories that support dreams and spread hope.