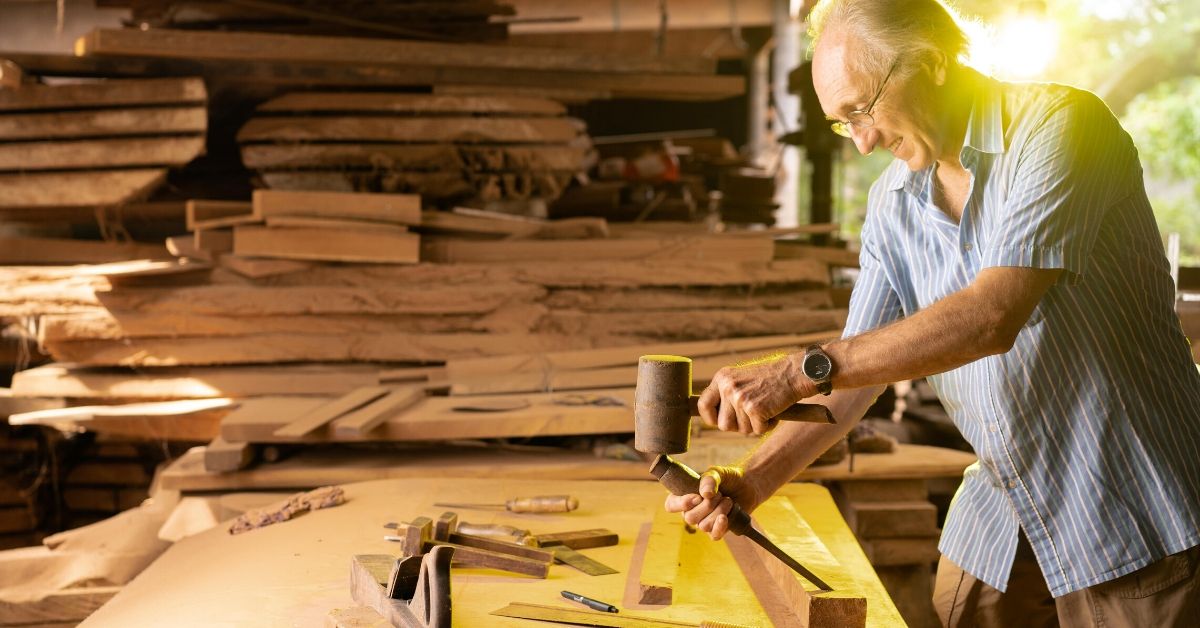 If you've ever wondered where to indulge a curiosity for carpentry, your chance is here.
After conducting bamboo workshops in the quaint neighbourhood of Auroville for six years, Belgium woodworker and master carpenter Walter Van Asshe is conducting a wood-workshop in the township.
Addressing both theoretical and practical aspects of furniture making, the workshop will introduce participants to concepts such as woodcarving, woodturning, tensegrity and joinery.
Divided into two parts, the three-day workshop will focus on carpentry and furniture making. Asshe claims that it will be an interesting exercise for aspiring architects or anyone above 15.
And can they take back what they create? Asshe chuckles, "They usually ask me this question before each workshop. And I say 'yes'. But when the final product comes to life, they invariably leave it behind because of how big and heavy it is."
He points out that you are encouraged to take back the smaller household items such as cups and bowls, though.
Among all the things that he will teach, the ones that catch our fancy are the truss (the framework of a roof), stool, bookcase, table and cupboards.
What's more is that you get to stay in acres of peace and quietude, right in the heart of the verdant Pitchandikulam forest in Auroville. This is also where the woodwork office is based.
The objective of the workshop, Asshe says, is to teach participants the basic methods and to cultivate love and appreciation for carpentry. Besides, it also enables one to build confidence, strength of character and problem-solving capabilities that can then be used in other areas of life.
The expert's love for Auroville goes back a long way; he worked alongside Roger Anger, the then chief architect of Auroville, when he started to dig the hole for Matrimandir. As fate would have it, he left Auroville in 1990, only to come back again for good in 2010.
Asshe says it's a great initiative because of how eco-friendly and sustainable it is, "We upcycle wood left behind from the 2011 cyclone Thane that had wiped almost 50 per cent of Auroville. We still have a lot of wood from the cyclone that help make furniture, and the reason why it's called 'upcycling' is because there is no manual felling for fresh wood. Additionally, wood is sourced from old houses where it is first made into planks, and then reused again as seasoned wood."
Even at 72, Asshe has the energy and zeal of a younger person. It shows in his work, and in the twinkle in his eyes when he talks about his craft.
When asked why he chose carpentry over any other thing that he could do at his age, he quips, "Because wood is concentrated solar energy. When we burn down a tree, all we see is ash on the ground which represents the material content, whereas the other elements of nature such as water, air and fire constitute the larger part of the tree. When you work with wood, you are working with a piece of life."
But what made him design a carpentry workshop?
Asshe immediately answers—the demand. He says he's had about 7,000 people participate in his bamboo workshops over the last six years, who are now asking for his guidance on building with wood. People want to be involved in the process of building furniture for their homes at the root level—and what better way to do it than to sign-up for a proper workshop. He adds that four and six day workshops are also in the pipeline.
---
You May Also Like: 4 Sustainable Fashion Gurus Who Have Dropped Fast Fashion in Style
---
If you're headed to Puducherry, we highly recommend this workshop!
(Edited by Shruti Singhal)
Like this story? Or have something to share? Write to us: contact@thebetterindia.com, or connect with us on Facebook and Twitter.