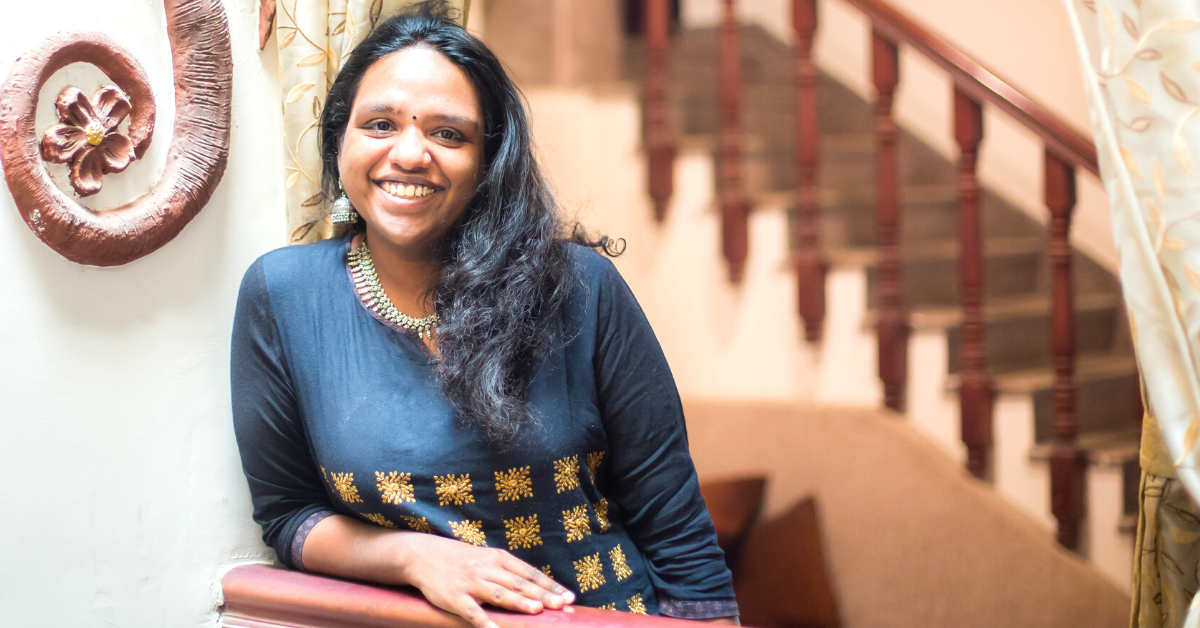 "However, it was only when I went abroad that its benefits dawned upon me. Perhaps going far away was what made me realise its potential."
One of the earliest memories of an ancestral home I visited in Kerala was the red flooring. It was so fascinating, especially how it felt under my feet.
Oxide flooring (Kaaviyidal – red) is an age-old practice of using oxide colours (primary colours) in various combinations for flooring. This may be with lime, mud or cement. While it has traditionally been used in many parts of the country, the advent of industrialisation and mass produced materials like marble and tiles caused it to disappear from mainstream construction.
However, Chennai-based architect Thirupurasundari Sevvel of Studio Conclave and the founder of a social initiative—Nam Veedu Nam Oor Nam Kadhai (Our home, our city, our story)—has been working with artisans to revive this flooring. She speaks to The Better India about its aesthetic beauty and its environmental friendliness.
Sundari's years at college
Having completed her architecture from SRM University in Chennai, Sundari had the opportunity to study at Birmingham City University. Speaking about it, she says, "It was when I got there that I found out that it was the same University where the famed Laurie Baker, the Gandhian architect studied. My happiness knew no bounds."
Sundari completed her Master's degree in Urban and Regional Planning in France (University Francois Rabelais) and worked on a project with their ministry of culture with a focus on social and economic development and returned to India in 2011 to set up her firm.
Her passion for red oxide
Growing up in a home that had red oxide flooring, she was naturally bent in its favour. But it took more than that for her to realise and accept its full potential. She shares, "However, it was only when I went abroad that its benefits dawned upon me. Perhaps going far away was what made me realise its potential."
So what are its advantages? Read on!
1. Aesthetic
Sundari explains, "It looks like one piece, and you will not be able to find any joints as you do with say commercially available or even regular tiles. Also, earlier it was thought that oxide flooring only meant red. Now we show them the various colors and shades and that add to its charm."
She points out that these embellishments could not be shown to a client earlier, but now they can be prepared in small quantities as samples and laid down for clients to see. The fact that it is easy to maintain is yet another plus point.
2. Environmental
Oxide flooring is extremely adaptable to the climatic conditions and is suited for the geography in India, says Sundari. She goes on, "The main advantage is that this is a native technique, which, in turn, allows the floor to breathe."
Unlike other flooring that can hurt your feet, oxide poses no adverse impact to your feet, and its sheen only gets better with time.
3. Social
"You are supporting an artisan and an art form. Look at this just as an investment in a piece of art," says Sundari. Given that this technique is labour-intensive, it needs more of us to support and patronise it.
Reviving age-old techniques
"Artisans before art" is Sundari's motto. She wanted to revive the use of traditional materials and techniques as well as bring the artisans to the fore. For this, she has been working on oxide flooring as well as lime plastering over the last few years.
Explaining the process, she says, "Just like an artisan would work on a particular artwork, our artisans work on the floor for about 15 to 21 days depending on the availability of artisans, location, size of the area to be covered, etc. We started working with them directly to ensure that the end product is absolutely authentic and the artisans are benefitted."
When asked why this technique needs revival in the first place, she answers that commercialisation, industrialisation and the mass production of chemical, non-organic alternatives caused these kinds of floors to be less sought after.
Artisans as the true torchbearers
She recalls an incident while working on a project in Udaipur. She narrates, "We reached there and got the news that one of the artisan's father passed away. I booked his flight and asked him to return home." But the artisan refused to leave.
She goes on, "He told me that since his father was also an artisan, the greatest tribute to his life would be in completing his work and then returning."
This act defines the artisans and their work, says Sundari.
Response from her clients
Sundari has worked with more than 30 clients, and the best part is that they are all repeat clients. Even the new clients are acquired from word-of-mouth publicity.
When asked about the process of convincing her clients, she says, "Honestly, all I have to do is invite them to sites where we have used oxide floorings—half the battle is won once they see it and walk on it." Sundari's office space has extensive oxide flooring.
How much does it cost?
Speaking about the cost of laying this floor, Sundari says, "The more people use it, the more its cost will come down – it is ultimately all about the demand and supply. If one were to compare the price with other materials used, it is almost 30 per cent cheaper. Having said that, it all depends on the area that needs to be covered and the colour."
She also says that it is important to give the artisans working on this technique their due as it is a very demanding livelihood. "I will not say that it is the cheapest flooring available in the market but is certainly an economic, environmentally-friendly floor, which also supports artisans and their livelihoods."
Things to know about oxide flooring
1. The water used must be untreated and free from any chemicals. Mineral-rich water from bore-wells is not good for this technique.
2. To keep the quality and finish neat and even, one must use good quality red oxide.
3. The artisans who are working on this must also be very experienced and good at their art. This is because the oxide floors need to be done in one continuous stretch without a break, often taking the whole day and night, depending upon the area that needs to be covered.
4. While most building materials deteriorate with age, oxide floors are an exception. The more they are used, the more they shine.
5. You can use non-chemical floor cleaning agents and this in turn gives you a lifestyle change as well.
6. The polish should be done with beeswax and that too, manually. Only the manual polish will give the authentic feature.
---
Also Read: These Chennai Architects Design & Retrofit Homes To Make Them Nature-Friendly!
---
To know more about this flooring, contact Sundari at annanagarshg@gmail.com. You can also follow her on Instagram or Facebook.
(Edited by Shruti Singhal)
Like this story? Or have something to share?
Write to us: contact@thebetterindia.com
Connect with us on Facebook and Twitter.
We bring stories straight from the heart of India, to inspire millions and create a wave of impact. Our positive movement is growing bigger everyday, and we would love for you to join it.
Please contribute whatever you can, every little penny helps our team in bringing you more stories that support dreams and spread hope.