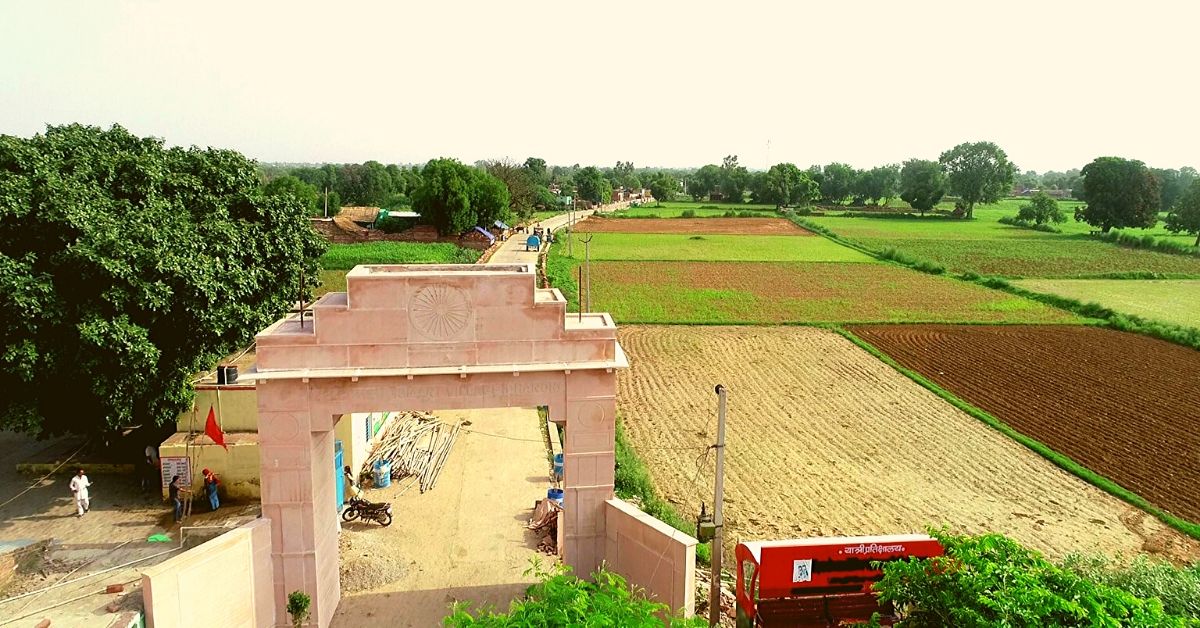 The roads that were once littered with waste and faced rampant open-defecation are clean, and lined with lush trees. The village is lit with solar lights, boasting of pucca homes painted in uniform colours, a skill development centre, a meditation centre, and even a public library!
Armed dacoits around Indian Bandit Queen-turned-Member of Parliament, Phoolan Devi, along sandy ravines and sparse vegetation… if this is your imagination of Chambal, think again. This division is home to one of Rajasthan's and India's first smart villages.
Welcome to Dhanora. Situated in the heartland of Chambal, this tiny village in the Dhaulpur district of Rajasthan has a population of 2,000. Until 2014, it was bereft of sanitation, internal roads, or potable water. It even faced issues like encroachment, power fluctuation, unemployment and crippling poverty. Enter the same village now, and you will be wonderstruck.
The roads that were once littered with waste and faced rampant open-defecation are clean, and lined with lush trees. The village is lit with solar lights, boasts of pucca homes painted in uniform colours, a skill development centre, a meditation centre, and even a public library!
Dhanora is an Adarsh Gram where every household has a toilet with running water, access to concrete roads, a sewage treatment plant for waste management, and property demarcations. Even the manufacture and sale of liquor is banned here.
How did this happen?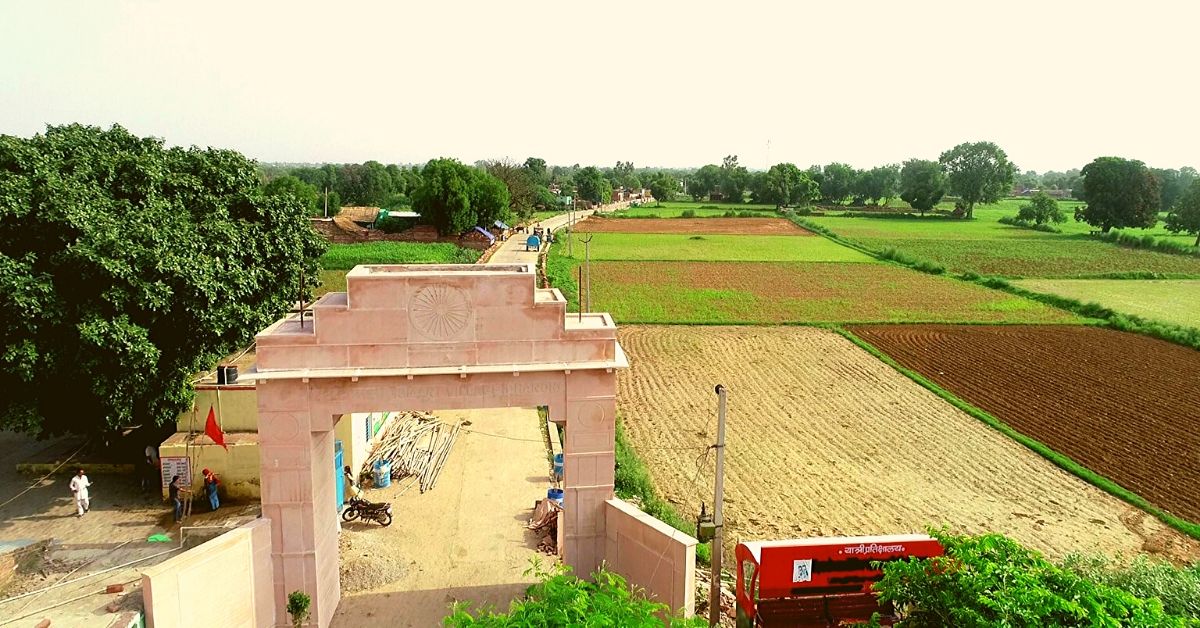 The first call for transformation came from IRS officer Dr Satyapal Singh Meena, a native of the village. The sight of an old woman suffering from dysentery being carried to the fields during the rainy season moved him. He made it his mission to transform Dhanora.
During his posting in Aurangabad, Meena had attended an eco-revolution conference organised by NGO Eco Needs Foundation. He was thoroughly impressed by their smart village concept and asked for their help.
Following this, the NGO's founder Prof Priyanand Agale and his team came on board to kickstart this journey of change. Meena also moved on to join their advisory board. From cooking food for the volunteers to mobilising villagers, his wife and family also became an integral part of the transformative journey.
Speaking to The Better India, Prof Agale shares that his team developed a model that emphasises sustainable development by providing amenities such as sanitation, safe drinking water, internal roads, water conservation, tree plantation and means of livelihood.
And so, from 2014 to 2016, it worked on five elements for the smart village plan.
1) Retrofitting or modifying and beautifying existing structures and removing encroachments
2) Redevelopment, which involves infrastructure development
3) Greenfield, which is environment-related development
4) E-Pan which stands for electronic planning, focusing on communication, and e-learning
5) Livelihood to provide learning and skills to enable people to earn
The first step was to mobilise the community.
But this wasn't easy. The villagers were initially suspicious of the NGO's motives. "It took us time. But after holding extensive meetings and explaining our plan of action to the villagers in the gram sabhas, they realised we had no political motives and extended their support," says Agale.
Organising women's panchayat and constructing toilets
Mobilising women was tough since interactions between men and veiled women were socially limited. Satyapal Meena's wife, Geeta Rani, helped overcome this challenge.
"At the first meeting, women spoke about critical issues related to health and hygiene. When the majority of them unanimously raised the issue of open defecation, the team decided to prioritise the construction of toilets. Knowing that the approval only happens in small batches and is a lengthy process, we got in touch with then district collector Kumar Gautam Pal who sanctioned the construction of 822 toilets in a single order."
Through community participation, shramdaan and fundraising by the villagers, every household built a toilet. The families that couldn't afford the expense were adopted by the village. One of the biggest outcomes of this was that the State Government declared the village as the first of the district as free from open defecation (ODF).
Sewerage line and Road construction
The next step was digitally mapping the village. This helped create a blueprint and a plan of action to lay the water supply lines, sewage lines, construction of roads, etc.
Once the process was complete, a 2-km sewerage line with a 450-mm diameter was laid throughout the village. Each toilet in the village was connected to this line through inspection chambers and manholes.
A sewerage treatment plant was constructed to treat all the wastewater and reuse it for irrigation purposes in farming.
Next came the roads.
"The roads in our village were so narrow that big vehicles couldn't enter and had to be parked outside. Besides, they were littered with waste while open drains would run in full force," says Prem Singh. He's a teacher in the village and a member of the Gram Vikas Sabha.
So the Eco Needs Foundation team undertook the cleaning of the existing roads by removing the solid waste and the open-dumping places. Solid waste management practices such as segregation were promoted among the villagers, who diligently follow it to date.
The digital mapping also helped demarcate property lines and remove encroachments on the roads. The villagers cooperated, and some of them even gave away land from their residential properties for new and wide concrete roads. From the previous width of 8-10 feet, the roads were widened to 20-25 feet. An additional 2-km road was constructed to Dhodekapura village Panchayat for improved connectivity.
All the development activities were funded by the people of the village, including labour, in the form of shramdaan.
Greenfield Activities
To promote water conservation, they undertook the construction of eight underground percolation tanks and connected them by a 3-km canal, which passed through 80 per cent of farms within the village and recharged groundwater. This was done without any forceful land acquisition and came into existence by the mutual understanding of the villagers.
The project started in 2016 with water conservation structures being constructed in two months. The results started showing results within three months! Thanks to this, the the quantum of groundwater recharge today is 97.49 million litres per year!
"These structures have benefitted us, farmers, greatly. Before the project started, we struggled for water supply. The reuse of wastewater for irrigation purposes has also been a good move that has impacted the farming community. Our agricultural returns have shown a positive rise. Many of us abandoned chemicals and moved to organic and traditional farming practices. Our inputs costs have reduced and therefore profits have shown a steady rise. We no longer stick to monocropping, we are practicing multi-cropping. Thanks to the availability of water, our crops do not run dry or wither in the harsh summers," says farmer Kishan Singh.
Agale adds how this method of building percolation tanks and connecting them is highly replicable and can benefit dry states like Rajasthan.
Under retrofitting, they dismantled some old and damaged structures. Many structures were restored and elevated. Electric poles that obstructed the street were relocated, and the existing street lights were fitted with solar panels.
---
Also Read: Shoes For Kids, Blood Bank For Rare Groups: IAS Officer Transforms Lakhs of Lives
---
The team also undertook the construction of a modern community centre with a 300-person capacity by shifting and renovating the temple of Bhumiya Baba. This was funded by government employees within the village who contributed 25 per cent of their monthly salaries. The villagers also shelled Rs 10 lakh along with shramdaan.
Today, the community centre is a bustling space for villagers–the youth and the elderly alike, who come to spend time together. It is also a space where meetings are conducted, grievances are addressed, and future development projects are discussed. The community centre has been greatly benefitting farmers and youth, for whom educational programmes are broadcast.
Apart from the school library, an open public library was established to promote reading and create a conducive atmosphere for students. A meditation centre was also built.
Presently, an information centre and rural development training centre is under construction. This seminar hall, once complete, will hold workshops, training sessions and showcase audiovisual content for farmers, women and kids.
All kutcha homes were transformed into pucca homes and painted in uniform colours. The walls in the village were painted with positive slogans about education, women empowerment and environment. Plantation drives to improve the green cover were also undertaken. Till date, the villagers have planted almost 5,000 fruit, herbs and medicinal species.
To promote e-learning, the village school was equipped with computers. As for livelihood opportunities, they have built a skill development centre. The Gram Vikas Sabha or village development committee is now working with the NGO to get companies to provide vocational training to youth.
"We are looking at imparting skills like tailoring, pickle, papad making, and driving to those in the village who want to improve their livelihoods."
Moreover, the Utthan Coaching Institute, a competitive examination coaching centre, equipped with wi-fi and broadcast facilities was established. The one branch in the village and another in the tehsil are the go-to centres for coaching in Rajasthan Public Service commission competitive exams, government jobs in the banking centre, Railways, postal department. While the village branch has 50 students and three full-time professional coaches, the one in the tehsil has 300 students and two full-time coaches. These centres provide free training and also conduct live-coaching sessions with experts from Delhi.
"To mark its identity as the first smart village, the locals sacrificed some of their private landholdings and built a grand entrance. A 30-feet gate resembling the India Gate was carved in stone and installed," says Agale.
The transformation of the village saw several social outcomes too.
"Today, when someone passes away, the family collects the ashes and uses it as manure to plant a tree in the memory of the deceased, instead of washing them off into water bodies. Further, instead of spending money on the traditional mrutyu bhoj served by the grieving family, this amount is donated for the development of the village," says Agale.
Similarly, when a daughter is born, every household in the village contributes Rs 200 and the entire village comes together to collect Rs 20,000. This money is used to open a Sukanya Samriddhi bank account for the newborn. As she grows older, the parents continue to add money to her account on a monthly basis.
"Earlier, the women in our village would have to walk a kilometre to fetch water. After the Smart Village Mission, we have running water in our taps at home. Our youth who lacked motivation now look to the future with renewed hope. What makes this incredible is that people donated lakhs to make their village an Adarsh Gram. That is the power of ordinary villagers," says Prem Singh.
When asked about the approximate budget that transformed Dhanora, Prof Agale answers that it was nearly Rs 2.5 crore. A major part of this was covered by the Gram Panchayat funds disbursed by the Central Government. The villagers, on the other hand, raised close to Rs 20 lakh by door-to-door collection over the years. The Coca Cola Foundation through its CSR wing donated Rs 52 lakh, while Sun Pharma donated Rs 5 lakh. The local MLA and MP donated Rs 15 lakh and Rs 10 lakh each, respectively. The NGO also contributed Rs 15 lakh.
The Government provided direct help by funding the construction of the main road connecting the village to the highway, worth Rs 60 lakh.
Dr Agale is quick to point out that since the requirements of villages differ, the budget and transformation would not be on par with Dhanora.
---
You May Also Like: Couple Left Singapore to Return to India, Build Their Own 17-Acre Food Forest!
---
Today, the success of Dhanora has attracted the attention of the state and central governments. Many corporations and good Samaritans come forward to fund projects here. It has become a research space for scholars, students and authorities from other countries who are intrigued by the smart village concept and want to replicate it. The impact witnessed here has also sparked a campaign called the 'Soch badlo gaon badlo' which spread to 100 more villages across Rajasthan, Maharashtra and Madhya Pradesh.
So will this mission succeed? Prof Agale concludes, "If we want sustainable development, we have to start with our villages, because the roads that lead to cities pass through villages. For how long will we crowd our cities and exploit natural resources? When we move towards making our villages smart and self-sufficient, we will reduce the burden of migration in cities. This is a replicable concept. All it requires is intent and financial support."
(Edited by Shruti Singhal)
Like this story? Or have something to share?
Write to us: contact@thebetterindia.com
Connect with us on Facebook and Twitter.
Tell Us More
We bring stories straight from the heart of India, to inspire millions and create a wave of impact. Our positive movement is growing bigger everyday, and we would love for you to join it.
Please contribute whatever you can, every little penny helps our team in bringing you more stories that support dreams and spread hope.