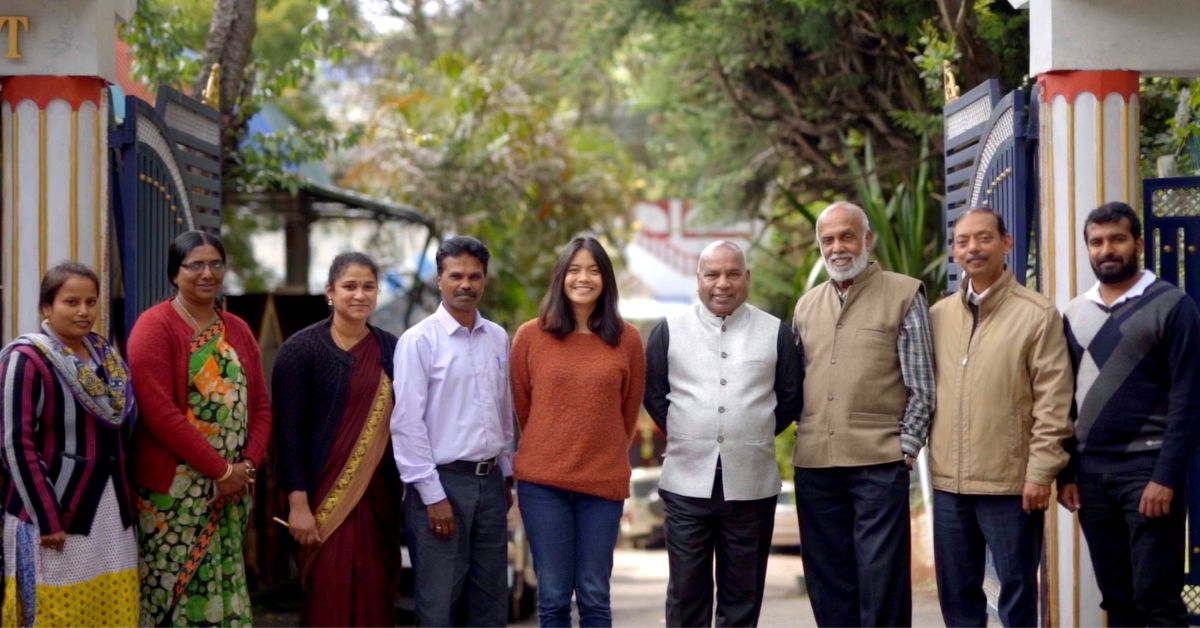 "If you involve people in schemes, there is very little scope for failure," says founder NK Perumal.
"Because we live close to the forest, defecating in the open can be very dangerous for us. There have been so many instances where someone's been attacked by wild boars or cheetahs when they go out to defecate," says 50-year-old Mahalingam, a farmer living in Ooty's Nanjanadu village area.
A majority of the people in his village, including Mahalingam, did not have toilets in their homes forcing them to defecate in the open either in the dead of the night or at the crack of dawn. In fact, lack of toilets was a common issue in most of the villages in the Nilgiris and people had no other choice.
"People would sometimes defecate in the fields where children and others walked barefoot, exposing them to the risk of diseases," add Mahalingam.
The situation has reversed now.
In 2018, the Nilgiris were declared open defecation free, all due to the efforts of one man and his organisation.
"When we first took up sanitation activities in 2010, Nilgiris was the second worst in terms of open defecation. But since 2018, the Nilgiris has been declared open defecation free and I believe our sanitation activities have been able to make a difference," says NK Perumal the founder of Rural Development Organisation (RDO) Trust.
The Trust has been conducting social development programmes in the Nilgiris region, with sanitation being one of the areas they have excelled in.
Since its inception in 1980, RDO has helped construct 10 lakh toilets in total in homes and schools, in partnership with FINISH Society in 10 states like Rajasthan, UP, Gujarat, MP, Odisha, Maharashtra, among others!
The Formation of RDO
NK Perumal had seen poverty at a close range. Due to a horrible drought in his native village in the 1930s, his parents had to move to Sri Lanka to work in the tea plantations.
In 1971, the family decided to return to their native village, Namakkal, Tamil Nadu.
"I had not received any kind of college education but upon my return, I wanted to help families like mine which had also come back from Sri Lanka. Therefore, I started working with NGOs in the region and was deeply involved in the rehabilitation activities of these communities," he explains.
The NGO that Perumal was working with helped him with college applications so that he could study further. In 1979, the founder received a scholarship from the International Labour Organisation (ILO) to study Community Development.
Once he returned in 1980, he started RDO to carry out development programmes with his newly acquired knowledge.
Since 1980, RDO has worked on numerous developmental activities in the region including addressing high-school dropout rates, and built schools for immigrant children.
RDO's Sanitation Work in individual houses
RDO started its sanitation related activities with greater emphasis in 2010. The need to address the problem of open defecation actually came from personal experience for NK Perumal.
"I was living in Namakkal and we did not have any toilets there. I saw that this was causing a lot of distress to the people. Not only were they falling sick but there were several others who would be attacked by wild animals," explains Perumal.
This urged him to start the programme to build toilets in individual households. The first thing RDO did was to organise women into Self Help Groups (SHGs) that could build these toilets.
"I was sure that for the construction of toilets, I did not want to involve any contractors for the building activities. I wanted to generate employment for these women and also ensure that they pocket every penny for the hard work they were going to put in for the construction of these toilets," says Perumal.
"When we started with the sanitation programmes in individual households, there was a lot of resistance from the masses. They were reluctant to accept that they were putting themselves at risk by practicing open defecation. They would often state examples of how their fathers and forefathers were fit and fine despite defecating in the open," explains Perumal.
To address the subject without offending the masses, they tried to highlight how attacks from wild animals in the region was also a major threat when they defecate in public. "So, only through understanding people's local issues were we able to scale our sanitation activities in the region," says Perumal.
RDO helped each household secure a loan of Rs. 25,000 from the banks for construction of the toilets. However, this attempt was not as successful as the banks turned down a lot of applications except those women who belonged to the SHGs.
The organisation then formed a Joint Liability Group for extension of loans to non-SHG members who wanted these toilets to be built.
RDO's sanitation drive spreads to schools
In 2014, the organisation also started working on sanitation programmes with schools in the Nilgiris district. They have worked in about 82 schools now and helped in the construction of 440 toilets. While the individual toilets are made from brick and mortar, the toilets in the schools are pre-fabricated and made from metal sheets.
"The idea for prefabricated toilets came to me when I was visiting Scotland. When I saw these toilets there, I took a video and showed it to a local welder and carpenter so that they could understand the structures," says Perumal.
About three years ago, Perumal was returning from a village to his home. What he saw on the way shocked him. "I was shocked was shocked to see that about 4 tons of Faecal Sludge collected from septic tank was being dumped in Kundah river," says Perumal.
Perumal immediately approached Netherlands based INGO WASTE. Subsequently, first time Faecal Sludge Treatment Plant was put up in the Nilgiris for safe disposal of sewage.
Sampath Rajkumar, 69, the CEO of the organisation has been overlooking the grey water and black water (sewage) recycling activities.
"The recycled greywater project that we are working on has helped farmers use the water in their fields for irrigation purposes. The black water recycling has helped us generate co-compost that is used as fertiliser in the farmer's fields," he explains.
RDO has about 10 greywater recycling units and three black water recycling units in the Nilgiris region.
The Impact of RDO
Regardless of these few hiccups, RDO has been successful in bringing about a positive change in the lives of the people.
Since 2010, they have built about 68,000 toilets in individual homes in the Nilgiris region alone. Additionally, they have also gone on to implement their sanitation programmes in schools where they have built about 440 toilets! Perumal adds that this feat wouldn't have been possible without cooperation from the District authorities.
The greywater recycling project has helped about 384 farmers in the region who have used this to irrigate their fields. The organisation has so far recycled 41,869 cubic meters of greywater.
Furthermore, through their black water recycling project, they have generated about 543.5 tonnes of co-compost which is being used by 1403 farmers for farming.
"Initially when we started producing the co-compost, a lot of farmers were reluctant to use it thinking why should they be using sewage as fertilisers. This is when we explained to them that co-compost is 80 per cent biodegradable wet waste and only 20 per cent fecal sludge," explains Rajkumar.
---
You May also read: How a Couple Installed 798 Self-Cleaning 'Smart' Toilets Across India
---
In addition to that, the NGO spends almost Rs. 44,000 every month in getting the co-compost samples tested. "The co-compost is analysed based on 22 parameters that we have decided upon. These parameters include composition of heavy metals, and for ensuring the absence of micro-biological components like E. Coli, fecal coliform, salmonella and Helminths," informs Rajkumar.
"People's participation is imperative to make any social development programme successful. If you involve people in schemes, there is very little scope for failure. I believe that with the right will and funds, we can make sanitation accessible to one and all," says Perumal.
(Edited by Saiqua Sultan)
Like this story? Or have something to share?
Write to us: contact@thebetterindia.com
Connect with us on Facebook and Twitter.
We bring stories straight from the heart of India, to inspire millions and create a wave of impact. Our positive movement is growing bigger everyday, and we would love for you to join it.
Please contribute whatever you can, every little penny helps our team in bringing you more stories that support dreams and spread hope.