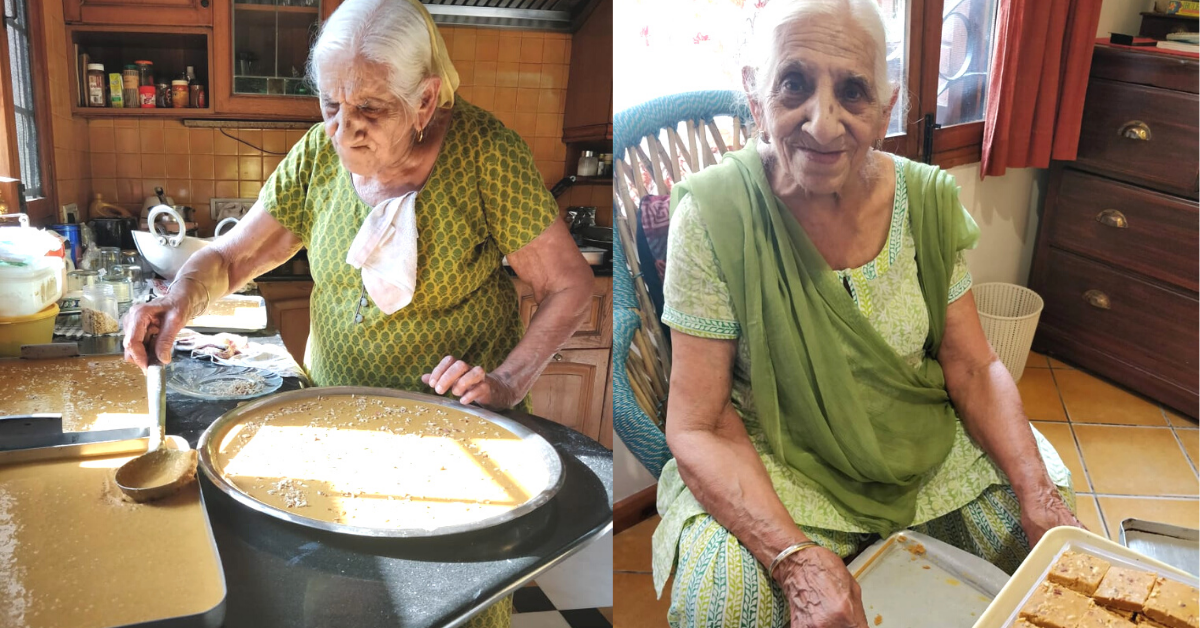 "She first set shop at a local organic market on her own, She sat there, interacted with the customers, and came home with Rs 2,000 which was her first 'own' earnings."
Harbhajan Kaur sat with her daughter, Raveena Suri, talking about life. During their conversation, Raveena asked her mother if she had any regrets, to which the mother replied, "I had a fulfilling life, but my only regret is that I never earned any money on my own. I wish I had."
The conversation ended there for Harbhajan, but for Raveena, it was the beginning of something. In an attempt to erase this regret felt by her mother, Raveena gently stirred her into starting an entrepreneurial venture–making yummy treats that everyone in their family had grown up on.
This is how, four years ago, Harbhajan's came into being, with 94-year-old Harbhajan Kaur at its helm. Specialising in making besan barfi and various kinds of pickles–this Chandigarh venture, has grown from strength to strength.
Kaur's foray into entrepreneurship
Raveena recalls, "All our lives, we have had food at home, including sweets, and squashes, and sherbets. She [Harbhajan] has always been such an amazing cook but was content in remaining behind the scenes."
While there was a lot of appreciation for her food, she never got any formal recognition for it. "Like many mothers of that generation, she continued to work for all of us, tirelessly," says Raveena.
Speaking about the first time that Harbhajan sold besan barfi, Raveena shares, "She first set shop at a local organic market on her own, She sat there, interacted with the customers, and came home with Rs 2,000 which was her first 'own' earnings."
Raveena tells me how this was an achievement for her shy homemaker who rarely stepped out from the confines of her home and family.
A high from earning Rs 2,000
Harbhajan was a proud woman when she returned home, armed with the Rs 2,000 that day. "That earning not only brought her happiness but also the confidence to take this initiative forward and make something of it."
Since then, Harbhajan made barfis and chutneys and various kinds of pickles, taking her products to the organic market every ten days. Despite her age, she continues to work and even enjoys it.
Soon, she started getting orders, pacing them to make sure that she is never overworked. While Raveena has been the silent force behind her mother, Harbhajan's granddaughter helped with all the branding and packaging. The tagline–Bachpan yaad aajayegi (You will remember your childhood)–evoked nostalgia.
A granddaughter's wish
Narrating yet another heart-warming tale, Raveena says, "Two months ago, my daughter got married and wanted the wedding invitations to be sent out with sweets that her nani [Harbhajan] made. She did not want any sweets from the market and preferred that they all be handmade by her nani. It was a lovely feeling for everyone to get those treats." Remarkably, Harbhajan made 200 kg of barfi for her granddaughter's wedding.
When asked about the growth of the brand, Raveena says, "More than the monetary aspect, the fact that mom [Harbhajan] is so much more confident now is what I see as growth. The same lady who wouldn't sit in a group because she was shy, has been giving interviews, and speaking to her clients about feedback etc., which in turn, has transformed her life."
Every few days, Harbhajan makes almost 5-10 kg of barfi in one go. When asked if they plan to expand, Raveena says, "We will take it as it comes. As of now, mom and all of us are basking in all the recognition and accolades."
Over four years, she had made over 500 kg of barfi, where one kilogram is priced at Rs 850. Presently, the venture is run by the family and they plan to employ others soon, given that the phone is constantly buzzing with inquiries and orders.
---
Also Read: Heartwarming! Social Media Unites to Raise Rs 16 Lakhs in Just 6 Hours for Child's Surgery!
---
From Anand Mahindra calling Harbhajan Kaur his 'entrepreneur of the year' in a tweet to Captain Amarinder Singh saying he would like to taste the signature besan barfi – at 94, this is just the beginning for Harbhajan Kaur.
If you are in Chandigarh and would like to try the barfi, head to Four Folks in Sector 35 or Dastaan in Sector 7. You can also call +91-9888419943 to place your order.
(Edited by Shruti Singhal)
Like this story? Or have something to share?
Write to us: contact@thebetterindia.com
Connect with us on Facebook and Twitter.