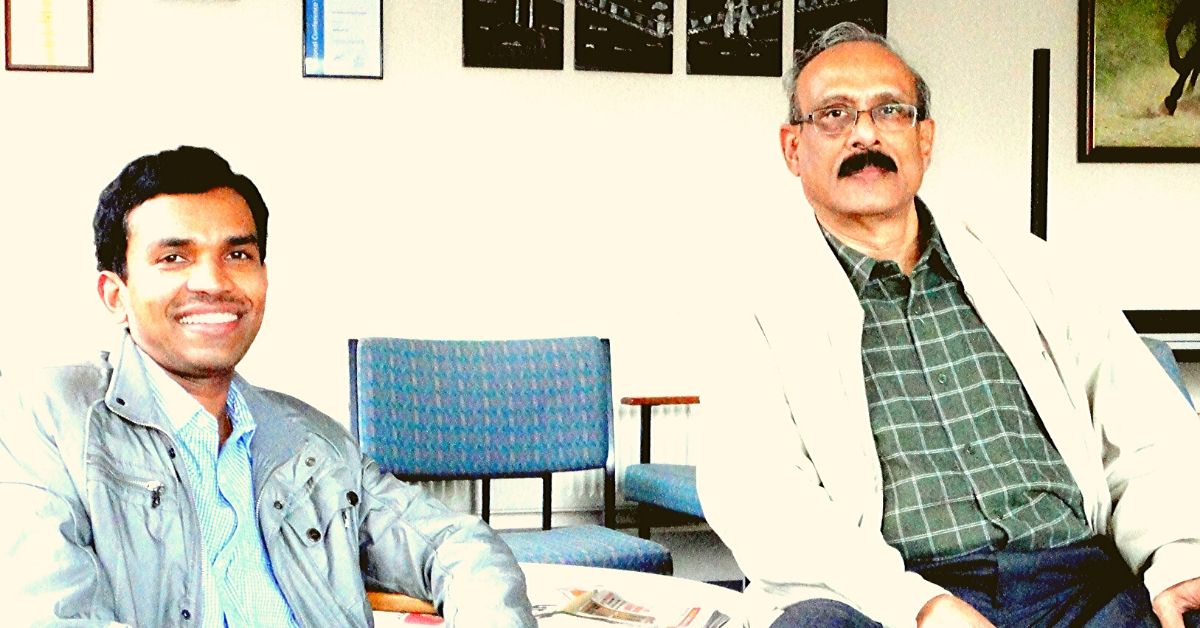 Think solar power is zero-emission? Prof D Chandrasekharam of IIT Hyderabad says it's far from it!
Is solar energy all that 'green'? As it turns out, maybe not.
After extensive analysis, researchers at IIT-Hyderabad in collaboration with Melbourne-based Monash University argue that the hype around solar energy as THE renewable alternative to fossil fuel is overstated.
In a recent paper published in the peer-reviewed journal 'Geomechanics and Geophysics for Geo-Energy and Geo-Resources,' they argue that geothermal energy—the use of the earth's heat to generate power—is a better alternative to solar energy, particularly in terms of carbon dioxide emissions.
"While solar power does have benefits over conventional energy sources, it is far from the zero-emissions energy source that it is claimed to be," says Professor D Chandrasekharam from the Department of Civil Engineering, IIT Hyderabad.
As per the study, nearly 10 tonnes of quartz is required to manufacture solar cells that can generate 1 megawatt of electricity from the Sun. According to them, this much energy can support 20,000 people annually.
"A Solar PV cell involves two important stages: i) Producing metallurgical grade silicon (MGS) and ii) Producing electronic-grade silicon (EGS) from quartz. In the first stage, an amount of 1756 thousand tonnes of CO2 is released, and a similar amount of CO2 is released during the conversion of EGS to ingots. Imagine how many tonnes of quartz has to be mined to support millions of people in the countries!" adds Dr Chandrasekharam.
Over the lifecycle of a solar PV cell, the total CO2 emissions are about a whopping 3312 million kg, which is way higher than a geothermal energy source, which researchers argue emits about 450 g/kWh generated.
"According to the recently published report by International Energy Agency (IEA), under the sustainable development policy, proposed for adoption to mitigate CO2 emissions (the Year 2040), nearly 54 billion cells are required to meet the generation target of 14,139 TWh. This amounts to releasing huge amounts of carbon dioxide into the atmosphere instead of conserving carbon dioxide says the researchers. While certain alternative energy sources such as solar power are being widely considered among the green energy technologies, no type of energy can be completely environmentally neutral," states the press release issued by IIT-Hyderabad.
"Unlike other renewables, geothermal energy can supply base-load electricity and the waste after its life cycle, unlike solar PV, is negligible. The best way to go forward is to choose a combination of technologies that can minimize harm to the environment, not chase the horizon of zero harm," write the researchers in their recent paper.
Meanwhile, the environmental impact of decommissioning solar technology is a serious issue which needs to be dealt with. How do you dispose of all that waste? How will the environment carry that burden?
According to the "End-of-life management of solar photovoltaic panels" publication by the International Renewable Energy Agency (IRENA), globally 60 to 75 million tonnes of solar PV panels waste will be by 2050 that cannot be recycled. Thus, it makes sense to either mitigate these elements or look at alternatives like geothermal energy.
What is India's geothermal potential?
According to the Ministry of Renewable Energy, India has a potential of 10000 MW spread over 300 hot springs across 11 states. 1 MW Geothermal Power Plant generates nearly 8.2 million units (MU) per MW per annum as compared to 1.6 MU for solar, 3.9 MU for wind and 3.9 MU for hydro energy.
How do we generate geothermal energy?
"There are three types of geothermal power plants: dry steam, flash, and binary. Dry steam, the oldest geothermal technology, takes the steam out of fractures in the ground and uses it to drive a turbine directly. Flash plants pull deep, high-pressure hot water into cooler, low-pressure water. The steam that results from this process is used to drive the turbine. In binary plants, the hot water is passed by a secondary fluid with a much lower boiling point than water. This causes the secondary fluid to turn to vapor, which then drives a turbine. Most geothermal power plants in the future will be binary plants," says this National Geographic report.
While geothermal energy generation in India is still in its infancy, successful pilot projects have been carried out in places like Dholera in Gujarat. Following this success, the state has set up its first geothermal power plant with a capacity ranging from 10 to 20 kilowatts.
According to the United States Energy Information Administration (US-EIA), geothermal plants emit 97% less acid rain-causing sulfur compounds and about 99% less carbon dioxide than fossil fuel power plants of similar size.
What's particularly remarkable about this energy source is that most power plants recycle the geothermal steam and water they use to generate energy.
Nonetheless, there are some environmental concerns here as well. They revolve the release of hydrogen sulfide gas, disposal of geothermal fluid that contains some toxic materials, noise pollution, soil subsidence and changes in land use associated with exploration and plant construction.
Exploration is also a very capital intensive process, and costs are often very high.
Having said that, geothermal energy is an option many governments are actively considering with the halo around solar energy losing its sheen.
---
Also Read: 23 GW of Potential and Growing: How Ladakh Plans to Lead India's Solar Charge!
---
(Edited by Gayatri Mishra)
Like this story? Or have something to share? Write to us: contact@thebetterindia.com, or connect with us on Facebook and Twitter.
We bring stories straight from the heart of India, to inspire millions and create a wave of impact. Our positive movement is growing bigger everyday, and we would love for you to join it.
Please contribute whatever you can, every little penny helps our team in bringing you more stories that support dreams and spread hope.