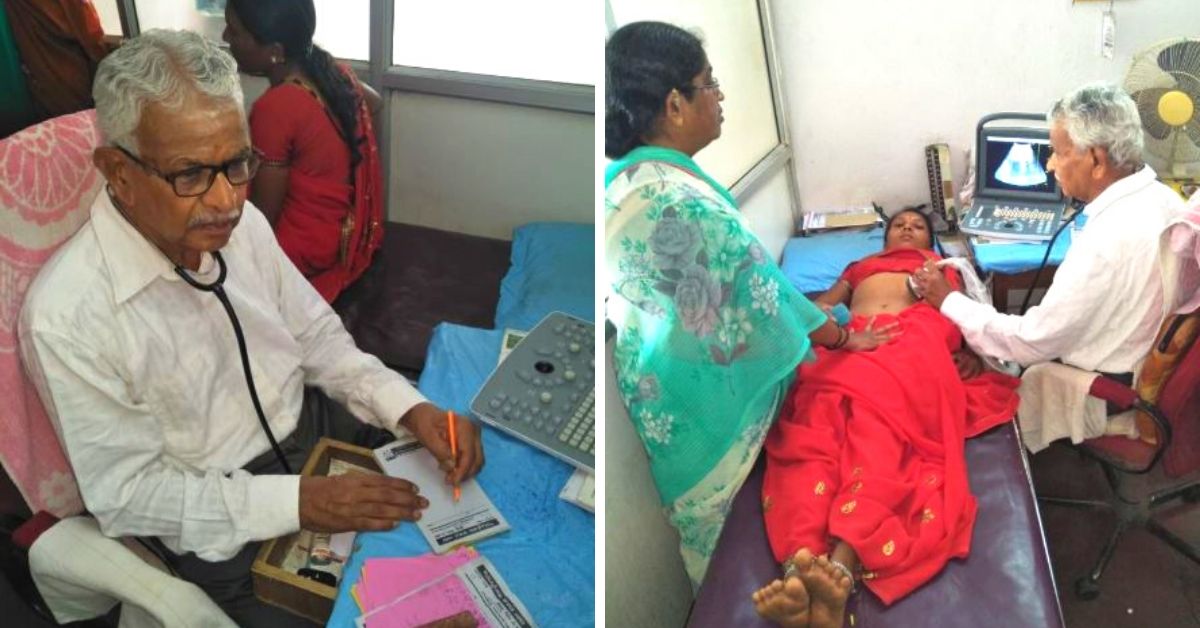 For patients who cannot afford even the nominal rate, Dr Bali, an ENT specialist, treats them for free.
Since the past 50 years, ENT specialist Dr Annappa N Bali's daily schedule has not changed much. He opens his clinic at 10.30 AM and shuts it at 6.30 PM. After taking a short break, he reopens the clinic at 8 PM and works for another hour or two.
Assisted by a three-member team, he examines 80-100 patients from his town and neighbouring villages on a daily basis.
What is special about Dr Bali is that he charges Rs 10 per patient as consultation fee which includes consultations and medicines. For patients who cannot afford even the nominal rate, Dr Bali treats them for free.
Fondly known as 'hatta rupayi doctor' (Rs 10 doctor), in Karnataka's Belagavi district, Dr Bali's patience, sincerity and quality care bring people in droves to his clinic.
No matter the number of people who throng his clinic, Dr Bali lends a patient ear to all the visitors even if it means staying in the clinic for an extra hour or two. From wage labourers to domestic workers, most of his patients belong to people living in abject poverty.
"Earlier it was Rs 7 but due to the problem of giving exact change every time, we raised the amount to Rs 10," the 79-year-old doctor tells The Better India.
The Reason why Dr Bali became the Hatta Rupayi Doctor
Dr Bali lives his life according to the adage: one good turn deserves another.
He remembers how while growing up, his parents had to face financial struggles and couldn't even afford to educate him.
"I have seen poverty and I know what it is like when there is no money to even get basic medicines," he shares.
Always dreaming of serving people through the medical profession, he insisted on a good education. With help from some relatives, he was able to complete his MBBS from the Karnataka Institute of Medical Sciences, University of Hubli.
He worked as a government doctor in rural areas of Karnataka and Chief Medical Officer of Belagavi district before starting his own private practice in 1998.
"Working for the healthcare department for so many years further widened my perspective. Anaemia (deficiency in the number or quality of red blood cells) is very common among people from indigenous communities due to the lack of nutrition. Because they cannot afford food, they develop severe health problems. To reverse it, they need money for medicines. It is like a vicious cycle and my attempt is to break it," explains Dr Bali.
Post-retirement, he could have led a life of relaxation, but instead, he chose to use his skills for those who lack resources. This time, he chose to become the helping hand himself.
56-year-old Ramakrishna, a school teacher in Bailhongal, tells TBI, "Due to old age, I often fall ill with cold and fever. I can afford medicines but not a doctor that is as good as Dr Bali. I have been going to him for almost a decade now."
Another case Which proves the kind of trust people have in Dr Bali is 16-year-old Rashmi who prefers travelling seven kilometres from Bailwad to Bailhongal every time she has a fever or cold.
"Her mother came for cough and fever a few years ago. She had AIDS and was unable to afford the prescribed injections. I took care of her medications including injections for a couple of months before she passed away at 56. With no other family member in town, Rashmi moved to her relative's house in Bailwad. I guess she trusts me and that's why she visits me," shares Dr Bali.
Dr Bali's Humane Appeal
90 per cent of India's poorest people do not have any form of private or government health insurance, revealed India's largest nation-wide survey on social consumption.
In other words, the majority of the citizens end up exhausting their savings to meet their health-related expenses, take loans or worse, postpone treatment.
Adding to the misery are private practitioners who charge exorbitant rates for the most basic health care. Meanwhile, not all government hospitals have quality health care.
Thankfully, there are a few doctors who go beyond the call of their duty to provide the best medical services to economically weaker sections of the society.
Dr Bali is quick to tell me the reason behind not giving free treatment to everyone, "Patients will not take health care seriously if it is for free. They will take medicines regularly only if they have paid for it."
The doctor with a social conscience ends our conversation, with this appeal:
"Not everyone has health insurance and access to affordable healthcare. Treating a few patients for free will not make any difference in a doctor's income. In fact, charging less can increase attendance of patients. If all private doctors accommodate at least 1-2 patients in a day, it can significantly bring down health problems among the poor. The only thing a doctor will have to do is work a little harder. This is the best way to do justice to the oath we take as doctors, which is to treat the ill to the best of one's ability."
All images are sourced from Dr Bali.
---
Also Read: How 2 Unsung American Women Doctors Helped India Eradicate Smallpox
---
(Edited by Saiqua Sultan)
Like this story? Or have something to share?
Write to us: contact@thebetterindia.com
Connect with us on Facebook and Twitter.