Courage and conviction, this gritty couple has oodles of them. #Respect
"For years, we have heard people say, 'you lot are Bhangis and you cannot do anything except pick up a broom and clean'. In our bid to rise up against this mentality, we want to help people from the community to rise up. When other people who have the same set of hands and legs can earn through alternate ways, why can't we? Although our work began with education, we delved deeper into caste discrimination, the practice of untouchability and why my parents, for example, weren't allowed into other people's homes, not offered water of asked to maintain a safe physical distance while offered water or food," Preeti Pradeep Hajare tells The Better India (TBI).
---
This jute bag with its beautiful and colourful designs is made by a group of skilled women artisans! Click here to know more
---
Preeti and her husband Pradeep, who were once manual scavengers, today run a non-profit called the Jan Jagriti Aawahan Bahuuddeshiya Samiti (JJAS) in Nagpur, which they registered in 2010.
The non profit, whose work had already begun in 2007, works to empower manual scavengers by running a school/day care facility for their children and other marginalised communities in Nagpur. They raise awareness about the rights of manual scavengers, conduct skill development programmes for them, organise health camps and clinics alongside other NGOs and government agencies. They also assist youngsters who want to transition from their caste occupation and find alternative sources of livelihood. Their work extends towards the larger Vidharbha region.
Fellow community members Ishant Hathibed and Rahul Samundre helped them launch JJAS.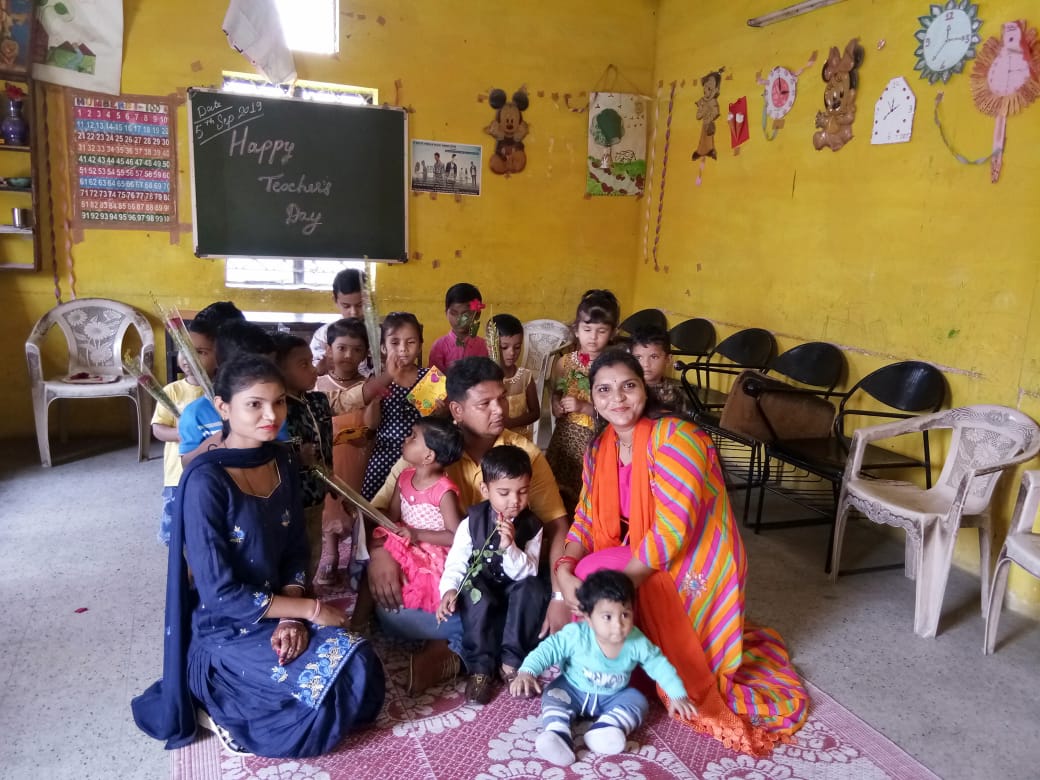 The Story of the Co-Founders
Preeti (33) grew up in a family of manual scavengers. She saw her parents struggle to make ends meet cleaning dry latrines in the city of Nagpur, Maharashtra.
"I had to help my mother with work. In the school I studied, my mother would often find work there cleaning toilets. On days when she couldn't make it to work because of illness, the teachers would order me to clean the toilets since 'this is what your people do anyway'. At an age of 12 or 13, one does not have a lot of sense. I used to think that if my mother isn't coming into work, I would have to perform these menial tasks," says Preeti.
"If there was a high caste student in class, they would make me sit separately or at some distance. They wouldn't share their lunch boxes with us. At the time, this discrimination wasn't very apparent to us," she adds.
She recalls multiple instances of teachers in school actively discouraging her from pursuing a decent education because they believed it would be of no use to her. After all, for a women from her community, what other work was available? She recalls one particular instance when she won first prize in a school poetry competition, and instead of encouraging her, the teacher issued a reprimand.
Undaunted by all the taunts from fellow classmates and teachers, she doggedly continued with her education. With her parents unable to afford college fees, she started giving coaching classes to children younger to her, taught dance lessons, and sold her poetry to local publications. With support from her father, she completed her graduation and even earned a Master's degree.
Her husband Pradeep Balwant Hajare (34) also has a similar story to tell. While Pradeep's father worked as a non-teaching staff member at a medical college, his mother worked as a manual scavenger. He would accompany her to work everyday before and after school, and this continued till college. It's interesting to note that he didn't know his mother's work was looked down upon by a society embedded in a hierarchical caste structure.
"Back then, I never felt that she was doing dirty work. All this changed when I realised how I was ill-treated and looked down upon in college by my classmates and the society at large. The one event which changed my life was a conference I attended in Nagpur on the state of manual scavengers in India. It was a real turning point for me. Since then, I began strongly objecting to this line of work, got a job as a life insurance advisor, supported my parents, and got my mother to quit her job," says Pradeep.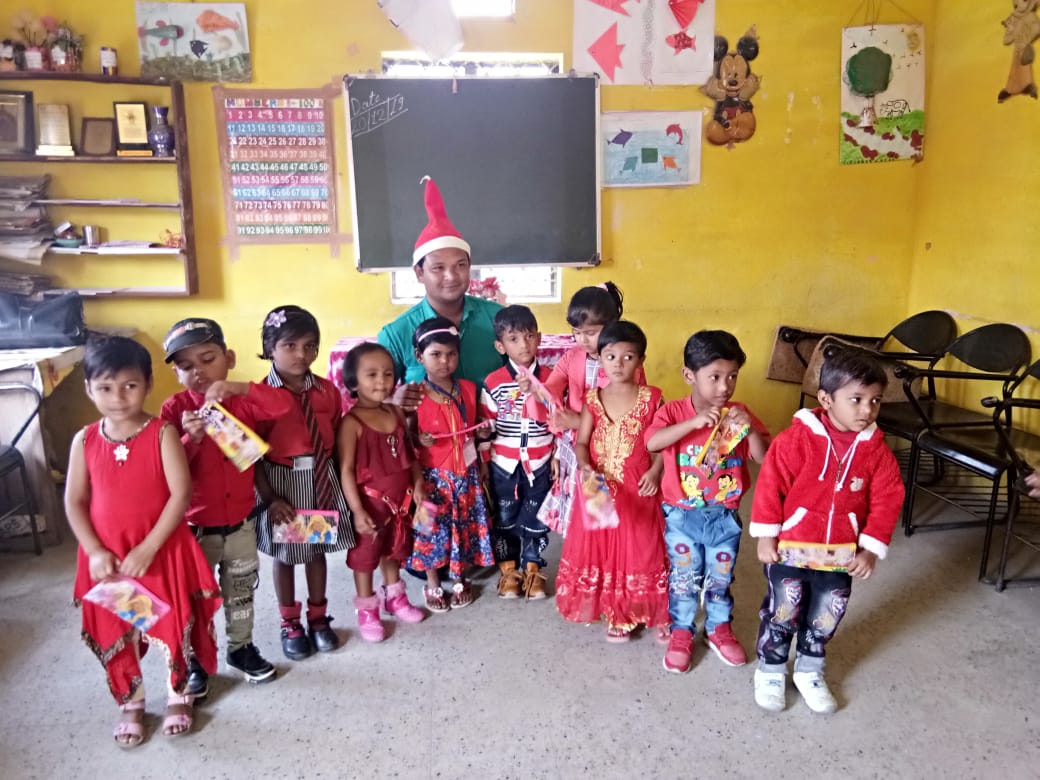 Starting the Kindergarten School in Nagpur
The Prohibition of Employment as Manual Scavengers and their Rehabilitation Act 2013 or M.S. Act 2013 prohibits the manual cleaning of sewers and septic tanks without protective equipment, and the construction of insanitary latrines. More importantly, this piece of legislation also seeks to rehabilitate manual scavengers and provide them with alternative sources of employment, among other things.
Education is the first step towards transitioning away from this dehumanising occupation.
Thus, in 2008, JJAS started the Shining Star Convent School in Nagpur, an English medium school with classes from Nursery to KG-2. For the first two-three years, Pradeep taught the children at his residence. After getting permission from the necessary authorities, they shifted the school to a formal building built at their Basti. Today, there are nearly 50 students in this school.
"After they turn six, we also give them free tuition at the school. Besides, we also run a playgroup, which earlier included students from our community but we have extended it to other marginalised communities. The parents of most of these children leave for work at around 5.30 AM. In their absence, these children need looking after. Otherwise, they will find themselves in the wrong company. Instead of letting them slip through the cracks, we ensure that they learn language skills, and given insights into their aims and potential," says Preeti.
"We also run a programme for 14 to 15-year-old children to help them understand our work and the options that lie before them. We offer education at a nominal fee of Rs 50-100 per month. Since we cannot afford to pay for qualified teachers, we reach out to girls from the community who have a desire to teach and offer them salaries ranging from Rs 700-1000 per month. At present, we have two teachers and a helper at the school," she adds.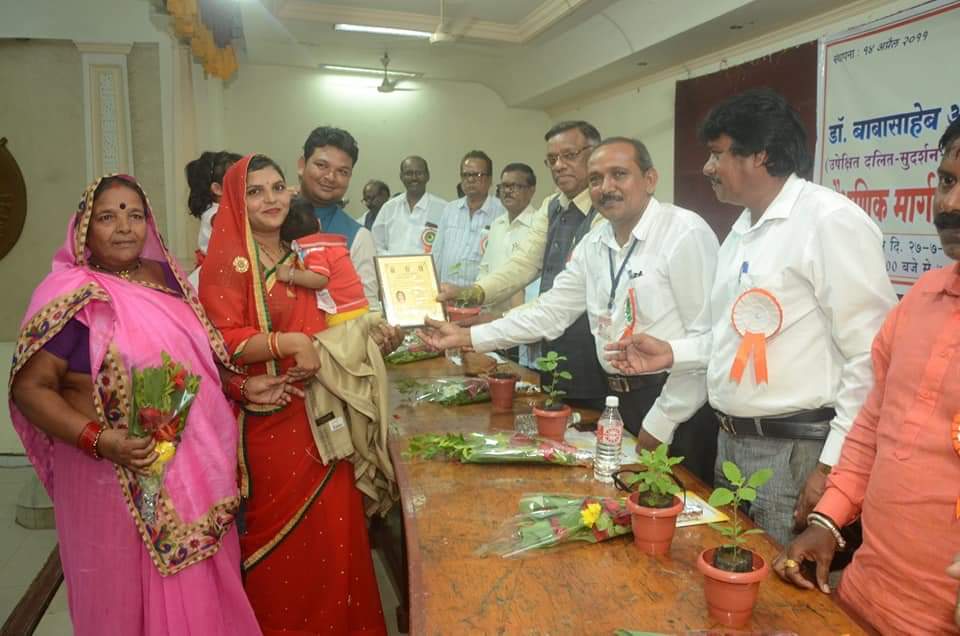 Awareness & Empowerment
Aside from educating young children, the organisation also conducts awareness workshops for their parents. The workshops help them understand the scourge of untouchability better, the history of their community, how they can address discrimination on a daily basis, the legal tools at their disposal and how they can encourage their young ones to take up different occupations once they grow up.
"It became imperative to read seminal texts like 'Mein Bhangi Hoon' by noted Dalit activist Bhagwan Das and documentaries like 'India Untouched: Stories of a People Apart' by documentary filmmaker K Stalin. We even had noted activist Bezwada Wilson visit our Basti during the 2015 Bhim Yatra," says Pradeep.
"We even had the opportunity to meet Martin Macwan, a fierce Dalits rights activist, in Gujarat, where we saw his organisation Navsarjan Trust at work. He showed us how we can conduct grassroots campaigns against caste discrimination, and how manual scavengers can earn through other dignified means," adds Preeti.
The organisation has conducted awareness campaigns across the entire Vidarbha region to ensure that all the information they have reaches the youth. These campaigns against untouchability and caste discrimination are a focal point for the organisation. There is a strong rationale for this focus on the youth.
"The youth can still create opportunities for themselves, while the older generation is somewhat set in their ways. We explain to them how mainstream society works, how we should work and why manual scavenging work is hurting our dignity and identity. We tell them 'if the job you do makes people identify you as dirty/untouchable, why do it? There are a lot of other jobs to do.' They have slowly started to understand it," says Preeti.
Health
Sanitation workers have a lower life expectancy than most. Very few live beyond 60.
As per this WaterAid study, three sanitation workers die at work every five days in India. In short, their working conditions are beyond atrocious, and that has devastating consequences for their health.
"We have seen young boys from our community, who climb into sewage pits, die at a fairly young age. Thus, it became imperative that we engage in health initiatives as well. Every year, we run health camps, alongside other non-profits, charity organisations and even government agencies, who work on creating awareness around HIV-AIDS and cancer. Besides the annual health camp we organise on Labour Day, we conduct a series of health awareness programmes in October-November," informs Preeti.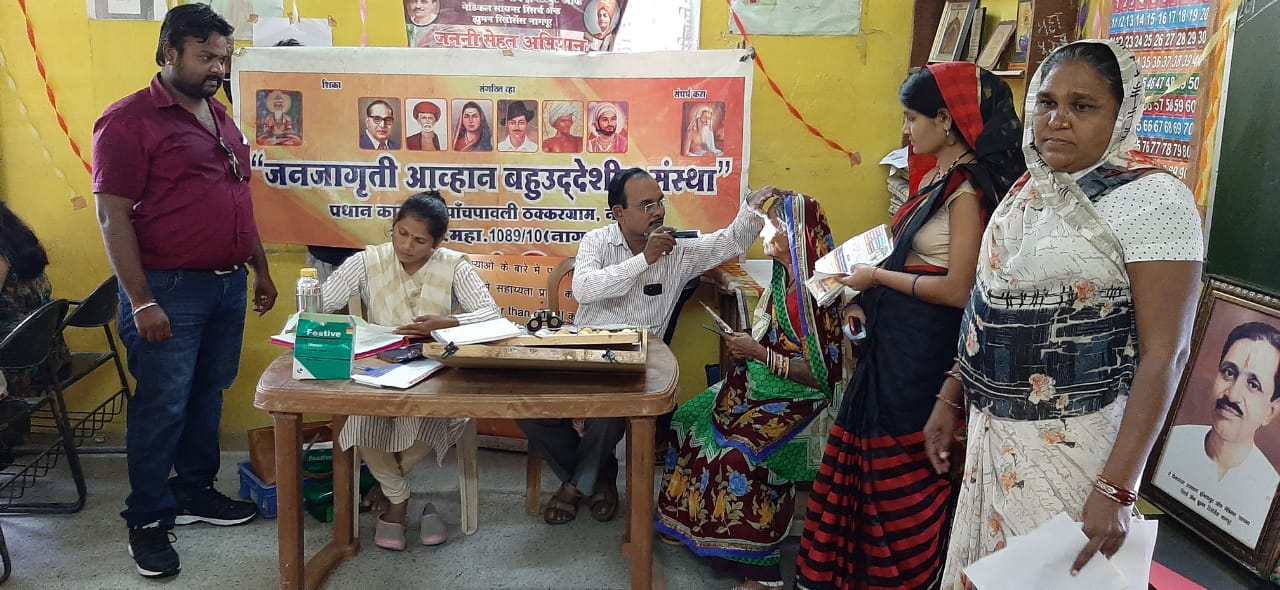 Alternative Livelihoods
Last month, the National Institute of Rural Development and Panchayati Raj (NIRDPR), Hyderabad, invited 20 women for a three-day exposure-cum-raining programme on livelihood diversification for women liberated from manual scavenging with assistance from JJAS. These women have left manual scavenging but still earned their livelihood by cleaning the toilets of other households, streets and other public utilities as daily wage workers in the local municipality .
These women, according to Dr Lakhan Singh of NIRDPR, are particularly vulnerable.
"Aside from having little choice but to engage in such dehumanising work and living with the social stigma attached to their caste, there are firm restrictions on their physical movements and ability to transition into alternative livelihoods," says the Assistant Professor at NIRDPR.
"They are not exposed to the outside world, and face multiple restrictions from their families, particularly going outside for a workshop we conducted in another city like Hyderabad. Earlier we expected 40-50 women to come, but only 20 turned up. For the majority, family members and husbands stopped them from going out, warning them that they could lose earnings worth two or three days. But thankfully both Pradeep and Preeti did a wonderful job of mobilising and bringing these women to Hyderabad. NIRDPR took care of all the logistics arrangements and paid Rs 800 per day to each woman attending this workshop as compensation for income lost," says Dr Lakhan.
The community's main concern, particularly the women, is their inability to obtain another job in the market because of the stigma attached to their caste. Although they are more than willing to give up these jobs, alternatives need to be found that match their needs and skills. Otherwise, this transition wouldn't be successful.
"Our objective is to change their outlook towards the world, orient them to different government schemes and motivate them to leave such undignified work. We have a rural technology park at our institution, where we train the rural citizens in different trades. We offer skill development in making mud bricks, paper bags, jewellery, leaf plates, mushroom cultivation, honey bee cultivation and soap making, etc. We train them across 30-40 different trades at our institution free of cost," says Dr Lakhan.
Following consensus from the 20 women there, NIRDPR decided to train them in making floor cleaning, hand washing and general soap products. Today, Dr Lakhan receives multiple calls from the women about how they are selling the very products that they were trained to make. He believes the programme has changed their perspective on such work. Aside from cleaning products, many women in the community have also learnt how to make handcrafted products like curtains, doormats, etc.
"Our trainers like Lakhan Sir have been very supportive of our work. We are still trying to source more raw material for the 20 women who attended the workshop. There are many from our community who have ventured into other jobs. For example, there is a boy who used to assist his parents in sanitation jobs, but today runs a pathology lab and employs other boys from the community. Our work is to support these people in their attempt to quit manual scavenging," says Preeti.
Nonetheless, it's important to note that quitting manual scavenging without the ready availability of alternative means of livelihood is counterproductive. Despite terrible working conditions and low pay, manual scavenging offers a steady and assured stream of income.
"So, we have suggested that those who are still engaged in sanitation work continue with their day-to-day tasks, but develop these alternative trades as supplementary sources of income. Once they get proficient enough in their new trades, earn regularly and enough for their family, they can quit this dehumanising occupation altogether," says Dr Lakhan.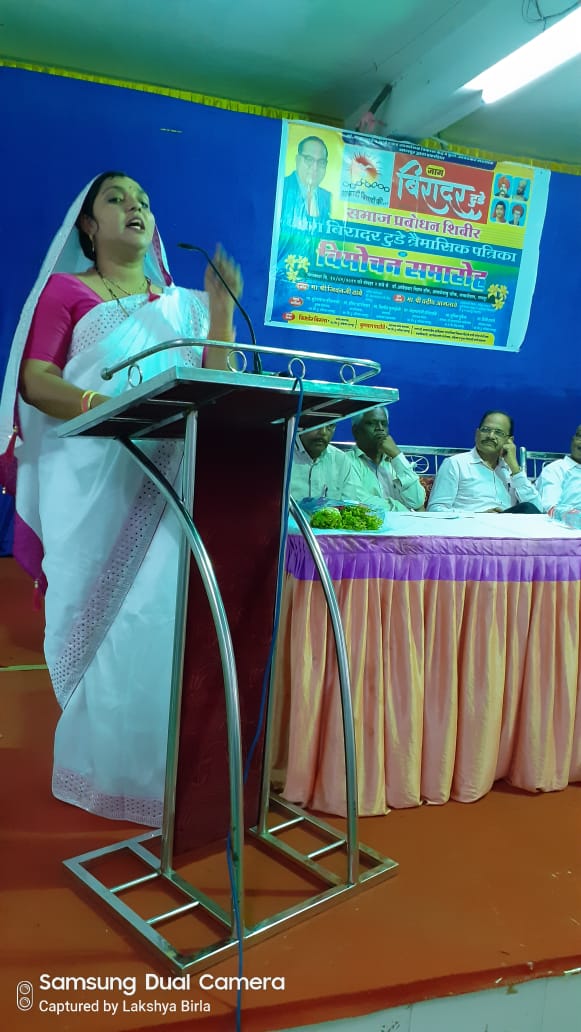 "Moreover, there is a feeling of satisfaction among those who have left manual scavenging that they have done so despite the challenges of this transition. Most importantly, however, parents are not allowing their children to join them in this profession. Yes, they may undergo financial problems, but will not go back to that work and thus ensuring the next generation doesn't perform this dehumanising work. If our daughters and sons keep working in this line, our community will continue to suffer," says Pradeep.
But even if they want to get out of manual scavenging, the stigma attached to their caste occupations sticks with them. How do they access alternative livelihoods and making a decent living without their caste identity running them down?
---
Also Read: Beacon of 'Good Work': Even A Hired Goon Refused to Beat This Crusader For Justice!
---
"For the Mehtar community in Nagpur, they already have a massive community living in the city. A ready market is available for their products. We did this workshop early last month, and overall larger change is slow because what you are dealing with is generations doing the same work and being unable to get out of this socio-economic trap. It's not very easy, but the feedback I am getting is very encouraging. Not only are they selling products to members of their community, but outsiders as well. We didn't train them in just one trade because that would fostered tough competitions among members of the same community, but different trades to ensure each of them can grow at their own pace," argues Dr Lakhan Singh.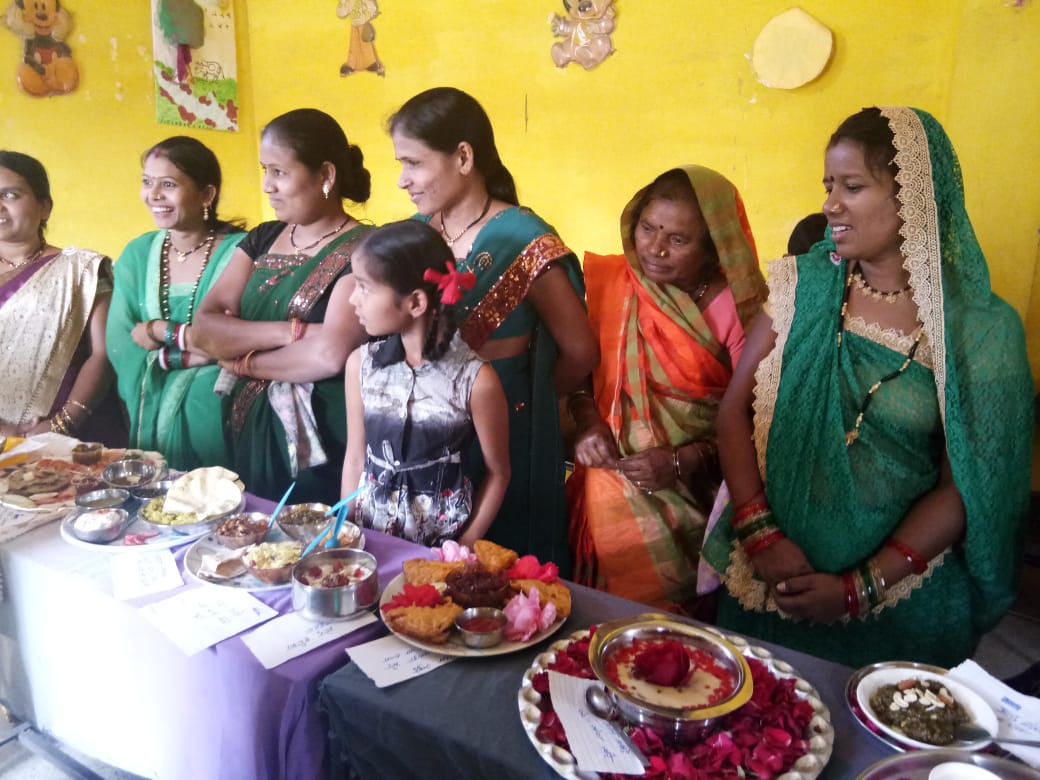 Although there are government schemes like the Centre's 'Self Employment Scheme for Rehabilitation of Manual Scavengers' (SECRMC), which offers cash assistance and subsidised loans and the Swachh Bharat Mission, multiple reports seem to indicate that they haven't seriously addressed the problem of manual scavenging. For example, fund allocation for schemes like SECRMC have fallen. Having said that, it's important to help these marginalised communities access these schemes, which the JJAS has facilitated.
"After the training at NIRDPR-Hyderabad, I feel we can target the older generation as well. Similar exercises in these institutions, where women can come and attend will be a good step, since they can influence the way their family thinks. Even though education is a massive tool for people who want to get out of manual scavenging, we cannot ignore the other tool that is equally important, which is having alternative livelihood options," says Preeti.
(Edited by Saiqua Sultan)
Like this story? Or have something to share? Write to us: contact@thebetterindia.com, or connect with us on Facebook and Twitter.