"An averagely efficient car in India runs on a mileage of 20 kilometers per litre. This means that it would consume 6.45 litres to cover 129 kilometers. But what if the tables were turned? What if you could travel 129 kilometers by using just 1 litre of fuel?" #DriveGreen #Innovation
This article has been sponsored by Shell
"An averagely efficient car in India runs on a mileage of 20 KM per litre. This means, that it would consume 6.45 litres to cover 129 kilometres. But what if the tables were turned? What if you could travel 129 kilometres on just 1 litre of fuel? That would eventually translate to less emission and lesser pollution. With a mileage of 129 kmpl, we are making that possible," says Sanjeev Poduri, a member of Team Eco Titans, who recently won the Shell Ecomarathon Asia 2018 (SEM).
India's capital is now at the cusp of a full-blown airpocalypse. Sadly, this situation is not exclusive to Delhi. A slow, deadly degradation awaits the entire country, and through its 2015 records, the US-based International Council on Clean Transportation (ICCT) confirms that vehicle exhausts alone caused 74,000 premature deaths in the year.
With the future and well-being of the country clogged at this point, it's time to trace our steps to a better and cleaner tomorrow. And, that's exactly what drove 20-odd students of Vellore Institute of Technology (VIT), to build an energy-efficient car, Decimas.
The Platform and The Innovation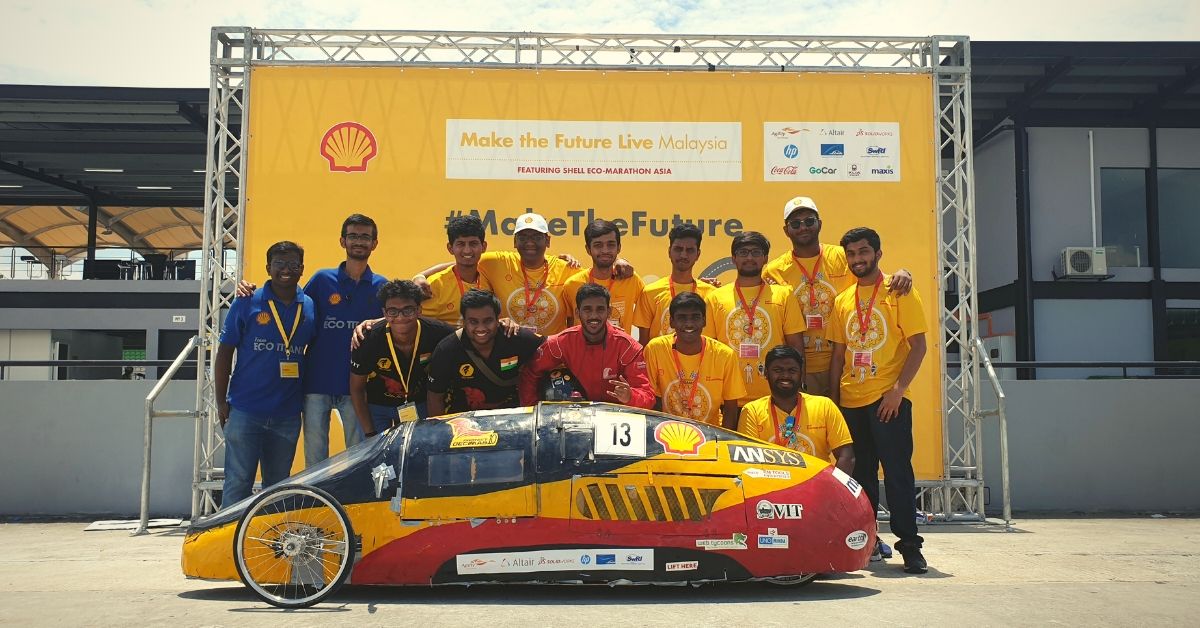 For the past 34 years, Shell Eco-marathon has been driving young minds towards innovation in the automobile sector. Through this competition among students teams from across the world, Shell is trying to help the youth get a hands-on experience in achieving ultra-energy-efficiency. The 2018 edition of the marathon was held at the Madras Motor Race Track in Chennai, in December.
One of the participating teams, Eco Titans, aimed to define the next generation of energy-efficient vehicles. They achieved a huge feat by successfully running the car on a mileage of 129 kmpl at the competition, which eventually won them a trophy in the Prototype Category of the Shell Ecomarathon.
What sets Decimas apart and allows for its heightened efficiency is its aerodynamic design in the teardrop shape which minimises drag. Furthermore, "The petrol-based car runs on an internal combustion engine with an electronic fuel injection system which allows them to fine-tune engine output, fuel consumption, injection timing, etc.through an electronic control unit (ECU), thus maximising efficiency," adds Sanjeev.
But the road so far was never easy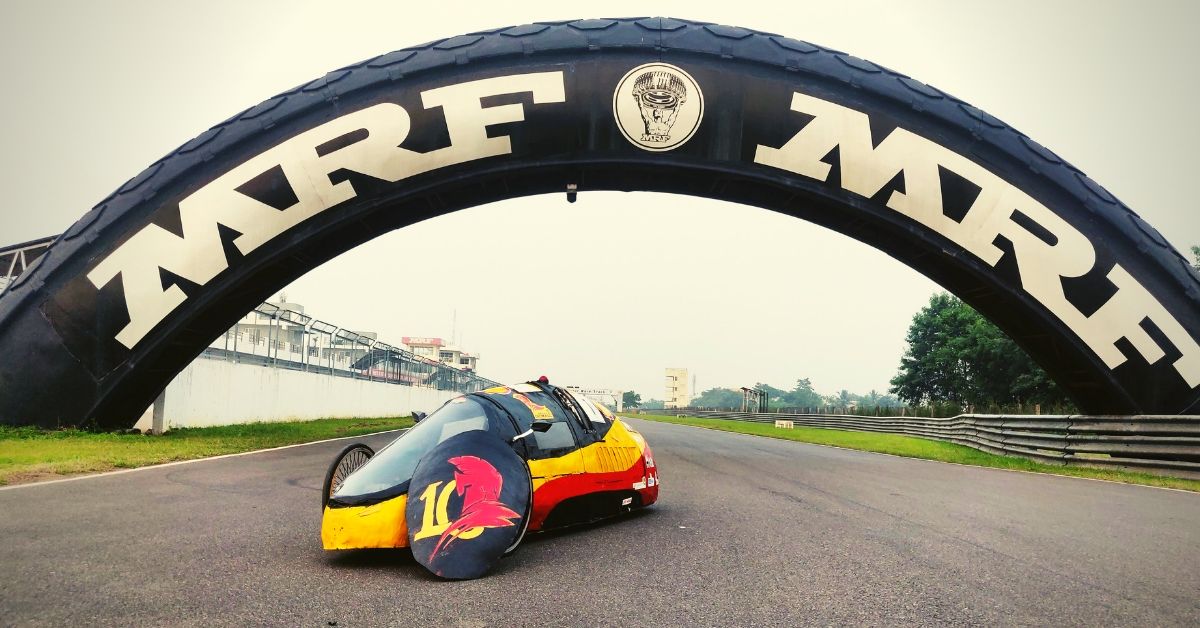 Eco Titans is a matter of pride for VIT students. Each year, the senior batch passes the baton to their juniors as an heirloom of innovation and technical brilliance.
Talking about the journey, Sanjeev says, "I have been working on Decimas from December 2017 and we have had numerous obstacles on the way. The path to a successful run has often been blocked with repeated failures. Even after months of testing, we failed over 25 times during the test-run. But, after all of this, when we finally had a breakthrough with the first successful drive, it was majestic."
A third year Mechanical Engineering student and the team lead, Sanjeev continues to work on Decimas, pushing it to achieve a mileage of 170 kmpl, and finally bring the future car, to the present!
It won't be far from the truth to say that the situation in Delhi is the culmination of decades of torture and environmental degradation. A major part of the credit goes to hazardous vehicular emissions. If innovations like Decimas can rectify the errors we have been making till now, we can look to a greener future.
(Edited by Saiqua Sultan)