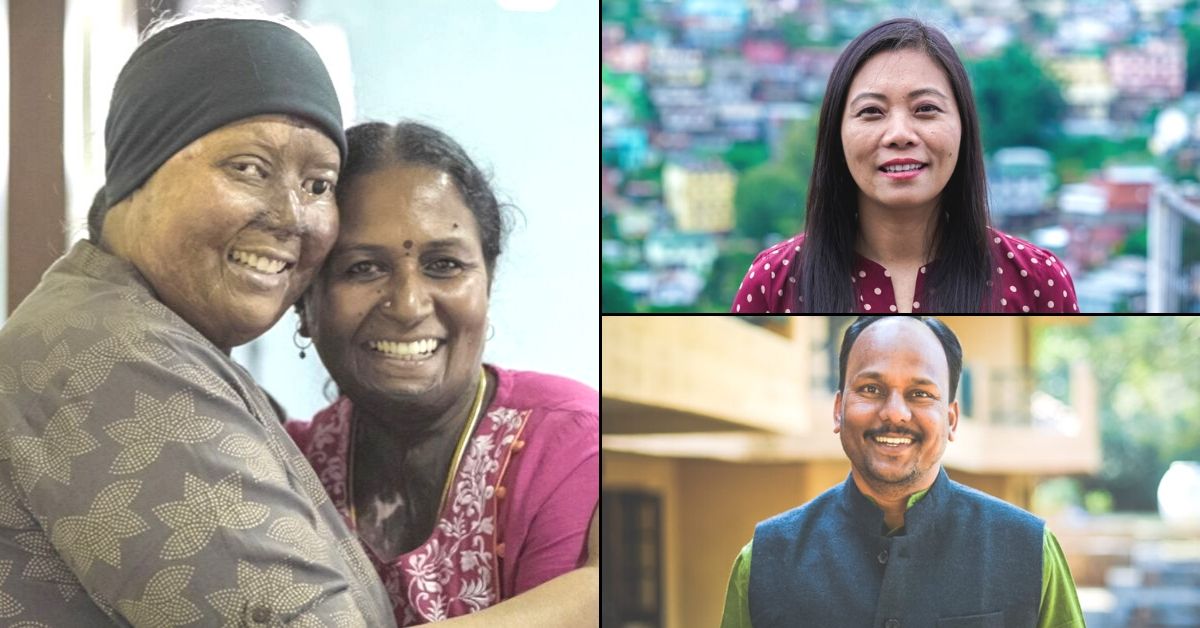 They may not wear capes, but their incredible courage and compassion for the downtrodden makes these Indians superheroes in every other way. #TBIChangemakers2019 #RealLifeHeroes
In 2019, India witnessed several tumultuous ups and downs in the socio-political scene. However, amidst the cacophony of negative news, there were several individuals who rekindled our faith in humanity.
As the year comes to an end, The Better India would like to highlight the stories of 10 such people–from Saju Talukder, a driver from Bengal who was a messiah for impoverished tea garden workers in Siliguri to social activist Ashif Shaikh who has rescued over 41,000 manual scavengers–whose incredible endeavours uplifted millions and united the country in the glorious spirit of humanity.
1. Bina Seth Lashkari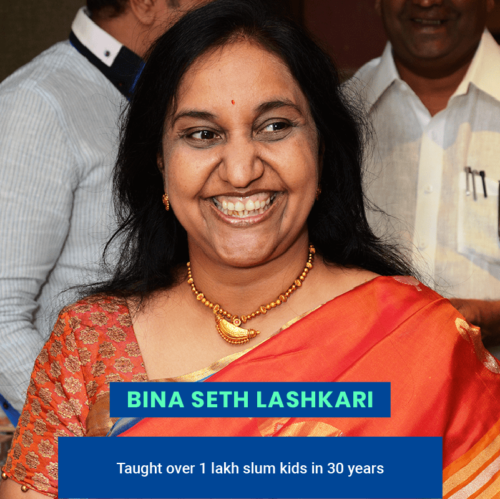 In the past 31 years, this social worker from Mumbai has single-handedly revolutionised the primary education sector in the city through the Door Step School, her non-profit venture. The school, which began in 1998, provides basic education to over one lakh underprivileged children across Mumbai and Pune. Lashkari also manages School-On-Wheels–a fleet of buses with in-built classrooms that ply around Mumbai teaching children who cannot afford to attend a regular school.
At Lashkari's school centres, volunteer teachers teach Maths, Science, English, Hindi, Marathi, and Computer to kids up to 14 years! For the pre-schoolers, Lashkari ensures that they are admitted to the local government schools once they attain the right age.
Lashkari is rightfully proud of the fact that former students of the Door Step School have become established doctors, engineers, teachers, and accountants.
"We need to change our approach to education. The present system focuses on education for a career, not for leading an ideal life. We need to change the pedagogy, methodology, syllabus, and the entire schooling system, to create ideal human beings out of these bright young minds. At the Door Step School, we are doing something, but we alone cannot take it up at all levels. Educators, parents, and every citizen from across the country need to understand and act upon this. Only then we can dream of a better society."
Read more here: From Doorstep to On Wheels: How This Woman Taught Over 1 Lakh Slum Kids in 30 Yrs
2. Sushil Kumar Meena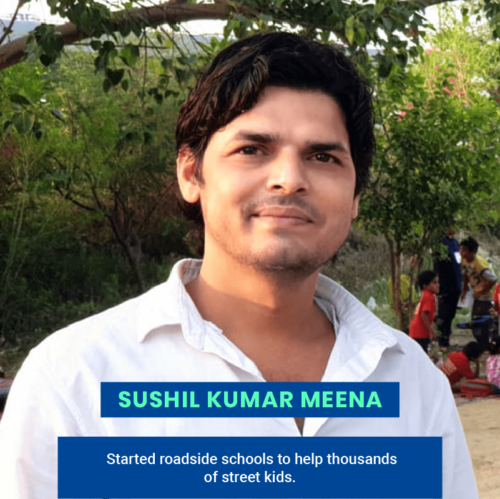 A railway section engineer in Ghaziabad, Meena has taught nearly 3500 slum children across Uttar Pradesh, Bihar, and Rajasthan for the past six years. He also provides free meals every day to over 800 children.
Operational since 2015, his NGO, Nirbhed Foundation, has given a fresh lease of life to child labourers and ragpickers who otherwise had little chance of a decent education.
Hailing from a lower-middle-class family in Rajasthan, Meena understood the importance of education the hard way, which prompted him to start teaching slum kids. He also managed to rope in his friends for a door-to-door drive that would convince the parents of the same.
Meena and his team of 50 volunteers conduct roadside classes from 5:30 AM to 9 PM every day, according to the children's convenience, as most of them cannot afford to quit their jobs.
Aside from teaching, the NGO also organises food distribution drives as well as cloth donation campaigns across Delhi-NCR.
"I would see little kids toiling away their childhood as labourers or ragpickers. Many of them were dropouts, while some had never stepped into a classroom. So I aimed to eradicate the obstacles in the way of their learning, and offer them a chance at a better life. In the future, I want to open a school of our own with a hostel, so that the parents are assured of the safety, security, and well-being of their children, especially for girls. We are working hard to turn this dream into reality."
Read more here: Ragpickers to Beggars, This Railway Engineer's Roadside Schools Have Helped Thousands of Street Kids!
3. Saju Talukdar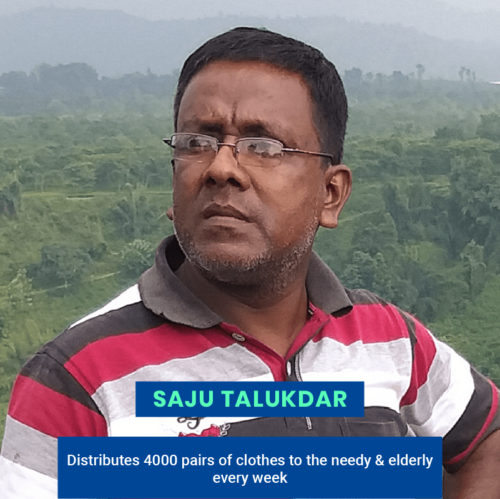 47-year-old Saju Talukdar works as a commercial driver in the obscure Dimdima tea garden of Siliguri, West Bengal. However, he has a different identity for hundreds of tea garden employees, who earn their bread through backbreaking labour.
Talukdar runs the Bir Birsa Munda Cloth Bank and donates nearly 5000 items of clothing every week to these impoverished families. He is a one-man army who drives all-around to collect clothes and then donate the same–all this without taking a single penny.
As a child, Talukdar had to drop out of school in Class 5 since he couldn't afford a new school uniform. The regret stayed on with him because he always cherished learning. He resolved that he would not let anyone suffer the same fate.
During the course of his work, Talukdar would see people in tattered clothes who scrounged for food in dustbins and shivered in the freezing cold in the chilly winter months. He decided to embark on a door-to-door cloth donation drive in the relatively affluent neighbourhoods of Siliguri. Later, he would distribute the collected clothes in the colonies of lesser privileged tea garden labourers.
In January 2017, Talukdar started Bir Birsa Munda Cloth Bank at his home. Spreading the word through social media, he started receiving overwhelming responses from all around. After his story was featured in The Better India, Talukdar has received contributions and blessings of people from all over India.
"Their meagre salaries don't allow the labourers to even afford basic necessities. If they're spending on food, their money runs out before they can even think about new clothes. I myself have stopped wearing new clothes and use a few from the collected lot. If I cannot give them new clothes; this is the best I can do."
Read more here: Bengal Driver Distributes 4000 Pairs of Clothes to the Needy, Elderly Every Week!
4. Suboneba Longkumer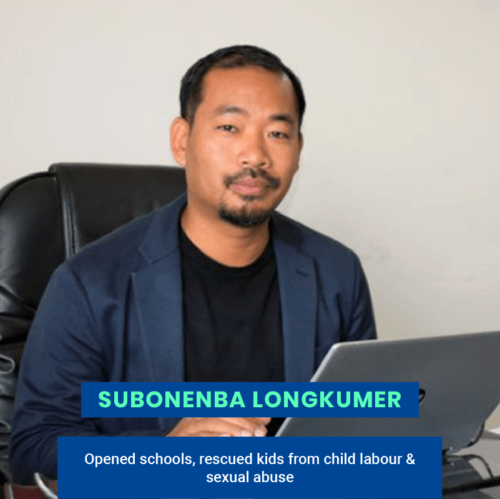 Suboneba Longkumer has rescued nearly 2000 children from child labour, violence and even sexual abuse.
The resident from Dimapur, Nagaland feels strongly about this cause, as he has had a first-hand tryst with the issue in his growing years. After his parents passed away, his uncle's family provided him with shelter, food and schooling; in exchange, he had to work at a relative's hotel.
Longkumer fetched water, collected firewood, cook food as well as perform other menial tasks while also studying. During his college, he applied to participate in a project by World Vision India, which rehabilitated child labourers through education.
Starting his career as a volunteer with a meagre salary, Longkumer proceeded on to become an educator running an entire school. He sold his car and personal assets to maintain the upkeep of the school. His sheer dedication prodded other teachers to support him through thick and thin, and together they started the Community Educational Centre Society (CECS) in 2008 as a non-profit organisation running the school.
Today, CECS manages a school in Dimapur, one residential school in Tuli and 15 education centres across Nagaland as well as a mobile medical unit for remote villages, which caters to 5000 people.
"I feel the biggest problem with today's generation is that they fail to value themselves. We're dependent on technology, social media and other people's opinions, rather than discovering our own passion and aim of life. I would like to tell everyone to work on themselves and become who they want to be. Don't change yourself looking at others. Nobody will give you anything unless you earn it. I came from nothing, but I valued my worth and made people value me. It's all about hard work and sincerity."
Read more here: Orphaned at 12, Naga Man Opens Schools, Rescues Kids From Sexual Abuse & Child Labour
5. Ashif Shaikh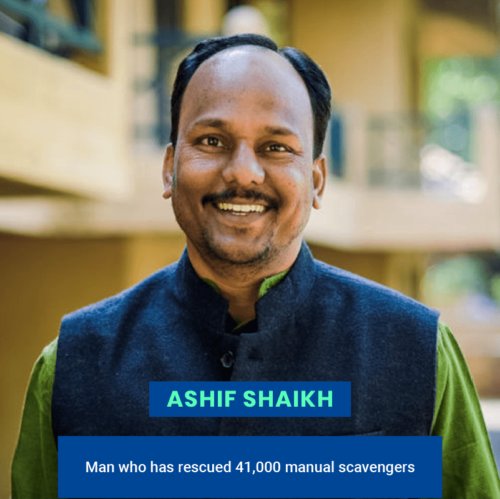 Nine years ago, 28-year-old Ashif Shaikh from Indore started the Jan Sahas Foundation, intending to liberate people from the menace of manual scavenging. Today, he has rehabilitated over 41,000 manual scavengers, bonded labourers and sexual violence survivors across the country. Most of them are women who are now earning a dignified livelihood through various skill-based profession, thanks to the support of Jan Sahas.
Ashif hails from a Dalit Muslim family, and he has faced the unabashed atrocities of caste discrimination in his childhood and youth. He persisted through all the obstacles, educated himself and rose to a position of prominence. Amidst threats and warnings from orthodox casteists, Ashif embarked on the journey to eradicate the heinous profession of manual scavenging from the socio-economic fabric of India.
Today, his outreach extends to the most underprivileged communities lurking in the remotest villages of Bihar, Uttar Pradesh, Madhya Pradesh, Maharashtra and Rajasthan.
In 2019, Ashif organised the Dignity March where over 5,000 women rape survivors walked across 22 districts of India for three months, raising awareness about sexual violence and gender discrimination.
"Manual scavenging or sexual violence is not an issue concerning only the survivor. If you are living in the society, you have a responsibility to prevent, protest and protect. If you find someone being subjected to manual scavenging, you should not walk away, rather try your best to raise voice against it. Same goes for gender-based violence and discrimination. We all need to work together as a society to make India a better place for women."
Read more here: 'Threats Don't Stop Me', Says This 37-YO Who Has Rescued 41,000 Manual Scavengers!
6. Pargat Singh Sandhu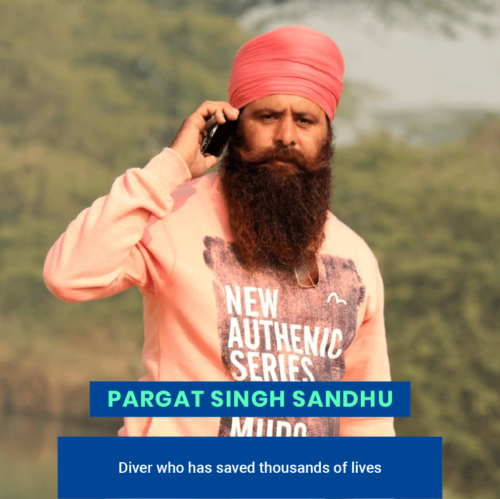 In his native village of Dabkheri in Kurukshetra, Pargat Gotakhor is a living legend. The adept diver has saved the lives of 1,658 people from drowning in the rivers and canals around his village. He has also retrieved thousands of corpses for families to give them a dignified cremation and funeral. Besides all this, Pargat has captured nine crocodiles who strayed into the irrigation canals or waterways near human habitation and rehabilitated them at the nearest sanctuary.
Pargat, a father of two young girls, also trains swimming the youth and children of the village, including his daughters–who are following in his footsteps.
Pargat's popularity has moved beyond the state borders, and he performs the rescue work across Haryana, Punjab, Uttar Pradesh and Rajasthan. He rushes to the rescue scene instantly after getting an emergency call and does everything without taking a single penny.
"I am not doing any job; I am doing seva (service) to humanity. I started at the age of 16, and I will continue doing it as long as God allows me. I always appeal to everyone to do some good service for society, alongside their education or profession. I see many young people giving up on life and committing suicide. I want to tell them that ending life is no solution. Life is a gift, and we should cherish it. If we are living, we should always be there to help and support our fellow brethren."
Read more here: This Haryana Diver Has Saved Over 1.6K Lives & Retrieved 1000s of Drowned Bodies!
7. Hekani Jakhalu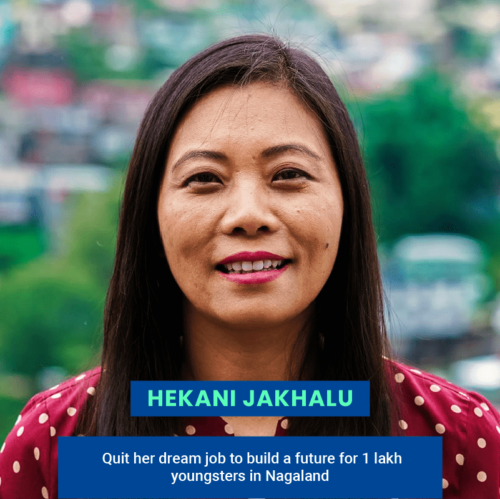 As a lawyer in Delhi, Hekani Jakhalu, who originally hails from Nagaland, would find young men and women from the North-Eastern state swarming the capital city in search of work. They would be found working as waiters in restaurants, assistants in beauty parlours or shop attendants in malls. Curious, Hekani conducted a personal survey and unearthed a sad reality of how the unemployment scenario in Nagaland is forcing the youth to migrate.
Determined to reverse the situation, Hekani quit her dream job at a leading law firm in Delhi and returned to her roots. She founded YouthNet, a platform to train Naga youth to shine in mainstream careers. Through programmes like capacity-building and skill development, she guides and motivates the disillusioned or helpless youth towards a brighter future. YouthNet also helps promote self-employment and the spirit of entrepreneurship in the region.
In addition to helping young people to identify their passion and turn it into a profitable vocation, Hekani has also set up the 'Made In Nagaland' centre which houses indigenous crafts and products by over 100 artisans and entrepreneurs.
"The non-profit sector has its own sets of challenges. I am a firm believer in God, and I take each day as it comes with the hope that God will guide me. And every morning I get up with the hope that my work will make a difference in someone's life. This blessing keeps my life going."
Read more here: Nagaland Woman Quits Dream Job to Build a Better Future for 1 Lakh Youngsters!
8. Shiranee Pereira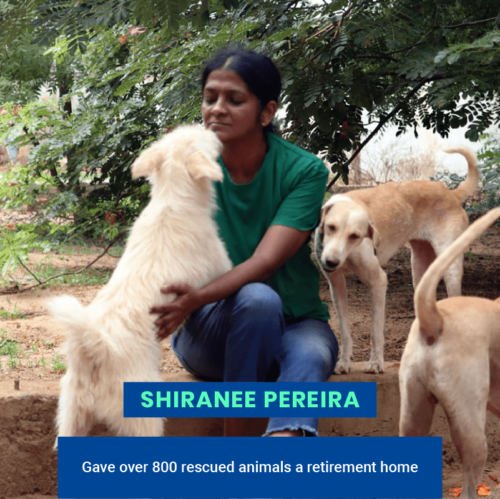 Pereira has had an incredible stint as a leading scientist at the Indian Council of Agricultural Research (ICAR), during which she dedicated her life to caring for the animals who are often subjected to laboratory tests. Later, in 1994, she co-founded People For Animals (PFA) in Chennai, which is now the lovely abode for over 800 animals.
Pereira, who considers all animals as her children, created history by helping in the passing of two national guidelines which assured better treatment of laboratory animals. It was also her sole effort which prompted the complete ban on electrocution of stray dogs.
At present, her shelter houses hundreds of dogs, 120 cats, 40 goats, 185 cattle, 16 ponies and 11 thoroughbred horses – most of whom were rescued from deplorable conditions.
In October 2019, Pereira was awarded the "Shining World Compassion Award" by The Supreme Master Ching Hai International Association from Taiwan. She also received a cash award of $15,000, which she plans to use to expand her shelter.
"My inspiration harbours from my family of animal lovers. I have grown up seeing my parents always being there for the voiceless and defenceless animals. I have always dreamt of being a voice for them. People should understand that animals also feel the pangs of hunger or pain. It is the foremost duty of every human being to protect these helpless beings."
Read more here: Rescued From Euthanasia & Abuse, Woman Gives 800+ Animals a Retirement Home!
9. Pragya Singh
In 2006, barely 12 days after her wedding, 23-year-old Pragya Singh was travelling alone in a train from her hometown, Varanasi, to Delhi, to pursue a career in apparel management.
At wee hours of midnight, while she was sound asleep, a man, whose marriage proposal she had turned down, threw acid on her face. The incident claimed the sight in one of her eyes and the young woman had to undergo several surgeries to reconstruct her appearance.
Today, the mother of two is a beacon of inspiration for hundreds of acid attack survivors and burn victims across India. Pragya Singh is the founder of Atijeevan Foundation, which arranges free surgeries and post-surgical rehabilitation for acid attack and burn survivors. Along with post-op counselling and skill-development workshops, she provides these helpless women and men with a fresh lease of life.
"After witnessing the plight of several acid-attack and burn survivors, I was aware of patients who were in a much worse condition than I was. I wanted to do my bit to help them in whatever way I could. I started a non-profit to counsel and empower survivors by educational and vocational training and facilitating reconstructive surgeries and non-surgical cosmetic procedures. I am not what happened to me; I am what I make of myself. I am convinced that life is 10% what happens to me and 90% how I react to it."
Read more here: Attacked With Acid at 23, Mom of Two Gives 250+ Survivors a Fresh Start at Life!
10. Chinna Pillai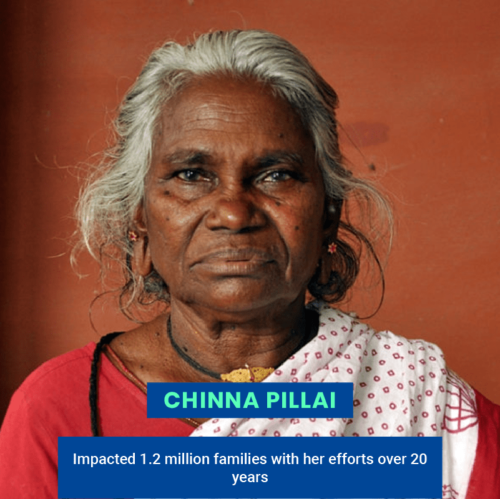 Married off at the age of 12 in Pullucheri, Madurai to Perumal, a landless labourer, life was a series of struggles for young Chinna Pillai. The duo would toil away in the fields, but their wages were barely enough to make ends meet.
However, the mother of five was not a woman to give in to the injustice. Initially, she would politely appeal for better wages for herself and her fellow labourers, which fell to deaf ears. That's when she toughened up and prepared herself for a prolonged fight for rights.
Today, owing to Chinna Pillai's persistent efforts, Pullucheri has become a self-sufficient village – complete with its banking system—Kalanjiam—which has empowered hundreds of women and their families in the last thirty years. In the last 29 years, the Kalanjiam movement has spread across 63 districts in 13 states, helping over 1.2 million families in turn.
Pillai Amma also convinced her group of women to join hands and open PullukKalanjiam, short for 'the Granary of Pullucheri.' At present, her foundation also provides agricultural and other skill-based training to over 4 lakh women in Tamil Nadu, most of whom have strived their way out of poverty line thanks to Pillai's initiatives.
"I go to the women and tell them to take care of their health. I urge them to get married only after 25 and not give in to family pressure for early marriage. I have helped so many people emerge out of stark poverty, and I will continue to help as many as possible."
Read more here: 20 Years, 1.2 Million Families: How Madurai's Iron Lady Broke The Circle of Poverty
---
Also Read: TBI Changemakers 2019: 10 Teenagers Shaping India's Future With Their Brilliance
---
(Edited by Gayatri Mishra)
Like this story? Or have something to share?
Write to us: contact@thebetterindia.com
Connect with us on Facebook and Twitter.
We bring stories straight from the heart of India, to inspire millions and create a wave of impact. Our positive movement is growing bigger everyday, and we would love for you to join it.
Please contribute whatever you can, every little penny helps our team in bringing you more stories that support dreams and spread hope.