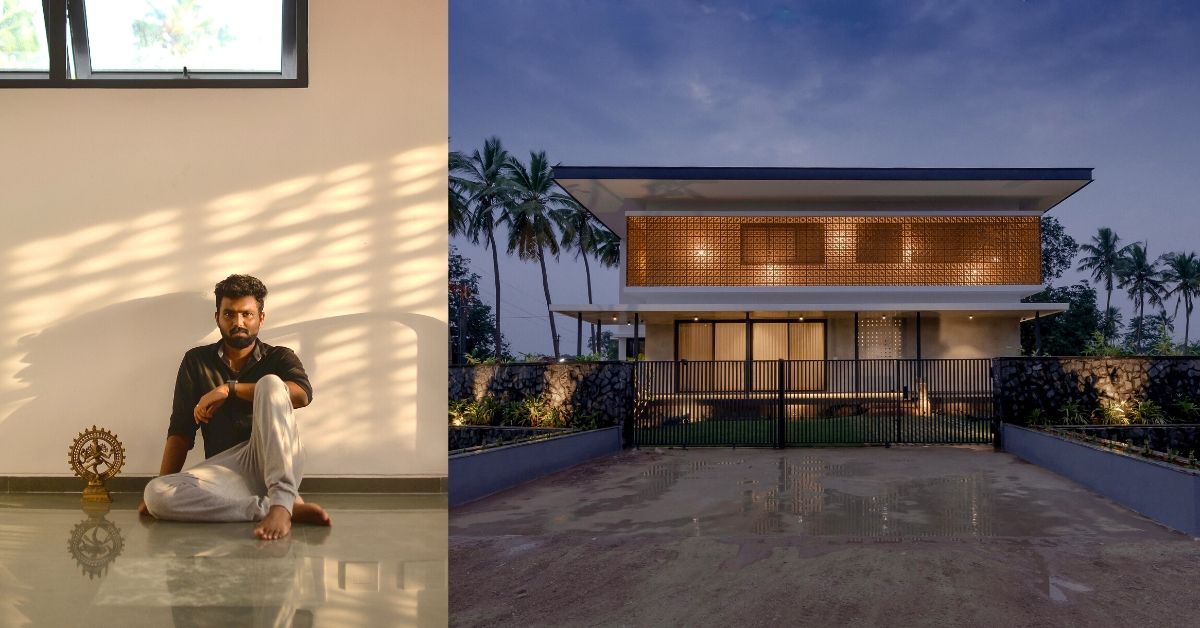 Vignesh Sekar's firm is already earning accolades, and two national awards, for their extraordinary work!
Being a true Chettiar at heart, 60-year-old Suresh Veerapan always wanted to reside in a Chettiar house. At the same time, he wanted a home with all the modern architectural aspects of comfort and elegance.
An amalgamation of the two seemed impossible.
That was until STOMP (Studio for Modernism & Practical Aesthetics) stepped in. Headed by 26-year-old Vignesh Sekar, this architectural firm by four young architects is now earning accolades for their extraordinary work on Suresh Veerapan's new house in Thiruppathur. Aside from being a perfect confluence of modern and heritage architecture, the 4,000 sq. ft. house is 100 per cent climate-responsive.
---
Adorn your interiors with these beautiful hanging planters made from coconut shells.
---
The architects have already clinched two national awards as well as four international nominations for their splendid construction. Want to know the most astonishing bit? The Thiruppathur house was their very first residential project.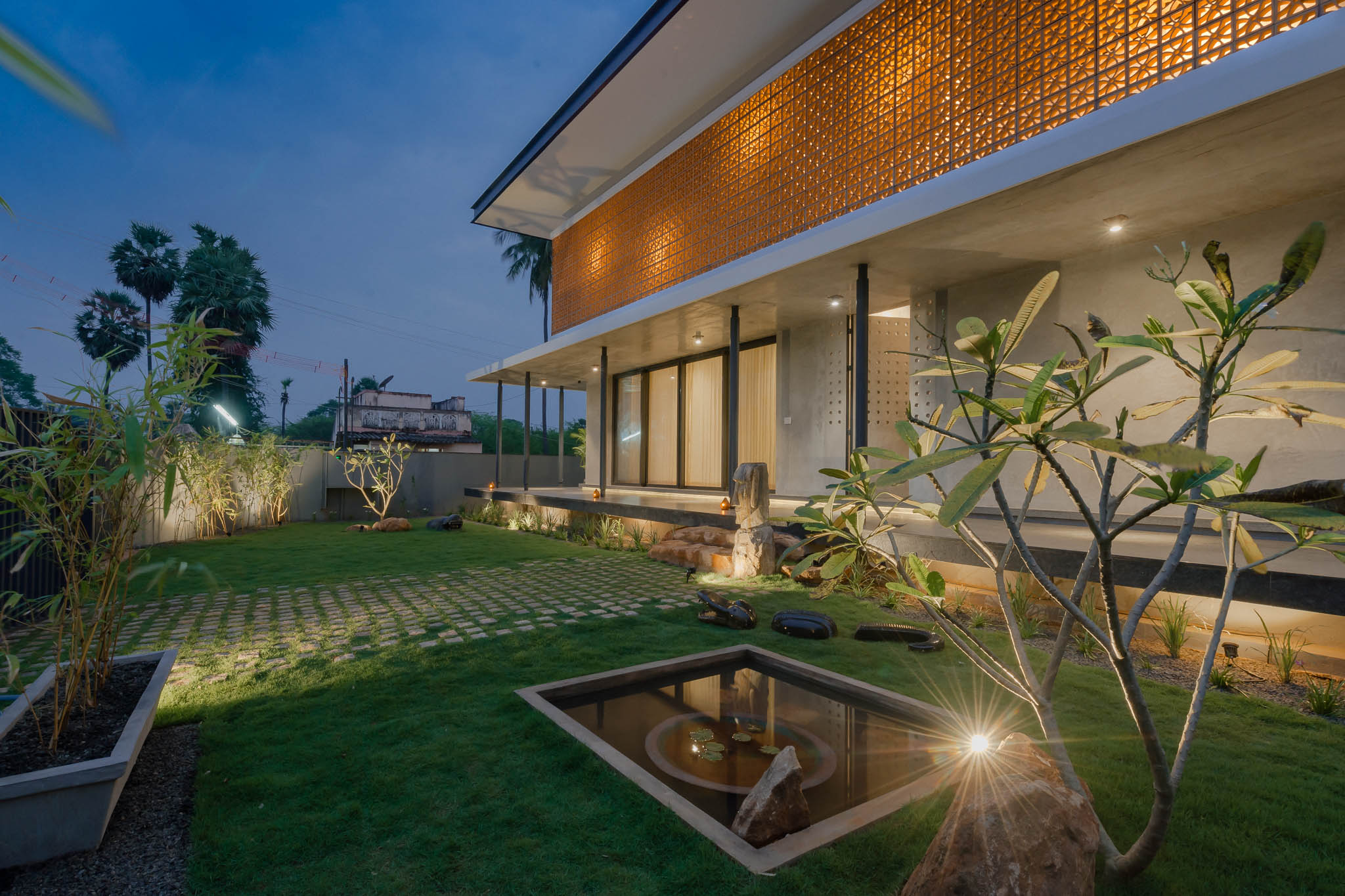 Before this, Vignesh and his team had worked on a couple of government and public projects. Their practice of juxtaposing tradition with modernity was what caught Veerapan's attention. He decided to approach the young team to build his dream home.
A modern home with traditional essence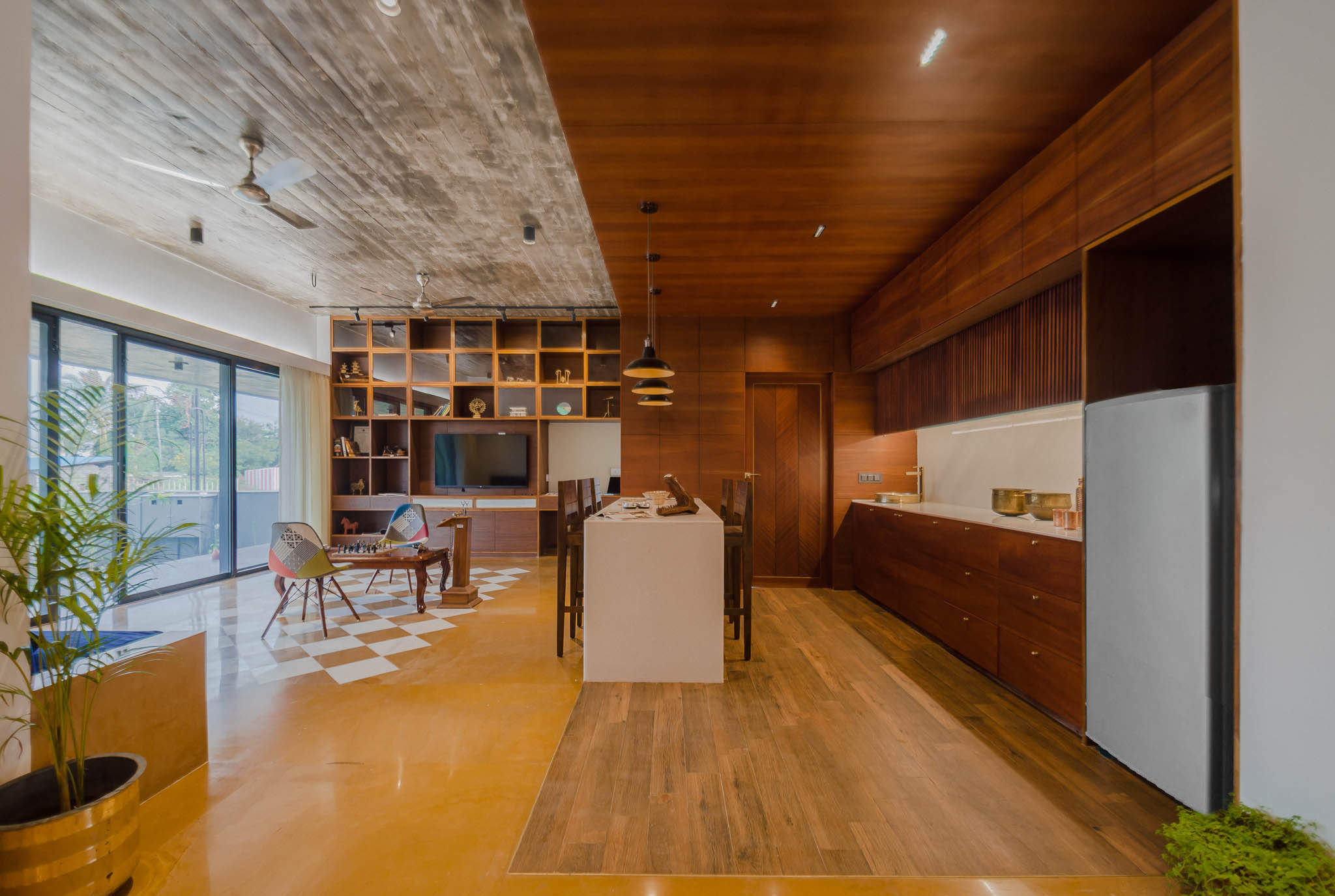 Speaking to The Better India, chief architect Vignesh Sekar shares the intricate features of their standout project, explaining the traditional ways they revived to render the house homothermic across all seasons.
Because Suresh Veerapan wanted a modern house with the traditional Chettiar essence, it follows a typical Chettinad mansion layout. At the same time, the house is climate-responsive. Vignesh studied the climatology of the area and identified that its north-east section had maximum solar radiation, where a filler slab roof was installed instead of normal concrete roofing.
"The filler slab roof is a concrete and terracotta structure mostly found in old houses of Puducherry. With terracotta pots installed throughout the concrete framework, the structure not only offers higher resilience but also acts as a thermal insulator. In fact, it reduces the room temperature by 6-8℃ as compared to the outside," explains Vignesh.
Even in monsoons, the terracotta will retain the moisture and keep the interior cooler, while the residents can enjoy a pleasant warmth during winters.
Sunlight and greenery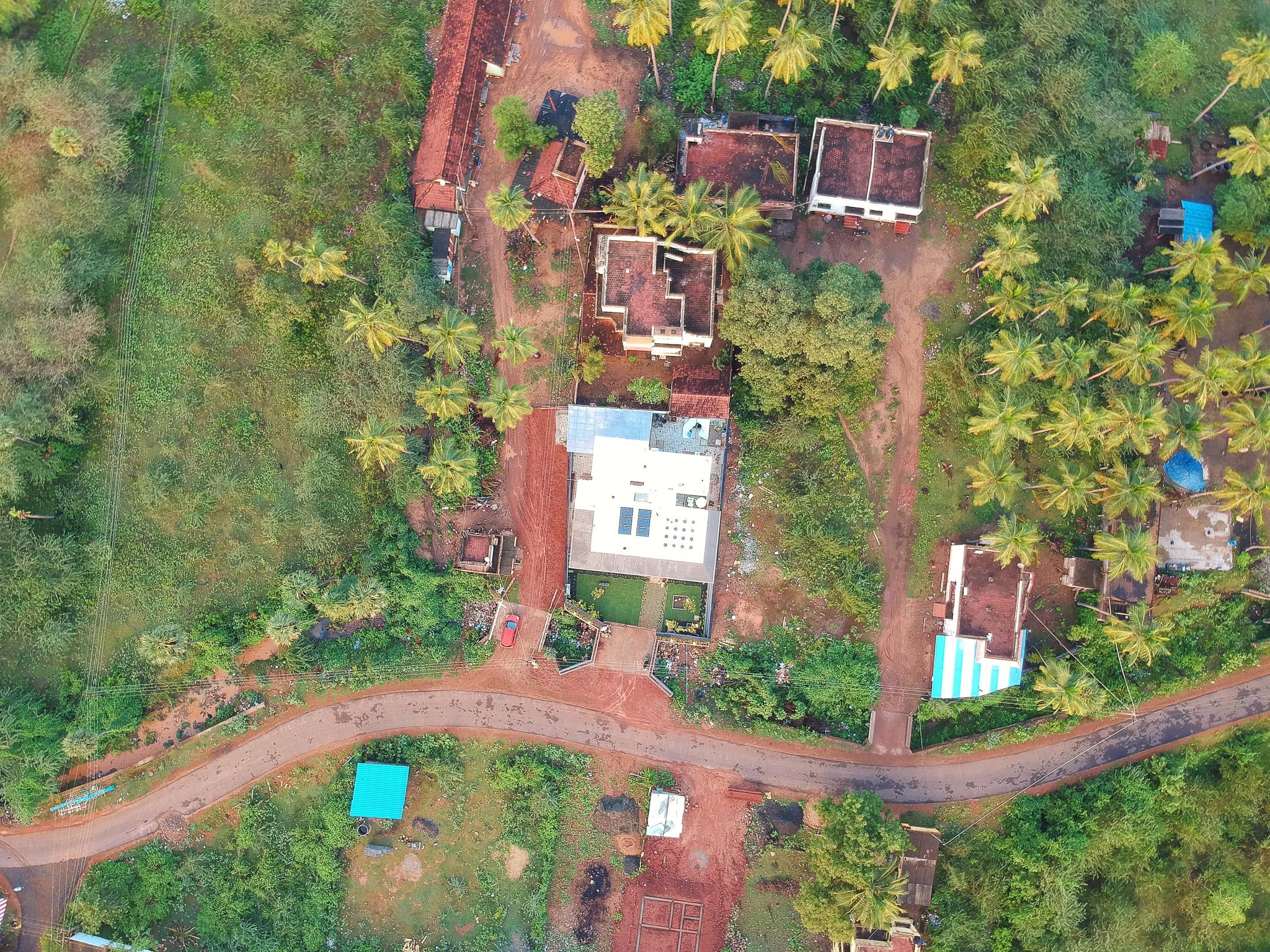 For proper lighting, there are 16 skylights in the property. Since the house is east-facing, Vignesh has installed a terracotta jali (net) near the eastern entrance. Aside from screening direct heat, sunlight and dust, it will also provide a beautiful diamond-light effect on the indoor space. Another brick jali facade adorns the Puja room in the house.
There is also a designated meditation space that is illuminated by sunlight throughout the day. While it gets direct sunlight in the morning, the skylight holes keep the space bright and sunny as the day passes.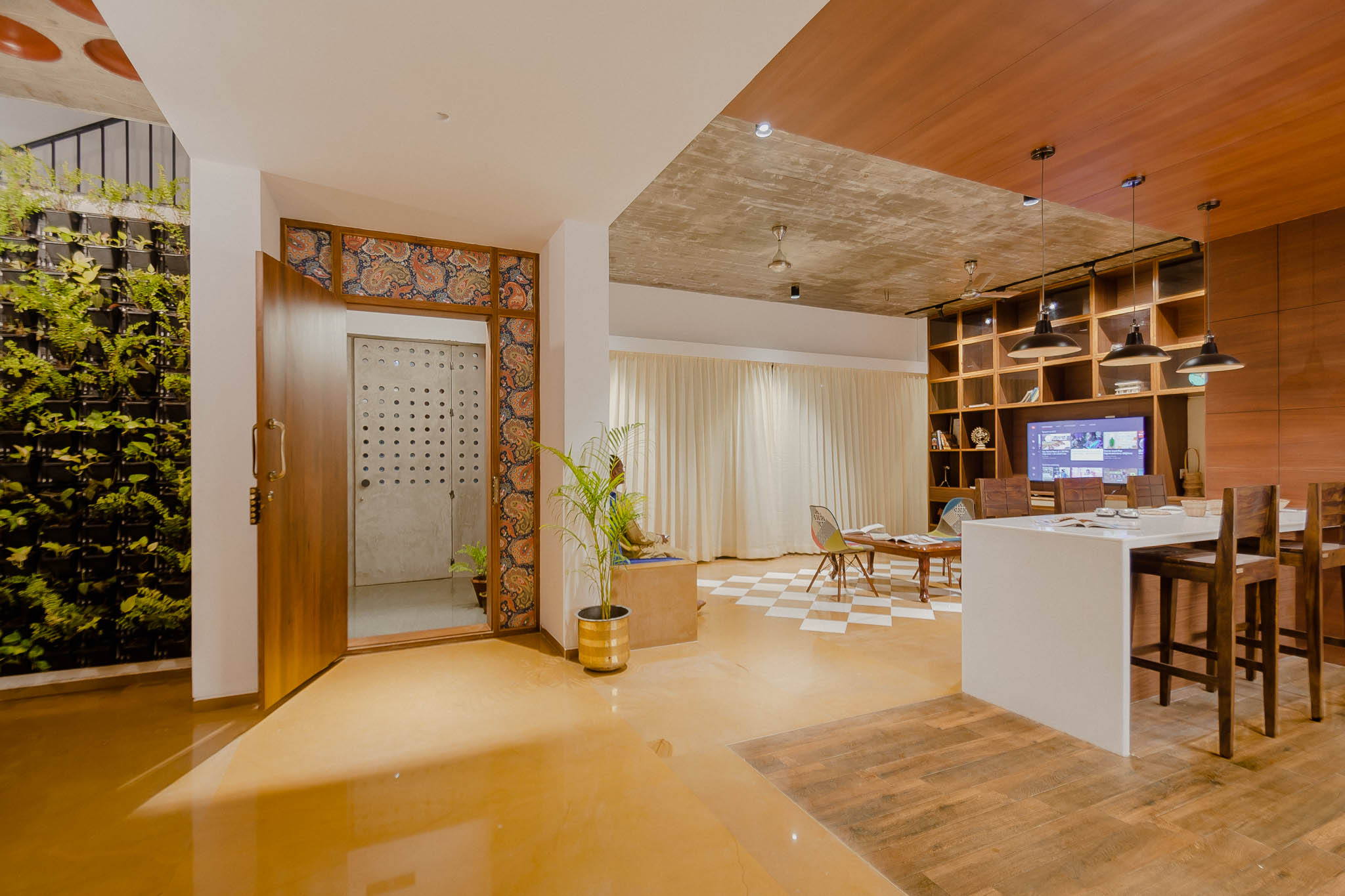 To add on to the sustainability factor, a vertical green wall has been erected in an extensive area. Comprising of air-purifying plants like Pothos and ferns, the green wall ensures a steady supply of indoor oxygen while enhancing the aesthetics of the property.
Additionally, they also retained the existing trees in the plot by translocating them or fashioning the house extensions around them.
The Athangudi tiles and the egg-white emulsion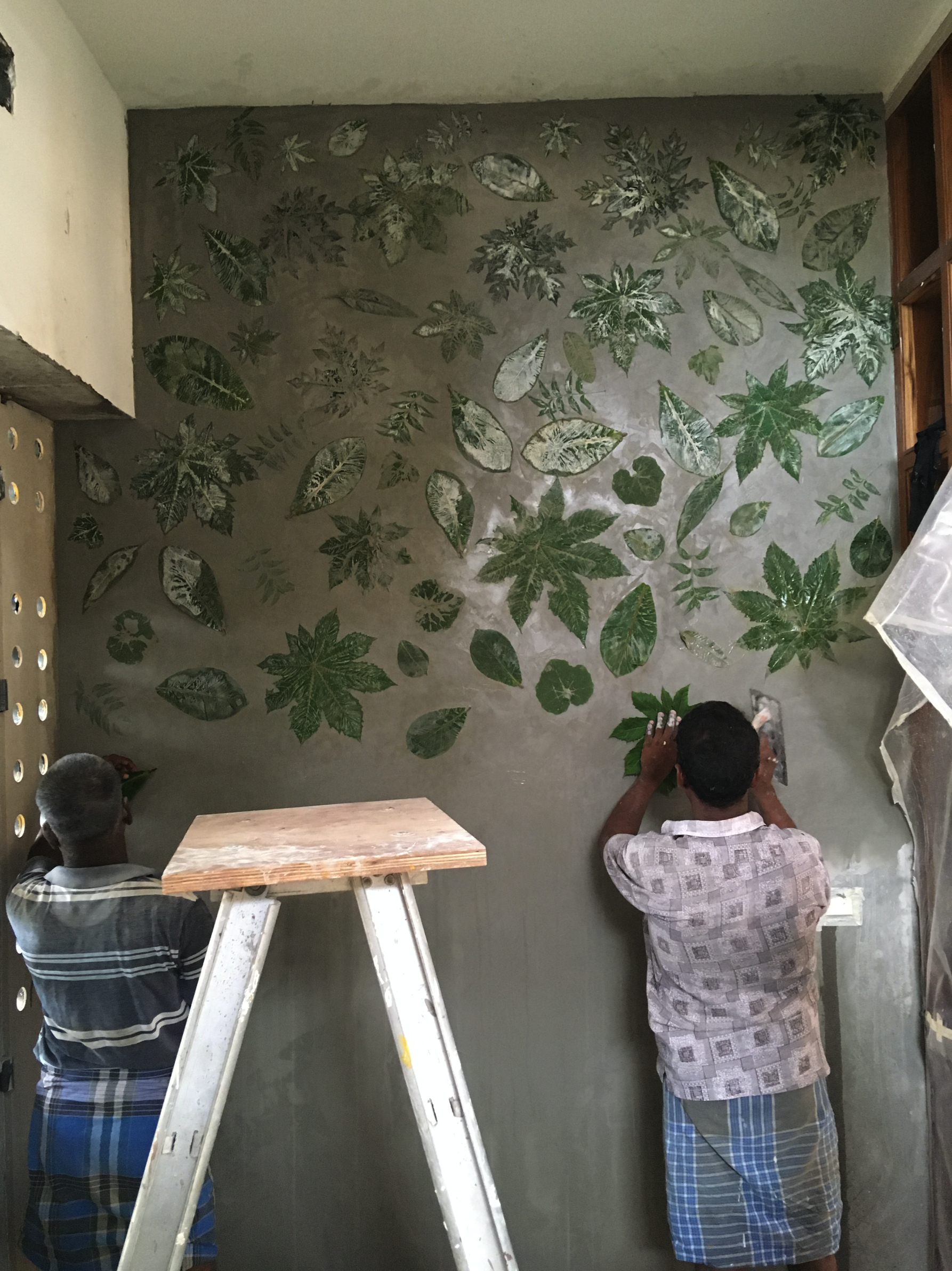 Both Vignesh and his colleague Shamini agree that the main crux of the project was sourcing all materials locally, from within a radius of 50 miles or 80 km. "We made sure to use all locally available resources as well as employ local artisans," says Vignesh.
The tiles for the house were sourced from Athangudi, located 10 km from Thiruppathur. This town is famous for its handcrafted cement tiles, with its artisans being involved in the tile-making vocation since the pre-British era. Historically, aristocrats and nobles would bring in spectacular marbles and stones from overseas, which were incorporated into square tiles in unique patterns. With vibrant colours and psychedelic motifs, the tiles are a characteristic feature of traditional Chettiar houses. The marvellous Athangudi Palace deserves a special mention in this respect.
For Suresh Veerapan's house, the artisans from Athangudi retained the raw materials and structural integrity of the tiles; and Vignesh's STOMP team provided the modern geometrical designs. Thanks to the use of all local resources, each tile was priced at merely Rs 25.
Nearly 80 per cent of the house has been plastered with the traditional concoction of cement, marble dust, sand and egg-white. "The house walls are tinted a mild grey because of this coating, which we chose over emulsion paints. White cement and marble dust provide the necessary colour, and egg-whites act as a weather coat. With a thickness of 2-3 mm, the coating poses a glossy barrier to sun, rain, and dust. Any marks or stains on the walls can be wiped off in an instant," shares Vignesh.
Interestingly, the dyeing technique was accomplished by senior artisans from the region.
Awards galore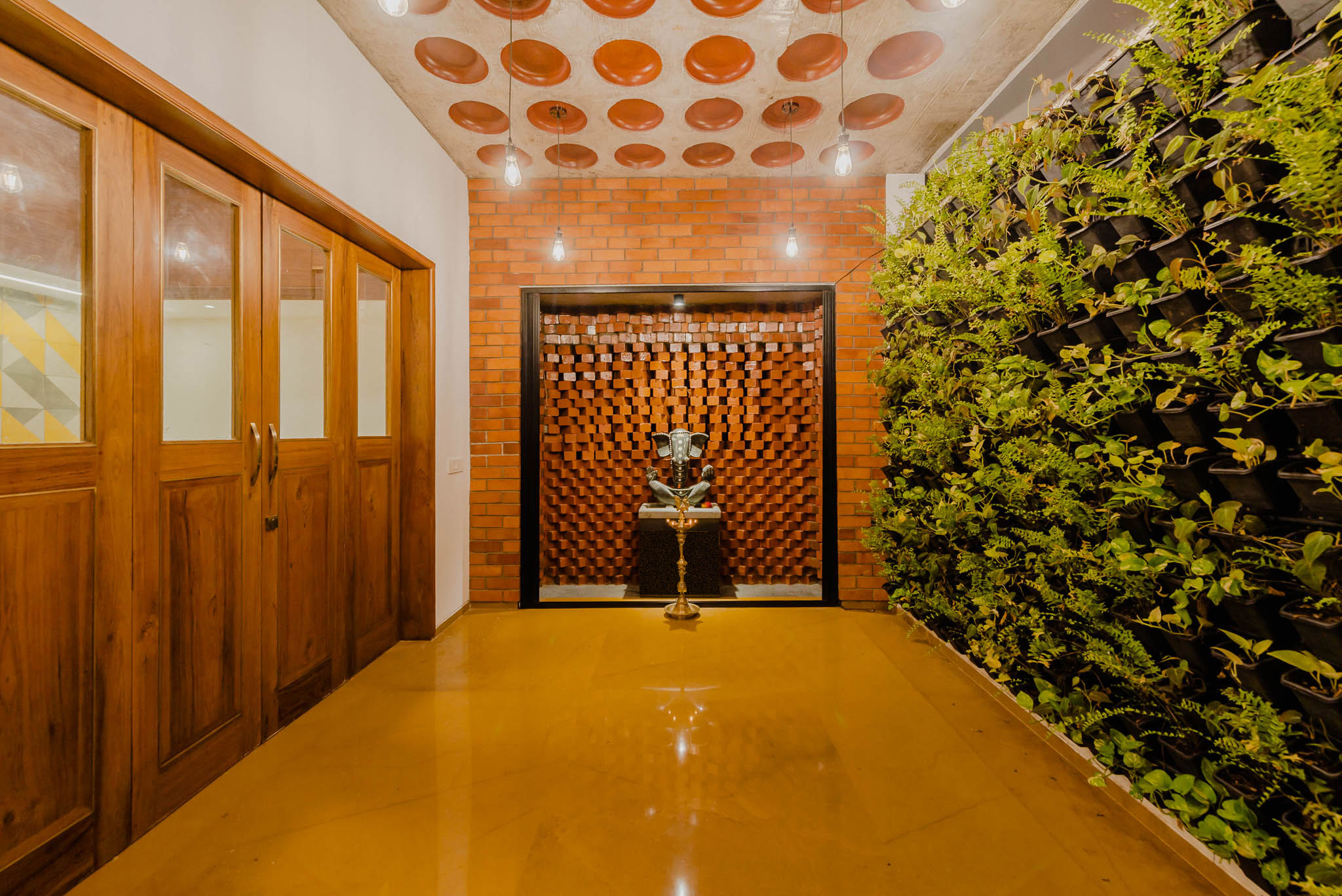 Since the completion of the project, it has been awards galore for Vignesh and his team. Among other recognitions, Vignesh highlights the gold medal at the Festival of Architecture and Interior Designing (FOAID) 2019 in Mumbai and the Young Designers Award from Indian Architect & Builder magazine. The house has also been featured in leading architectural magazines all over the world.
"Perhaps it is the local aspect that earned us so much appreciation," believes Shamini, who assisted Vignesh with the drawings and blueprinting. "All in all, we wanted to provide the client with a humane experience – where he understands the socio-cultural and environmental significance of each aspect in his house."
From empowering the local artisans to reviving fading trades, the project indeed portrayed socially sustainable architecture at its best.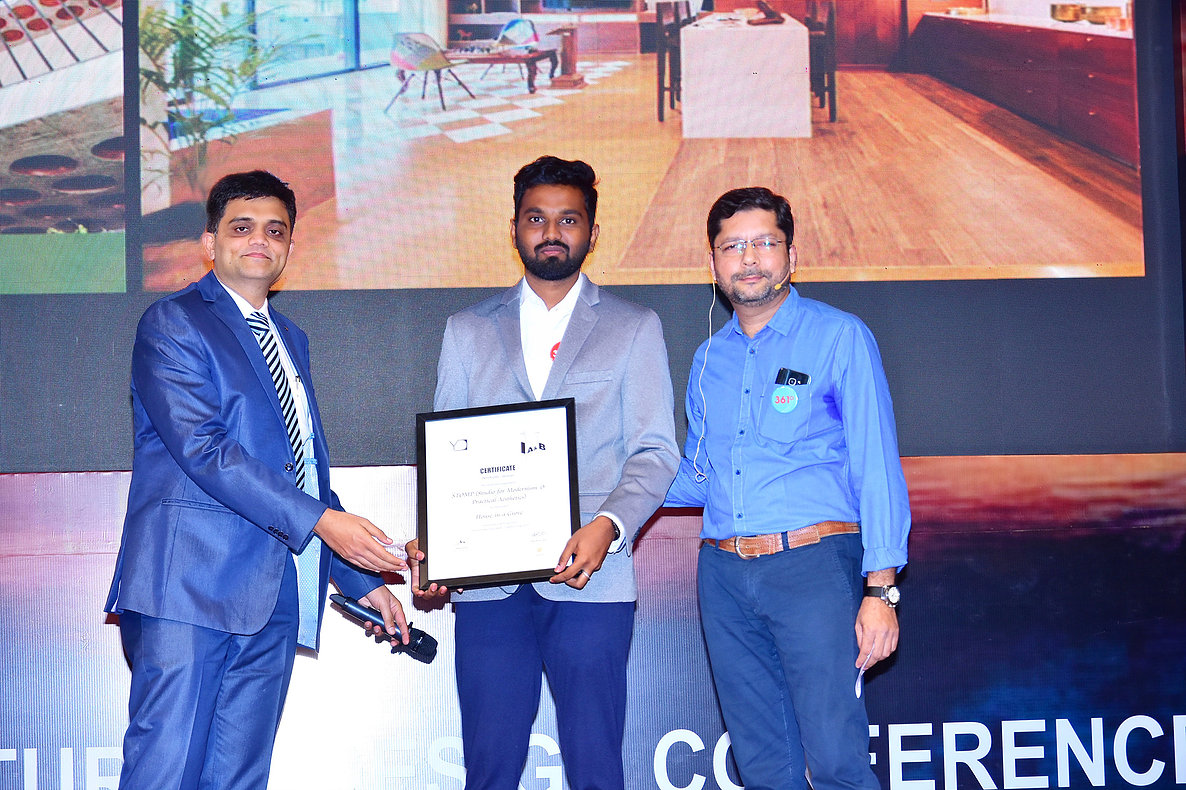 "It was an enriching experience for us. We learnt a lot about traditional construction from these local stalwarts. We had been trying to excel at these traditional methods but never achieved that level of perfection. During this project, we interacted with the rural artisans and observed their work from close quarters. We will surely continue preserving such heritage through our future projects," says Vignesh.
Shamini reinforces the importance of sustainable architecture in the present-day context. "In the wake of climate change, our architecture should reflect sustainability in its basic framework. All architects should follow these principles by heart. And what better way to exercise sustainability than to follow our traditional construction methods? If our buildings and homes do not adopt sustainability, the future is quite bleak."
For details, get in touch with Vignesh Sekar and his brilliant team at stomparchitects@gmail.com.
---
Also Read: Building Low-Cost Green Houses Since 1996: Architect Brings Back Mud Homes In India!
---
(Edited by Shruti Singhal)
We bring stories straight from the heart of India, to inspire millions and create a wave of impact. Our positive movement is growing bigger everyday, and we would love for you to join it.
Please contribute whatever you can, every little penny helps our team in bringing you more stories that support dreams and spread hope.