Newspapers, documents, old envelopes, notes from bygone college semesters⁠—paper is aplenty in our homes. But are you using them in any way? Or are they barring you from going 100% zero-waste?
If so, we have a solution for you⁠—paper bags!
These easy, convenient and most importantly, free-of-cost bags can be made from old papers in the wink of an eye.
Step 1: Gather the Things you need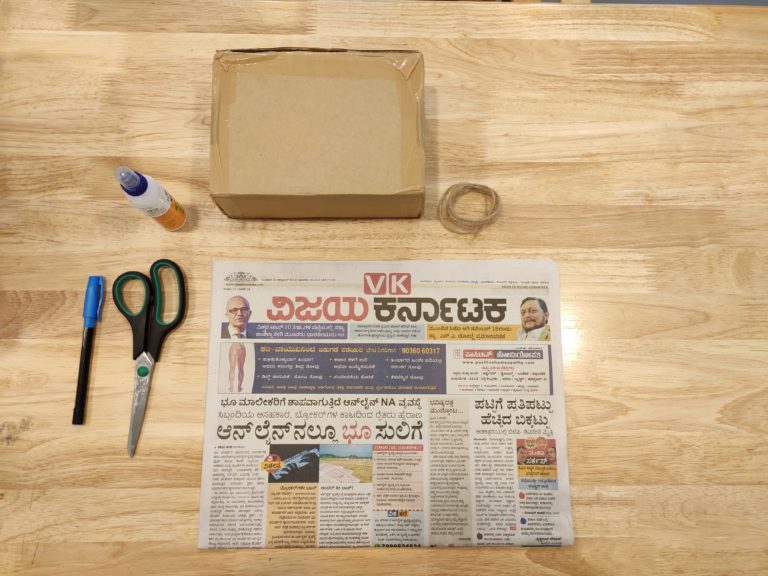 Old newspaper
A pair of scissors
Adhesive glue
Piece of cardboard (use leftover delivery packages)
Ballpoint pen
Ropes, ribbons or handles from old bags.
Poster colours, sequins/lace from old dresses, origami crafts (optional)
Step 2: Fold your newspaper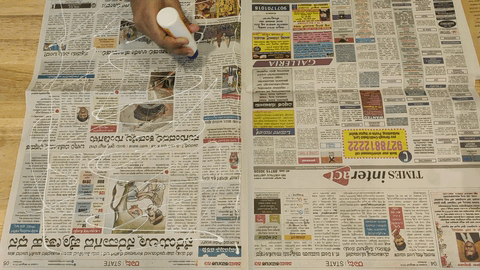 Spread the newspaper out on the work table and take out one entire sheet (i.e., two attached pages). Pour glue generously on one side of the fold and stick the pages together.
Step 3: Make a horizontal fold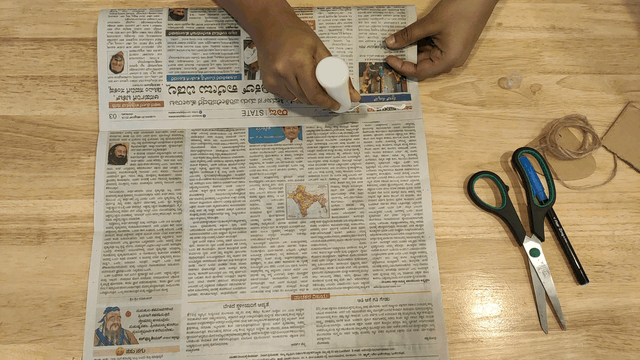 Fold the sheet horizontally from both sides and glue the edges together. Leave the adhesive to dry before moving on to the next step.
Step 4: Insert a cardboard piece for the base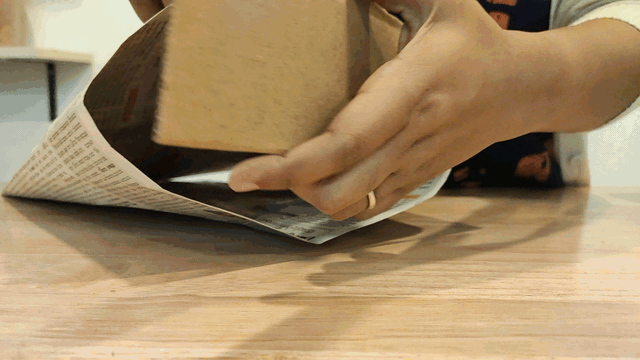 Cut a rectangular piece of cardboard, according to the width of your bag. Insert the piece from one side of the bag. Position it, leaving a gap of 1 inch on all sides.
This will make the base of your bag sturdier, so you can carry groceries and heavier items as well!
Step 5: Seal the base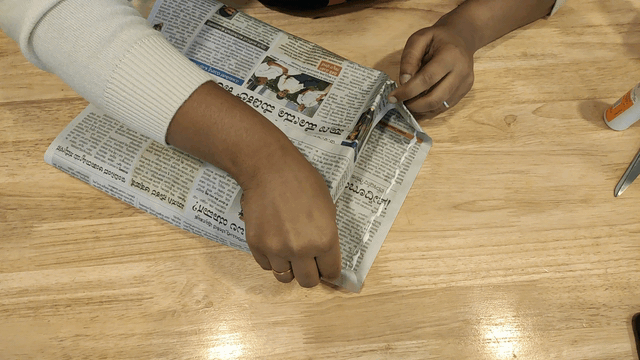 Add adhesive glue on all sides of the cardboard base. Fold the corners in triangles and seal the paper edges shut. The base of your bag should roughly look like this: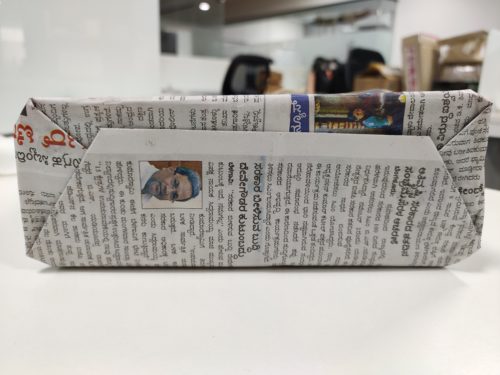 Step 6: Make accordion folds on both sides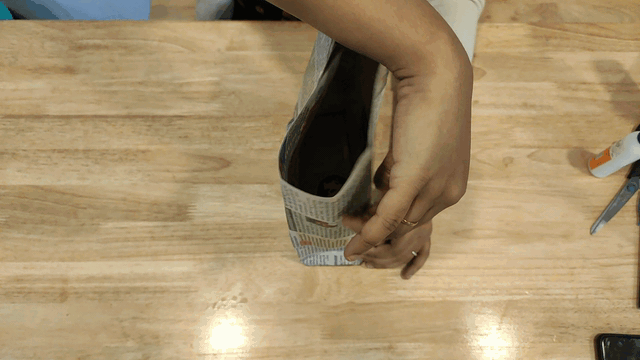 Press the edges on both sides of the bag and make a fold in the middle. This fold is known as the accordion fold and helps open the bag with minimal resistance.
Step 7: Make holes at the open end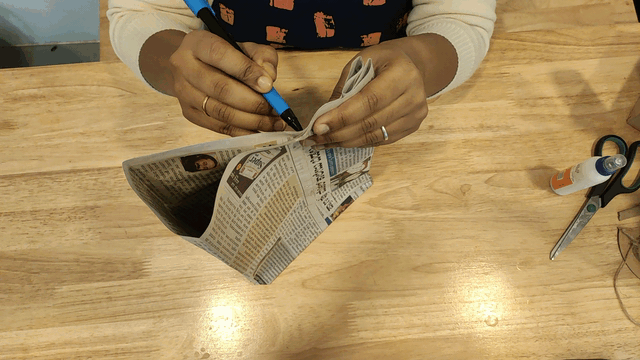 Using a ballpoint pen, pierce two holes at the open end of the bag. These are for attaching the handles.
Step 8: Tie up the handles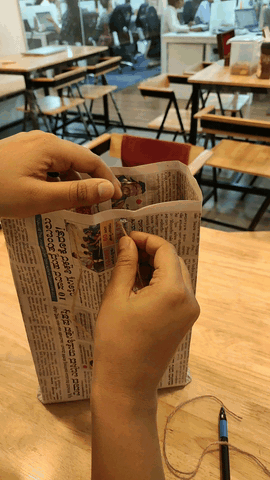 Cut two pieces of ribbon/rope (approximately 15 cm each). Insert one ribbon/rope through the holes and knot both ends several times. Repeat the same on the other side. Make sure your knots are firm, and the handles are not sliding out through the holes.
Step 9: Decorate your bag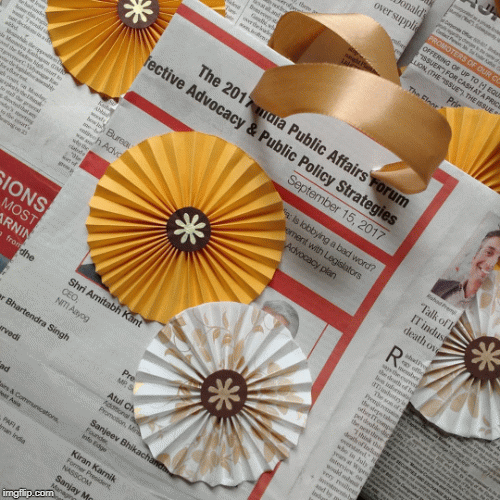 If you wish, you can add embellishments like sequins, lace, or origami crafts to your bag. You can also paint it with poster colours! (Photo Credits: A Thousand Cranes)
Tada! Your DIY newspaper bag is ready in a jiffy.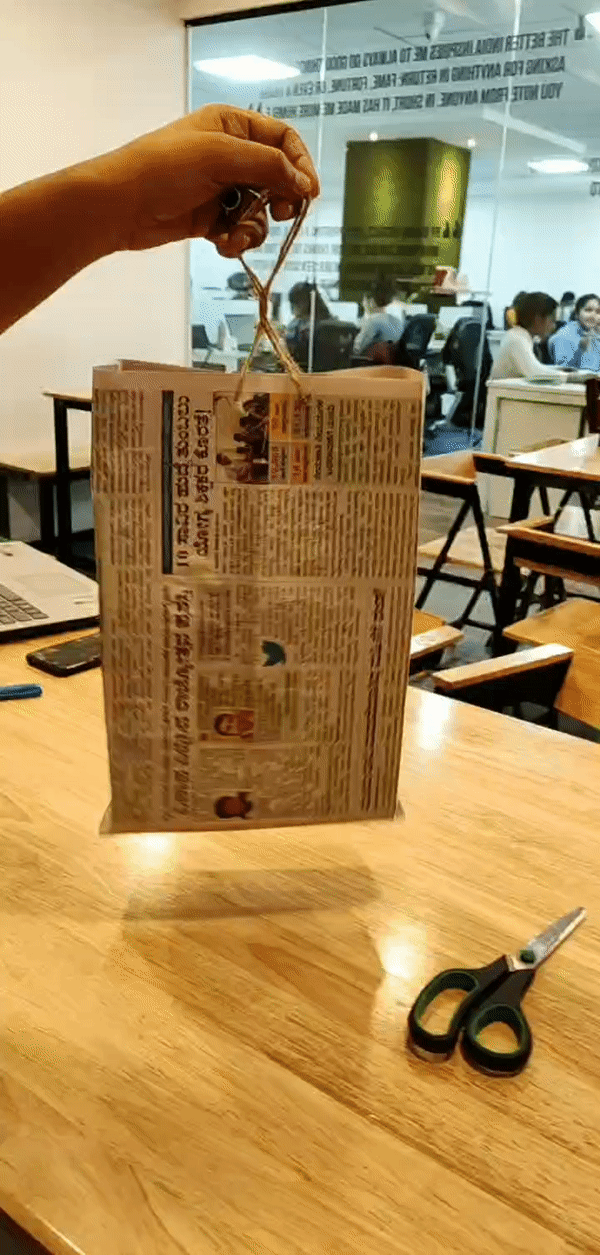 "I try to follow a zero-waste lifestyle. Recycling old newspapers into bags is one of my favourite hobbies. I use several layers of paper and a cardboard base to make small bags. I use these for gifting purpose during festivals. My daughter also recycles the health drink tetra packs by pasting colour paper over them and decorating with sequins. These are used for gifting packaging on birthdays."
At The Better India, it took us around 5 minutes to do this. Can you beat our record? Try this at home today & let us know!
Share this "how-to" with your friends & family
Share on facebook
Facebook
Share on twitter
Twitter
Share on linkedin
LinkedIn