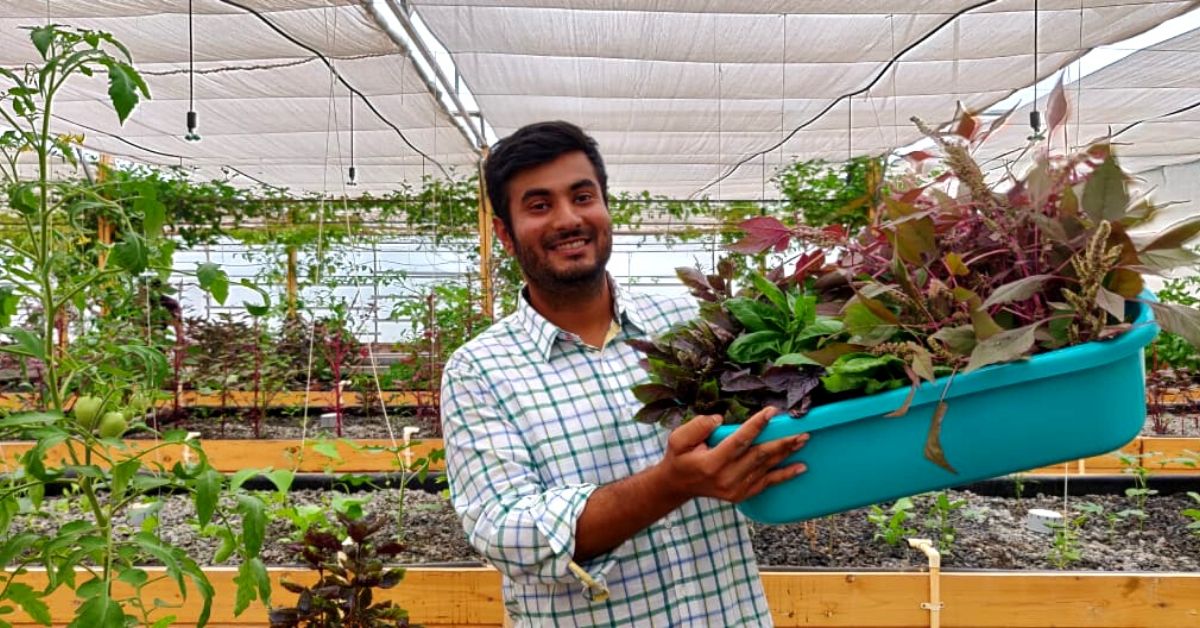 If the ever-rising vegetable prices have you in a fix, aquaponics is the solution you were looking for!
Bengaluru, say goodbye to the worries of rising vegetable prices. Let Aquaponics help you out! Urban farming is easier than you think and this weekend, it is set to be an even smoother ride.
Join the two-day workshop by the Eat Neat Project and learn the details of how to grow edible plants in the comfort of your home.
Click here to book your place in the Bengaluru workshop now!
What is this magical technique of Aquaponics?
In simple terms, aquaponics is a man-made symbiosis of aquaculture (fish rearing) and hydroculture (growing plants using the nutrition value of water). The fish in the system are fed twice a day and the waste they generate nourish your plants.
We got in touch with Bharath Dayananda, the founder of the Bengaluru startup—Eat Neat Project, to discuss this method of urban farming. He explains that aquaponics is the answer to two critical questions—can organic vegetables be low-cost and can a small urban apartment be enough to grow a farm.
"Unlike traditional farming, with aquaponics you can grow multiple plants vertically. So if you have about four square feet of floor space, that translates to 25-30 feet of growing area. This is enough to nurture about 30 plants of different species," Bharath explains.
If you begin with relatively easy herbs like mint, kale and vegetables like ladyfingers, you'll soon realise that aquaponics is a cakewalk. Once you get the hang of its methods, you can go on to grow root vegetables like potatoes and radish too!
Want to have a farm right in your home? Sign up for the Bengaluru workshop by clicking on this link.
Aquaponics—because buying vegetables in Bengaluru is expensive:
For Bharath, farming comes naturally. His grandparents were farmers and they passed on their farming expertise to his parents.
"I briefly worked in my family business in the construction field. But when the expenses of basic vegetables became a burden, I decided to go back to my roots and explore the field of farming, like my grandparents. I had to find a way to reduce the need of water and space. With thorough research, I landed on aquaponics," he shares.
After a brief course in the UK, Bharath returned to Bengaluru and started his own aquaponics farm. Today, the farm extends to 10,000 square feet and nurtures over 2,000 plants and is reserved for only research and development. But the Eat Neat Project has also started consultancy services recently and builds aquaponics farms for those who wish to pursue it commercially.
Click here to book your place in the two-day workshop now!
What to expect from the Bengaluru workshop:
Bharath will go over the details of his experiments, failures and successes, so you can learn from his lead. In the two-day workshop, here's what you can learn:
Day one:
The basics of aquaponics – what it means and it's pros and cons.
The difference between aquaponics and hydroponics.
The science behind this urban farming method (including plant and fish biology).
Other details such as the ratio of water, the number of fish and plants, the kind of plants to grow, space required etc.
Day two:
Learn about nitrifying bacteria and biofilter, heterotrophic bacteria and mineralisation, unwanted bacteria and system cycling
Practical session of how to set up an aquaponics farm
Maintaining a workbook to note your progress
What are you waiting for? Click here for more details like the venue and dates, and book your place before the slots are full!
---
Also Read: Compost or Vermicompost: How to Choose the Right Method for Your Home
---
(Edited by Saiqua Sultan)
Like this story? Or have something to share? Write to us: contact@thebetterindia.com, or connect with us on Facebook and Twitter.