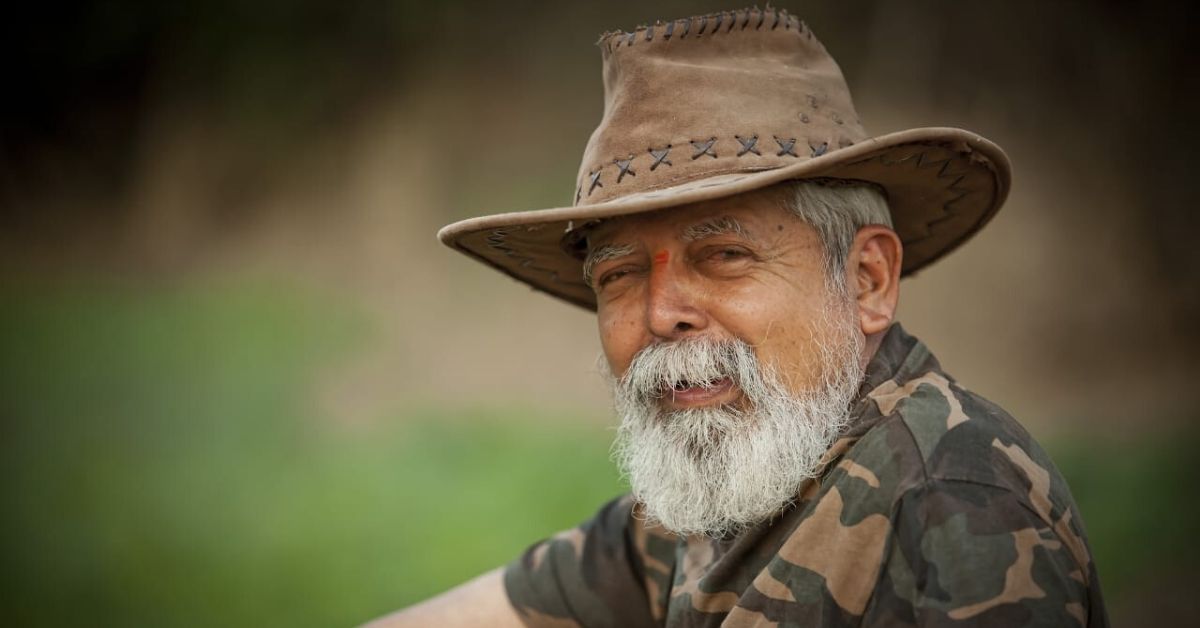 Rajendra Bhat has even received the 'Krishi Bhushan' award for turning land not suitable for farming into a green luscious farm, while saving lakhs of litres of water
Located six kilometres away from Badlapur in Maharashtra, is a lush five-acre farm with 187 varieties of fruits, vegetables and medicinal plants. More often than not, visitors tend to mistake the verdant farm, named Nisarg Mitra and owned by Rajendra Bhat, for a dense forest.
The unceasing chirping of birds and constant breeze further add to its charm.
---
Wondering how to grow your own vegetables at home? Look no further! Check out different kits by Upaj Farms here.
---
Interestingly, not too long ago, the same plot of land was barely able to sustain a single jamun tree. The family from whom Bhat purchased the property in 1990, made it clear that it was infertile and unsuitable for farming.
However, he went ahead with the deal because he knew that with the right care and farming methods, developing a flourishing ecosystem was not an impossible task.
Almost 20 years later, in 2012, Bhat received the prestigious Krishi Bhushan award, an annual prize given by the Agriculture Department of Maharashtra, for his contribution to organic farming and growing a forest-like farm.

Explaining why his farm looks like a forest, Bhat says, "Years ago, before I ventured into farming, I read one square metre of an area of in a forest can yield more than two kilos of food naturally without using any external inputs. Whereas in a farm, the same area gives 600 gram despite adding artificial resources like chemicals."
Bhat was working as an engineer, but his curiosity was piqued.
"After reading books on the topic, I came to know that in a forest, food grows on a cubic square metre, meaning it has three dimensions. I was very fascinated by the idea of utilising land in three dimensions, and one of the agricultural terms for this method is multi-cropping farming," mentions the 63-year-old.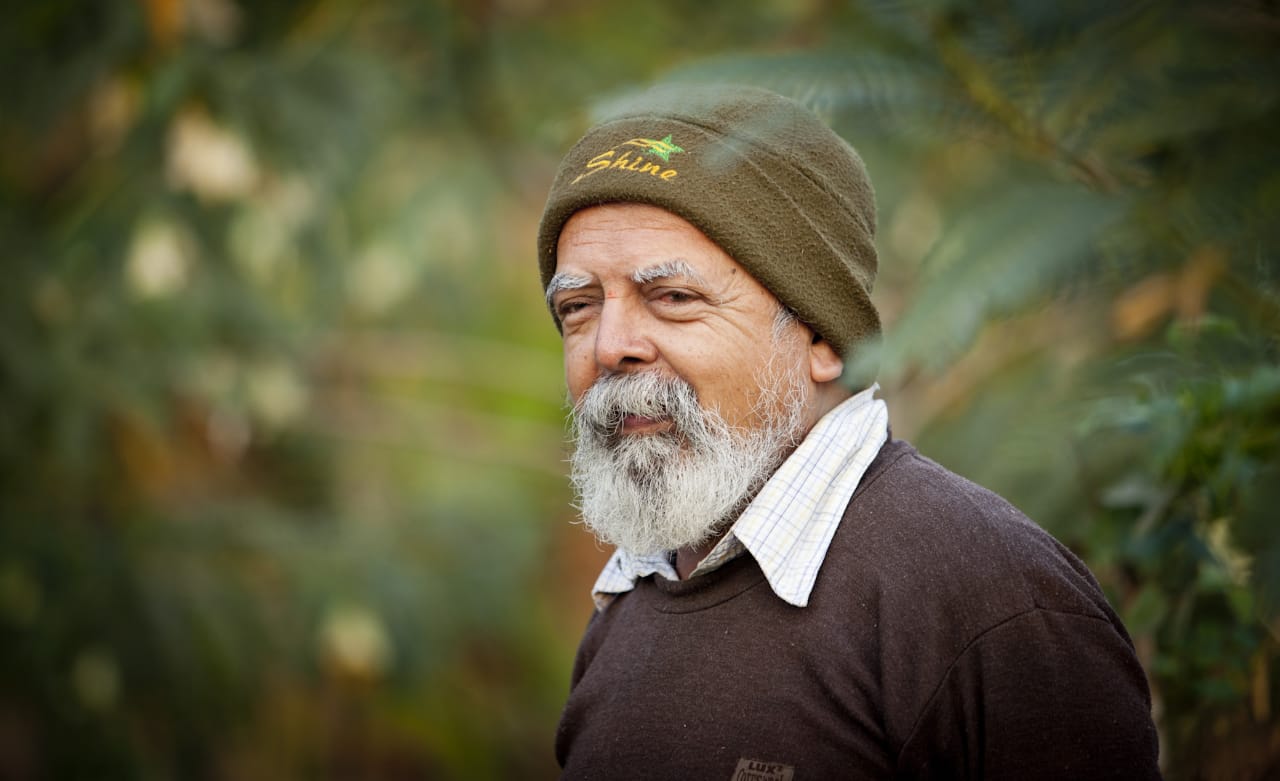 Bhat worked as an engineer for almost 15 years before switching to farming.
"I am an avid mountaineer and would trek in the Konkan hills and the Himalayas where I came across the concept of organic farming. One thing led to another, and soon I decided to take early retirement and try my hand at it."
In the farming community, Bhat is known for his judicious use of space. He plants multiple crops on the same piece of land to ensure an overlap in the growth cycle of different crops. In simple words, by the time the first crop is harvested, the second crop is already growing in the same place.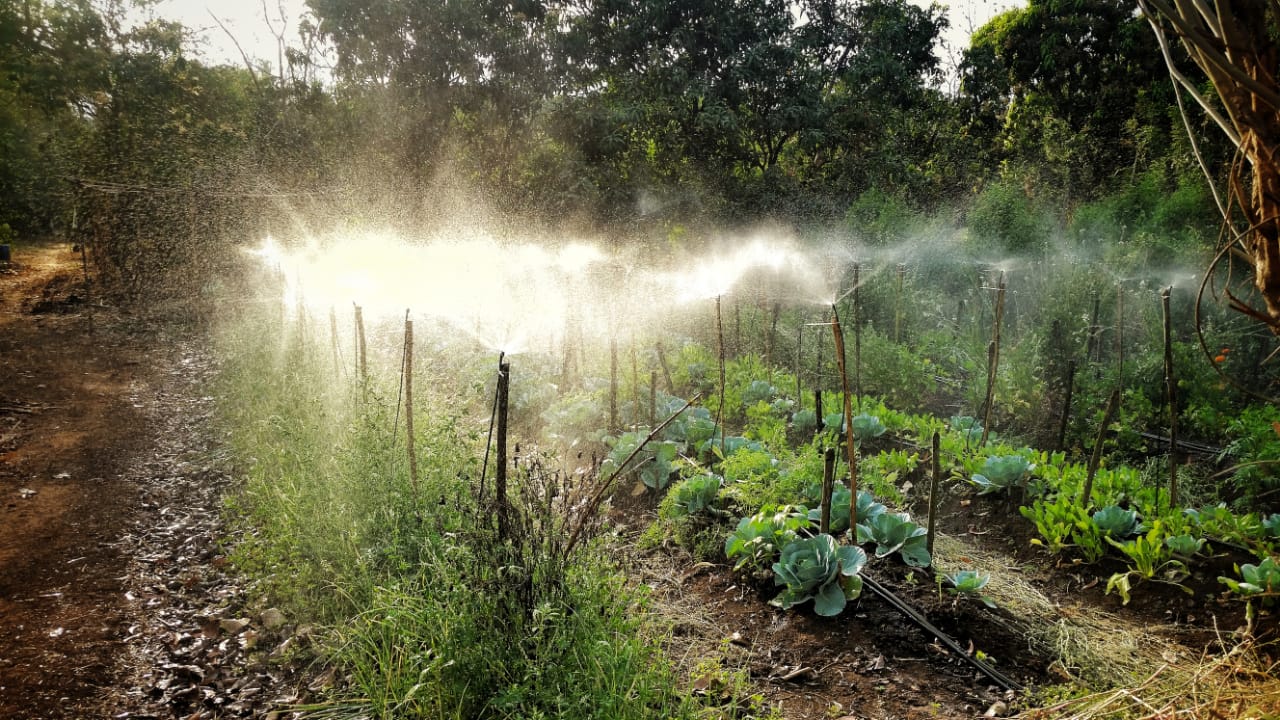 The best part? The amount of water required for one crop is sufficient to cover two or more crops, thus saving lakhs of litres of water and electricity (power used for pumping water) every year.
Here are three steps Bhat religiously follows to ensure a stable land, sufficient water and high yield:
1) Multi-Layer Cropping: Planting 15 Crops In One 30×30 Feet Area
There are several combinations that Bhat uses to plant crops in vertical and horizontal layers. One of his most successful examples is that of coconut trees in a 30×30 feet area.
He first planted coconut trees, and then areca nut and black pepper trees below them. Following this, he planted spices in the space between the trees. On the ground, he planted shrubs and below the ground, it was turmeric and suran (elephant yam).
"Since turmeric has antimicrobial properties, it controls the growth of bacteria, and spices are planted in between the trees as they do not require much sunlight. Shrubs prevent the growth of weeds by covering the soil. Meanwhile, the coconut trees allow sunlight to penetrate to other crops," Bhat explains.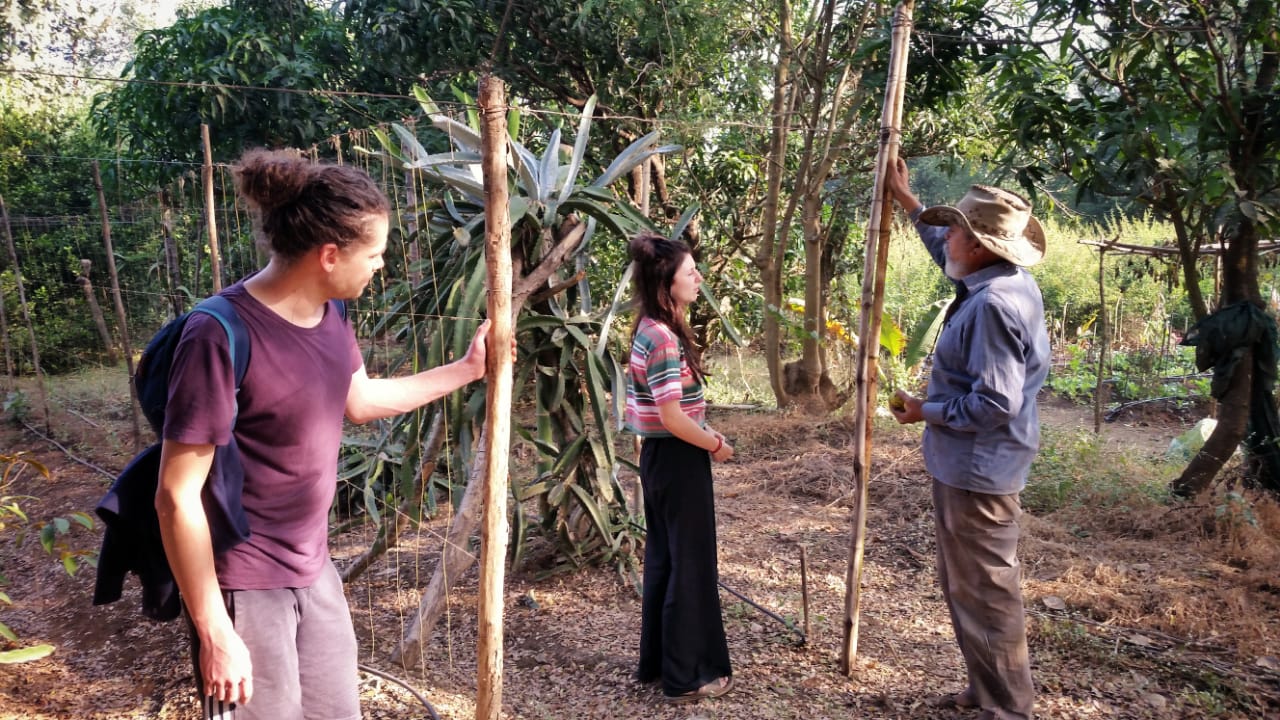 Another example of multi-cropping is growing leafy vegetables, pulses, and fruits in the space between 55 varieties of mango trees.
One of the most significant advantages of this method, says Bhat is food production around the year. "The harvesting time for brinjal is around two months, and leafy vegetables are ready within 30 days. So, cultivation of both the veggies is constant. The burden of harvesting or cultivating the entire 5-acre farm at the same time is not there."
Bhat's farm consists of medicinal plants, banana, mangoes, jackfruits, seasonal veggies, grains, spices, pulses, radish, pineapple, custard apple, and so on. To keep the pests away, Bhat makes green manure from fallen leaves and crop residues.
2) Zero Tilling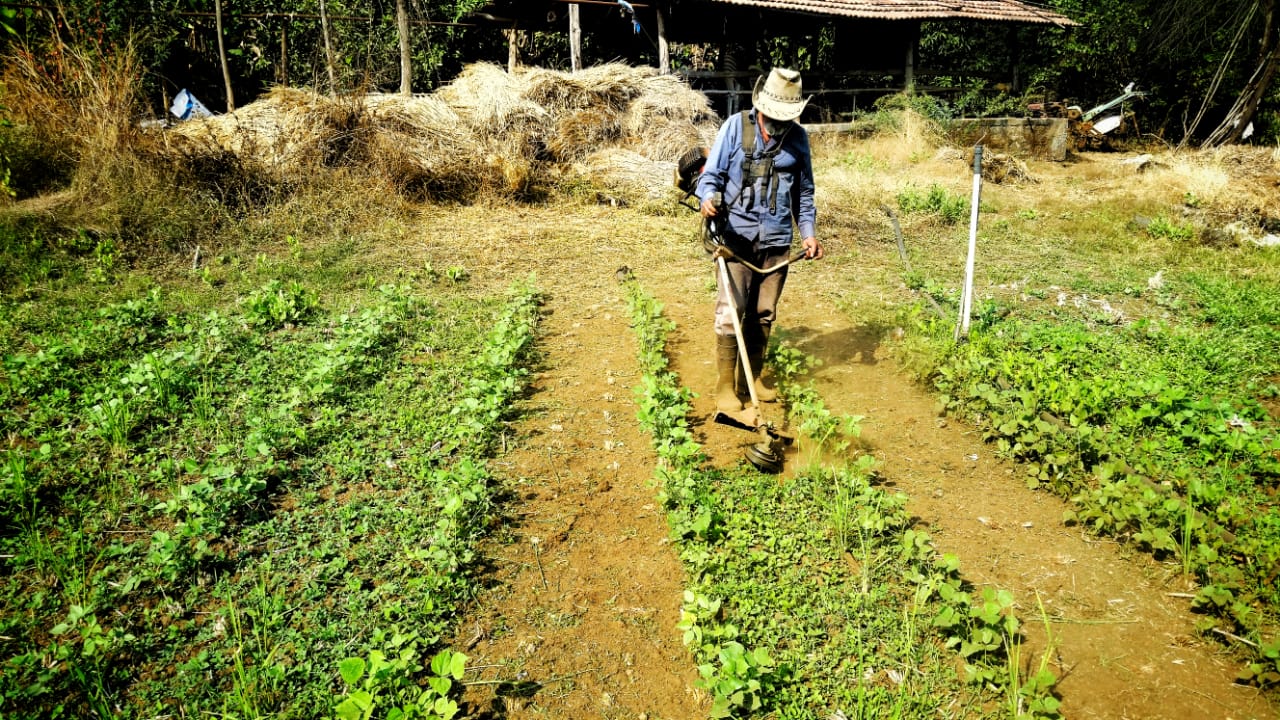 Zero tillage was one of the crucial lessons Bhat learnt in his early days. As per a United Nations study, globally, 24 billion of fertile soil is lost every year.
"Heavy tilling and the indiscriminate use of agro-chemicals leads to increased food production, but it happens at the cost of the health of the land. In no-till farming, crops are grown without disturbing the soil through tillage," says Bhat.
In this process, the crop seed is sown using drillers, and no land preparation is required. Before planting a set of crops, Bhat evenly distributes harvested crop residue in his farm. This practice prevents soil erosion and even breaks down nutrients and organic matter for the soil.
"No-tilling keeps the carbon in the soil intact that improves soil biodiversity and reduces the need to use chemical fertilisers that otherwise emit greenhouse gases. Another advantage of no-tilling is that it does not kill beneficial fungi and bacteria," informs Bhat.
3) Rainwater Harvesting and Irrigation Methods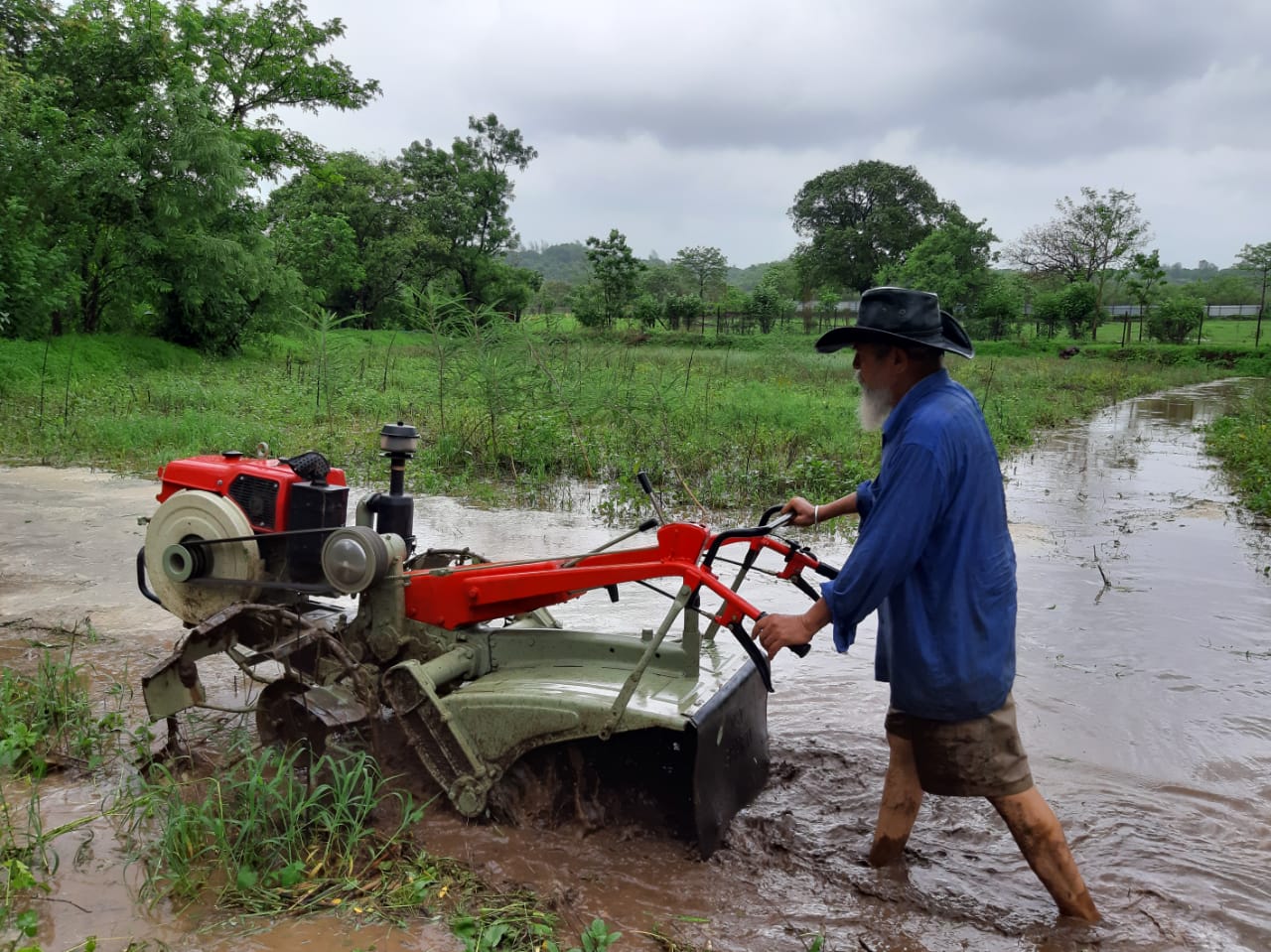 When Bhat had just started, he explored several watering options and one among them was using borewells.
"In our region, the borewells were very deep, and in a deplorable condition. More digging round would have released arsenic water. So, I decided to increase the groundwater levels and keep the soil moisturised throughout the year," he shares.
He executed raised-bed farming to evenly distribute water and prevent water runoff. He also made long and narrow trenches on the ground and planted seeds on raised strips. Next, he made optimal use of earthworms for capturing rainwater and preparing nutrient-rich manure.
Earthworms make it easy for water to seep into the ground, and increase its holding capacity. Explaining their role in raising groundwater levels to The Better India, Ajit Gokhale, an expert in Watershed Management who has studied Bhat's farm says,
"Earthworms make tunnels in the soil and make it very porous. Raindrops go through these tunnels and make the place much better than what it would be if the leaves and weeds were not there. It is like the entire field starts drinking rainwater. All farmers should make their soil like Bhat's to prevent loses in drought-like and floods situations."
For watering the plants and trees, Bhat uses micro-sprinklers for seasonal crops and drip irrigation.
"It would take almost an entire day to water hundreds of varieties of plants and cover five acres of land in conventional route. But here the entire farm is watered within 4-5 hours," adds Bhat.
Thanks to multi-cropping, Bhat saves almost 90 per cent of water as the water required for a single crop is sufficient for other crops as well.
"If in one acre, a conventional farmer uses 50,000 litres of water per rotation, I need approximately 10,000 litres. As for the rainwater, almost 50 per cent of it recharges the groundwater, and the remaining is used by the sprinklers," says Bhat.
Conclusion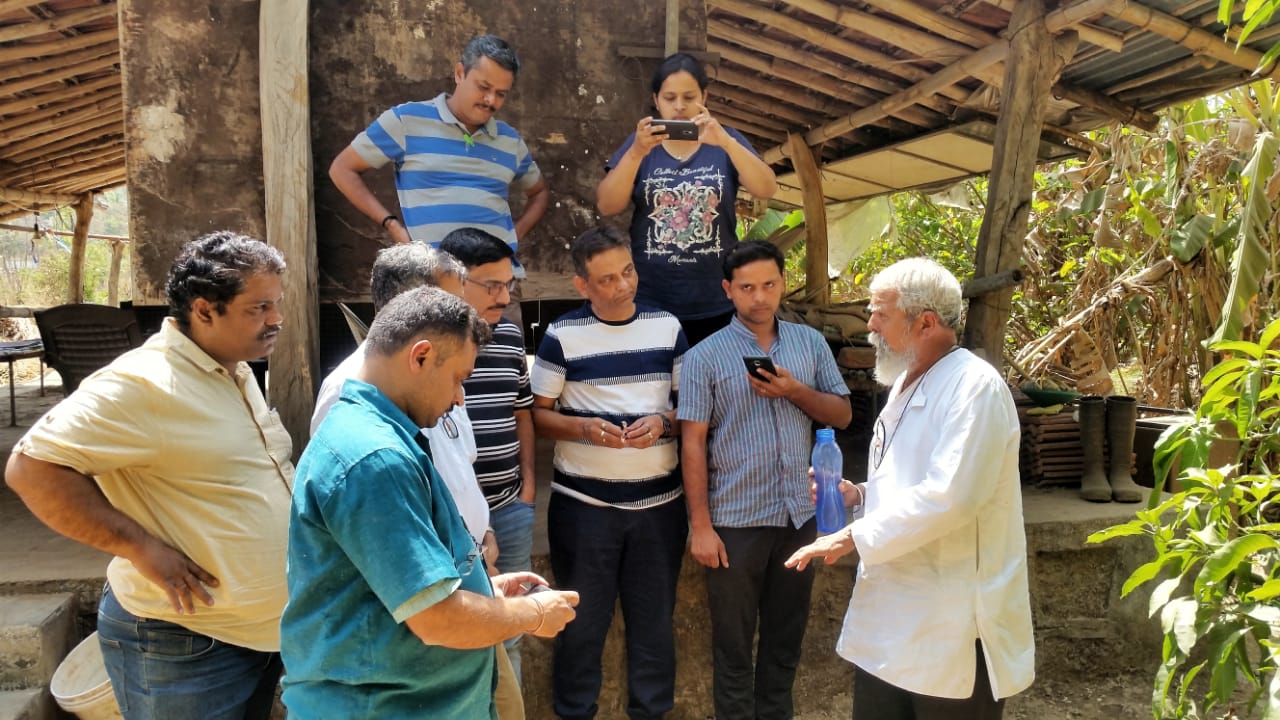 To spread his knowledge, Bhat started agriculture training workshops in 2013, and so far he has trained over 500 people in subjects like long-term sustainability of fields, inter-cropping, compost making, combinations to use for multi-layer farming, water conservation methods, and so on.
For people who want to experience farm life, he has introduced agro-tourism where tourists can stay with the family on the farm.
"Knowledge is a two-way street. On so many occasions, I have learnt about cultivation, food diet and lifestyle-related issues from people who visit the farm for training or as tourists. The best part about interacting with strangers is to know that they too are keen to ensure a healthy and safe environment. I had started farming out of fascination, but eventually, it turned into my mission to contribute towards the environment in a very small but effective way," Bhat signs off.
Click here to get in touch with Bhat.
All images are sourced from Rajendra Bhat
---
Also Read: Mint In Pots To Growing Veggies to Feed Her Family: B'luru Lady's Inspiring Story
---
(Edited by Gayatri Mishra)
Like this story? Or have something to share?
Write to us: contact@thebetterindia.com
Connect with us on Facebook and Twitter.
We bring stories straight from the heart of India, to inspire millions and create a wave of impact. Our positive movement is growing bigger everyday, and we would love for you to join it.
Please contribute whatever you can, every little penny helps our team in bringing you more stories that support dreams and spread hope.