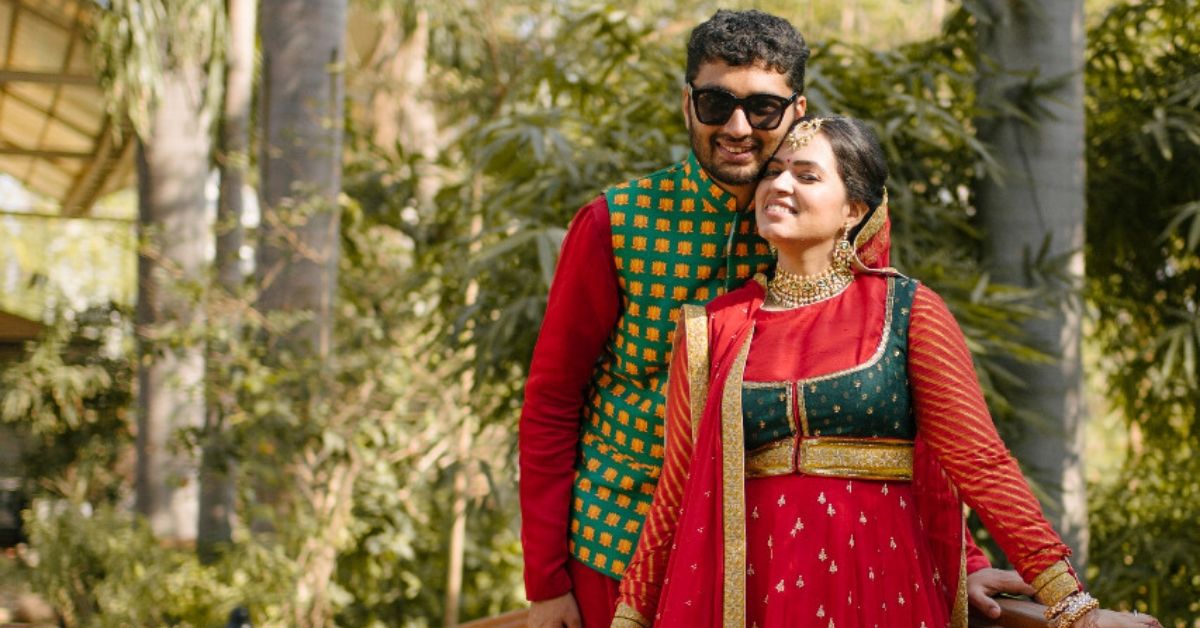 And this was a wedding right out of a poem⁠—Rahil and Shaily replaced 'Saath Phere' (7 rounds) with 'Saath Vaade' (7 vows) that they penned for each other!
A bride and a groom on their wedding day. A guest list of over 800 people. A four-day jamboree, complete with sangeet, mehendi and a spectacular reception. And yet, not a single shred of waste was generated at the venue⁠!
Does this sound impossible? "Not when it is the wedding of two active environmental enthusiasts!" laugh Rahil and Shaily Shah, who got married in February this year, and ensured that right from the decor to the cutlery, the 'Spoken Word Wedding,' exuded eco-friendly vibes.
---
This cute Ki & Ka organic soap is a must-add in your best friend's bridal shower kit!
---
While following a zero-waste lifestyle is one thing, ensuring the same for an 800-guest event was a whole different ballgame. However, the dauntless couple triumphed the test with elan!
"To begin with, we skipped the invitation cards and sent out a 4-page digital invite to our wedding ceremony and reception, which had all the details about dates, venues and the ceremonies we formulated," shares Rahil.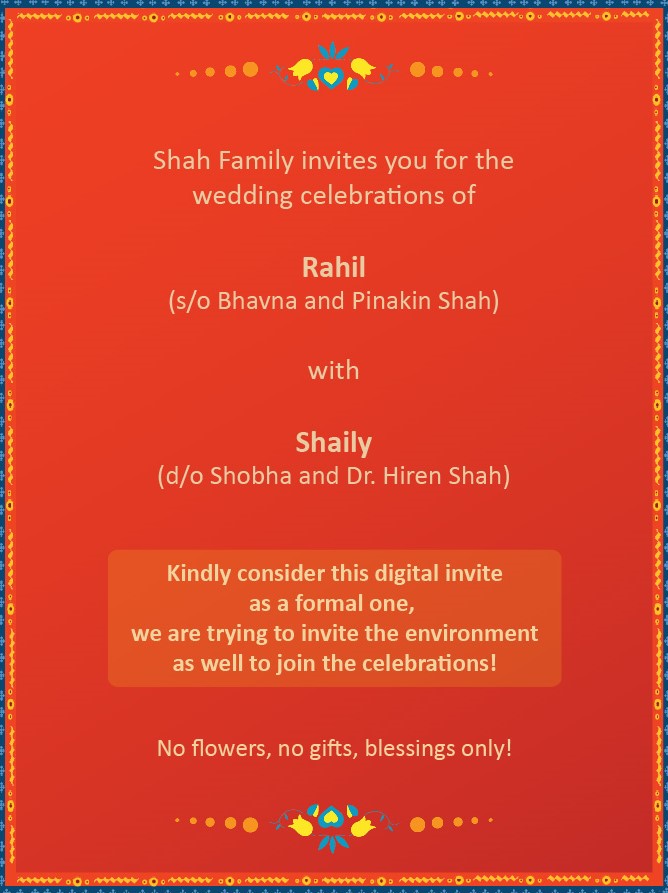 Breaking away from the stereotype is never a cakewalk, and Rahil and Shaily feared that elder relatives, might frown at the idea of e-invitations.
"To do away with all dilemma and disapprovals, we requested them to graciously accept this digital invitation as we were inviting the environment to our wedding as well," reveals Rahil.
While the invite mentioned that the couple sought "No Gifts, Only Blessings," the family members and friends close to the couple who insisted on giving cash as a gift had another surprise awaiting them.
Rahil explains, "The paper envelopes for cash gifts are rendered useless afterwards. So, we procured cloth envelopes handcrafted by underprivileged women through Swavlambi, a Vadodara-based non-profit. We requested the guests to refrain from writing anything on the envelopes, so these could later be repurposed."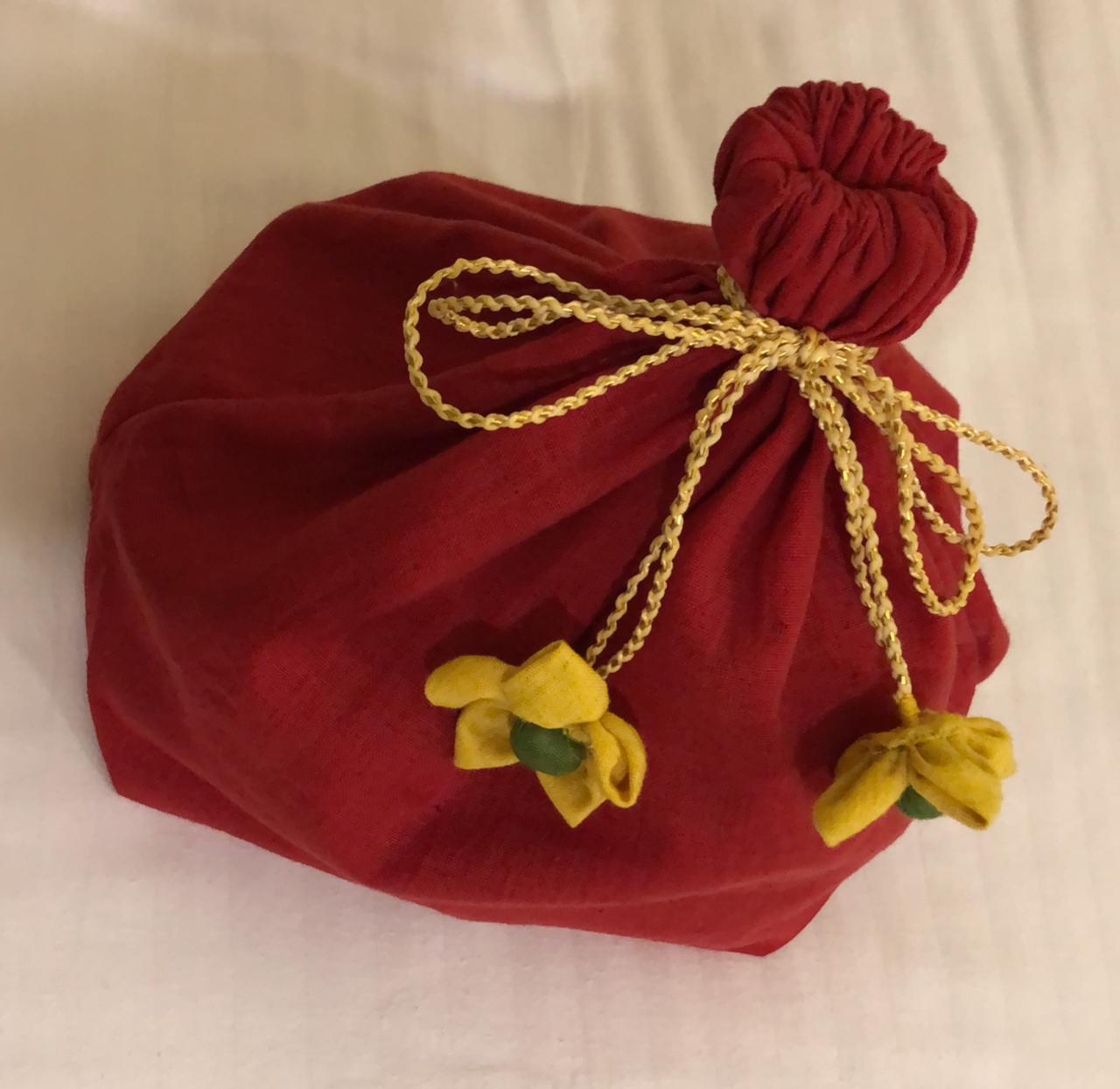 The wedding venue made minimal use of single-use plastic, only present in the water bottles served to the guests. To avoid littering, a recycling machine was installed at the venue, which converted PET bottles into ground plastic sheets, later used for manufacturing T-shirts.
"One might say our decor was quite bland, but it was because we chose it to be that way. We steered clear of any floral arrangements, which creates heaps of waste. It was only vibrant silk fabric for the marquee and lights."
All the plates and cutlery were either melamine or stainless steel, which were rented from local suppliers and returned after the event, and even the snack counters had 100% biodegradable sal leaf plates.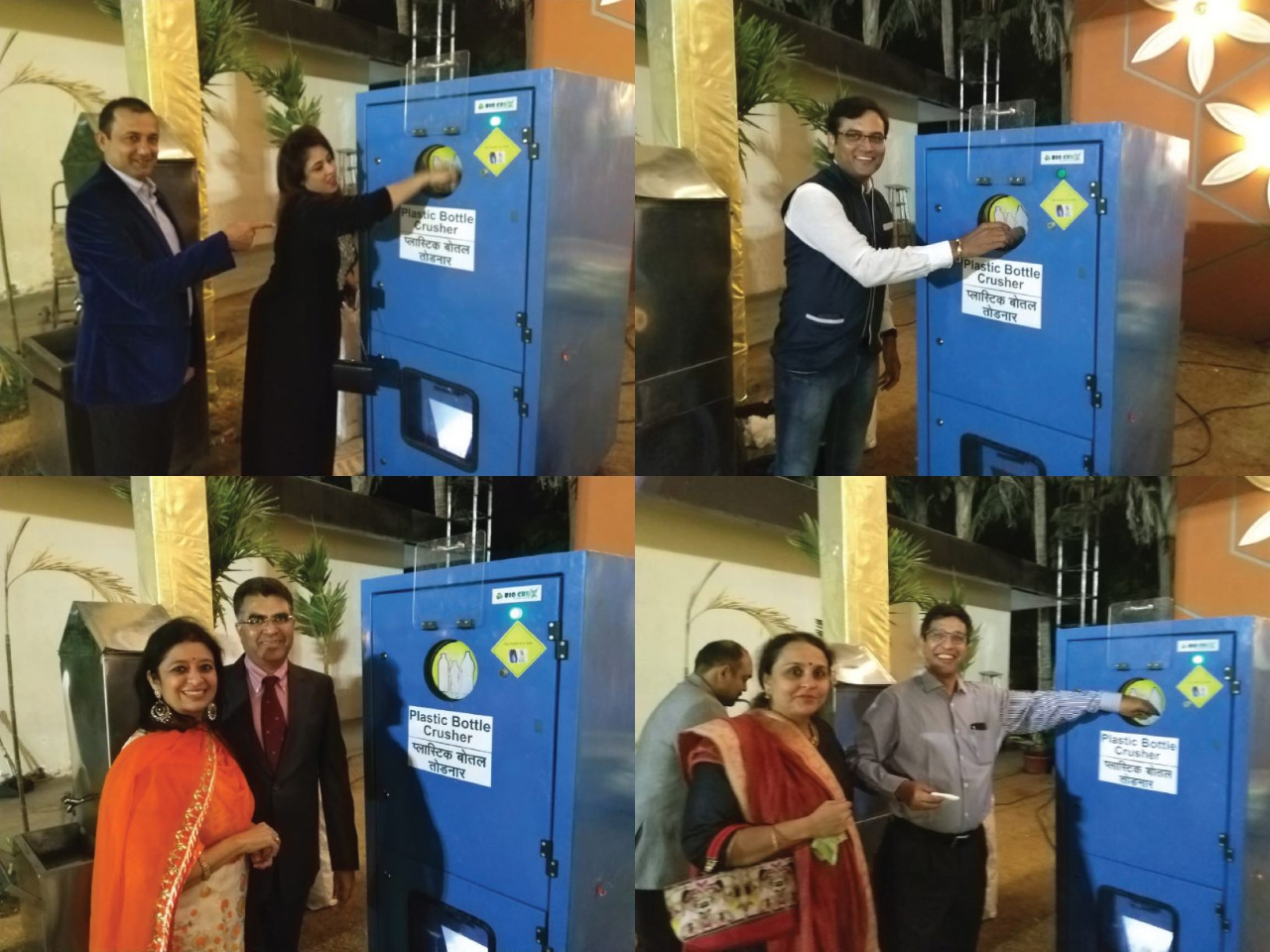 Their families too, arranged the custom of gifting the guests with dry fruits, sweets and local delicacies in a greener way. They sent their own containers to the local retailers from whom they sourced the items. "All of it was distributed in airtight kitchen containers, which can easily be reused later."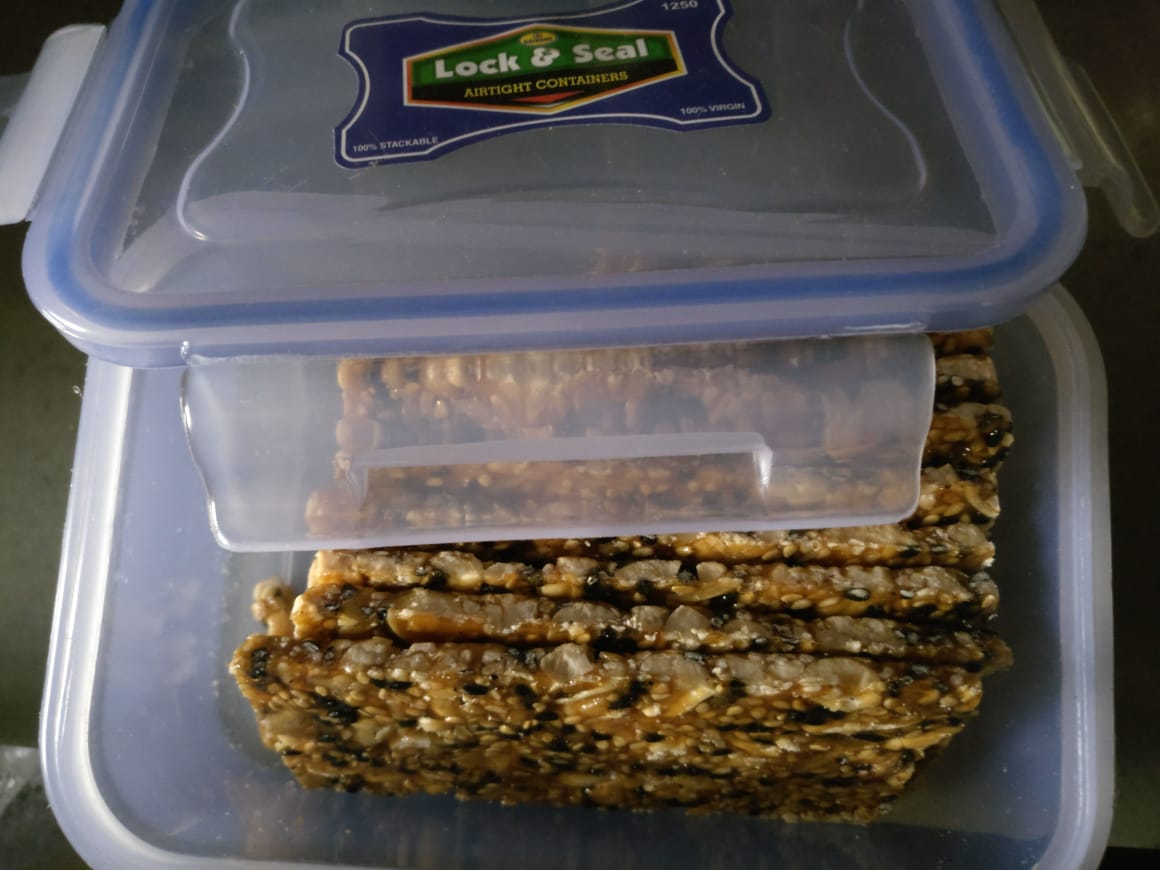 The most heartwarming part of their zero-waste wedding was perhaps the post-dinner event. "We wrapped up our dinner party by 9:30 PM and then called the Robin Hood Army of Vadodara to redistribute all the surplus food among the needy. Sabzi, roti, daal, rice and sweets were given to over a 100 people that night," says Rahil.
He adds, "Our friends often tell us how they would love to get married in such memorably unconventional ways, but cannot deviate from the traditional ways due to family pressure. They congratulate us on boldly breaking the stereotypes, all at once. I would just like to say that all this would have been impossible without our family's support."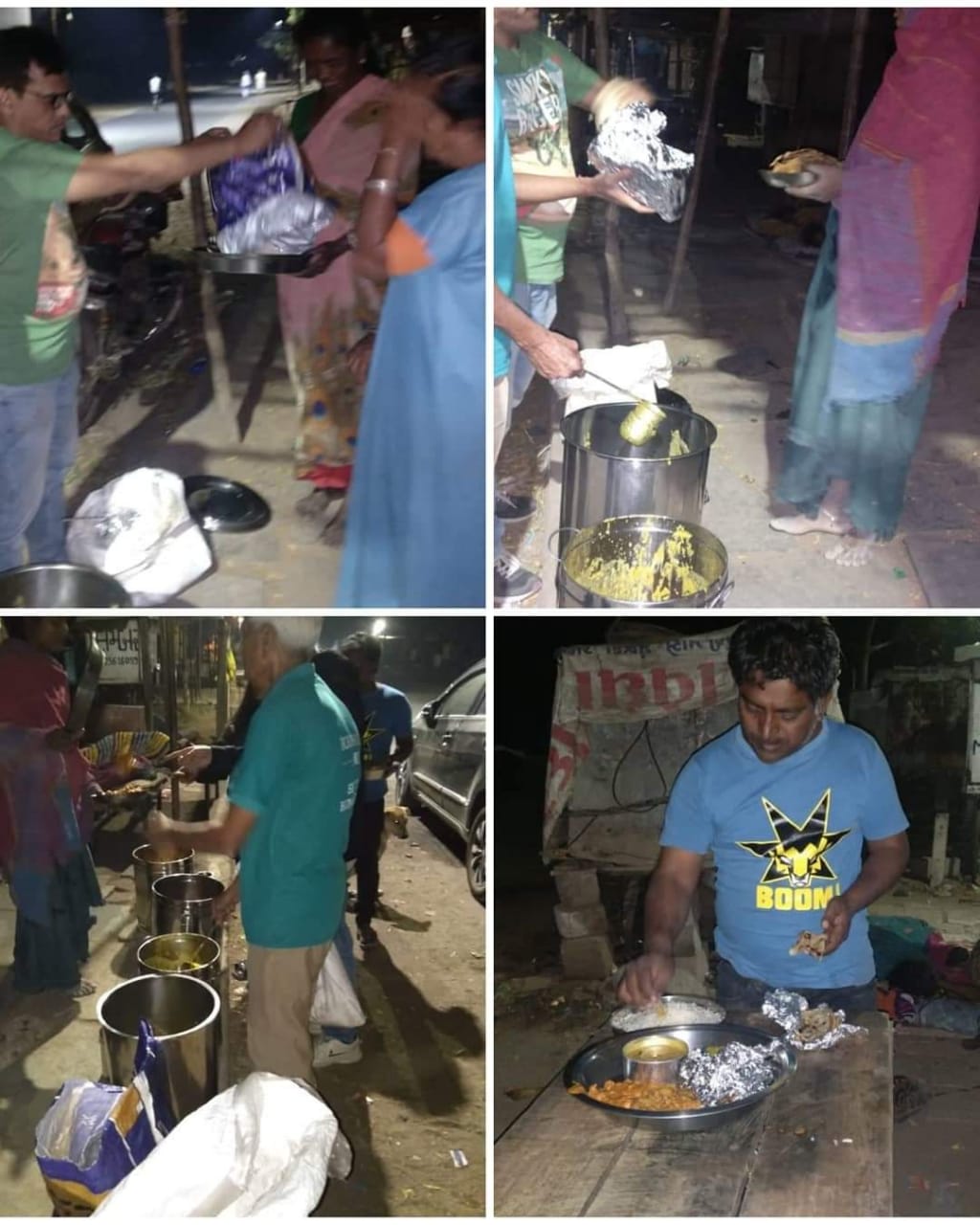 A poetic wedding
Rahil and Shaily's wedding story would be nowhere near complete if the main ceremony is not mentioned. Ditching traditions and customs, they collaborated with UnErase Poetry, a performance poetry group, to get married right out of a poem, and celebrate love over patriarchy.
To explain the context of their avant-garde wedding, one has to retrace their beautiful love story.
"Shaily and I have been friends since we met in college in Mumbai. Both of us have attended our fair share of weddings, and as it turned out, we were the only unwed ones left behind in our college group. Like every other year, she wished me on my 30th birthday, but this time, suddenly, I decided to take the conversation beyond the courteous 'Thank you' and asked her how she was doing," shares Rahil.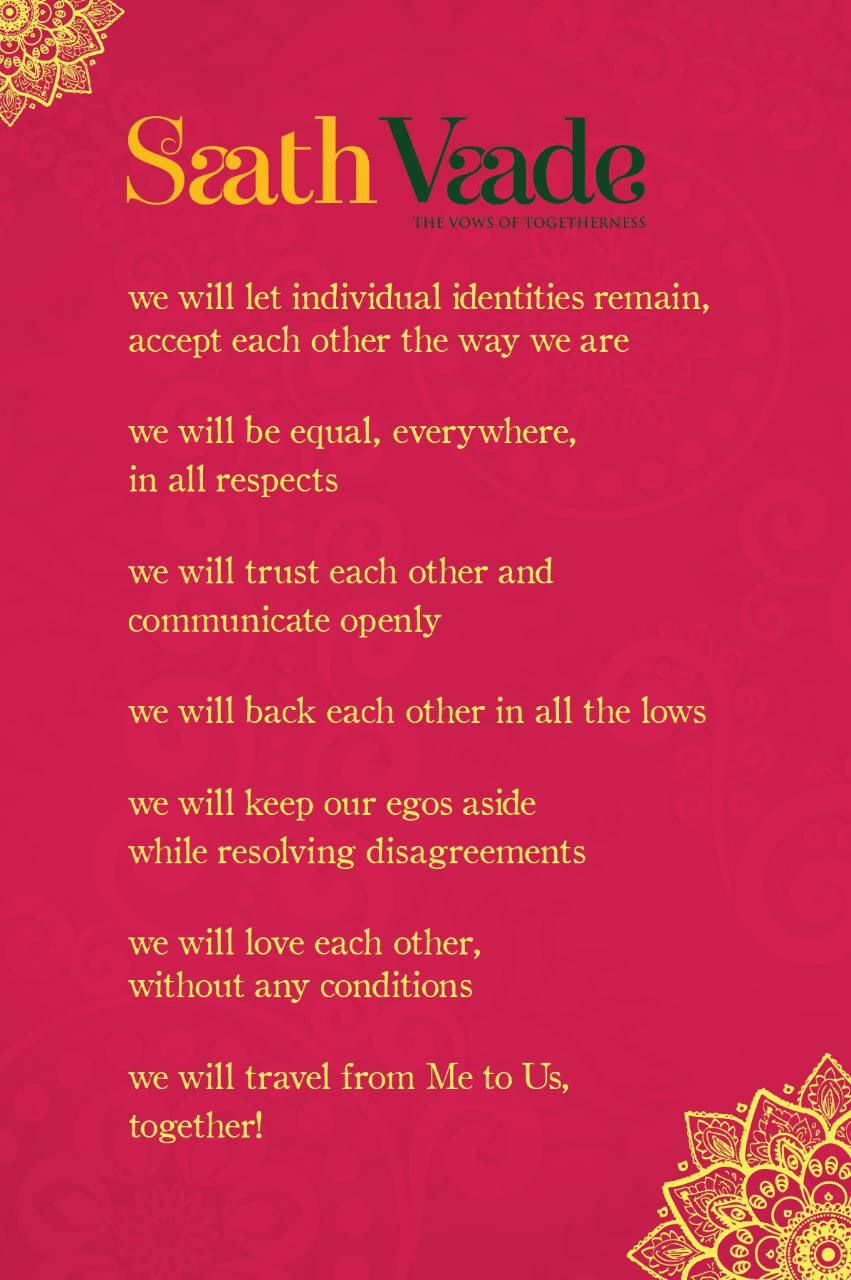 Things escalated from there and before long, they were meeting each other for coffee dates.
"With each passing day, we realised how similar we are in every aspect. When I opened up about my distaste for traditional Indian weddings with their patriarchal norms, I was elated to find that she had the same thoughts! And that's where the whole idea of spoken word wedding stemmed from."
At the wedding, Rahil and Shaily replaced 'Saath Phere' (7 rounds) with 'Saath Vaade' (7 vows) that they penned for each other.
"When Rahil proposed the idea of a Spoken Word wedding, we were quite unsure in the beginning. So far, we had done hard-hitting, socially impactful work, and performing at a wedding was quite contrary to our principles. But, then Rahil sat us down and explained how they wanted to restructure the entire ceremony and use poetry as the medium to solemnise their union. It was an amazing experience for us as well," shares Simar Singh, the founder of UnErase Poetry.
Sans any Kanyadaan, Panigrahana, and Saptapadi, the simple yet beautiful ceremony brought happy tears in the audience. In the end, they signed the papers and officially became husband and wife, hereafter and forever.
---
---
(Edited by Gayatri Mishra)
Like this story? Or have something to share?
Write to us: contact@thebetterindia.com
Connect with us on Facebook and Twitter.