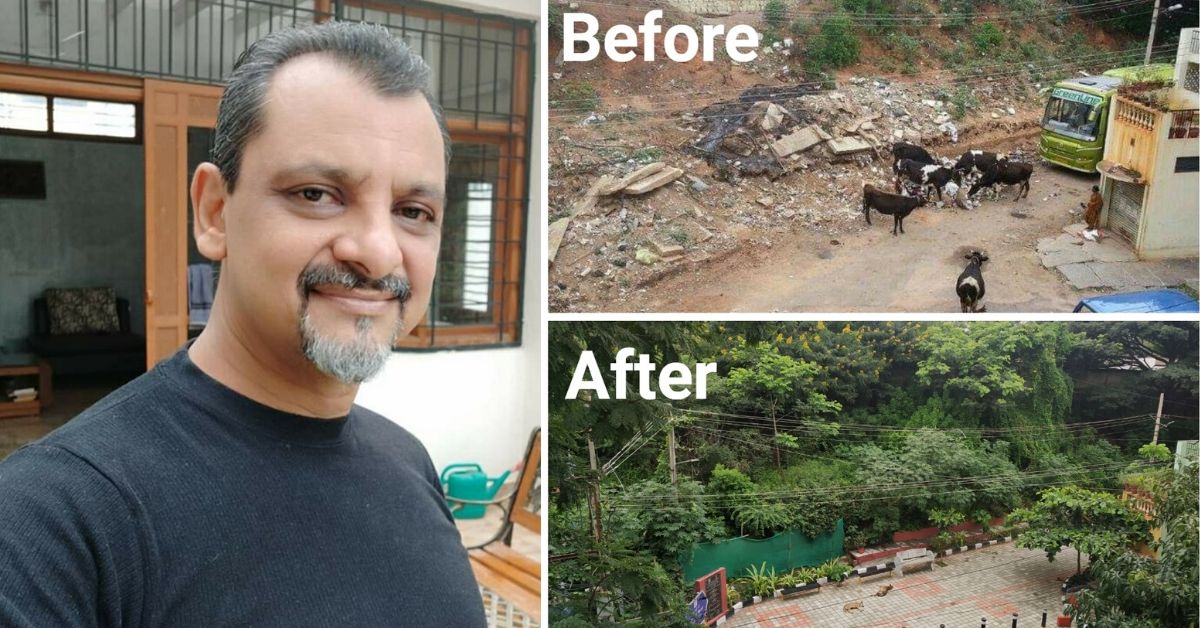 "We removed over ten truckloads of garbage and renovated the place. Now, parents with their kids, pet parents with their dogs and especially the elderly of the area frequent the park every day."
A vast dump yard. Heaps of stinking garbage surrounded by a horde of disease-causing insects and swarming packs of flies and mosquitoes. An area which would reek obnoxiously, all day long.
Eight years ago, when Dr Hemant Kumar Agarwal began constructing his house in Domlur, Bengaluru, he was utterly repelled by the above scenario in front of his plot.
---
This powder is a culture of microbes, which speeds up composting!
---
"I was frustrated but quite helpless. The other residents were disgusted too, but barring a few, continued to put up with it. Some even unabashedly dumped their household waste there. I tried to reason with them and requested the municipal authorities to intervene, but to no avail," recounts Dr Agarwal, who pioneered the movement to turn this dump yard into Ajja-Ajji Park⁠—Bengaluru's first park for senior citizens.
Although he has been fighting the issue single-handedly for eight years, the restoration process escalated only in the past three years, after he collaborated with The Ugly Indian, a well-known civic group in Bengaluru.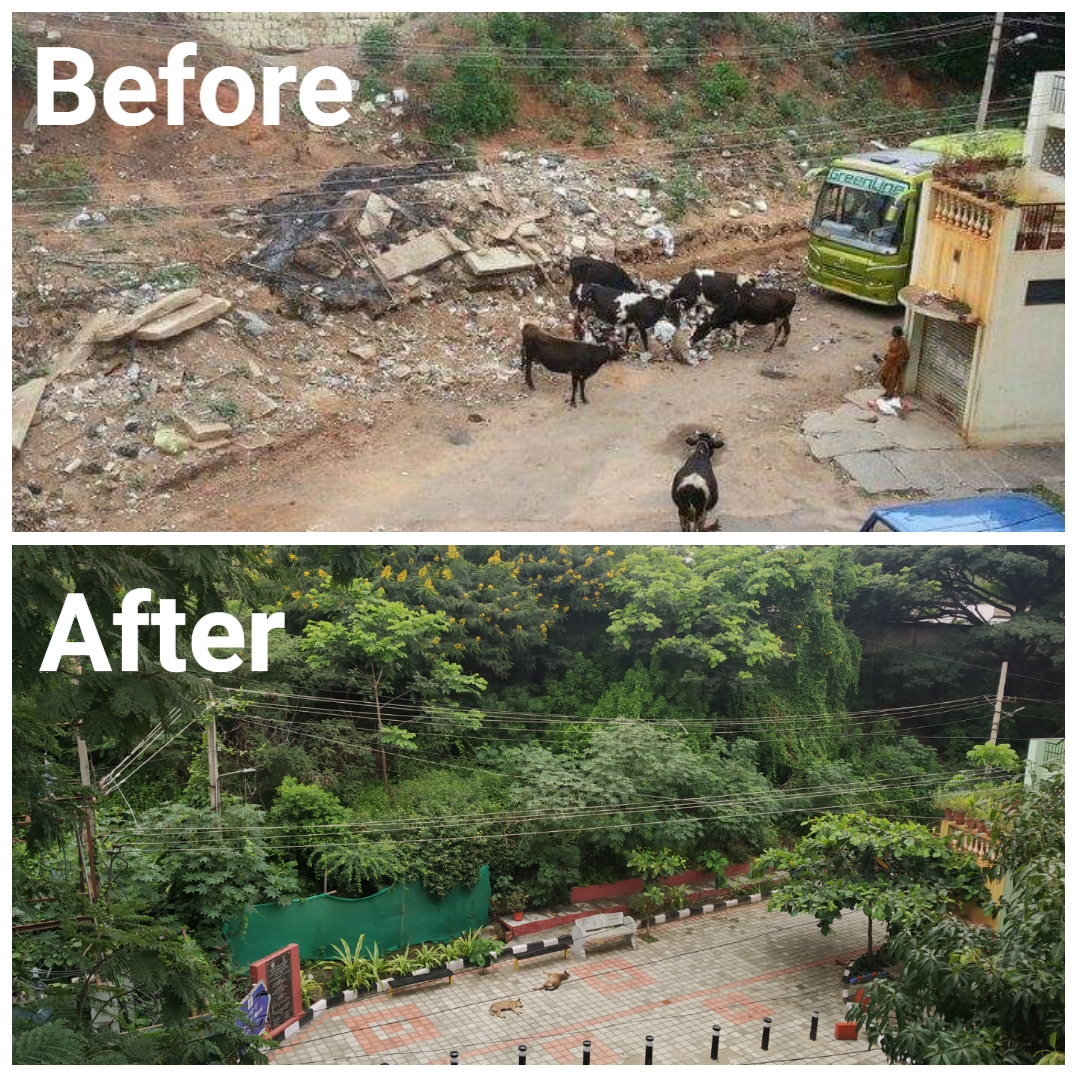 Together with a few proactive volunteers, the extensive stretch of dump yard was cleaned up and replaced with a soothing patch of greenery. Dr Agarwal, who sowed the seeds and saplings with his own hands, fondly refers to the park as his #UrbanJungle.
A decade-old problem
"Dr Agarwal did a fantastic job," asserts Chhabi Narayan, whose home too was adjacent to the dump yard.
"You would not imagine how pathetic the situation was before. The road beside my house was an unused service road. Due to less traffic, it did not take long for people to throw garbage there and turn it into an unofficial dumping ground. After a while, even the BBMP waste collectors and ragpickers would treat the street as a collection point. Patients coming to Dr Agarwal's clinic were also affected," he shares.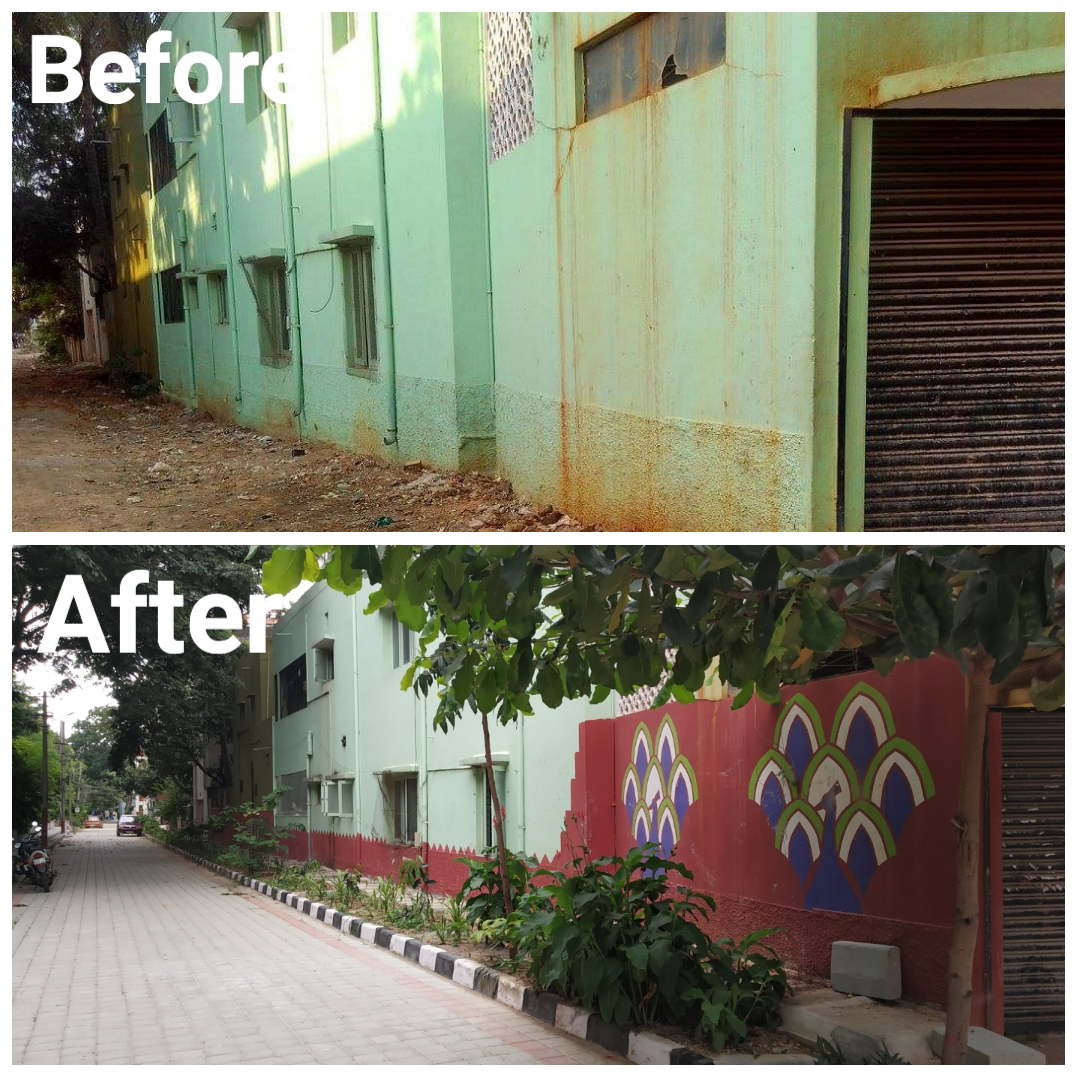 The coordinator of The Ugly Indian provides a more in-depth insight into the past scenario.
"The area is towards one end of Domlur, adjoining the Army Cantonment. The high boundary walls of the army facility shielded the area in a way. Once the dumping started, the menace only continued to proliferate thereon. After a while, the waste was not the only issue."
Gradually, buses started parking there at nights and turned it into a makeshift bus station. The drivers and staff would bathe and even urinate in public view. In the wee hours of midnight, drunkard and rogues would throng the area and create a nuisance.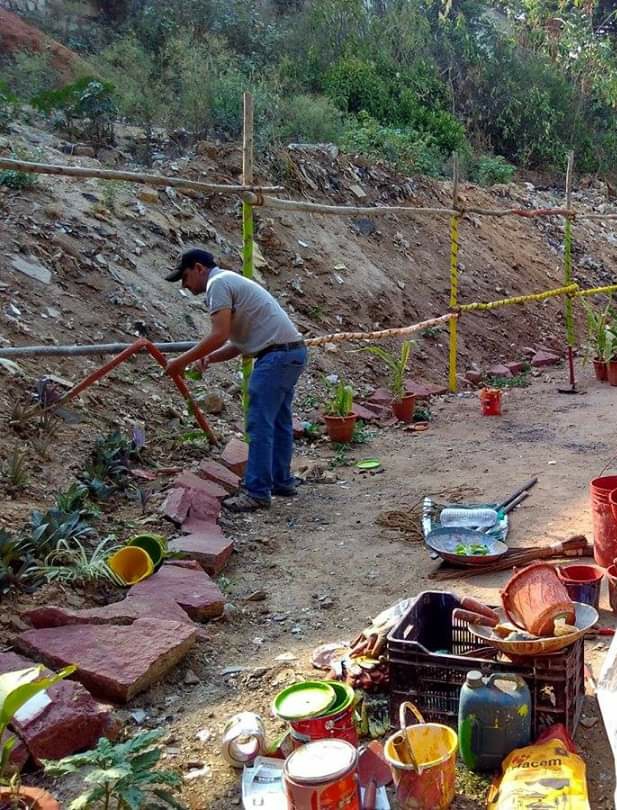 Dr Agarwal, the sole crusader
Often Dr Agarwal would confront these people at 1 AM or 2 AM in the night. He interrupted their activities and tried to drive them away. But there was little support from the neighbours, who mostly chose to stay away.
Most of the dumping used to happen in the night⁠—from residents discreetly throwing their trash bags to workers dumping construction rubble⁠. Despite repeated appeals for regular cleaning of the street and police patrolling at night, there was little cooperation from the municipality authorities.
"They did come once in a blue moon and cleaned parts of the dumping zone, but the trash would pile up in no time. It was a Herculean task to convince the people against dumping of waste," says Dr Agarwal.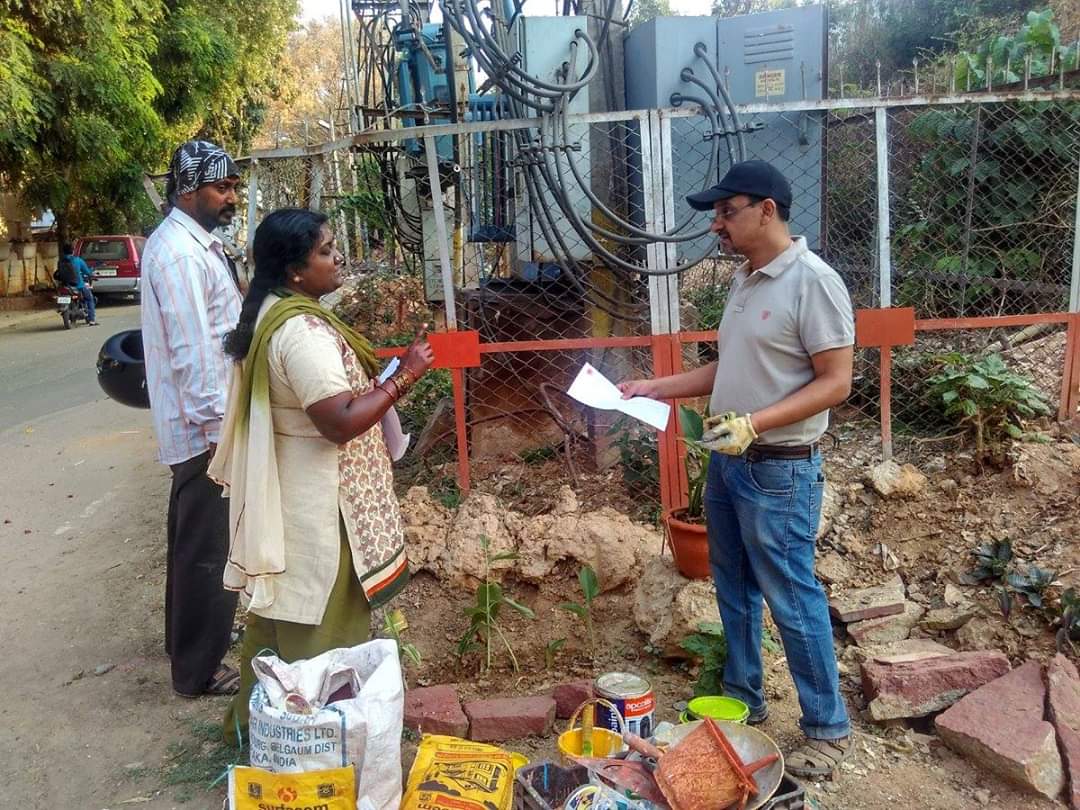 The people would counter-argue about the absence of any alternate dumping place. It was difficult for many to grasp the concept of waste segregation and proper disposal with BBMP workers. Moreover, the early corporators paid little heed to continuous complaints from Dr Agarwal and a handful of his neighbours.
The Ugly Indians save the day
Things started to change visibly 2016 onwards when The Ugly Indian stepped into the scene to facilitate Dr Agarwal's cause. This anonymous group of Bengalureans chooses to keep their identity a secret, and instead, focuses on restoring the city's sanctity, one civic-environmental cause at a time.
Dr Agarwal recalls, "We hired JCBs and started the cleanup on a war footing. Over ten truckloads of garbage were collected from huge piles. Finally, the real concrete road underneath was visible."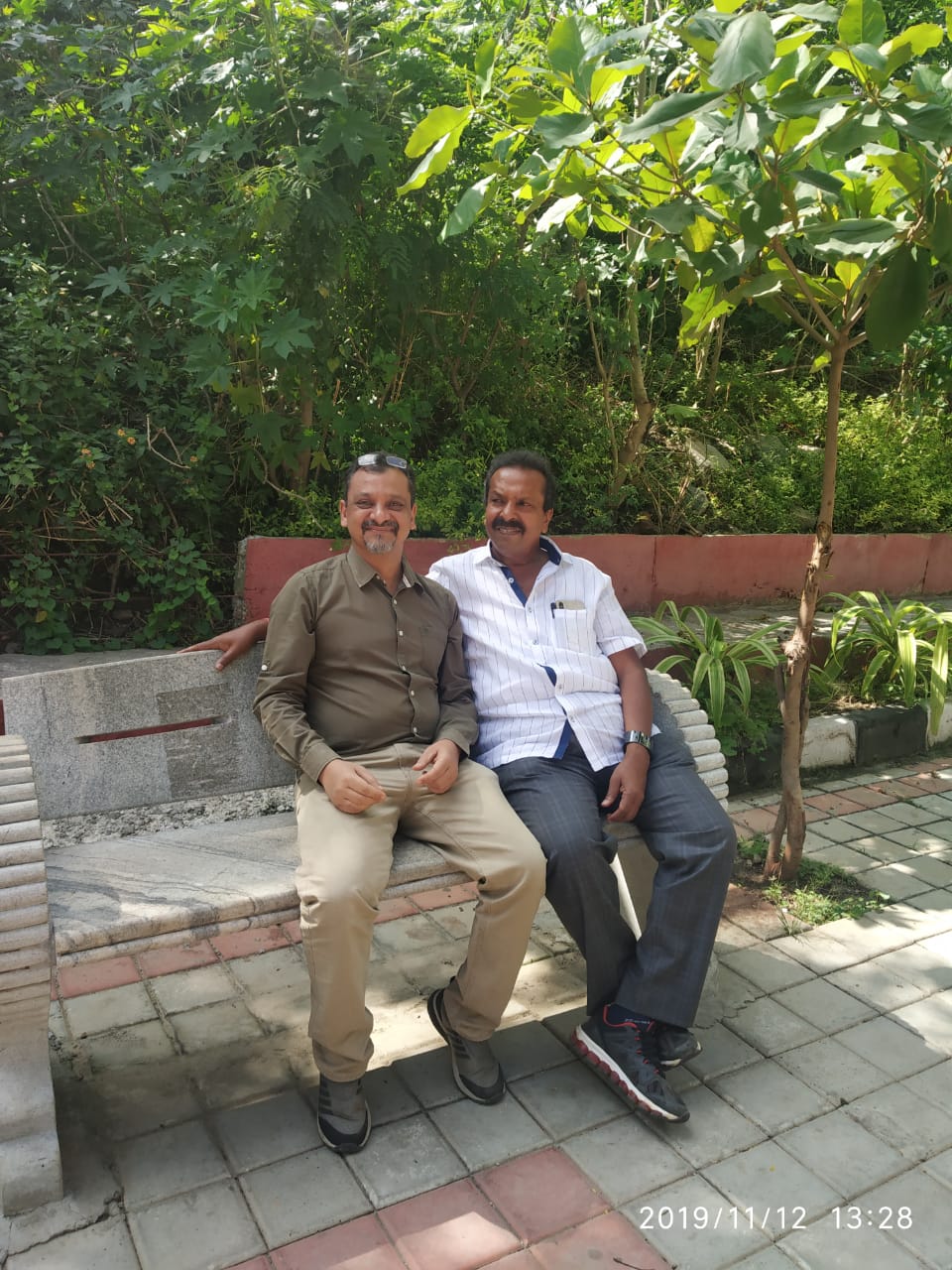 The volunteers started painting rangolis and motifs in the place. Dr Agarwal brought birthday decor items from his home and gave the area a makeover. These were, of course, temporary measures to thwart further dumping. The real hard work was still in tow.
Dr Agarwal procured seeds from his friend and strewed them on the fallow land. A monsoon later, the area was resplendent with greenery and fresh blooms of the seasons. The entire scenery had altered, and after nearly a decade, the residents could breathe in the fresh air!
He also meticulously searched around and found a particular plant in the wilderness that is not eaten up by cows. "If you visit, you'll find rows of these plants lining the road," he chuckles.
Bengaluru's first Ajja-Ajji Park
It was at this juncture that Lakshminarayan C R, the newly elected corporator, offered his unhindered support to Dr Agarwal and his team. The entire area was paved, and street lights were installed. Overnight, the place was transformed into a tranquil walking trail.
Dr Agarwal decided to christen the place as "Ajja-Ajji Park" (Grandpa-Grandma Park) and dedicate it to the senior citizens of the area.
"It is open for all. Parents with their kids, pet parents with their dogs and especially the elderly of the area frequent the park every day. It is nice to see what a beautiful impact a small effort can make," he says.
"Bengaluru has never had any such park exclusively for senior citizens. With heavy traffic on roads and dilapidated state of sidewalks in most places, it is difficult for them to even enjoy a walk in peace. Now that we have set a precedent in Domlur, we hope such endeavours are replicated throughout the city," says The Ugly Indian.
Interestingly, Dr Agarwal is well-known for his socio-environmental initiatives in the area⁠—he has created three of the first dog parks of the city to raising environmental consciousness among citizens. He also organises regular rescue operations for hundreds of stray animals and ensures that they are treated with the utmost care.
As far the Ajja-Ajji Park is concerned, problems still persist in bits and pieces. People try to discard garbage sneakily. Even the park visitors often let their dogs defecate on the pavement.
But, Dr Agarwal remains determined not to tolerate any nuisance. Every other day, he can be spotted cleaning up dog faeces or removing the garbage on his own. He's the hero without a cape Bengaluru ardently needs.
---
Also Read: Who Says Waste Is Dirty? Bengaluru, Teach Your Kids How to Compost in 2.5 Hours!
---
(Edited by Gayatri Mishra)
Like this story? Or have something to share?
Write to us: contact@thebetterindia.com
Connect with us on Facebook and Twitter.
Tell Us More
We bring stories straight from the heart of India, to inspire millions and create a wave of impact. Our positive movement is growing bigger everyday, and we would love for you to join it.
Please contribute whatever you can, every little penny helps our team in bringing you more stories that support dreams and spread hope.