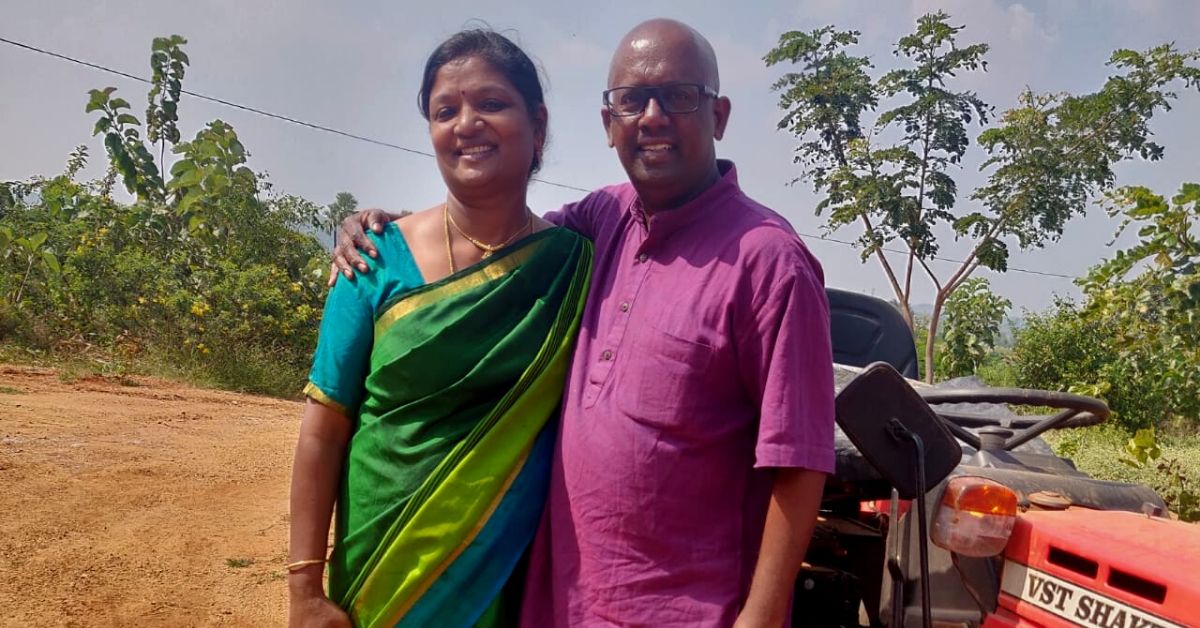 To extend their efforts and help rural women, Madhavi and Venu now make disposable sal leaf plates that can make any buffet plastic-free. Here's their inspiring story
The decision to move from Silicon Valley to Hyderabad was not a difficult one to make for Madhavi and Venugopal Vippulancha. The shift happened to help their kids immerse themselves in the Indian culture—a strong part of Madhavi and Venu's childhood too.
"Our children were growing in a country that just scratched the surface of our culture. What good are tabla and Indian classical dance classes if they are not immersed in the rich heritage? In 2003, we decided that the best step forward was to leave our jobs and come back to Hyderabad," shares Madhavi.
The corporate professionals called it quits and landed in the City of Nizams.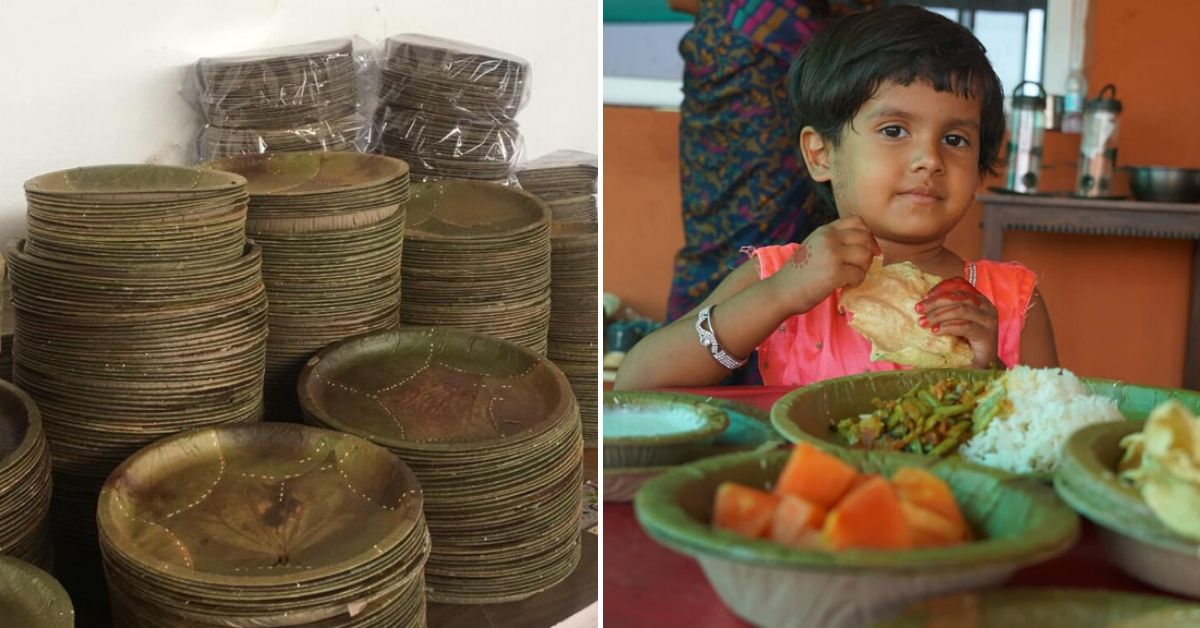 Life settled into routines and familiar patterns. Until a few years ago, when Madhavi got a shattering news. She had breast cancer.
Madhavi knew she had to cut out chemicals from their lives. She discussed with Venu the prospects of going organic, growing their food themselves to ensure 100 percent chemical-free and high-quality food.
Today, not only has Madhavi battled and won her disease but also lends a helping hand to her husband in nurturing their 25-acre organic farm which also employ 10 rural Hyderabad women. These women manufacture disposable sal plates—the couple's bid to reduce plastic.
---
How does one leave the luxury of a lucrative job, battle cancer and combat the plastic menace all at once? Here's the story of Madhavi and Venu.
---
2003: Home is where the culture is: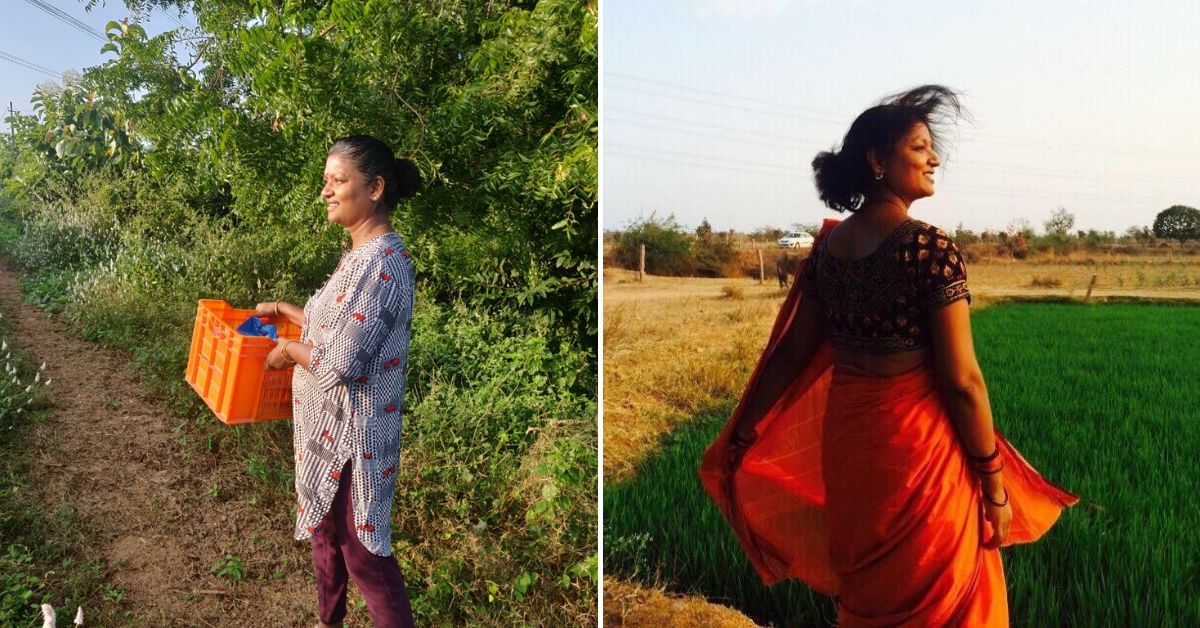 Madhavi completed her Masters in Pharmacy and Genetics while Venu worked as a Mechanical Engineer. Having worked in Bangkok, Malaysia and Singapore, their jobs had finally saw them settling in Silicon Valley, USA.
Life was good and yet, didn't feel complete.
Once they moved to India, they continued working, and also bought a 25-acre agricultural land on the outskirts of Hyderabad with their savings.
However, apart from the bamboo, Jamun, tamarind and teak trees that they planted as a boundary, the land lay barren for about six years.
And then tragedy struck.
---
Planning a zero-waste party? We support you! Click here to get your set of disposable sal plates to serve dinner!
---
2010: Tragedy – The beginning of something noble: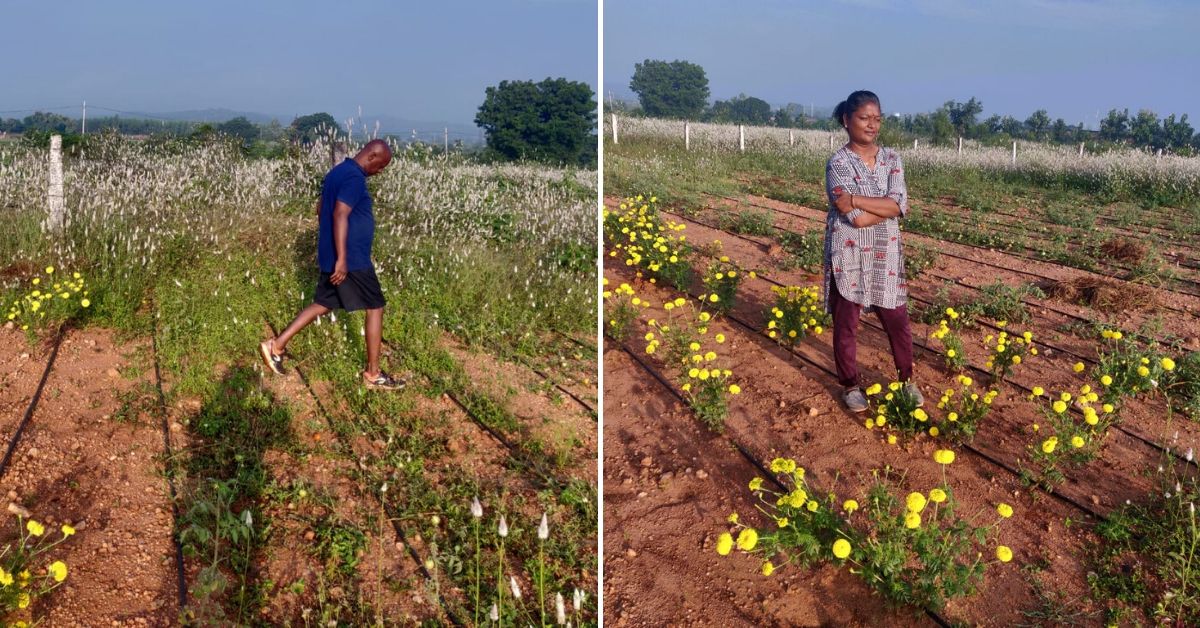 No one really anticipates such things. We take life for granted, jumping from one day to another, till that painful lump and the dreaded medical report. Just like that, Madhavi's world came crashing down.
"Suddenly, I became conscious that I might leave my family for good, not having spent enough time with them. My children were very young back then- in 9th or 10th grade and I didn't want to burden them with my condition. But I also wanted to spend the better part of my day with them and my husband," she shares.
Thankfully, the couple had a vast piece of agricultural land to be cultivated. Armed with an entrepreneurial spirit and the determination to grow food that has no chemicals or pesticides, the couple became weekend farmers.
Enlisting the multiple crops they grow on their land in Hyderabad, Venu says, "It's a healthy mix of fruits and vegetables, all grown organically. We have tomatoes, chillies, bitter gourd, okra and ginger accompanied by marigold- which acts as an excellent pest-preventing companion for the vegetables. But we started by planting mango trees. Today, we have 2000 trees of 30 local varieties of the king of the fruit!"
Nurturing the farm helped the couple stay together all day long. There was no more waiting for Venu to return from office while Madhavi stayed at home alone. They could spend valuable quality time while also ensuring a healthier and brighter future for their kids.
---
Next time you are hosting a party, worry not about washing dishes or piling up plastic. Go for these traditional plates made by the Vippulancha couple's venture. Click here to buy them now!
---
2017: A thriving farm and an upcoming business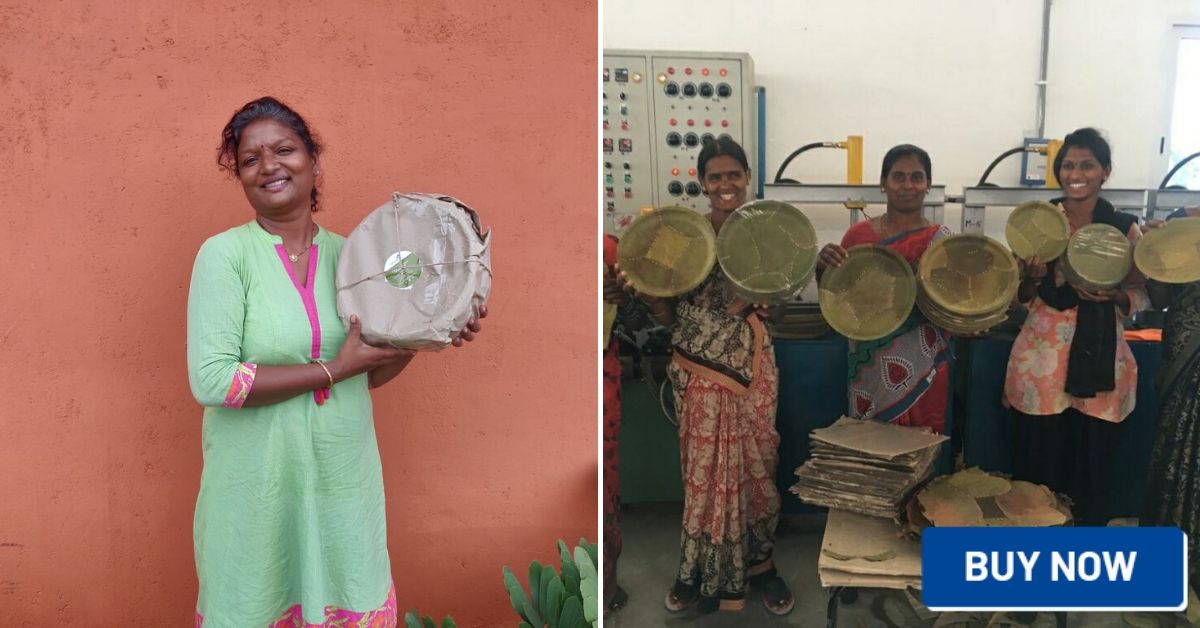 It took time, but the family finally conquered two huge challenges. Madhavi's cancer was brought under control and their organic farm flourished. But this wasn't the end of their ambitions. Venu and Madhavi wanted to contribute to society in some way. Madhavi suggested sal plates – a way to reduce the use of plastic in some capacity and empower local women too!
"We built a small production unit on our farmland where the local women come and stitch the plates. They quite enjoy working here, it looks like because they ask for no leaves! From 9 in the morning, they sit together, gossiping, playing music and hand-stitching the plates. Their work is not cumbersome and they get paid on a daily basis. We too enjoy sharing meals with them. All in all, it's a happy venture," Venu shares.
Made with the leaves of Sal trees, these plates were traditionally used in grand functions. You might remember eating from them in a village gathering or even when your grandparents hosted a feast. What a sad fate we brought upon ourselves when we switched to plastic.
But no more, Venu, Madhavi and their team of happy plate-stitchers will help you host the perfect zero-waste party! Click here to get your set of the plates now.
---
Also Read: Switching from Steel to Clay Pots Is the Healthy Choice You Must Make Today!
---
(Edited by Saiqua Sultan)
Like this story? Or have something to share? Write to us: contact@thebetterindia.com, or connect with us on Facebook and Twitter.